A "5% increase in customer retention produces more than a 25% increase in profit," according to Fred Reichheld, New York Times best-selling author and business strategist.
One of the most effective means for ensuring the long-term loyalty of your customers—and avoiding churn—is giving them an extraordinary onboarding experience. You want your customers to reach milestones and aha moments with your product and avoid bad experiences which can lead them to abandon your product.
A well-executed onboarding process will keep customers coming back because it lets them achieve their goals faster, so they can experience the value of your product as quickly as possible.
Looking to deliver a personalized customer onboarding experience?
Stonly enables you to customize setup and onboarding for each customer.
Start a FREE Trial
1. Stay focused and to the point
Effective user onboarding is all about getting your customers comfortable with your product and happy with their decision to use it as quickly as possible. This means your onboarding program must focus on aligning with your customers' needs and goals. What are their most pressing concerns, and how can you hone in on them immediately?
Keep signup simple
If your product offers a free trial, onboarding starts right from the initial sign-up. Don't waste their time asking for unnecessary information. You should only ask for what you absolutely need, for instance, a name and email. You can gather more information once your customers are further invested in your product.
For an even speedier start, allow them to log in directly using an existing Gmail or Apple account.
Manage expectations
If your product is complex, break down the onboarding process into chunks and manage your clients' expectations with timelines and a progress bar so they can see how far they've come and how much is remaining.

Otherwise, customers can become frustrated with a seemingly endless list of tasks before they get a chance to achieve their goals and experience the value of your product. Don't leave them asking themselves, "wasn't this supposed to make my life easier?"
You need to give them a clear path to follow so they know what to expect. That could be a checklist or a timeline. Something visual with a clearly-definable set of metrics to let them measure their progress and see it unfold so they can feel a sense of momentum as they learn to use the functionality of your product.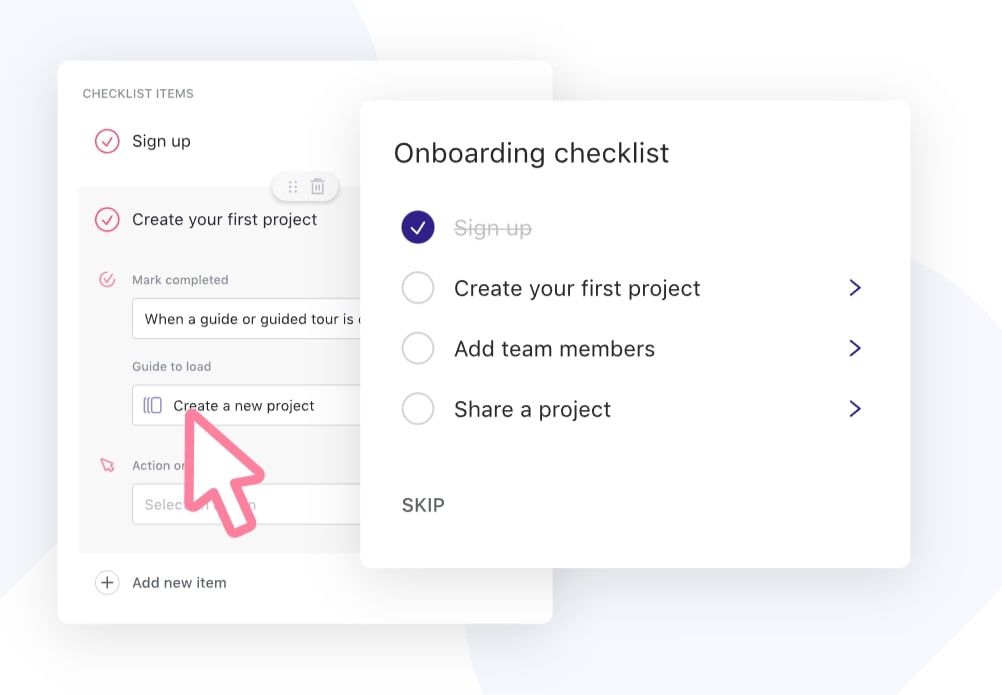 2. Understand your customers and personalize their experience
You can use personas to help guide you towards finding the best solutions for different customer segments. However, if you treat your customers like they're disposable and interchangeable, you can expect them to treat you the same way. You won't be offering the same experience for B2C versus B2B SaaS onboarding, so you need to define the differing needs for each.
Treat them like a person, not a number.
Are they all starting from the same level of user experience? Are there different use cases? Will each of your customers encounter similar pain points, or will they need varying degrees of support?
You can use simple prompts at the start of your onboarding process to ascertain your customer's experience level and use case.
Unsure about what your customers need? Ask them! Then direct them to the information that can best help them resolve their issues. Customer onboarding is your chance to collect data to help you improve the process moving forward.
Use the following questions to define customer segments and the use cases for your product:
Who are your customers?
What do they know?
What do they need to know?
What are their circumstances and situations?
What are their motivations?
What are their short and long-term goals?
What job are they choosing your product to perform?
What expectations do they have of your product or service?
People love to talk about themselves. Ask them their problems, and it becomes much easier to show them how your product is the solution they've been looking for. This can be direct phone contact, via email or SMS surveys, or over social media. Stonly lets you present your customers with choices that let you tailor their onboarding experience to their unique needs.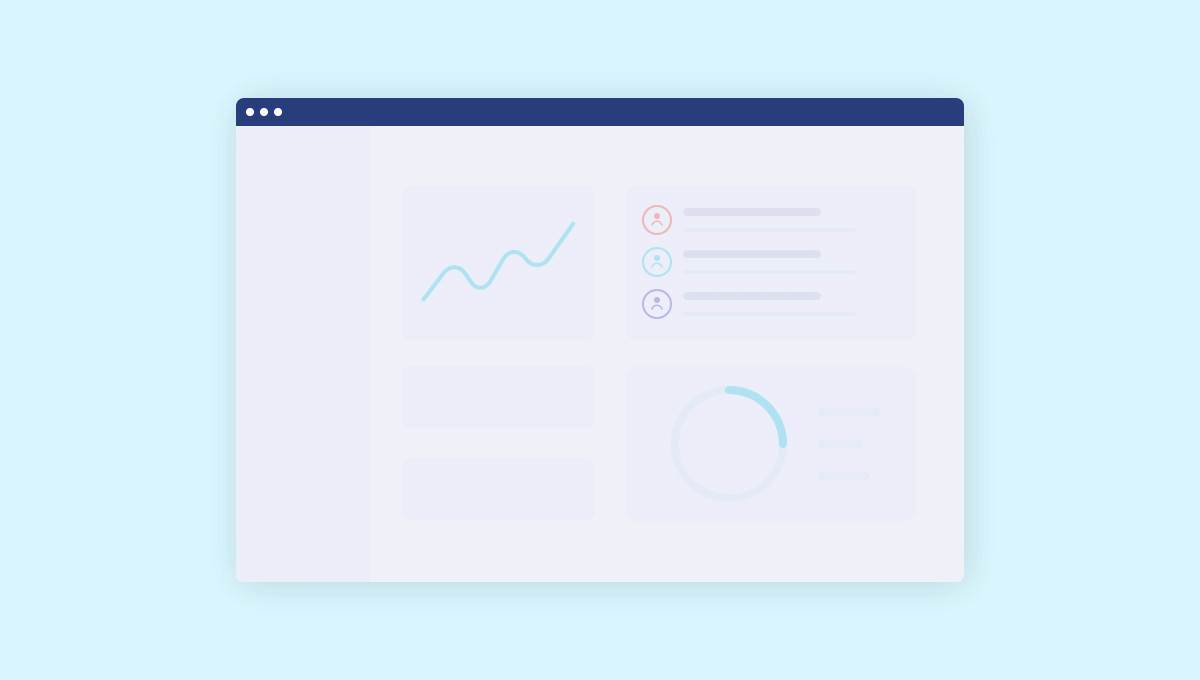 Show, don't tell
When creating your onboarding flow, create content that benefits multiple learning styles. This could include videos, a personalized knowledge base, how-to's, etc.
Wherever possible, avoid using paragraphs of text in tutorials. Writing should be short and to the point with plenty of images and videos to illustrate key points to new users. You could tailor Stonly's dynamic and interactive guides to suit the needs of every customer segment you serve and effectively lead them to the exact solution they need.
3. Onboarding must be served up, not sought out
Your customers must never be left looking for guidance when learning how to use your product. Customers shouldn't have to seek out your onboarding. It should come straight to them. The best way to do this is to ensure onboarding always appears as an option in your app's help widget.
Welcome emails are critical for introducing your customers to your product and helping them locate key features. The first time they log in, the first email they get must take them where they need to go.
Further emails can highlight specific features of your product, elicit feedback, or remind users to use their free trial. The goal is to reach out often enough that the customer never feels like you've forgotten about them.
Industry leaders like Headspace send a follow-up email several days after the initial welcome to remind users to continue practicing mindfulness within their application.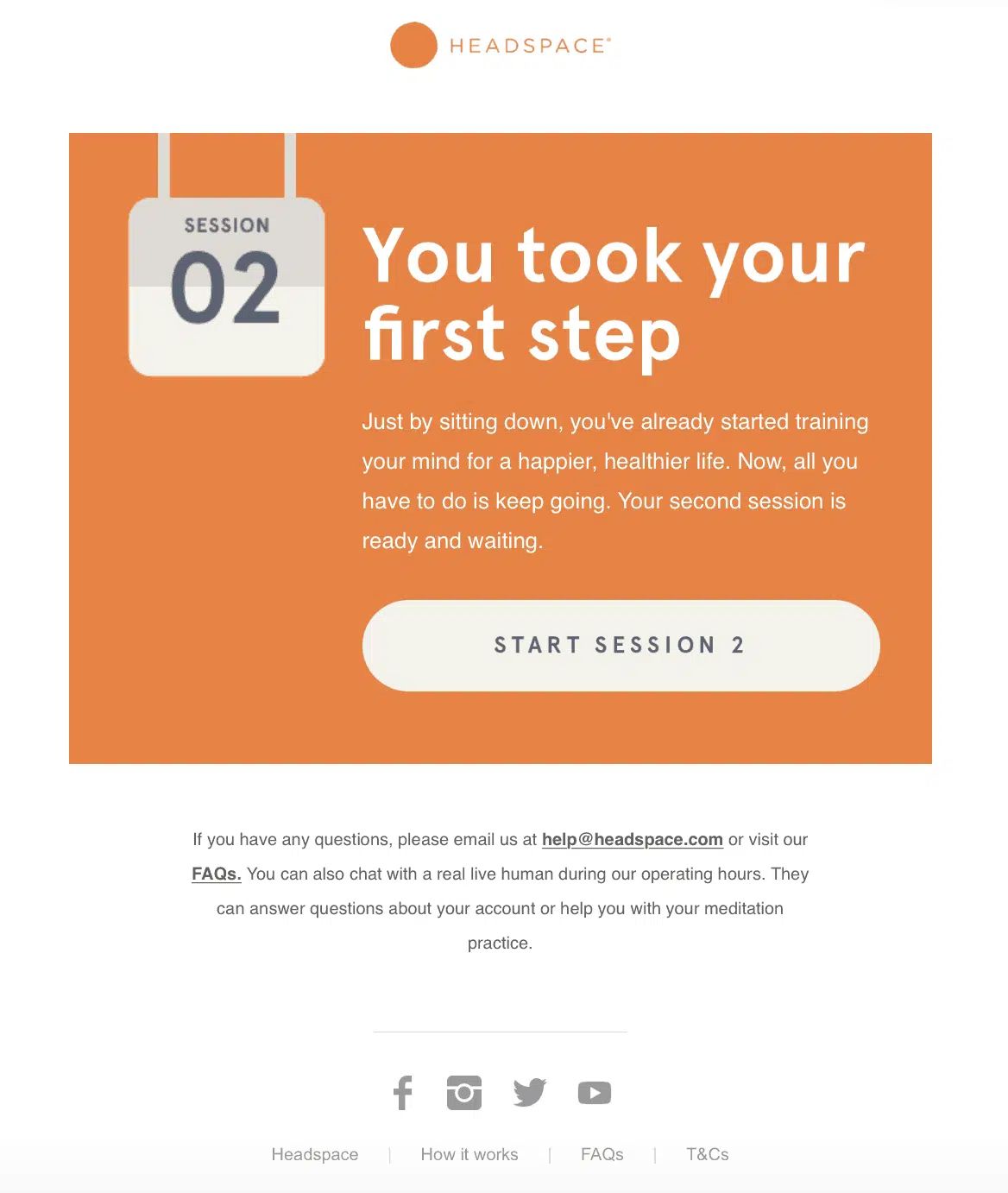 There are alternative channels for reaching out to customers, such as texting and social media. But of course, most of your onboarding will happen inside your app.
4. Build onboarding right into your app
Whatever your onboarding process, you must build a great in-app experience for new customers. That starts with following SaaS onboarding best practices, such as beginning with the question: "how would you like to use this app?" Right away, they feel in control and you care about and respect their needs.
Next, focus on value, not features. Demonstrating why and how your product gives your customer exactly what they're looking for will keep them coming back. Simple tooltip notifications and pop-ups directing them to relevant content are a great start and can build to something more complex like a product tour. The ultimate goal here is to give your customer their aha moment, where they recognize your product's value which will fire their imagination to find further ways it can help them.
Product tour
Product tours are a powerful tool for introducing your customers to your application and helping them overcome the initial learning curve associated with adoption. Done effectively, it will guide your customers right from activation through your product's most essential features and benefits and bring them to their first wins, which will keep them coming back.
Your product tour needs:
A clear, linear path
Small, meaningful steps highlighting your product's core features
To demonstrate how your product solves their specific needs
We also recommend you give users the option to skip tutorials with the additional ability to return to them in the future. Remember, there needs to be a different process for experts than for beginners. Even better, Stonly's fantastic product tour lets users make choices that quickly guide them to their most relevant features, giving them their aha moment and ensuring they get the most value from your product.
There are many software tools available to build product tours right into your application, including Stonly.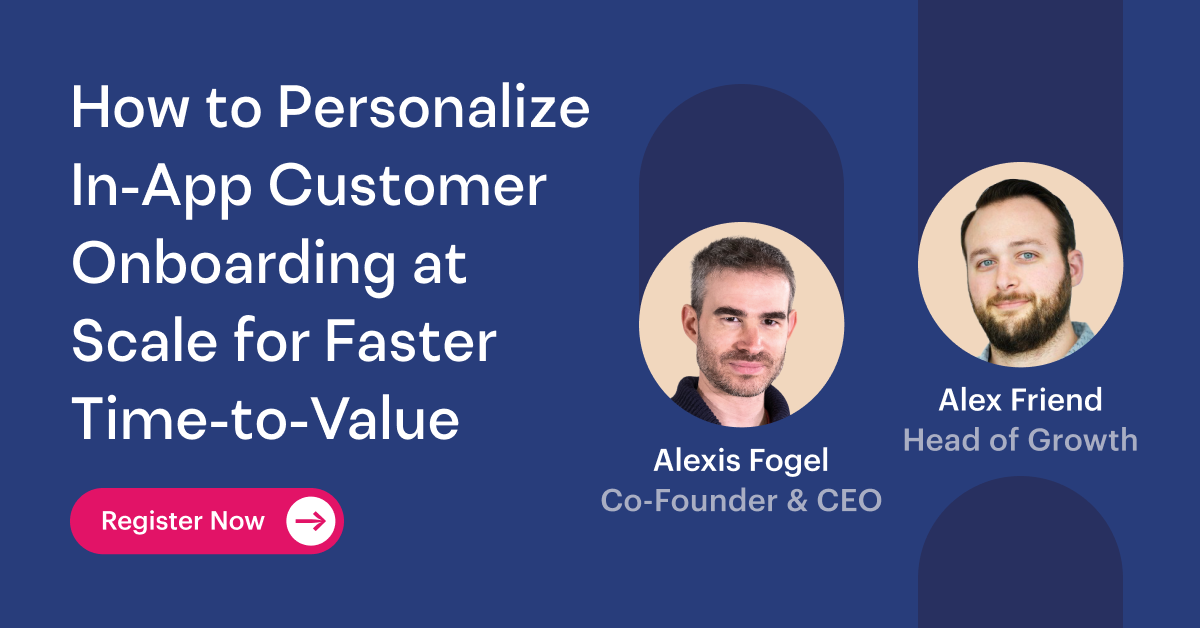 5. Be there when they need you
No customer should ever have a question that goes unanswered. Even more so, customers in the 21st century expect a speedy response.
Jon Dick, SVP of marketing at Hubspot, notes:
"Almost two-thirds of buyers expect a response within 10 minutes to any marketing, sales, or customer service inquiry."
Your customers should trust that they'll always have the support they need right when needed. That means having one (or preferably all) of the following options available:
An intuitive and personalized knowledge base
Live assistance or a chatbot
A dedicated email address for customer support
Phone support
A responsive social media presence
Putting these things in place will mean your customers will be able to find answers quickly. This is of particular importance during the onboarding process. It must be ready when they're ready. Stonly's interactive guides are available 24/7 and can be available in your app and anywhere on your website!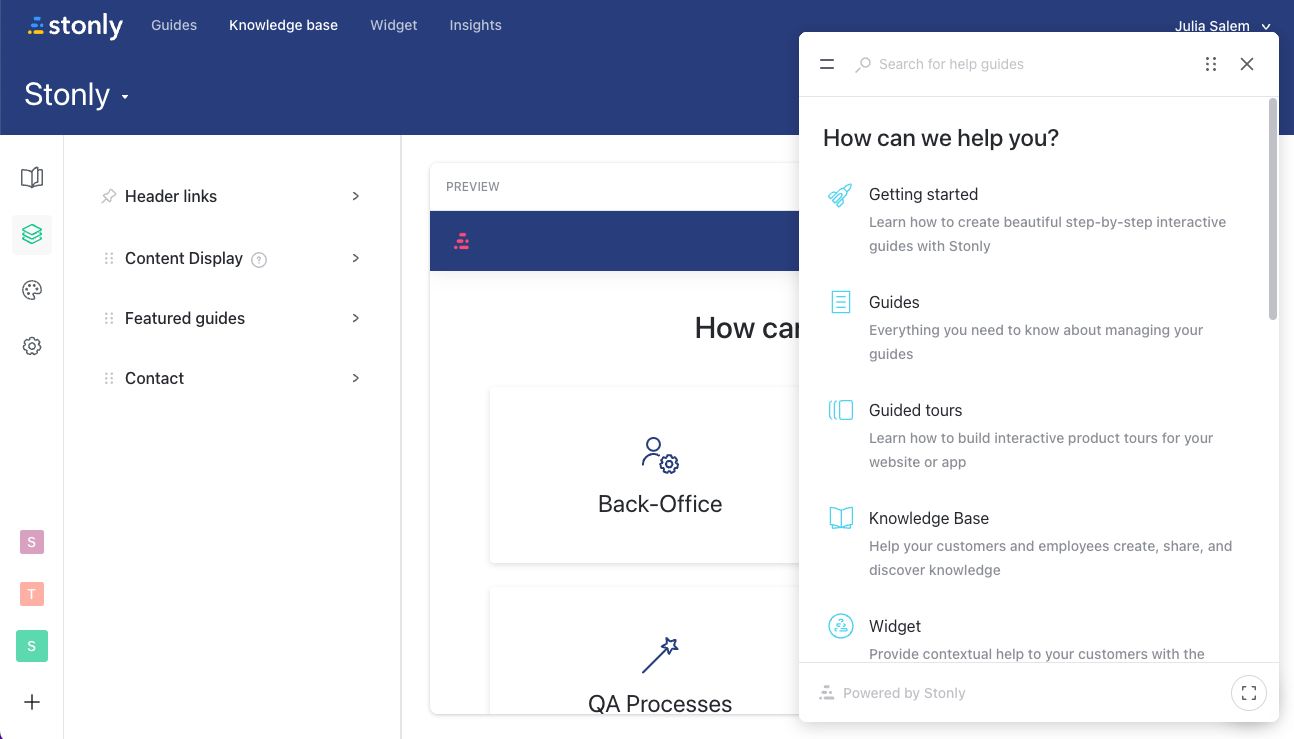 Having a knowledge base is important because most customers prefer attempting to solve a problem themselves before escalating to any assistance:
According to customer-centricity expert Steven Van Belleghem, "70% of customers expect a company's website to include a self-service application."
Your guide shouldn't just appear in a single email or pop-up and disappear after. It has to always be there when they need it. Having a comprehensive knowledge base available both in-app and on your website is key to meeting your customer where they are.
6. Create a Community
When customers find a product that works for them, they get excited and want to share it with others. That's why an effective onboarding strategy must include a community management strategy. That way, you can bring your customer's contagious enthusiasm front and center so other potential leads can see just how enticing your product can be.
A well-coordinated and engaged community becomes another powerful tool for helping your brand stay top-of-mind for your customers as they meet their needs. Create a forum where community members can share tips and tricks amongst themselves, and you can save yourself time and tickets.
Brand ambassadors
One powerful tool is to turn your customers into brand ambassadors, who use word-of-mouth and influencer marketing strategies to raise awareness and trust for your brand.
Whatever route you go, creating an engaged community is a powerful tool. It provides many additional opportunities for guerilla marketing, which often has the added benefit of being less costly and time-consuming for your team compared to traditional marketing routes.
7. Onboarding is an ongoing process
People often make the mistake of drawing a line between onboarding and rest-of-life success. But that is wholly incorrect.
Your onboarding process must constantly be improving. For this to happen, cross-team collaboration is key. Training sessions should highlight this. Your team members must be kept in the loop regarding the latest updates to the onboarding process and using the data they gather from your customer's experiences to keep building, changing, and tweaking.
Check your analytics to highlight where your customer churn points are occurring and discover how to minimize them. Analytics systems help determine who is and is not being successful. Then, it becomes the job of your customer success team to pinpoint those aha moments where your customers first recognize the value of your product and fill your CRM with these relevant data.
Stonly allows you to track exactly how your customers are consuming your content, what paths they follow, and where they drop off so you can see what works and what doesn't, and continue evolving the experience to meet their needs.
Related Post: Best Customer Onboarding Software Platforms for User Engagement (2022)
Is your onboarding strategy retaining customers?
One survey of 502 U.S customers found that:
"46% would be more likely to increase their investments in products or services after successful onboarding experiences."
Good onboarding is the biggest predictor of increased retention. It's the most powerful tool to keep customers returning to your service and is a major factor driving customer engagement.
You can give them that successful onboarding experience if you keep your process as simple as possible and manage their expectations. Make sure you have resources available right when they need them and continue to improve and personalize your process over time.
Looking to deliver a personalized customer onboarding experience?
Stonly enables you to customize setup and onboarding for each customer.
Start a FREE Trial
Frequently asked questions about customer onboarding strategies
What is customer onboarding strategy?
Customer onboarding strategy is the process through which you introduce your customers to the features and value your product can deliver to them in service of their needs. Your onboarding strategy is a series of steps to ensure your onboarding process is effective and always improving with the ultimate goal of increasing customer satisfaction and retention.
How do you create a customer onboarding process?
Many things go into creating an effective customer onboarding process that varies by company. However, most follow these general steps:
First, map out your customer segments and use cases. Then set goals and KPIs–this helps define your customer onboarding framework
Find effective software to support your onboarding
Identify key features and benefits of your product
Ask yourself where your customers are starting and where you want them to be
Design and develop content to guide your customers through the process
How can you improve onboarding customers?
You can improve your customer onboarding by:
Measuring your KPIs against your goals and identifying where you're falling short
Soliciting customer feedback via check-in emails and surveys
Identifying the churn moments within the onboarding process itself and identifying ways to lessen their impact or eliminate them
Identifying your aha moments and ensure the customer reaches them as quickly as possible
What are some examples of customer onboarding strategies?
Examples of customer onboarding strategies include:
Keeping the sign-up process quick and simple
Personalizing the onboarding process
Setting clear expectations
Building onboarding directly into your application
Creating a community that your customers can feel a part of