The days of in-person product implementation and live customer onboarding are coming to a close even in the B2B world. Starting as a trend in B2C companies, self-serve models are changing how customers expect to try, purchase, and implement SaaS products.
According to a recent McKinsey study, over 90% of B2B buyers expect self-serve to become the main model for making SaaS software purchases. That means they'll want self-serve onboarding experiences too.
This article will walk you through what B2B SaaS self-serve onboarding looks like, why it's important, and how to create a successful model that will drive activation and adoption.
Looking for easy-to-use SaaS onboarding software for your company?
Stonly helps make product adoption hassle-free for your SaaS product customers.
Start FREE Trial
What is B2B SaaS self-serve onboarding?
B2B SaaS self-serve onboarding is the process to guide new business customers to discover how to use the product to achieve their version of success.
One of the biggest misconceptions about onboarding is that the goal is to teach your customers how to use your product. But how well your customers can use your product doesn't provide them any value unless they are accomplishing the goals that prompted them to try your product in the first place.
B2B onboarding often happens in person with a customer success representative. In this situation, it's more straightforward to have an interactive dialogue about the customer's goals and how they can use the product to accomplish them.
Self-serve onboarding requires embedding this level of interactivity within the application and automated communication to new customers. Check out this guide for some onboarding examples to give you some inspiration.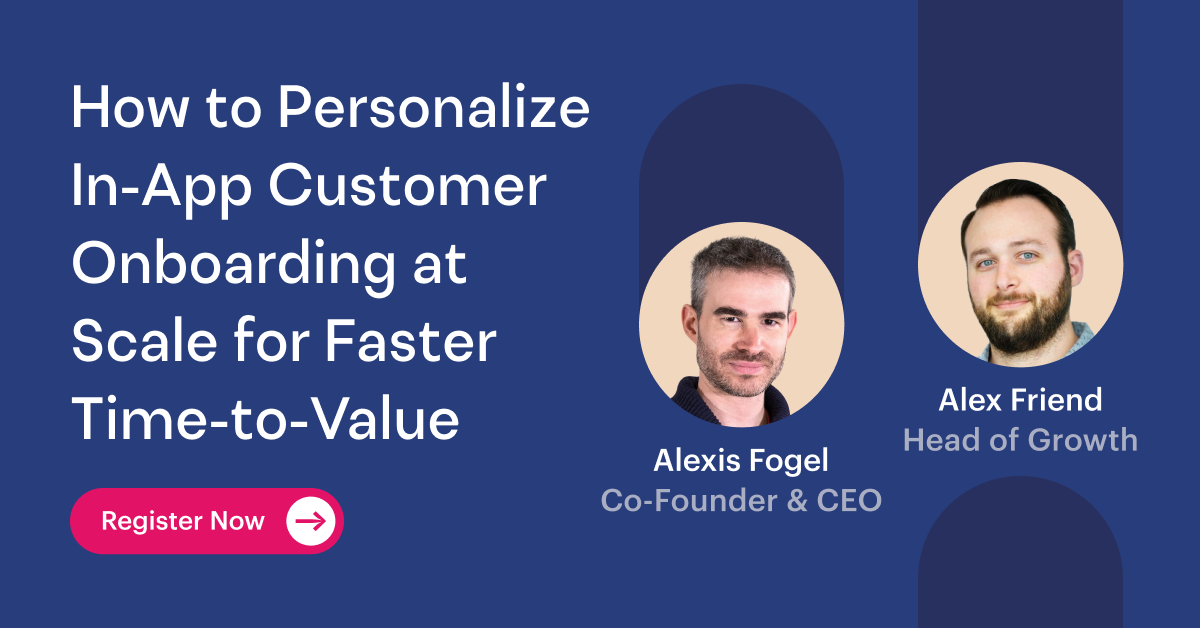 Why is self-serve onboarding important in B2B SaaS companies?
The self-serve trend has fundamentally changed peoples' expectations regarding their relationships with technology companies. In a recent study from McKinsey, fewer than 30% of business buyers want to interact with a salesperson when adopting a new product or service. This is true for both SMB and enterprise SaaS onboarding.
Adopting a self-serve onboarding process is vital if you want to stay ahead of the trend. While it may take an initial investment to develop, you will save on your overall onboarding costs by being able to onboard more customers with fewer customer success representatives.
Ready to set your customers up for a lifetime of success?
Stonly helps you guide more customers to immediate value with your SaaS product, starting with onboarding.
Start FREE Trial
How to make your B2B SaaS product's self-serve onboarding a success?
If you're new to self-serve onboarding for B2B SaaS. In that case, the following steps will help guide you toward building an onboarding process as part of your user adoption strategy that excels at activating new customers quickly and effectively.
We encourage you to bookmark this page and refer to its best practices throughout your process.
1. Know your customer segments and their use case.
To provide the best onboarding experience for your customers, you need to tailor the onboarding process for each segment to help them achieve their version of success.
If you haven't already, you'll need to discover your primary customer segments. Here's a list of a few sources you can use:
New user onboarding fields asking about customer information, such as industry and size
Discovery interviews with new customers, learning about their use case and behavior
Submitted support requests and in-app feedback submissions
If you have a customer service knowledge base, you can also analyze customer behavior there
Match each high-level customer segment with their specific use case to build onboarding paths tailored to each segment. Admittedly, onboarding is often when you know the least about your new customers, so infuse your initial onboarding flow with questions and interactivity to allow customers to choose the best path.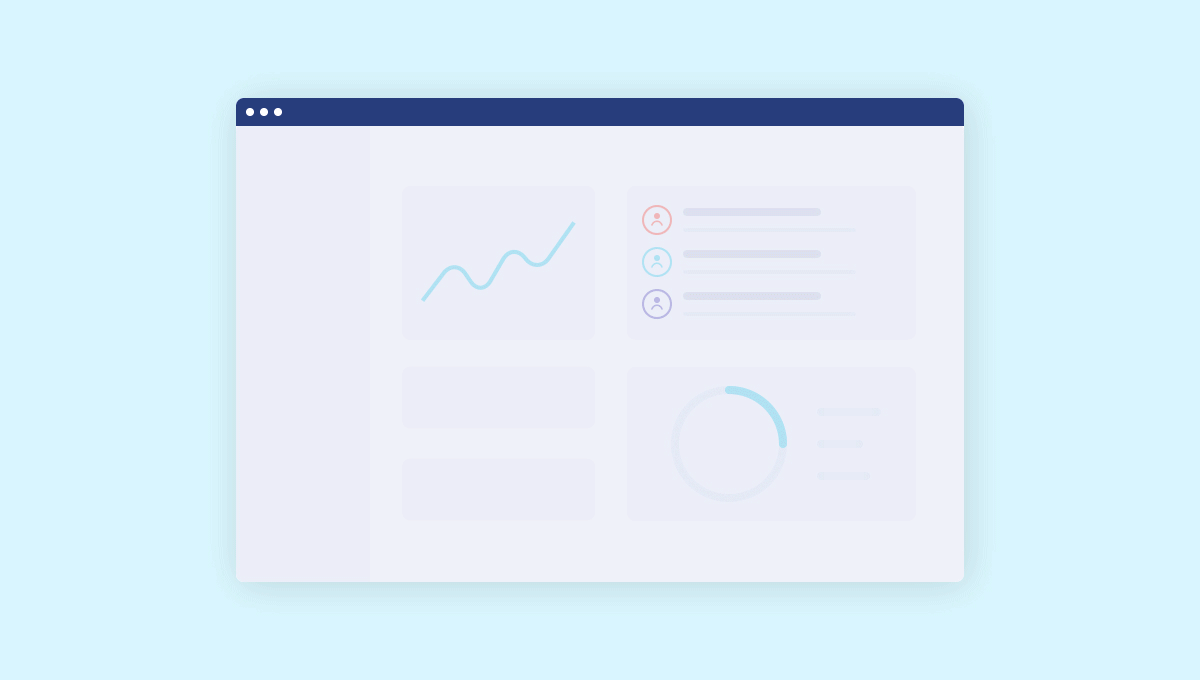 Stonly is a SaaS onboarding software that makes it easy and intuitive to build an interactive onboarding experience that prompts users with initial questions to choose their own adventure. The interactive guides allow them to quickly drill down to the path that aligns with their reasons for using the product. This level of customization is proven to lead to higher new customer activation.
2. Define activation when customers initially experience value.
When a new customer decides to sign up for your product, they likely still have questions and maybe even suspicions about whether it will help them achieve their goals. Getting customers to use new features in your product isn't enough if using these features doesn't provide them the value they were expecting to get from your app.
Activation refers to a customer's first experience when using your product where they confirm that the product will help them achieve the success they were expecting.
Knowing which behaviors to track and use for defining activation takes some work. The best way to identify which behaviors matter is by comparing the initial actions of customers and seeing if there's a difference between customers that end up adopting your product long-term and those that churn.
Usually, this won't be just one action, and you may have different actions for different customer segments. You may also find that some of the behaviors happen in a sequence over time, with one action happening on day one and others afterward.
For example, Slack defines activation for a new business customer when at least three users have sent and received 50 messages cumulatively within the first few days. After observing new customer behavior, they found that this particular combination of behaviors differentiated customers who adopt and continue using Slack long-term and those that churn.
3. Build the tech stack to empower your team.
Having the right tools in your tech stack makes a massive difference in your success when building out a B2B SaaS self-serve onboarding process.
Pay attention to the following areas when building out your toolset:
Product analytics
Customer segmentation
In-app product onboarding
Self-serve troubleshooting and support
For analytics and segmenting, consider using tools like Heap or Segment, which allow you to include a simple code snippet into your application to track and analyze customer behavior in your product.
Stonly is the best tool to create an interactive in-app onboarding experience to drive customer activation and adoption. You can leverage interactive guides while layering on user data to make the onboarding experience hyper-relevant.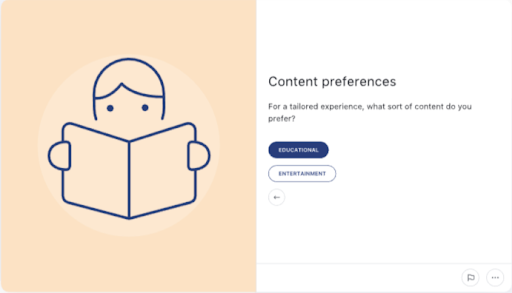 4. Remove as much friction as possible.
To remove friction in the onboarding process, you need to keep the goal of onboarding clear. If you operate with the less-than-effective goal that onboarding is to teach new users how to use your product, you will likely introduce more friction for your users by forcing them to tour features that aren't relevant to them.
However, suppose you operate with the right goal that onboarding is to teach users how to accomplish their specific goals by using your product. In that case, you can customize and streamline the process for them to only tour the most relevant features.
To identify unnecessary areas of friction, periodically roleplay your onboarding experience as each of your primary customer segments and note annoying, excessive, or irrelevant points.

5. Reward customers along the way.
Something pervasive in B2B SaaS onboarding is experiences built for a company instead of humans. Humans will be using your product at the end of the day, so you need to understand enough human psychology to help keep their interest.
Gamification is a popular term that refers to adding rewards for completing tasks to motivate people better. It turns out that adding rewards for users when completing onboarding tasks activates the achievement center of the brain. This helps customers feel more positive and engaged and is likely to keep them motivated to continue.
For example, you may consider rewarding customers that complete the onboarding checklist with additional days on their free trial or a discount on their next month's bill. That way, customers can feel an extra sense of achievement when completing the onboarding tasks.
6. Use additional channels to supplement in-app onboarding.
Another mistake companies often make is limiting the onboarding experience to the app. While most onboarding should occur within your product where customers are more likely to experience value, there are ways to use additional channels to drive higher participation and engagement (email, texting, and even social media).
Using a tool such as Customer.io can allow you to automate onboarding emails based on how customers participate in your in-app onboarding. For example, suppose there is a specific Day 1 activation behavior that a customer missed. In that case, you can automate an email that contains information about this feature and encourages them to get back into the product to give it a try.
Salesforce does a great job highlighting key features that a customer may have missed in its onboarding email campaign. Especially given that Salesforce has many features, honing in on a single feature relevant to activation for a specific customer segment is essential.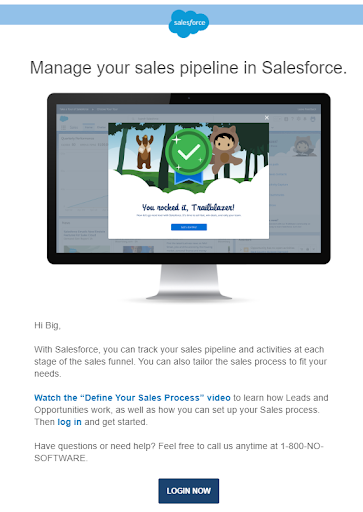 7. Give customers a path to dig deeper into areas of interest.
In-app onboarding guides help users discover and know the right features in your product to help them achieve their version of success. But sometimes, customers need more than an introductory guide to help them understand how to use a feature to get value.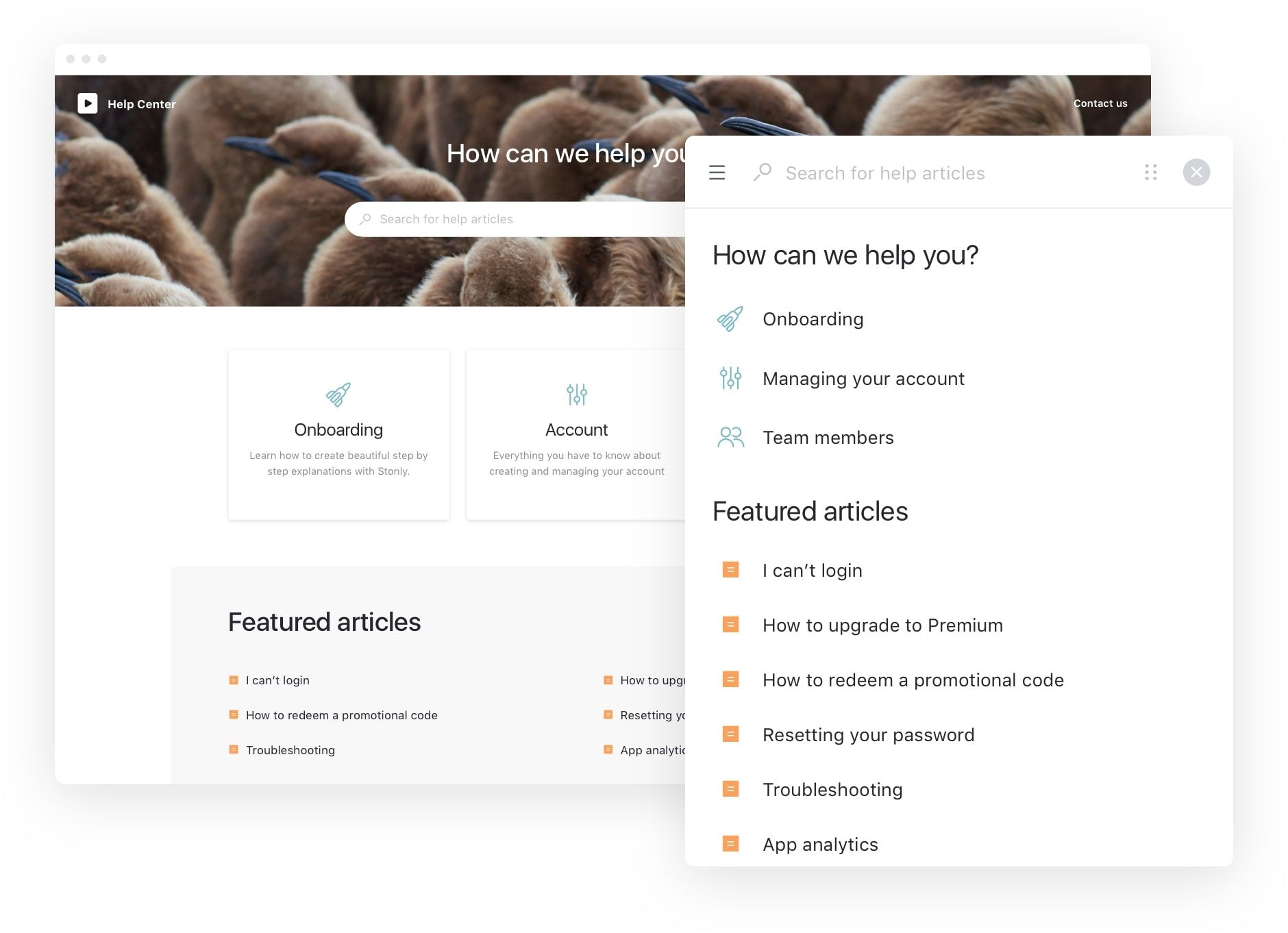 Is your B2B onboarding sufficiently self-serve?
No matter what your B2B SaaS onboarding process looks like today, you can implement these principles to continue your journey toward a self-serve onboarding process that your customers are increasingly expecting. Refer to this guide throughout your process to help you stay on track as you infuse self-serve into your onboarding experience for customers.
Stonly is your best partner for B2B SaaS onboarding. Only by incorporating a level of interactivity into your experience can you start to replicate the customized nature of in-person onboarding.
Stonly makes it easy to build interactive guides and track how well customers are following the path that defines their version of activation and success, leading to a long-term relationship with your product.
Add an adaptive customer success layer to your SaaS website and product today.
Stonly empowers your customers to discover and get their unique value from your product.
Start FREE Trial
Frequently asked questions about B2B SaaS onboarding
What is a customer onboarding framework?
Customer onboarding is the process of guiding new customers to the features and elements in your product that help them achieve their version of value and success. An onboarding framework maps out customer segments and use cases and then enables onboarding experiences that align with these segments.
What is B2B SaaS customer service?
B2B SaaS customer service is the collection of materials, such as a support site, help desk, and knowledge base. Company resources, such as a support team, help customers solve problems and answer questions.
Why is product onboarding important?
Product onboarding is the pivotal moment when customers decide to try and evaluate a product to investigate if it will work for their needs. Customers don't have much patience to dig around in a product, so onboarding helps guide them to the features that are relevant and helpful for them.
The sooner customers feel that the product can work for their needs, the more likely they will adopt the product and become long-term customers.
How do you create a customer onboarding process?
Creating a customer onboarding process may be different for each company, but will follow the same general principles listed in this guide.
In summary, you can create an onboarding process by following these steps:
Discover your customer segments and their use cases
Define your activation metric
Choose the software tools to support your onboarding
Create onboarding guides that remove friction
Build ways to reward and incentivize users
Build out supplemental onboarding flows through email, chat, and/or social media
Give customers a clear path for deeper troubleshooting and support