Imagine if you knew you were about to meet your soulmate for the first time.
You would undoubtedly spend all the time and money needed to prepare, making sure that you looked nice, smelled good, dressed well, and were ready to give your best first impression. After all, you're hoping that the first meeting turns into a long-lasting relationship! When the time to meet comes, would you bring anything less than your A-game?
It may sound cheesy, but choosing the best SaaS onboarding software is one of the most important decisions you can make to seal the deal with your new prospective users in the first critical moments that they engage with your product.
This article will help you make this vital decision by discussing what makes a good onboarding experience, key features to look for, and then listing the eight best SaaS onboarding tools to include in your onboarding toolkit.
Need a great user onboarding solution to boost your user retention rate?
Stonly helps you create onboarding experiences tailored to your customer's needs.
Try a FREE Trial
What makes a good SaaS onboarding experience?

You only have one chance to make a great first impression, and in many cases, you may only have seconds to capture their attention and help them experience value in your product.
Whichever software you choose, you must follow these principles to create an onboarding experience that will help users fall in love with your product:
Know your customers (and segment them)
Customize the onboarding path by customer segment
Make guides available when and where customers need them
Consider multiple stages to keep customers on the path to success
You'll read this below, but we wanted to save you some time if you are in a hurry. Stonly is the best onboarding tool to implement these principles and increase customer activation.
Which features should every SaaS onboarding software include?
When comparing SaaS onboarding tools, pay attention to the following features that contribute significantly to a successful and positive onboarding experience.
Features to look for:
Engaging content beyond simple tours
Tools for customer segmentation
Interactive guides with customizable paths
No-code solutions for quick delivery and optimization
Data and analytics to monitor success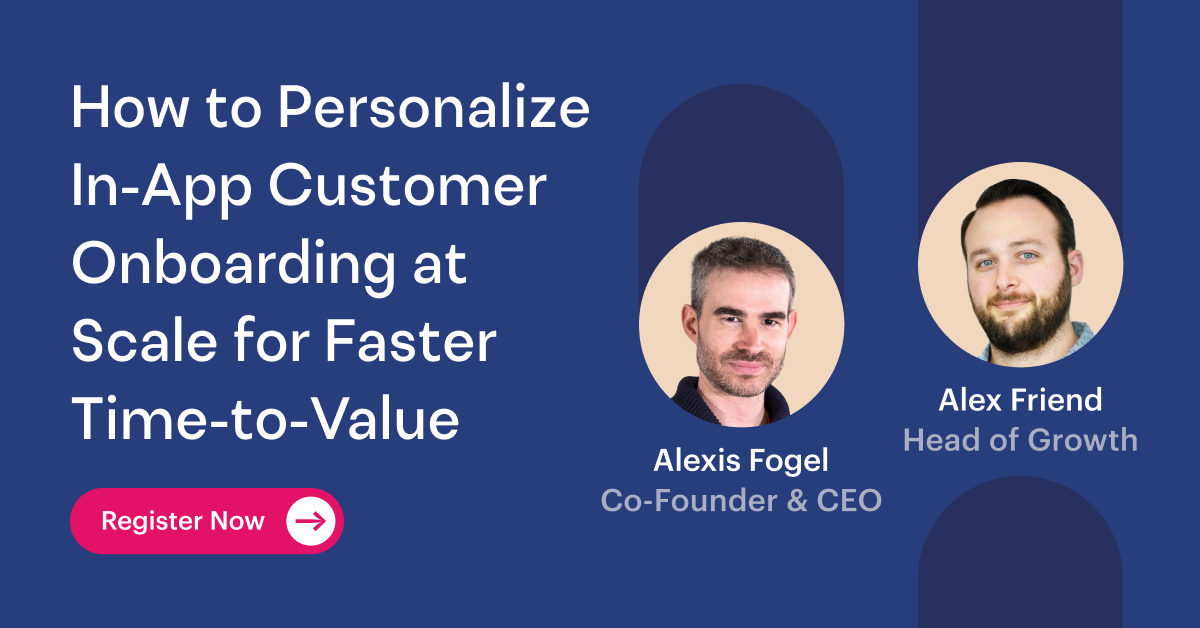 8 Tools to Build Your SaaS Onboarding Tech Stack
1) Stonly: Best In-App Onboarding Tool
Stonly is the best tool to create an interactive onboarding experience to drive customer activation and adoption. Instead of implementing a one-size-fits-all product tour, like a glorified checklist, Stonly allows you to give customers the reins to achieve their own version of success within your product.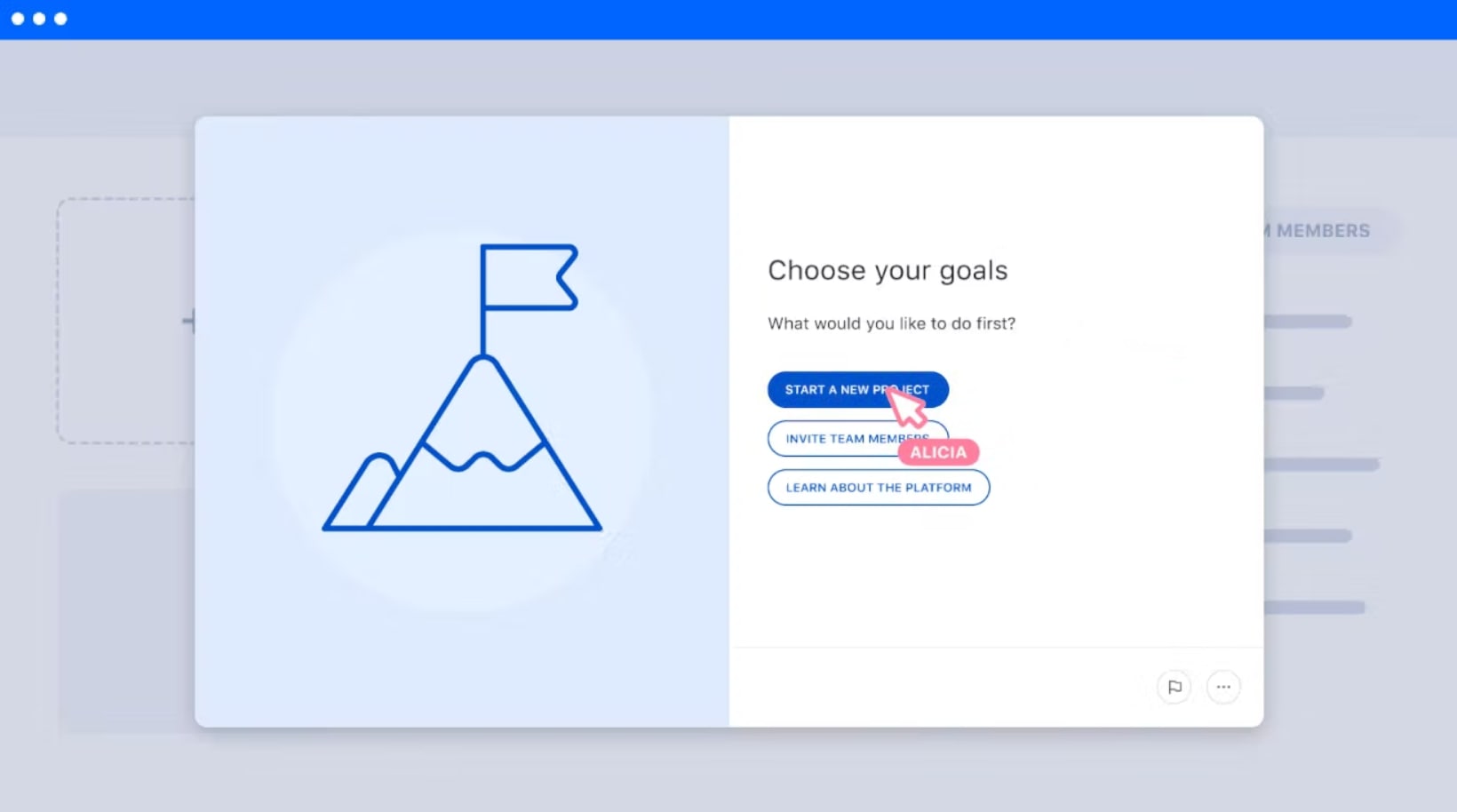 Most in-app onboarding tools direct users down a linear path, regardless of the users' individual goals and objectives for using your product. But for most products, there isn't a single version of "success" that considers all of the differences in situations and contexts that drive users to your product.
Some tools try to implement a data-driven approach for customizing the onboarding experience based on previously-captured user behavior. This sounds great in theory, but is problematic considering new users are the ones you typically have the least data about. They know more about what they want to achieve than you do. The best approach is to give them the tools to drive their own onboarding experience tailored to their needs and intent.
With Stonly, you can leverage interactive guides while layering on user data to make the onboarding experience hyper-relevant. Its no-code implementation makes it easy to create, launch, and update an integrated experience without needing a developer. To optimize the journey better, you can easily track which paths users are taking by segment, including where they're getting stuck or dropping off.
Pricing
For a detailed breakdown of our pricing, take a look here.
Key Features
Interactive guides let users make their own choices
Leverage user data to direct users to the right guides
Match your aesthetic with simple UI and CSS styling
Multiple prompt options, including videos, short tours, tooltips, and hotspots
Modular design to deploy whole guides or individual steps
Powerful analytics to monitor user paths and optimize
Choose Stonly if:
Your goal is to improve new user activation within your product
You want customers to feel in control of their onboarding experience
You need a solution that you can implement quickly without developers
You need simple pricing that scales as you scale
Stonly helps you guide more customers to immediate value with your SaaS product, starting with onboarding.
Start FREE Trial
2) Intro.js: Best Tool to Build Your Own In-App Onboarding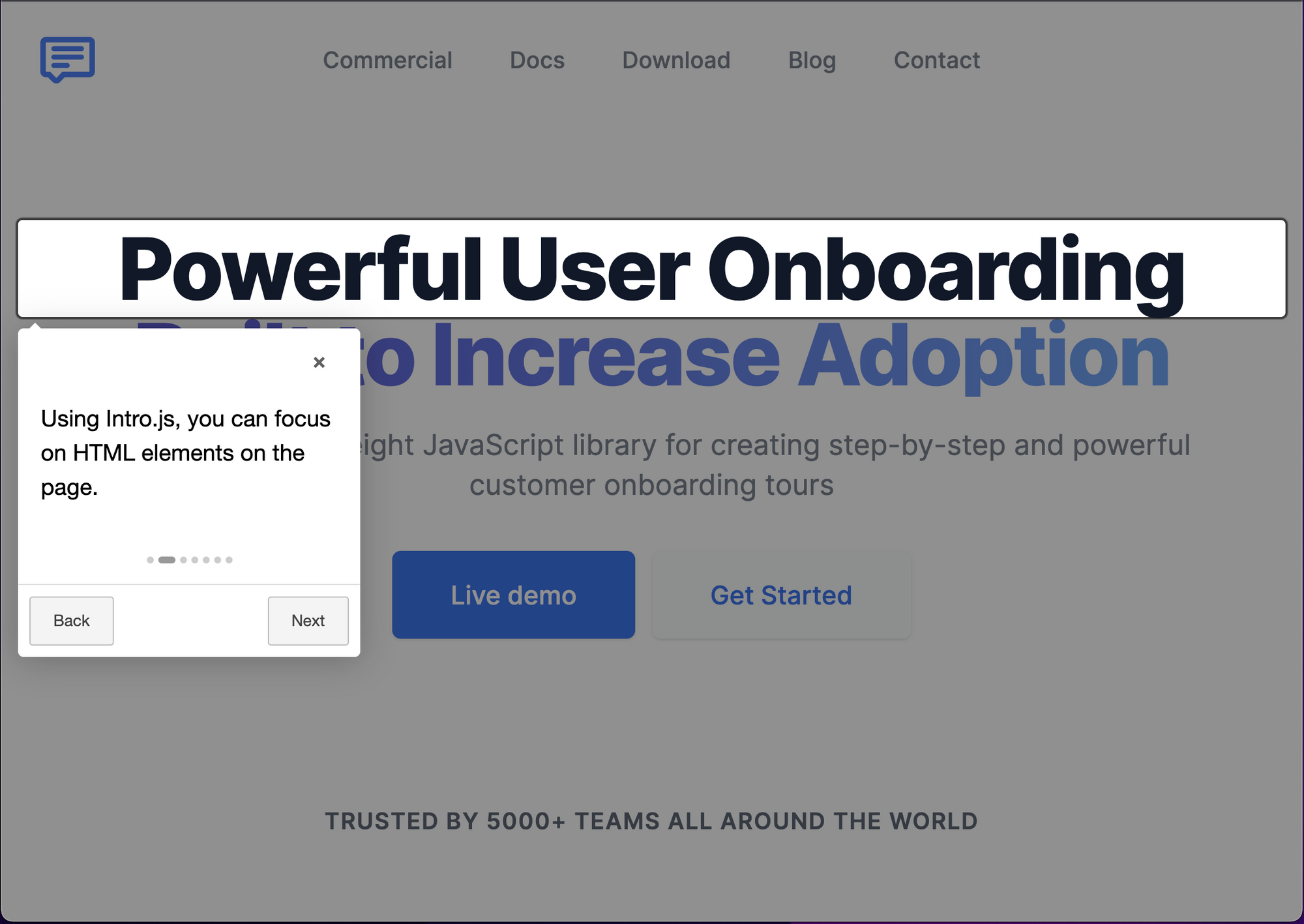 Intro.js is an open-source JavaScript library that enables your team to build step-by-step onboarding tours within your product. The package consists of two main files: JavaScript and CSS, which are less than 10kb and have no external dependencies. It allows for endless customizability depending on the time and effort you have to invest in the project.
Pricing
For a detailed look at pricing, take a look here.
Key Features
Lightweight package with only two files makes installation quick and easy
Product tour tooltips are customizable using the installed JavaScript library
Choose Intro.js if:
You're ready to invest developer time but don't want to build a solution from scratch
You just want simple product tours/tooltips as part of your onboarding experience
3) Customer.io: Best Email Communication Onboarding Tool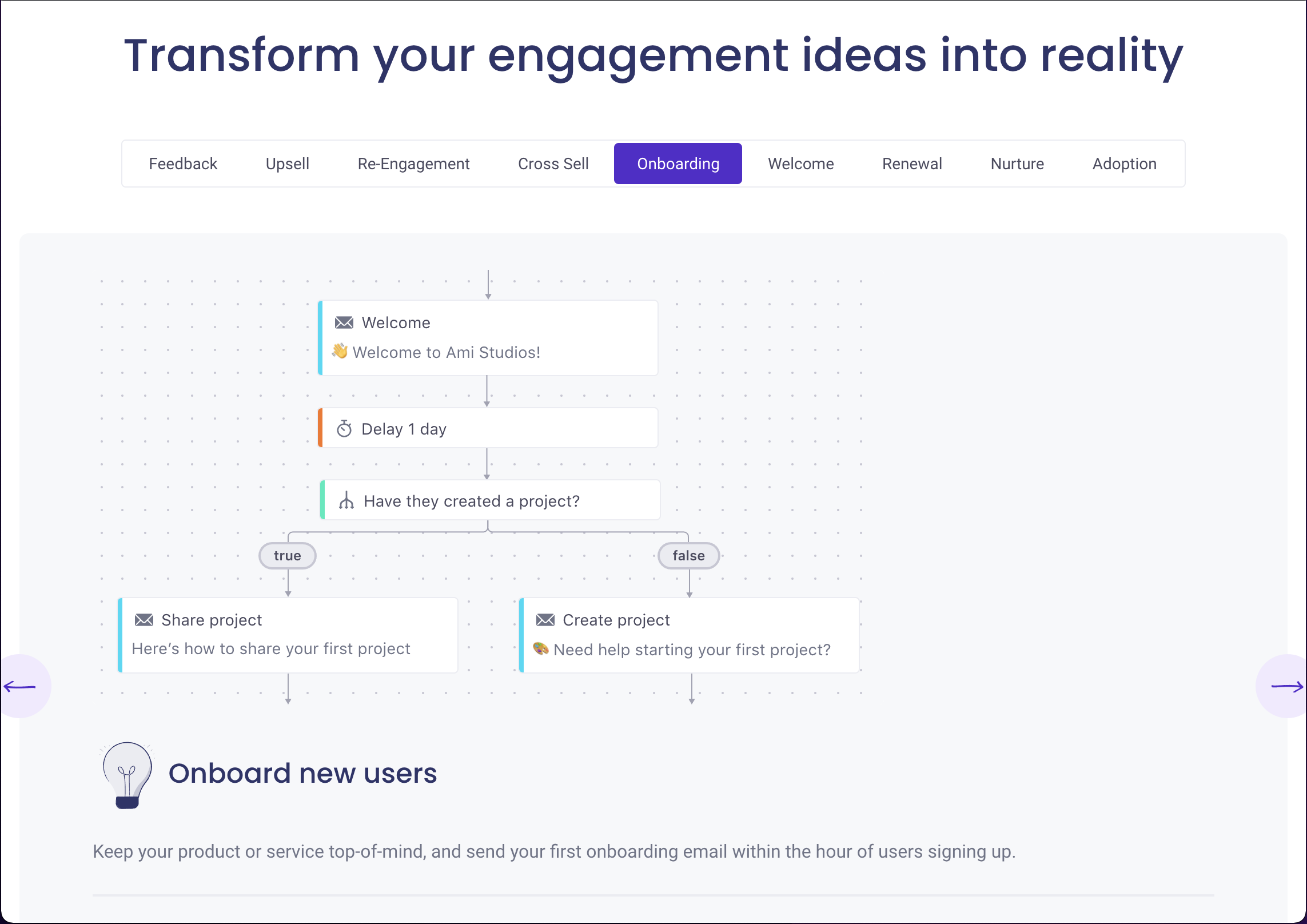 Customer.io is an automated messaging platform that can send data-driven emails, push notifications and SMS messages to new users to enhance the onboarding experience. You can create workflows that welcome new users, provide onboarding support, and drive toward feature adoption.  
Pricing
For a detailed look at pricing, take a look here.
Key Features
API-triggered workflows leveraging data to target customers
Segmentation and A/B testing features to optimize the path that increases adoption
Choose Customer.io if:
You rely on email automation for multiple use-cases, including onboarding
You have a strong content marketing team that can craft onboarding emails that provide real value to users
4) Loom: Best Video Onboarding Tool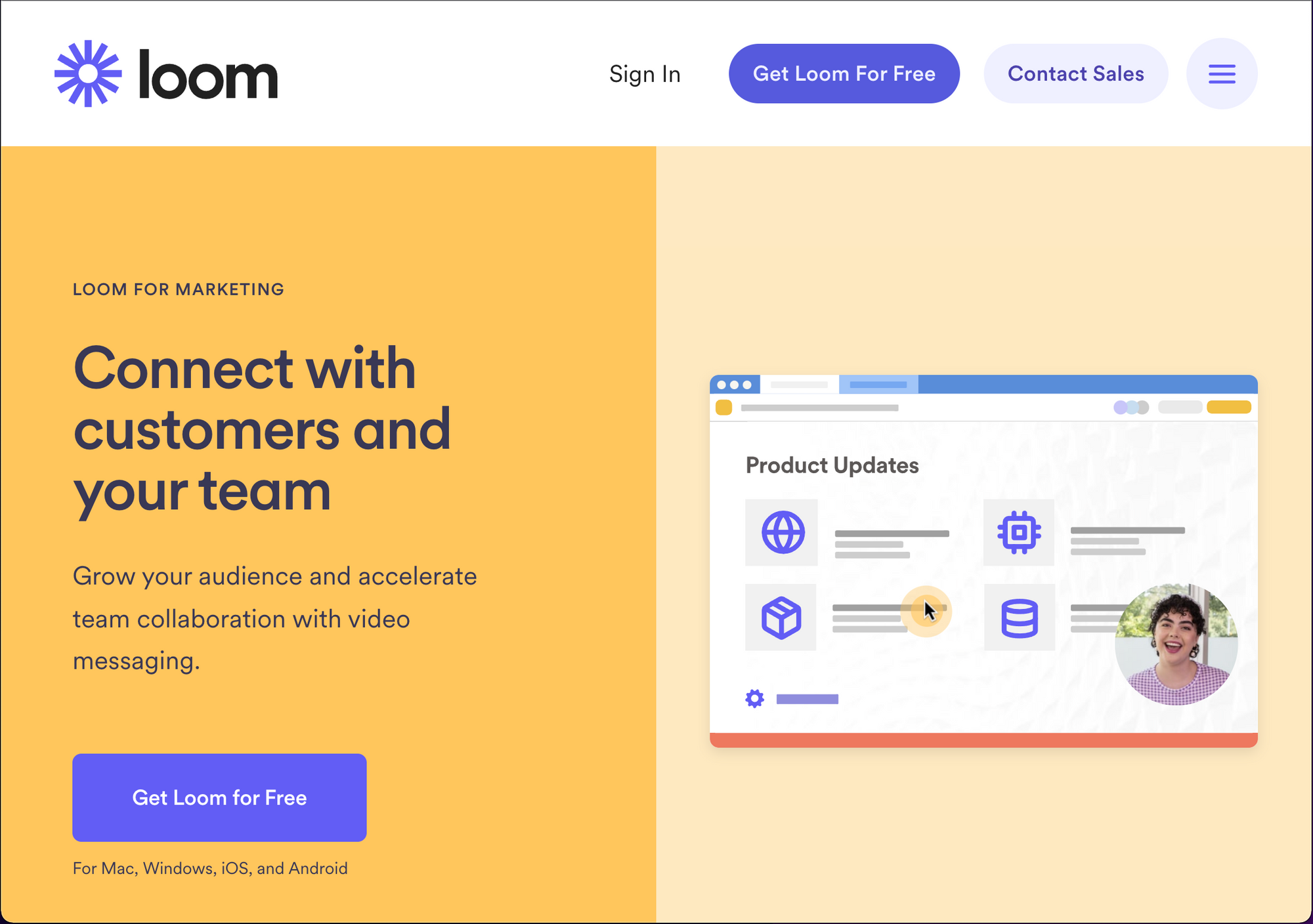 Loom is an easy-to-use tool to capture videos of your screen and your webcam. Companies use it for multiple purposes, including internal communication and asynchronously communicating with customers. Creating onboarding videos can help users feel more connected with your product and have confidence in navigating your product for the first time.
Pro-tip: Loom pairs great with Stonly by embedding videos directly into your onboarding guides.
Pricing
For a detailed look at pricing, take a look here.
Key Features
Easily connect videos with buttons in your product
Engagement insights to monitor usage and performance
Choose Loom if:
You want to enhance your onboarding process with high-fidelity videos
You are using an in-app tool such as Stonly and want to add high-quality videos
5) Livestorm: Best Webinar Tool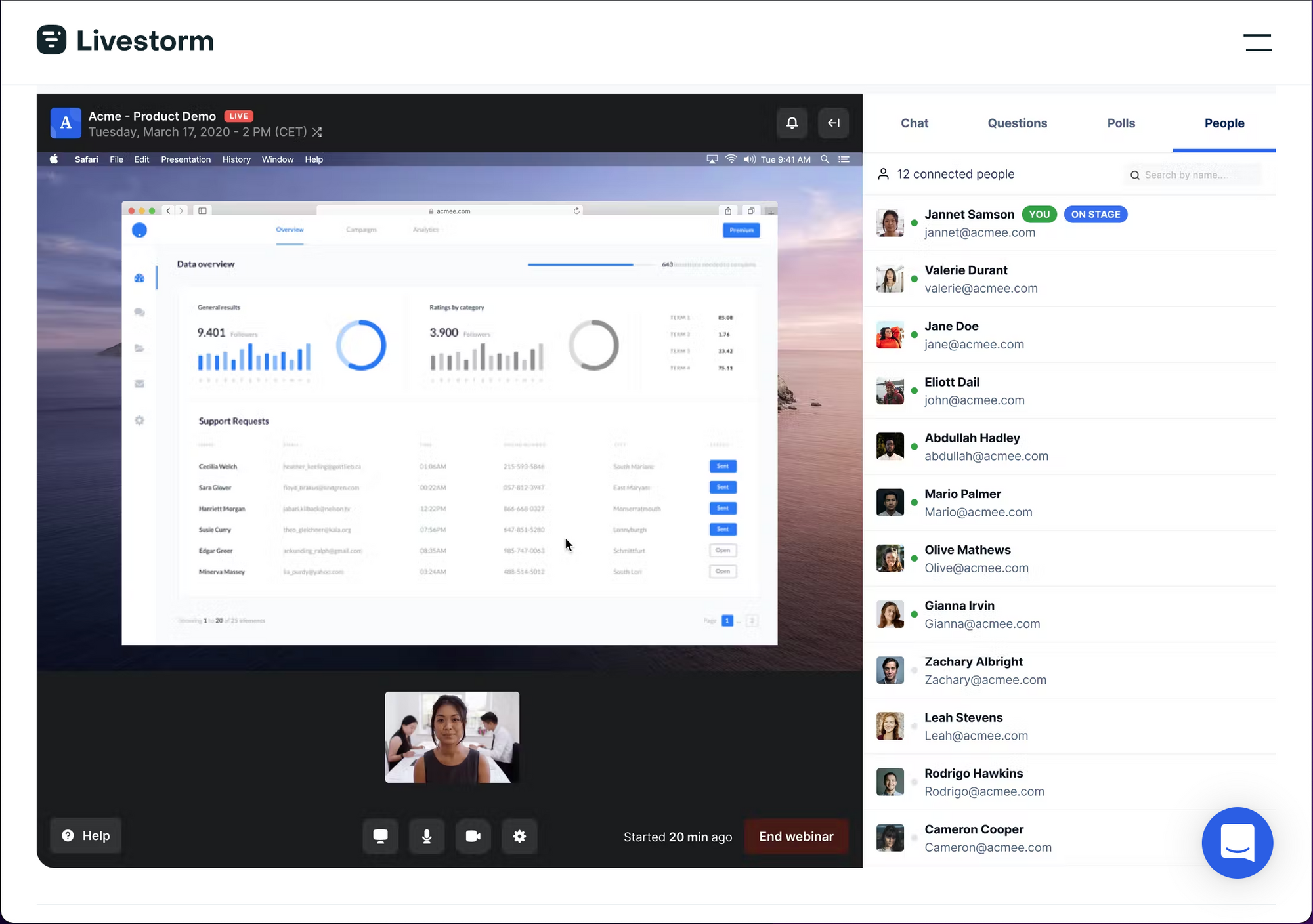 Livestorm is a software tool that makes it simple to host high-quality on-demand and pre-recorded webinars. This can be a powerful tool for onboarding when the product is complex enough that in-app onboarding alone isn't feasible.
Pricing
For a detailed look at pricing, take a look here.
Key Features
Live and pre-recorded events give flexibility for new users
Chat and engagement features let new users interact and ask questions
Choose Livestorm if:
Your product requires more hands-on onboarding
One-on-one live onboarding isn't scalable for your team
6) Stonly (Again): Best Knowledge Base Onboarding Tool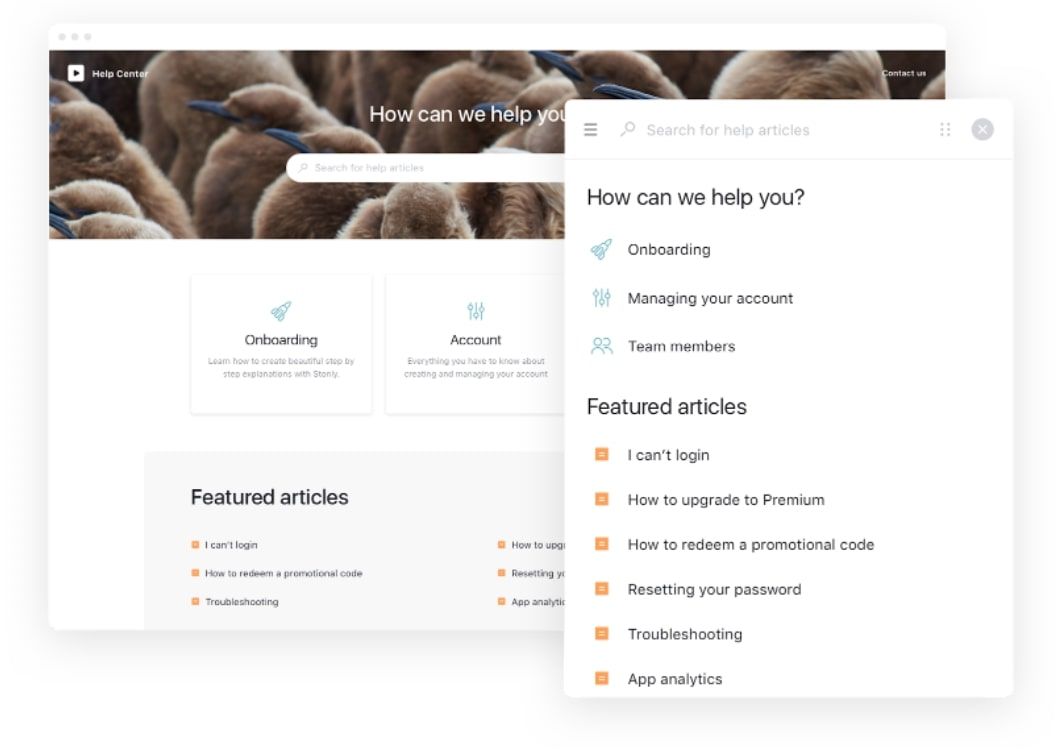 You can connect the onboarding experience with an interactive knowledge base to guide users when they encounter a topic in the onboarding process that they want to explore further. Stonly makes it easy to build a customer service knowledge base and integrate it seamlessly within the onboarding experience.
Check out some of the best knowledge base examples for inspiration about complementing your onboarding experience with an in-depth, interactive knowledge base.
Key Features
Interactive, easy-to-follow help guides
Analytics dashboard to monitor usage and performance
Versioning and permissions to make it simple to create and update content
Choose Stonly if:
You want to provide self-service onboarding and support for customers
You value fantastic user experience while helping users troubleshoot
You'd like more customers to find answers to their questions self-serve
Looking for SaaS onboarding software for your company?
Stonly allows customized product adoption hassle-free for your SaaS product customers.
Try a FREE Trial
7) LiveChat: Best Live-Chat Onboarding Tool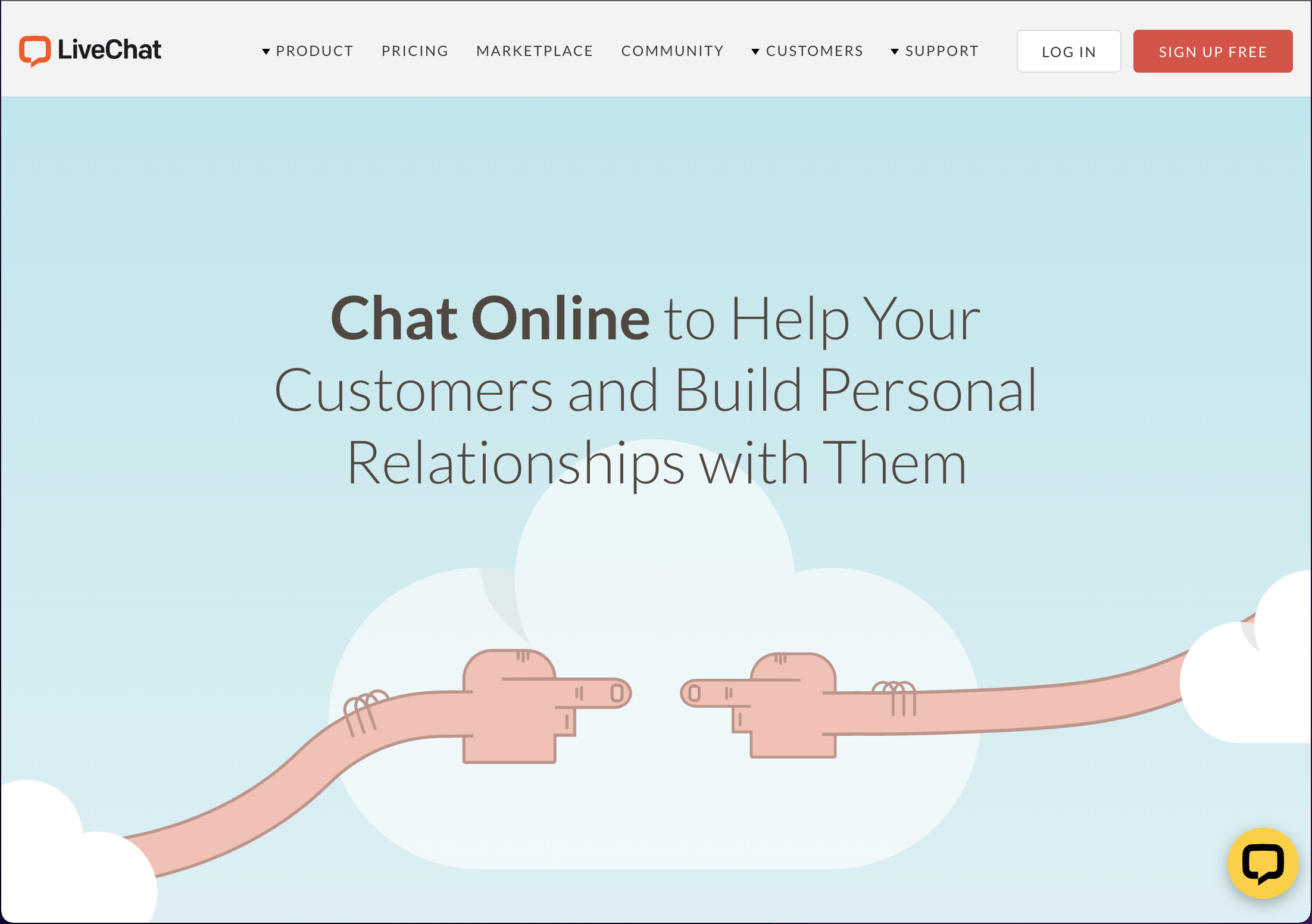 LiveChat provides a simple way to engage prospects and customers on your website and in your app through both chatbots and live chats. This is a great intermediary step between in-app tooltips and scheduling live onboarding. Allowing new customers to reach out and ask direct questions in a conversational manner can increase their onboarding experience.
Pricing
For a detailed look at pricing, take a look here.
Key Features
Customizable chat widget with automation to drive engagement
Reporting and analytics to improve workflows and automation
Choose LiveChat if:
Your product requires more in-depth onboarding and your customers have lots of questions
Your new customers lifetime value merits extra expense for live chat support
8) Heap: Best Product Analytics Tool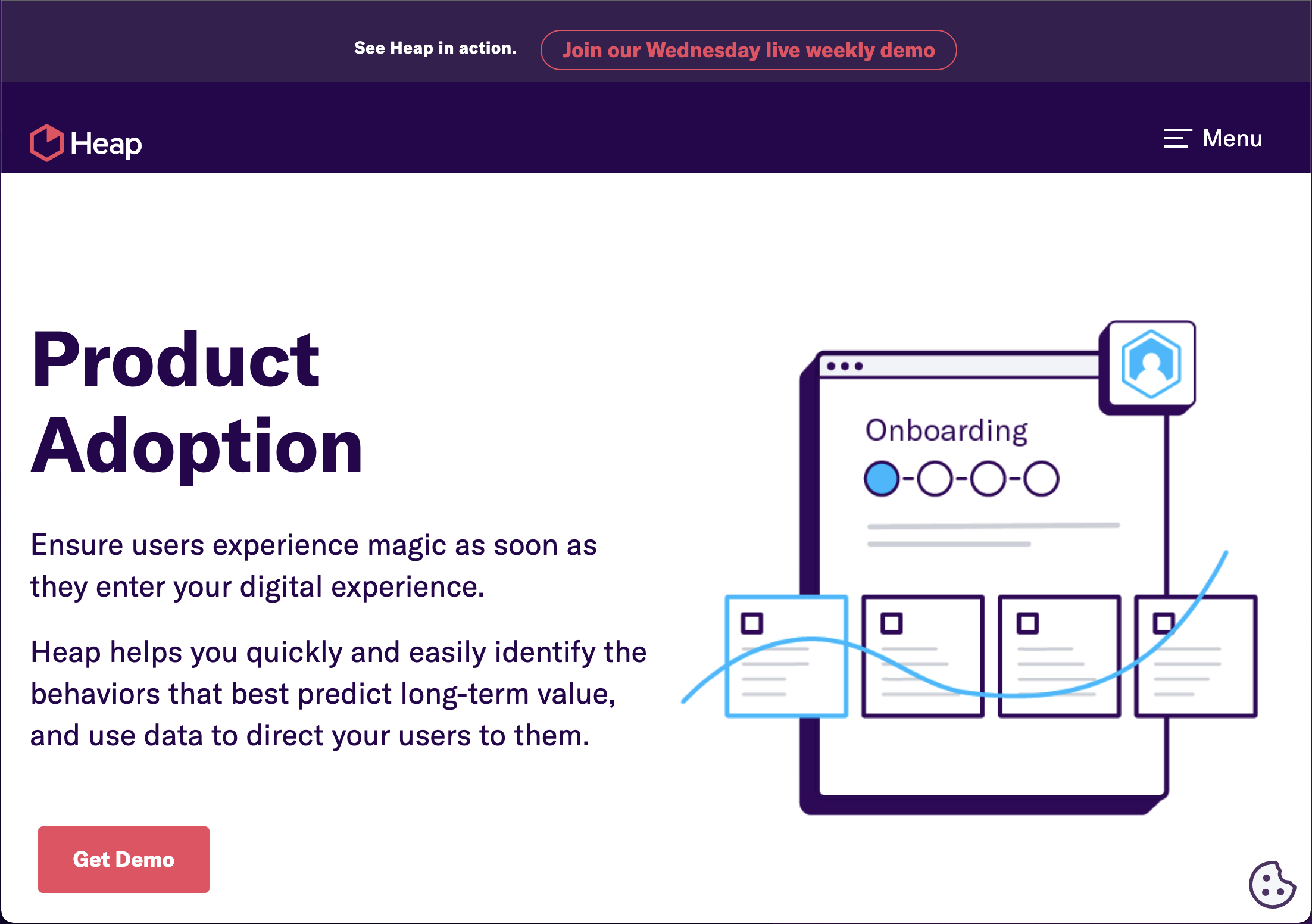 Heap is a powerful product analytics platform. It helps you identify the early actions users take in your product that lead to higher adoption and stickiness. Determining the key actions that correlate with long-term retention enables you to hone in on your onboarding strategy, encouraging these actions to maximize the value from every new customer.
Pro-tip: Heap pairs well with in-app onboarding tools such as Stonly, so you can create interactive paths to guide users to the actions you discover that correlate with long-term success.
Pricing
For a detailed look at pricing, take a look here.
Key Features
Automated event tracking with auto-capture and APIs
Powerful dashboards and reports to gain insights to customers' "aha" moments
Choose Heap if:
You don't know the key behavior and customer activities that correlate with long-term success in your product
You are committed to improving your onboarding strategy based on user behavior insight
Related Post: SaaS Onboarding Best Practices to Enhance Customer Success
Are you ready to make a great first impression?
If you're one of the 84% of companies that rate onboarding as a key driver of customer value (according to a 2021 report by Precursive), the recommendations in this guide will help you invest in building the right toolkit to drive activation and adoption.
Stonly is the best SaaS onboarding software tool that puts your customers in control of creating their version of a successful onboarding experience. Its interactive guides, no-code implementation, data targeting, and analytics make it the most effective tool in your onboarding tool stack to drive activation and ensure long-term success.
Try a FREE Trial
Frequently asked questions about onboarding software
What is onboarding in SaaS?
Onboarding in SaaS refers to guiding customers to the features and actions in your product that provide value. The goal is to help them become active users as quickly as possible.
How can SaaS improve the onboarding process?
The best way to improve the onboarding process is to discover the key activities that predict long-term success for your customers and help them discover and perform these activities as quickly as possible.
Which tool is used for customer onboarding?
Many tools are used for customer onboarding, including Stonly for self-serve, interactive, in-app onboarding, and Heap for implementing product analytics to discover the key activities that drive success.
How do you automate customer onboarding?
The best way to automate new customer onboarding is to choose the right software tools to help. Stonly is a strong partner for in-app onboarding to give customers interactivity in their onboarding journey. Customer.io is an excellent tool for email onboarding to drive customer engagement through email automation.
Related Post: B2B SaaS Onboarding: A Self-Serve Approach