As a company grows, it can be difficult to scale customer support in a way that continues to meet the demands of an expanding customer base, as well as your own high standards. Tickets mount up, often requiring support agents to answer the same questions. Meanwhile, customers get frustrated waiting for help and run the risk of bouncing away from your product.

Not only do customer support teams need the help—customers prefer to solve issues themselves. You may have heard that consumers prefer self-serve support, but over the last year, the shift to cloud-based work and personal lives has reached a tipping point.

The move from in-person to online demands great online self-serve experiences, not just for tech-savvy individuals but for all ages and types of consumers.

Knowledge bases, often called help centers, aren't just a list of articles anymore, either. Interactive content, how-to guides, and videos provide a rich customer experience. The most effective knowledge bases let users access content directly from within an application. This translates into lower support costs, increased productivity, and higher customer satisfaction.

If you want a modern knowledge base, skip the other articles on knowledge base tools: we're going to lay out exactly what's important when choosing in 2021. It's hard to choose knowledge base software when there are so many options on the market. Today, tools offer a bit of everything: some are conversational bots and CRMs that also have a KB feature, others provide live chat and full-on help desk software that come with a price tag.

What if all you need is a strong, purpose-built knowledge base software?

In this article, we'll cover:
What knowledge base software is
6 essential features of knowledge base software, and 3 features to look for in the more modern options
The 12 best knowledge base software tools right now
How to choose knowledge base software
How to keep your knowledge base up-to-date
Want a knowledge base that works? We help you build intuitive, easy-to-use knowledge bases with no code. Request a demo today
What is knowledge base software?
Knowledge base software provides a collection of self-serve content about products, services, company processes, and other topics. They can contain articles, how-to instructions, reference guides, videos, graphics, and presentations in an easy-to-reference fashion, accessible to your users in one consistent place.

The benefit of having an extensive knowledge base is that users can quickly search to find answers to their questions, without talking to anyone. This means fewer support tickets for your overstretched customer service agents to respond to and a reduction in user drop-off from your product due to frustration.

It can also aid customer retention and avoid churn as users can make better use of your product and all of its features which otherwise might have been difficult and time-consuming to navigate.
The best knowledge base software in 2021
Given knowledge base software can have such a big impact when it comes to retaining customers, reducing support tickets, and improving overall user experience, it's no surprise that there are a lot of options on the market today.

Understanding the differences between them can be a headache, so we've compiled a list of the twelve best available today. We'll take a look at:

Stonly
Zendesk Guide
Guru
Bloomfire
HelpDocs
livepro
Intercom
Helpjuice
Shelf
Lessonly Learning (formerly Obie)
Knowmax
Document360
Related post: 15 Best Knowledge Base Examples in 2021 [Critically Reviewed]
What are the essential features of a knowledge base software?
Before we delve into the various bells and whistles associated with each product, it's probably best to have some context as to what defines a truly great knowledge base software platform and separates a modern one from the more limited traditional options.

Six features essential to a great knowledge base software tool:

Content editor: A good knowledge base lets you create really powerful content. As such, it will include a content editor which allows you to create, edit, tag, version, and publish knowledge articles. The editor needs to support not only text but multimedia videos and graphics, and should also have the ability to import and transform existing assets.
Search: Great knowledge bases need to provide mechanisms for users to search and find content exactly when and where they need it. Some include helpful artificial intelligence tools that can utilize Natural Language Processing (NLP) to ensure users see relevant content based on keywords.
Brand customization: Users need the ability to customize the look and feel of the knowledge base to match their company and product-specific branding. This includes fonts, styles, colors, graphics, and other branding elements.
Analytics: Being able to track and measure user interactions with the knowledge base is critical. This includes topics like understanding of article visits, read times, abandonment rates, etc. The ability to track a user's navigation through the knowledge base is important for understanding what is (or is not) working so that improvements can be made.
Versioning and rights management: Users need to be able to create and track versions of the knowledge base. The ability to track edits to an individual piece of content is critical. Knowledge bases also need to provide a mechanism to control user rights and permissions. This covers who can read, edit, delete, and publish knowledge base content.
Integrations: Knowledge bases need to actively integrate with popular customer support, chat, and intranet tools. Many customer support applications have limited knowledge bases. By integrating with standalone knowledge bases, they can deliver superior functionality to their users.

Three features of a modern knowledge base:
Step-by-step content: A format that allows you to break problems down into digestible, easy to follow steps for your customers or employees.
Adaptive content: The ability to offer different users different paths. Often, two users with the same issue require different solutions based on their situation and circumstances. The modern KB lets you offer different paths so you can show users the most relevant content to them, and avoid overwhelming them with unhelpful information.
In-app widget and triggers: Traditional knowledge bases live far away from your product. Modern ones let you provide help content right where people need it, using a website widget. Even better, some let you trigger content on specific pages using tooltips to offer access to help proactively.

12 best knowledge base software right now
Stonly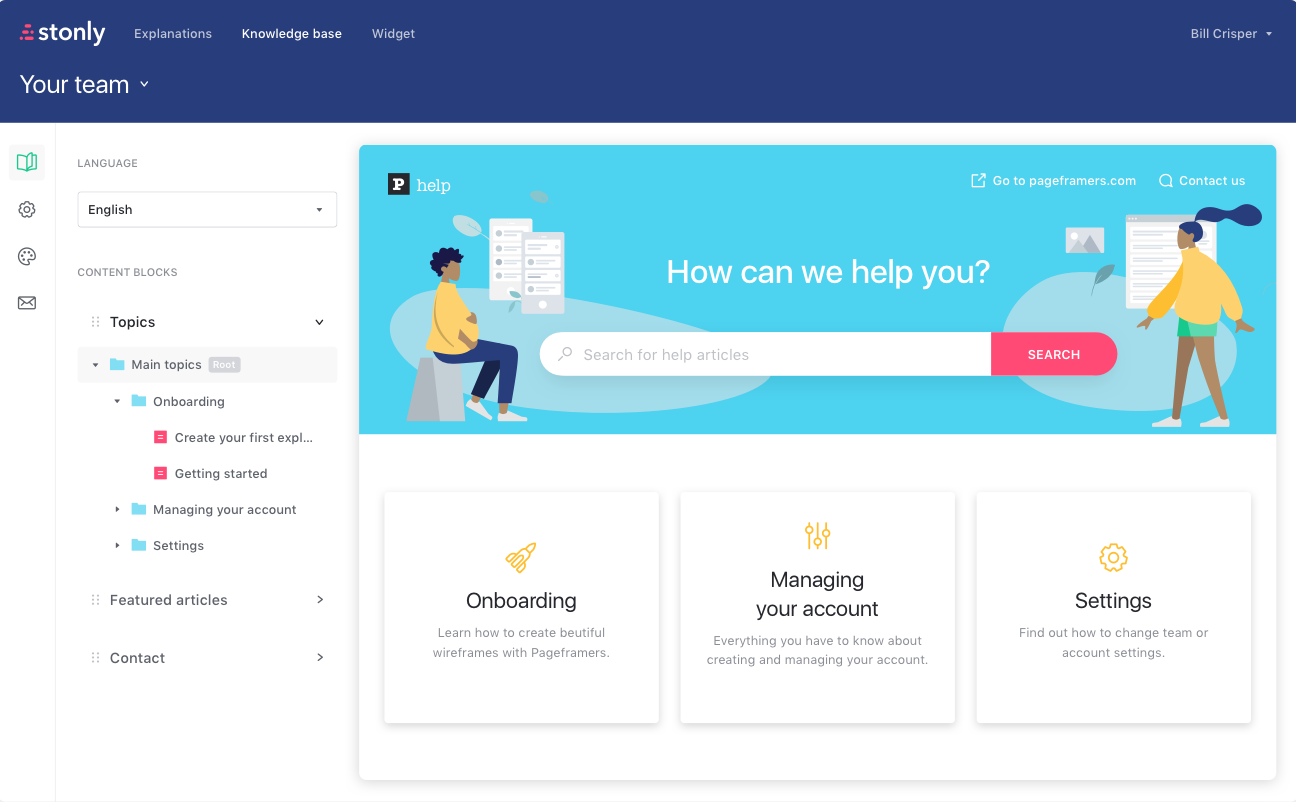 What is it?
Stonly is a completely interactive knowledge base platform that replaces static articles with engaging, interactive guides. These guides are proven more effective at driving customer and employee success. Stonly also makes it easy to provide your knowledge base right where people need help–on your website, in your app and in the other tools your team uses.

With Stonly, teams are able to build a beautiful, modern knowledge base with no design resources and no coding. Plus, the interactive format allows for more powerful search and analytics than any other knowledge base provider.

Stonly is designed to give customers and employees the exact information they need, when (and where) they need it. It's best for companies looking to build a modern knowledge base that decreases support cost and really drives success.

Features
Stonly has all the essential features previously mentioned in this article. These include:

A fully-featured content editor
Powerful search functionality
Interactive, step-by-step guides
Adaptive content that adjusts to users' needs
The Stonly Widget, which allows you to provide help on your website with no code
Brand customization tools
Comprehensive usage analytics
Versioning and rights management tools
Integrates with Zendesk, Freshdesk, Front, and Intercom
Designed for internal and external use

Pricing
Free 14-day trial
Basic: $0/month
Starter: $49/month, 3 team members, 4,000 guide views/month
Business: $99/month, 5 team members, 4,000 guide views/month

Reviews
Stonly users frequently comment on its ease of use. Users cite the effectiveness of Stonly's customer support and implementation teams. The step-by-step, contextualized guides are a significant differentiator.

"We started to use Stonly to help us share knowledge internally for over 1,500 employees and partners to manage a very time-sensitive operation," says Thomas, who works in product marketing at a large financial services company. "We enjoyed working with it, and now more than 3,000 people use it internally. Plus, we've started using it to onboard and assist our customers directly in our apps."
Zendesk Guide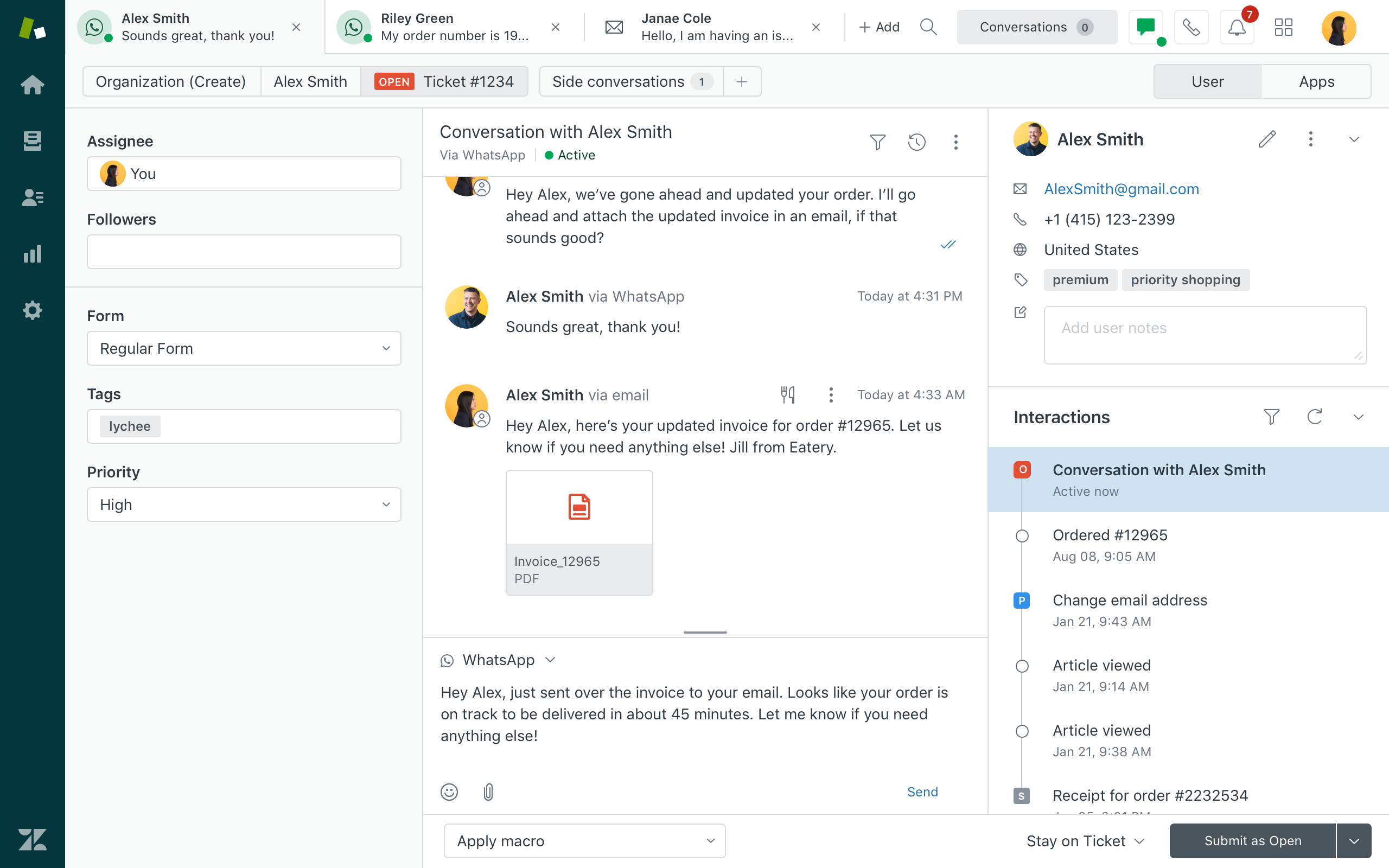 What is it?
Zendesk is a market-leading customer service solution, and Zendesk Guide is an add-on product that enables you to create a help center that includes a branded customer-facing support site and a knowledge base.

It's worth noting that while Zendesk Guide is exclusively for Zendesk customers, many other knowledge bases (like Stonly) also integrate with Zendesk, as well as a range of other tools.

Features
Knowledge base creation
Integrated Knowledge Capture app with publishing workflow
Theme customization
Rich text editor
Embed self-service with Web Widget and Mobile SDK
AI-powered suggestions with Answer Bot
Content and revision history
Google Analytics tracking
Internal and external use supported

Pricing
Requires a Zendesk base subscription
Guide pricing
Lite: $0/month
Professional: $19/month
Enterprise: $34/month

Reviews
"In our company, we use Zendesk Guide as our knowledge base platform across all departments," says Customer Care Agent Sereta Robinson. "Each department will have its own Zendesk Guide category in which employees can refer to when they have questions regarding the department.

"We want to encourage self-service employee behavior. Instead of asking the responsible team immediately when they have questions, we want to encourage them to find an answer on their own first on our Zendesk Guide platform to both reduce the requester wait time when asking questions as well as the requirement to hire a headcount for answering questions."
Guru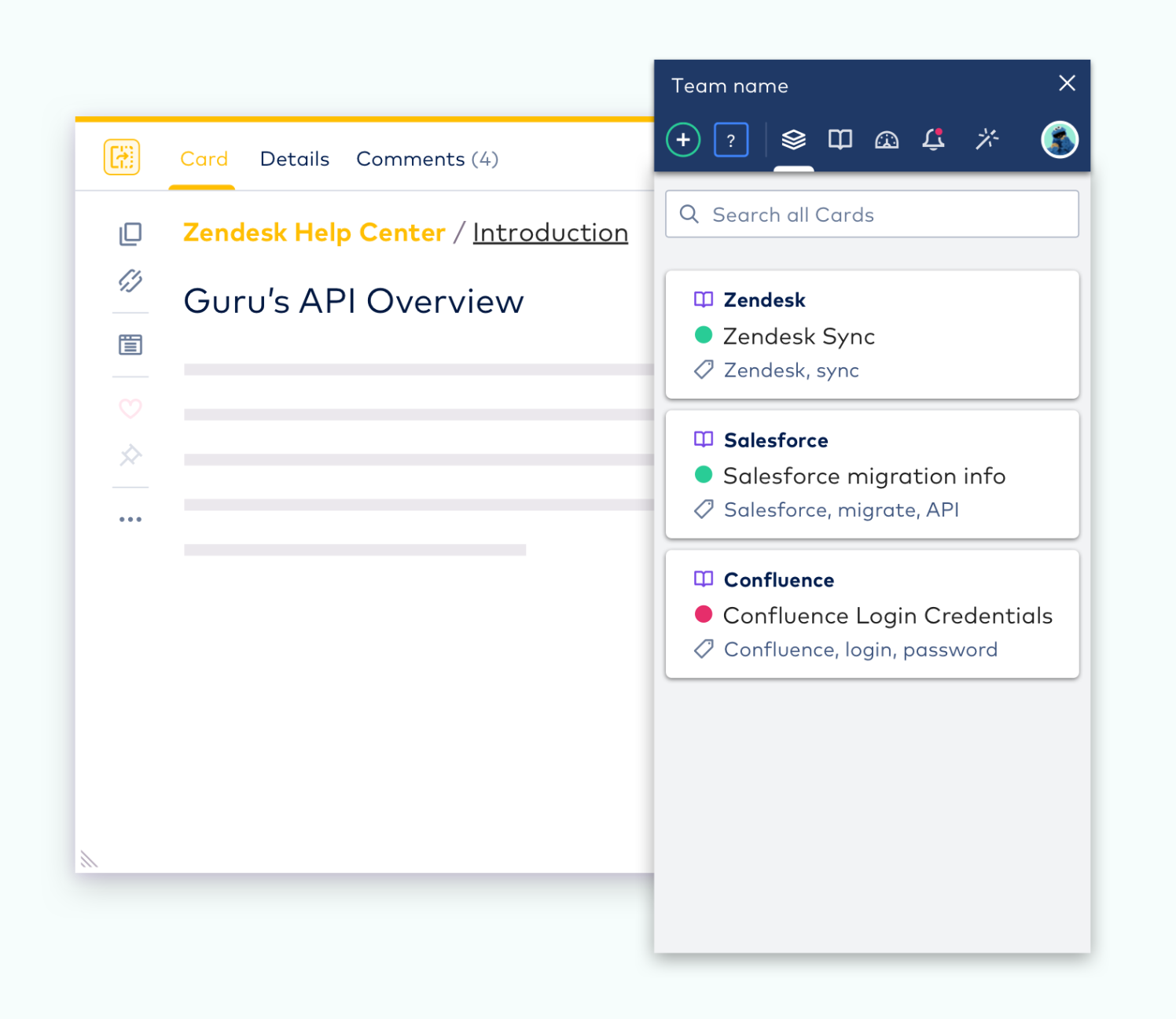 What is it?
With Guru your team can create, share, access, and update information right in the context of their existing workflow. It brings contextual, expert-verified information to the places you're already working, like Slack, Teams, Email, CRM, your Chrome browser, and more. It's internal only, meaning it's a knowledge base for teams to share information and not for use by external customers.

Features
Simple and powerful editor
Collections and boards
Browser extension
Knowledge alerts
Duplicate detection
Custom knowledge triggers
Slack integration
Designed for internal use

Pricing
Free: $0/month
Starter: $5/user/month
Builder: $10/user/month
Expert: $20/user/month

Reviews
Users find Guru's Card feature to be very valuable. Users like the flexibility of being able to use a browser plug-in as well as accessing Guru as a website. Guru is especially helpful in supporting internal business processes like sales, support, and HR.

"Overall: I like Guru. It makes my life easier when working," says Onboarding Risk Associate William. "I have easy access to the policies that my company has while I'm doing my own work.

"The Chrome extension allows us to have easy access to policies while working through different items. [But] I think there could be more clarification as to why cards need to be verified. It would be nice if there was also an admin position that could instantly verify cards."
Bloomfire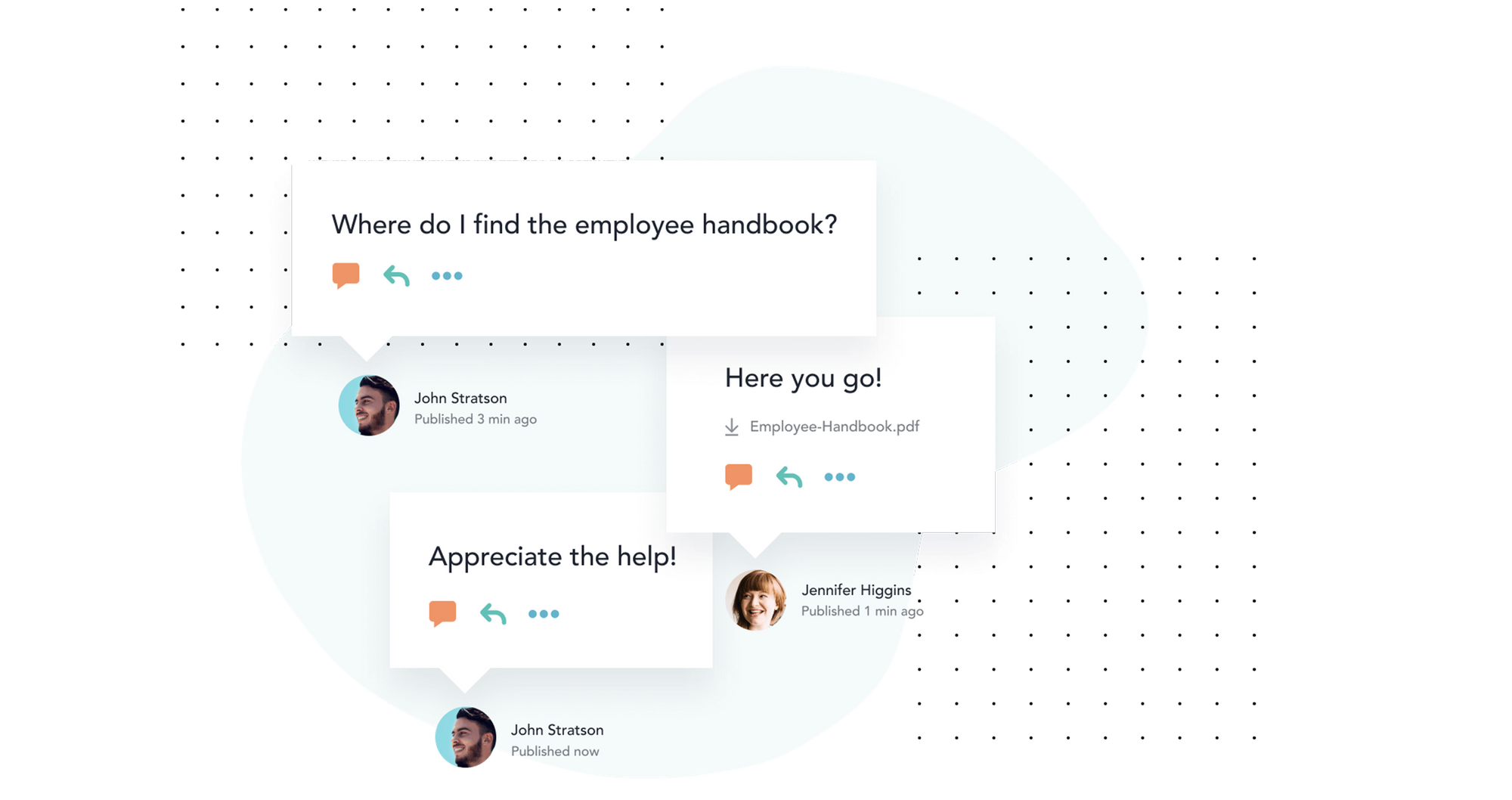 What is it?
Bloomfire is a secure knowledge engagement platform that empowers teams to find information fast. It eliminates shoulder taps, frantic Slack requests, and repetitive questions by giving your team the knowledge they need, when and where they need it.

Features
Powerful search
AI-generated tags
Moderation and curation
Spoken word search
Federated secondary research integration
Integrations
Internal and external use supported

Pricing
Basic: $1,250 for 50 users, billed annually
Enterprise: Contact Bloomfire

Reviews
Users consistently cite Bloomfire's ability to store and manage all types of information—documents, presentations, videos, etc. The ability to tag and search for items is also considered a strong point.

"Overall: We support our entire sales staff using Bloomfire with up-to-date product materials, case studies, and great collaboration with our people in the field. We use Bloomfire's API to dole out our manuals, technical data, images, and more to our iOS and Android apps as well as all of our websites," says Ralph, a multimedia director. "We put a document in one place (Bloomfire) and then serve it out to all others making BF our system of record!

"[However] the cost is very hard to justify to upper management that does not see the value based on the same values the dev team does."
HelpDocs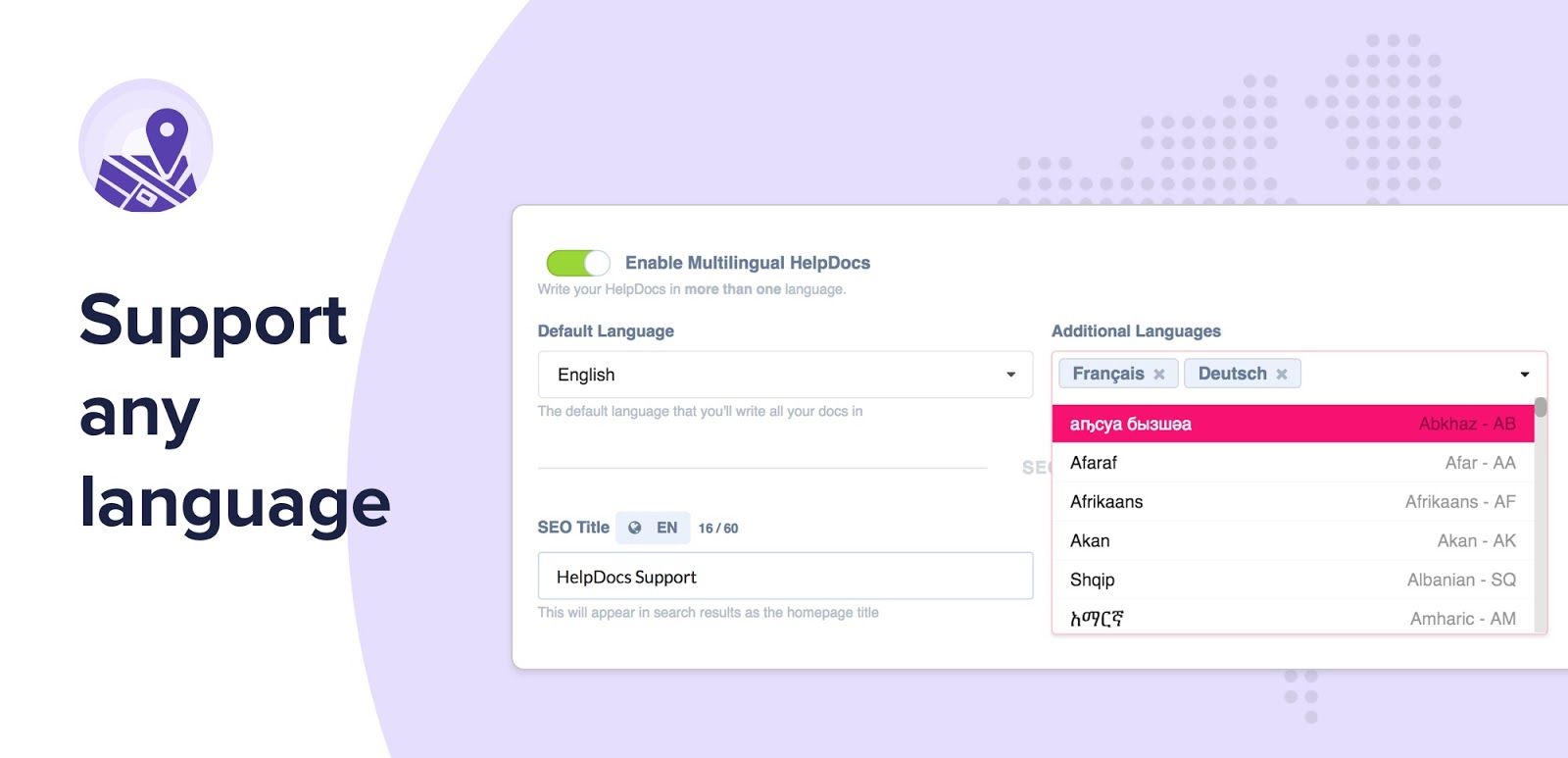 What is it?
HelpDocs is a knowledge base tool that is optimized to help customer support teams and places an emphasis on being fast and easy to use out of the box.

Features

Knowledge base
Search
Analytics
Native integrations
Widget API
Audit trail
Team accounts
Designed for external use

Pricing
Starter: $49/month ($39/month billed annually), 5 team accounts
Pro: $99/month ($79/month billed annually), 25 team accounts
Growth: $199/monthly ($169/ billed annually), unlimited teams

Reviews

Users cite HelpDocs' ease of use, quick learning curve, and the positive impact on reducing customer support burden.

"Overall, it's an amazing solution. We support our resource page answering hundreds of user questions a day and reducing the impact on our support team by hours a week. We're also able to gather a lot of product feedback and route customer questions easily to the right support teams," according to Jon, a product director.

"Lacks some flexibility in terms of supporting multiple products within our organization. It can be worked around, just not ideal."
Intercom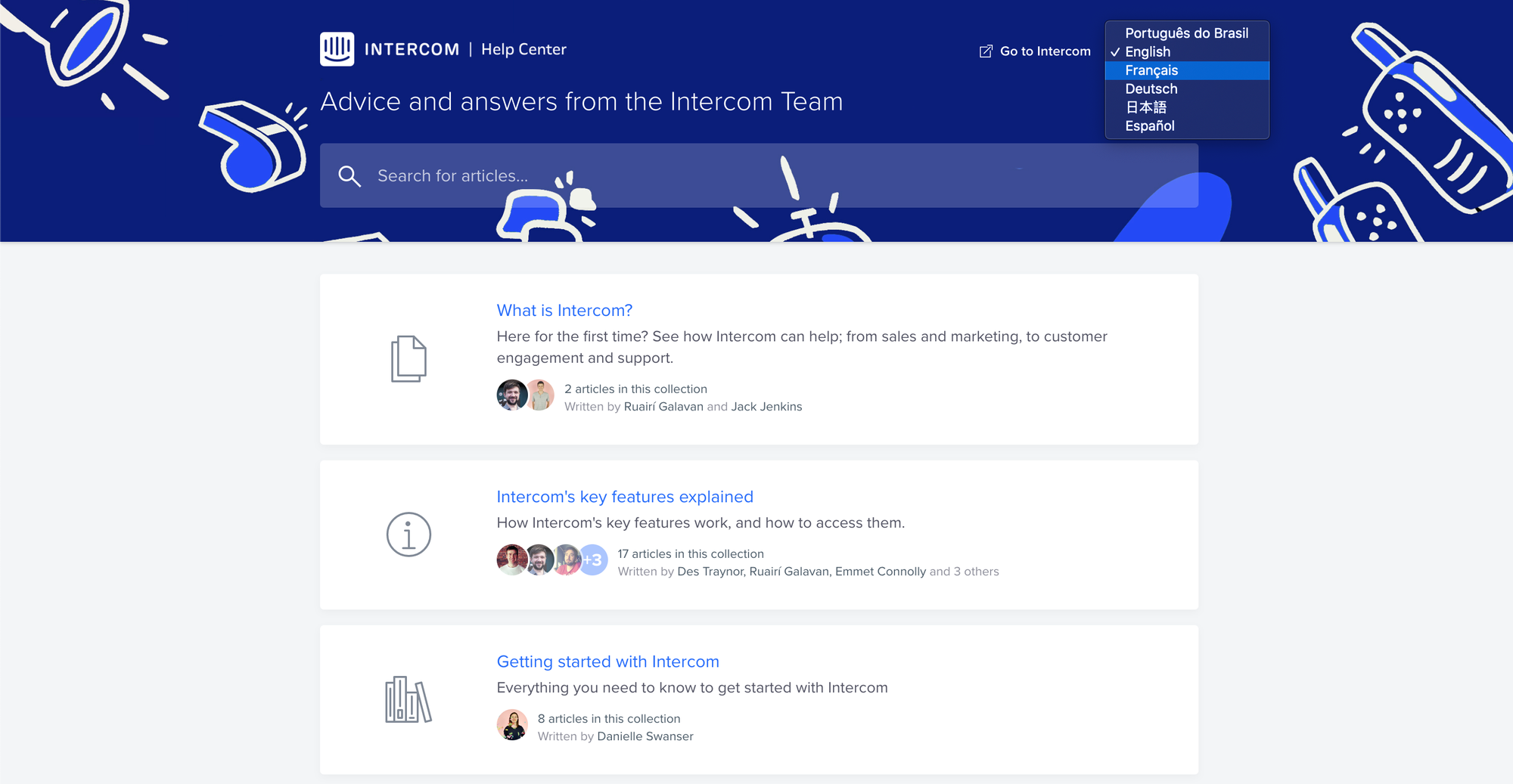 What is it?
Intercom is a Conversational Relationship Platform (CRP). With Intercom, you can build better customer relationships through personalized, messenger-based experiences across the customer journey. Intercom also has a knowledge base that is integrated with its chatbots.

Features
Rich message composer
Conversation search
In-app message/email composer
Behavior triggered messages
Intercom app for iOS
Issue resolution
Live user data
Message tagging
Designed for external use

Pricing
Starter: $79/Month, free trial
Others: Contact Intercom

Reviews
Users consider Intercom to be one of the best Conversational Relationship Management solutions in the market. The numerous integrations with customer support, sales, and marketing applications are a major differentiator. Stonly has certified integration with Intercom.

"The knowledge center and live chat features were the most used features at our software company. These features were used regularly and automations within Intercom helped serve clients efficiently," says Brandon, a technical support specialist.

"Lacks in reporting and knowledge base customization compared to Zendesk. Innovation in new features can be slow at times."
Related post: Intercom Alternatives: 10 Tools That Give You More for Less
livepro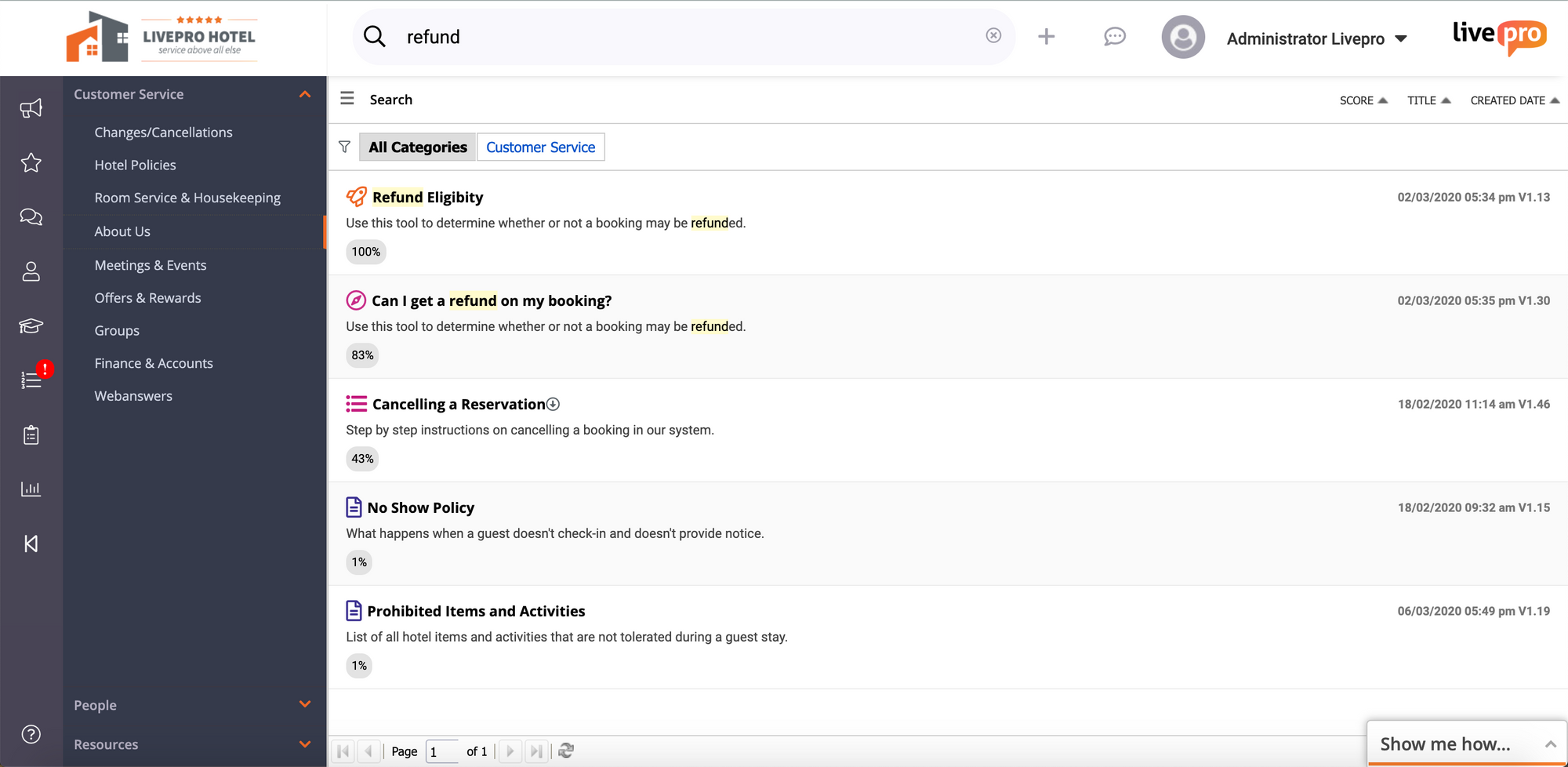 What is it?
livepro is feature-rich yet easy-to-use, delivering answers to agents rather than long complex documents they need to dig through. This makes customer service quicker, easier, and more efficient. livepro's powerful search feature can deliver quick and consistent answers through any channel the customer seeks information, whether it is via phone, email, front counter, website, self-service, live chat, or even modern virtual assistant.

Features
Smart search
Announcements
Process guidance
Quizzes
AnswerBot
Reporting and analytics
Made for external use

Pricing
Reviews
"The livepro platform is an integral tool to ensure the consistency of customer service we deliver and allows us to receive strong VOC and NPS results. Answers to customer questions are a click away, and we've been able to tailor the way knowledge is accessed for new and tenured team members so that they only receive the information that is relevant to them," says Kelly who uses the tool in a large-scale enterprise setting.

"If there was one thing we could have that we don't currently have the capability for, it would upload videos. To keep up with different learning styles, methods of communication, and how the varying demographics within our teams like to receive and retain information, we'd like to be able to include videos as a training and knowledge tool, and don't currently have the ability to do this."
Helpjuice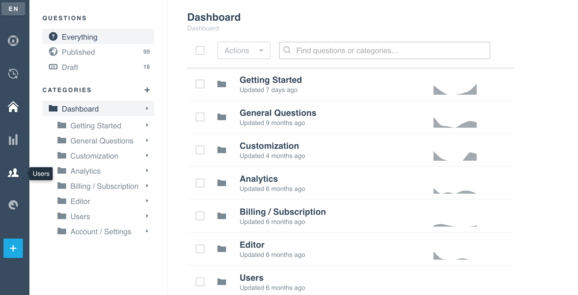 What is it?
Helpjuice is a cloud-based knowledge base management solution. It's suitable for the creation of internal and external knowledge bases and specializes in helping teams to scale and better collaborate.

Features
Authoring and content formatting
Intelligent analytics
Customization
Google-like search
Integrations
Multi-language support
Built for internal and external use

Pricing
14-day free trial
Starter: $120/month, up to 4 users
Run Up: $200/month, up to 16 users
Premium Limited: $289/month, up to 60 users
Premium Unlimited: $369/month, unlimited users

Reviews
Users consistently rate Helpjuice's customer support as excellent. The ability to customize its look and feel via HTML and CSS is cited as a strength. Some users have commented that image storage is problematic.

"Helpjuice has been absolutely fantastic to work with. Despite being in opposite time zones they always respond promptly and have helped to customize our knowledge base exactly as we need it. 10/10 customer service, I couldn't recommend them more," says Digital Analyst Ischtar, who works for a media company.

"Image storage is problematic—there's no folder system for images, so they quickly get lost in an endless feed. In the article creation process, there is the option to embed an image you previously uploaded, which in theory prevents needing to upload duplicate images. However, there's no search functionality in this context, which renders the feature almost useless."
Shelf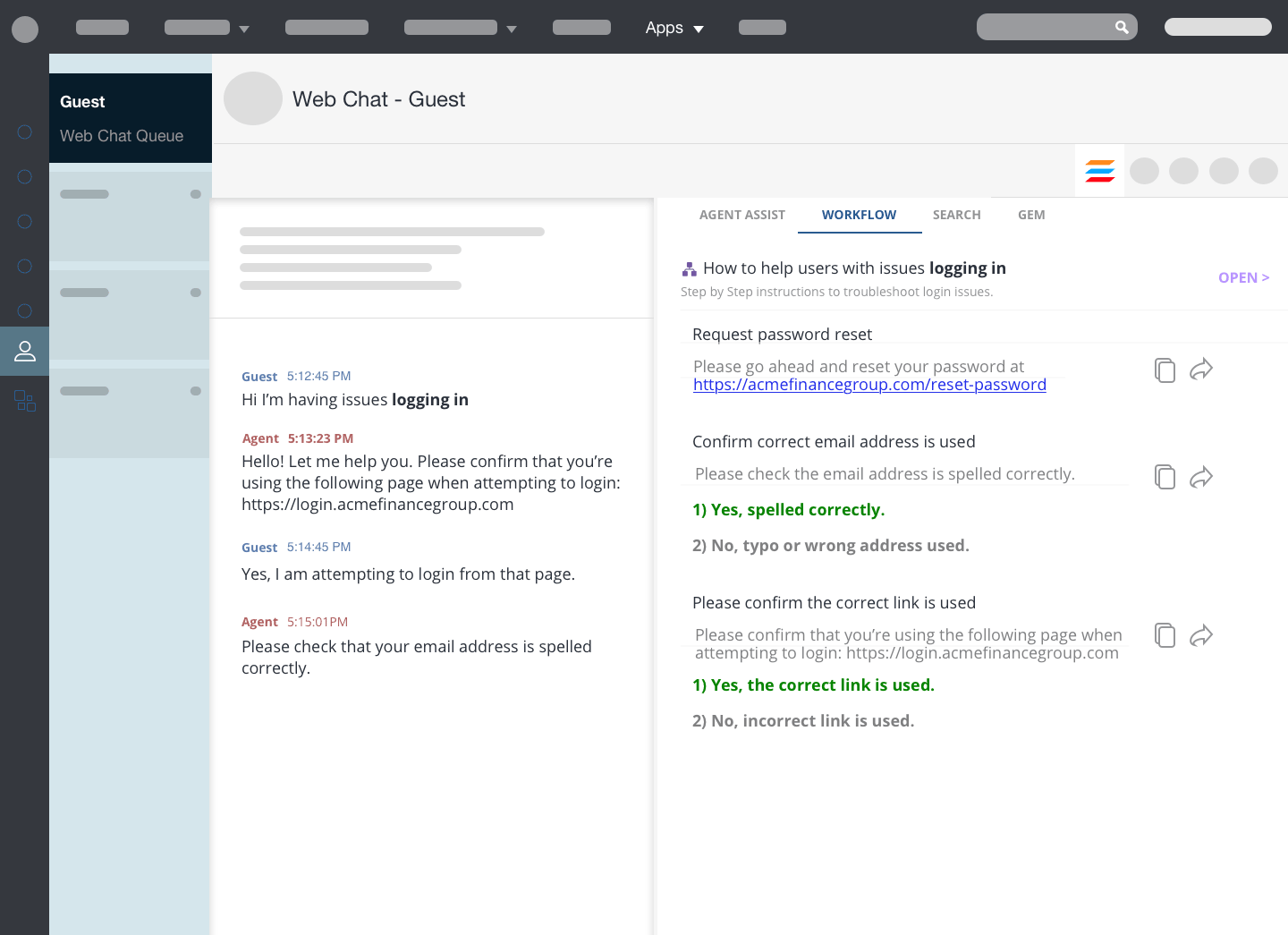 What is it?
Shelf is a knowledge automation and management platform focused on helping contact centers surface the best answers to agents and customers. They also provide a self-serve knowledge base tool for users to use directly, though their emphasis is on enabling companies with large teams of support center staff to provide faster, better support.

Features
API
Access controls and permissions
Alerts and notifications
Cataloging and categorization
Content management
Customizable branding
Reporting and analytics
Integrations
External and internal use cases

Pricing
Reviews
Shelf users consistently cite its ease of use, its AI technology, and efficient implementation. One of the weaknesses users cited was the lack of an HTML editor to edit content.

"I really liked the diversity of knowledge content one can create. Decision trees and wikis were the most important for us, and we found them tremendously useful," says Rudy, a knowledge content specialist. "The visuals of the front end seemed a bit rudimentary, and we weren't able to modify or customize them."
Lessonly Knowledge (Obie)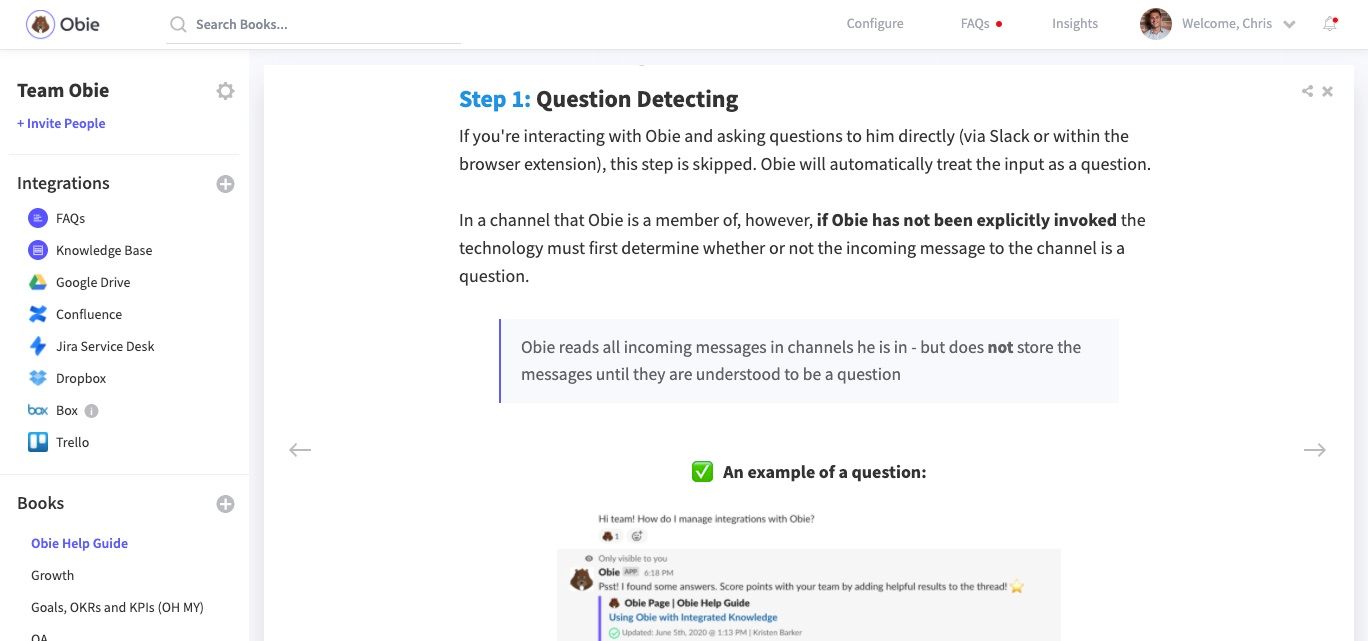 What is it?

Formerly known as Obie before it was acquired by Lessonly in July 2021, Lessonly Knowledge is a suite of tools that delivers fast, accurate support for scaling teams. It has robust Slack integration, strong enterprise search across cloud storage platforms, a FAQ knowledge format for snippets or scripts, and an intelligent Slackbot.

Features
Browser extension
Unlimited searches
Intelligent Slack bot
Analytics and reporting
Verification alerts
AI suggestions
Slack ticketing (Jira)
Made for internal and external use

Pricing
Growth: $8/active user/month
Others: Contact Lessonly

Reviews
Lessonly Knowledge's Slack integration is viewed as one of its most important functions.

"It is intuitive in that I can input it as I would ask it and it understands (mostly)," says Loan Agent Jenson. "It also offers different options in case one of the several articles does not work. I also like that it can integrate into our company's messaging software, Slack. I like having as few applications open as possible when I am working so as to not get too overwhelmed and stressed.

"[However] once Obie is done searching, it's hard to search for additional information to learn further beyond the snippet it gives. I like the quick answers, but it's difficult to get in-depth answers sometimes. It would also be very nice to be able to use simpler phrases to get the same results."
Knowmax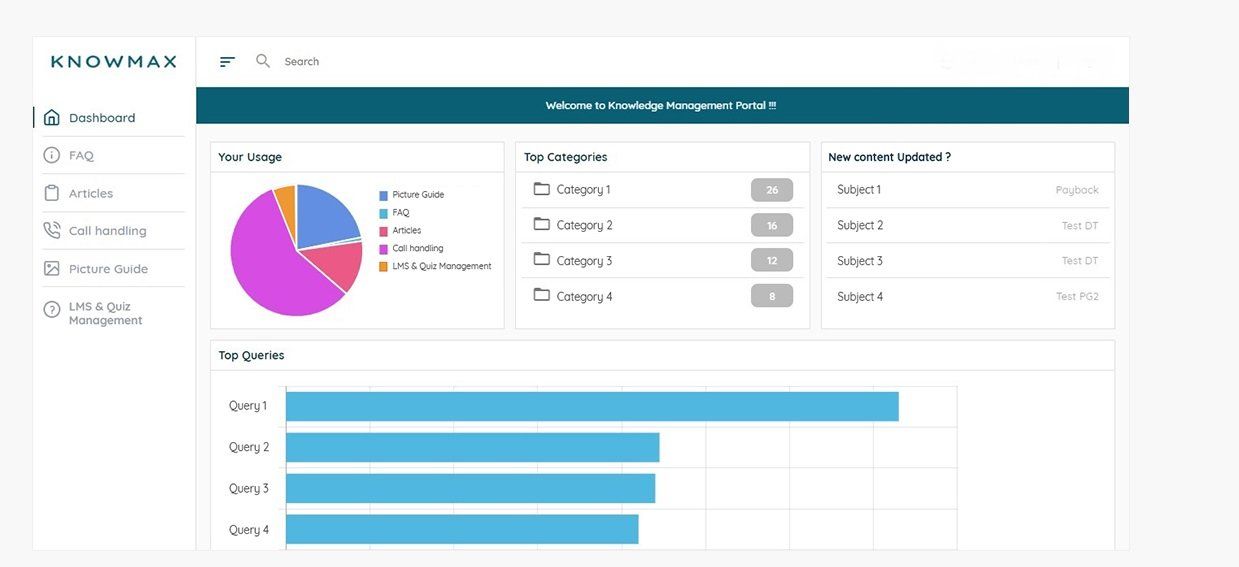 What is it?
Knowmax is a knowledge management software that enables a knowledge flow across your assisted channels such as contact center, field, retail as well as Digital Channels such as Website, Mobile App, Chatbots to ensure that your customers and support advisors can find the right information at the right time.

Features
Decision trees
Augmented reality
Tech support
Visual device guides
Learning Management System
Supports internal and external use

Pricing
Reviews
Knowmax users consistently cite the power of its decision trees.

"Knowmax decision trees have the ability to embed articles with a range of content. This is great for providing detailed instructions at each step for complex processes," says IT Leader Chris.

"Knowmax allows us to create repeatable and consistent outcomes for large/complex processes. This has allowed junior support staff to be involved in a broader range of activities while keeping a consistent experience for customers."
Document360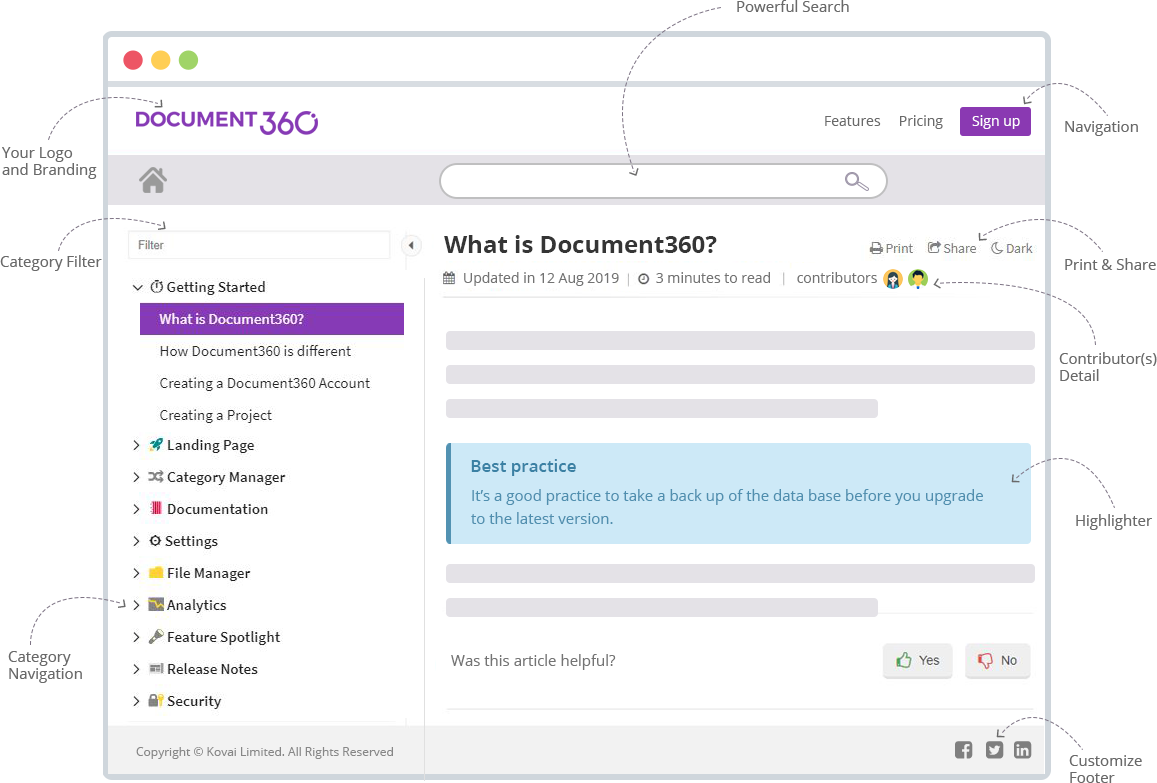 What is it?
Document360 is a SaaS platform that helps you build a self-service knowledge base for your customers and internal users (public or private knowledge bases). They are a good low-cost option for a static, traditional knowledge base.

Features
Markdown text editor
Category manager
Landing page customization
Roles and permissions
Versioning
Backup and restore
Supports internal and external knowledge bases

Pricing
Startup: $49/project/month, 2 team accounts, 1 project version
Business: $149/project/month, 5 team accounts, 2 project versions
Enterprise: $249/project/month, 15 team accounts, unlimited versions

Reviews
Above all else, user reviews tend to compliment the simplicity of Document360.

"The tool is really easy to get started with. Although there are many additional options and features, they managed to keep it simple to start your knowledge base and explore additional features bit by bit," says Guy, CTO at a small business. "The pace at which they develop new functionality is impressive. The tool has grown tremendously since we started using it a little over a year ago."
Which knowledge base software is right for you?
There's a lot of choice out there when it comes to knowledge base software solutions to address your company's needs. And which one is right for you will depend on budget, company size, and how much you prioritize certain features over others.

Most vendors provide essential features like editing, tagging, multimedia support, version control, etc. Some vendors excel in areas like customization and analytics. While others, like Bloomfire and Shelf, leverage artificial intelligence to provide more powerful and relevant search functionality.

Stonly enables you to create powerful knowledge base content and put that content exactly where your users need to see it at the moment it's needed. Step-by-step guides ensure that answers are easy to follow, giving customers the self-serve help they crave—reducing drop-offs from frustration and the number of tickets your team has to resolve.

This enables your customers to get the most from your product, ensuring they're in a prime position to renew licenses or become repeat customers, and also means you don't need to drastically scale up your support team as you grow.
Frequently asked questions about knowledge base software
How do I choose a knowledge base software?
Choosing a new knowledge base software product in 2021 is a complex process. Depending on your needs, many parts of your organization need to be involved.

The process begins with identifying the key stakeholders who'll participate, then with the definition of the goals and benefits you have in mind. Based on these, a comprehensive list of requirements needs to be developed, at which point the team gathers information from the web, vendors, and trusted sources like industry analysts. Each vendor should be scored on how well their solution meets your requirements, and a final decision should be based upon this data.
What software integrations might you need for your knowledge base?
You can unlock significant business value by integrating your knowledge base solution with other systems. Customer support and customer chat solutions are some of the most popular integrations for knowledge bases. Often these integrations provide superior capabilities to internally developed systems.

Integrations enable users of other applications to quickly find articles and how-to instructions that answer their questions. Another example is the ability to create a customer support ticket automatically from a user's interactions with the knowledge base. Finally, integrations can allow users to start a chat session from within the knowledge base.

There are three major types of knowledge base integrations you'll need to consider:

Customer support applications (Zendesk, FreshDesk, Intercom, Front, etc.)
Data applications (Zapier, Segment)
Content management applications (WordPress, Shopify, Bubble.io)
How do you keep your knowledge base up-to-date?
Keeping your knowledge base up-to-date is critical to ensure you get the most value out of it. If your content is out of date, users will be frustrated when they try to resolve an issue. This can lead to negative consequences like lower NPS and customer churn.

To keep a knowledge base up-to-date, identify an individual who'll be responsible for planning and managing the update process and ensuring authors are assigned to create and update knowledge base content.

Periodic reviews of knowledge base analytics can help identify specific items that should be updated. Many people find it hard to find the time to do maintenance work in addition to their regular jobs. Consider developing an incentive system that recognizes and rewards people.

Want a knowledge base that works? We help you build intuitive, easy-to-use knowledge bases with no code. Request a demo today