Since starting life as a simple messaging app, Intercom has grown to become much more, with an emphasis on uniting customer data and a comprehensive suite of tools within one platform.
While this comes with obvious benefits, there are several good reasons why you'd want to seek alternatives.
High prices, difficulty scaling, and wanting to avoid vendor lock-in are common reasons why Intercom customers might look elsewhere.
By contrast, building your own tech stack of specialized tools can help you to cut costs while also improving the features you need—while skipping those you don't.
We've taken a look at Intercom's key features and put together a list of alternatives in each area that are as good (if not better) and will save you money.
By the end of this article you'll know:
What Intercom's key features are
How Intercom's pricing model works
Which alternative tools could be right for you—and save you money!
Need an Intercom alternative for self-serve support or product tours?Stonly provides in-context, intuitive knowledge bases and support for companies of all sizes. Request a demo.
Intercom features
Intercom is host to a complex, all-in-one suite of tools to automate customer contact and aspects of marketing through a chat interface—what they call "conversational support." Notable features provided by Intercom include:
Integrating these features comes with a range of benefits that include consistent customer data and seamless processes, but a confusing pricing structure that gets very expensive as you scale might mean you're better off looking elsewhere.
Related Post: 8 Help Scout Alternatives That Truly Reduce Ticket Volume
Intercom pricing
Intercom pricing is rather complicated and ramps up rapidly as you add agents and get more traffic on your website.
Intercom prices are based on three things: agents (or team members), site visitors, and access to functionality. These three dimensions allow Intercom to constantly increase your cost and hit you with upsell after upsell for a lot of different reasons. As a result, the monthly cost of Intercom can be unpredictable.
The cheapest paid plan is $59 per month for one user and 2,000 unique visitors, increasing with every extra 1,000 unique visitors.
It gets more opaque as you go up to higher tiers, but their most popular plan will cost you $499 per month as a base rate and adds custom chatbots, multiple user email boxes, and more advanced ticket routing. This plan includes licenses for 10 users to start, with additional users costing $49 per month.
Finally, they have the $999 plan which adds more advanced ticket management with service level agreements (SLAs) and workload rules; each user after the first ten costs $99 per month.
None of these plans offer product tours, advanced CRM tools (like account-based marketing), email marketing tools such as A/B testing, or support automation. Those are available as add-ons for a monthly fee:
$199 for product tours
$499 for advanced lead generation
$499 for advanced customer engagement
$249 for advanced support automation
Keep in mind that because Intercom is fully integrated, each employee will need their own license whether or not they use all of the various features you're paying for. This means if you have two service reps solely using chat and one only contributing to the knowledge base, you'll need a total of three licenses, as if all three were using everything in your package.
As you can see, the costs of working with Intercom can escalate very quickly and increase exponentially as you grow.
It may be time to look at better options that provide improved functionality while still integrating well with your existing systems (and each other)—at a reduced cost.
Related post: 15 Best Knowledge Base Examples in 2021 [Critically Reviewed]
The best Intercom alternatives
The following SaaS tools provide a better value than Intercom, often offering better features in their specialized niche for less. We've also chosen these tools because they integrate well with each other, meaning you can create your own bespoke tech stack that is as seamless as Intercom's all-in-one solution but offers exactly what you need for your business.
If you're ready to consider more powerful alternatives to Intercom, then you need to consider the following:
Knowledge base alternatives to Intercom
A knowledge base, sometimes called a help center, gives your customers self-serve access to detailed information about your products and helps them master product features 24/7 without the need to call support.
Reduced customer frustration is just one of many knowledge base benefits. They also enable your support team to spend time tackling more critical problems rather than answering the same questions again and again.
With a great knowledge base, you won't need a chatbot.
Intercom has a knowledge base app within its messenger interface if you have a plan that includes it. However, it has limited functionality because it's not an important part of their offering, so they don't invest in it to the level specialized solutions do.
Intercom's knowledge base is also static and non-interactive, squeezing articles into a widget in a less than ideal format which doesn't aid user experience.
To get customers to solve problems themselves, you'll want knowledge base software that makes it easy to create powerful, tailored self-serve support. You'll want to be able to provide that help right when and where your customers need it.
If you want to create a knowledge base that works in your app and is a better customer experience than trying to navigate it through a chat window, you'll want a dedicated knowledge base tool like Stonly.
Related post: How to Build a Customer Service Knowledge Base: A Detailed Guide
Stonly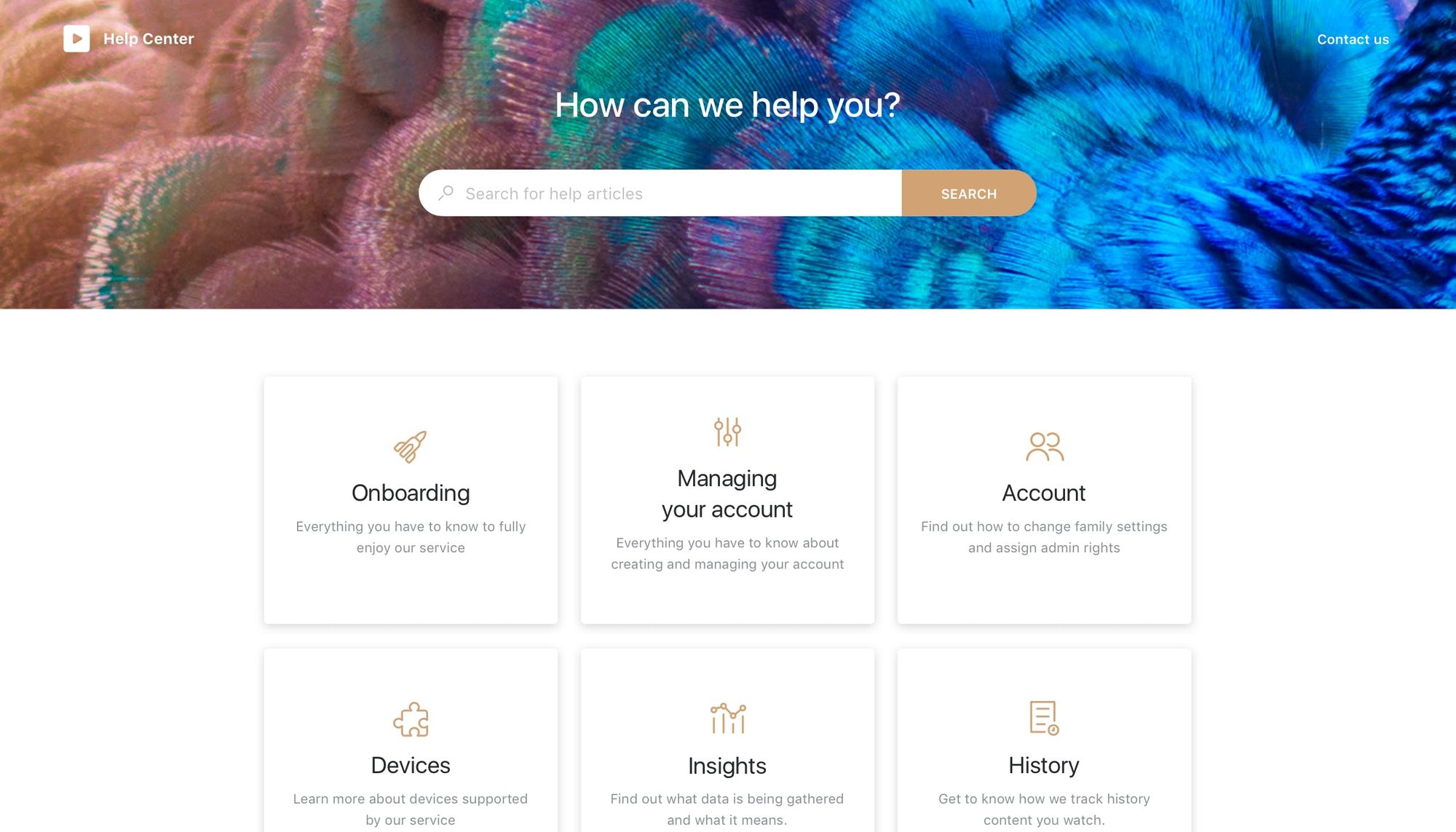 Stonly is a completely interactive knowledge base platform, which replaces static articles with engaging, interactive guides.
These interactive guides have been proven to be more effective at driving customer success. They let you break even the most complex problems down into easy-to-follow steps, and provide different paths for different users to find their version of success. You can trigger your Stonly guides right where customers need them–in your app, on your website, or in a separate standalone help center.
With Stonly, you can build a great-looking, modern knowledge base without coding or design resources. Being interactive, Stonly allows for more contextual search and provides detailed data and more powerful analytics than any other knowledge base provider.
Stonly is much cheaper than Intercom at $49 for three authors and 2,500 views. In terms of how that scales as your traffic increases, with 60,000 views in a month you'd add only $550 per month with Stonly vs. $2400 with Intercom. The full "Business Plan," starting with five authors and 4,000 visits, costs $99 per month.
Stonly integrates directly with help desks like Zendesk, Freshdesk, and Front, and with live chat apps like Crisp, LifeChat, Helpshift, and even Intercom.
Stonly is the best choice for companies looking to build a modern knowledge base that decreases support costs and drives customer success.
Need an Intercom alternative for self-serve support? Stonly provides in-context, intuitive knowledge bases and support for companies of all sizes. Request a demo.
Live chat alternatives to Intercom
Live chat is quicker, cheaper, and more accessible than voice. So if live support is important to your business, you'll want a live chat platform that's fast, reliable, and cost-effective.
On the customer side, most of the chat interfaces on the market look the same—they fit into a window about the same proportions as a mobile phone and are similar to the messenger apps.
Intercom's core identity is as a "Business Messenger," and they focus on use cases for support, engagement, and marketing. They allow for simple branding with a logo, choice of colors, and customizable backgrounds. What sets Intercom apart is the number of other apps and automations that can be integrated within that chat window.
That said, many of those options Intercom provides could be overkill for your needs. For Intercom competitors, we'll take a look at LiveAgent, which is stronger in live chat, and Drift, which is also feature-rich but more affordable.
LiveAgent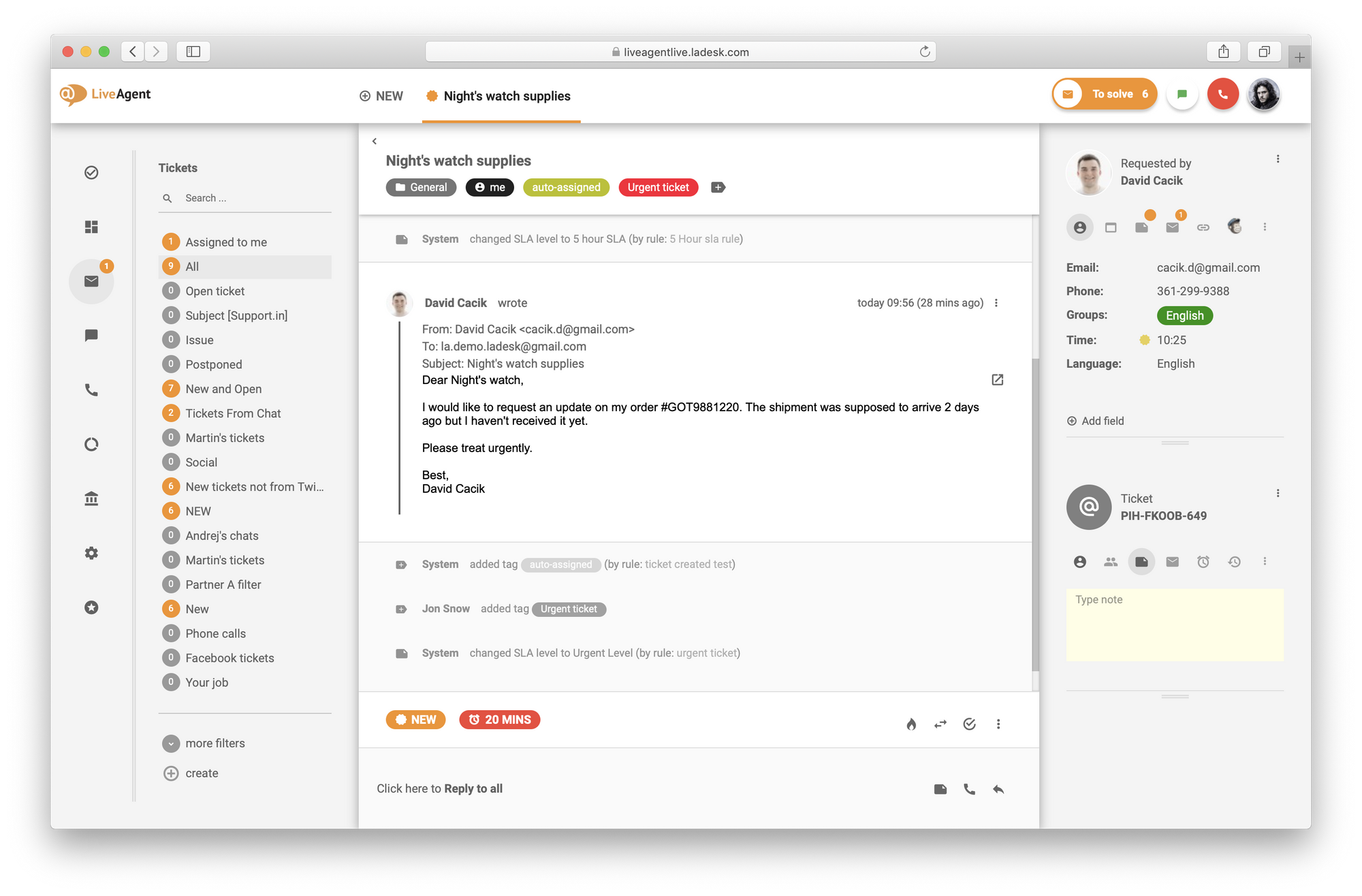 LiveAgent is a help desk application with a unique strength in live chat. It's easy to set up and one of the fastest web-based chat applications available, with better customer support than Intercom. The agent interface makes good use of screen real-estate, conveniently placing useful information about the customer and their issue.
You can try LiveAgent on a free plan, with a limitation on how long history is kept and no integrations available. For a complete solution, you'll want to skip the $15 plan and go with the $29 per agent per month plan. This gives you fully-featured live chat as well as being able to provide support over email, and integrates with a range of other applications.
LiveAgent is our pick for help desk software if your most important need is live agent chat.
Drift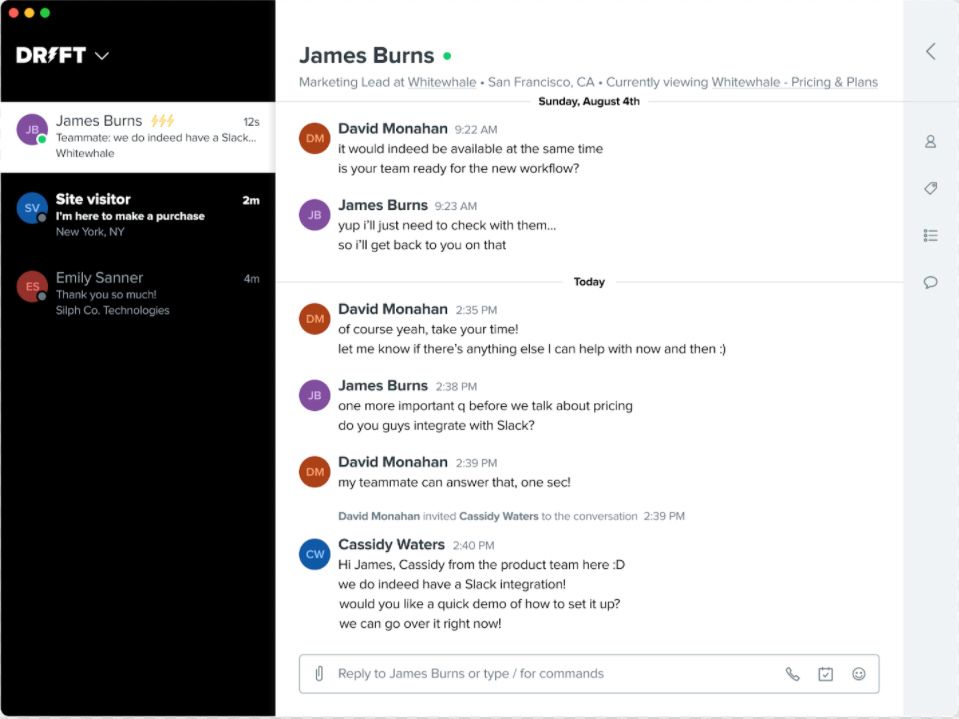 Like Intercom, Drift is a nearly complete solution for customer communication. However, it's more geared towards sales and marketing than support.
Drift should be your choice if your main goal is to capture, qualify, and route leads.
Pricing starts at $40 per month. However, this version doesn't give you the ability to integrate with other applications such as your existing CRM or knowledge base.
The next tier up, with integration to other applications, jumps to $400 for 10 team members, with additional users available at $40 per month. Drift doesn't charge extra for visitors, unlike Intercom. This keeps the cost predictable from month to month.
For live chat, Drift is a feature-to-feature competitor to Intercom with lower and more predictable pricing.
Help desk alternatives to Intercom
If you get a high volume of support requests, you'll want a specialized and robust help desk solution. Like its other features, Intercom uses its messaging interface to prompt the customer to answer a series of questions to open a case. This is often efficient but can also frustrate customers as they impatiently click through the questions hoping to get to the support agent they were trying to reach.
If you need a help desk to manage your support tickets, with issue tracking and routing, with metrics and queue management, you'll want a tool more focused on that use case.
Zendesk is a mature and powerful help desk application with many add-ons available, while Freshdesk is newer and easier to set up, and Front is a very good standalone option:
Zendesk Support Suite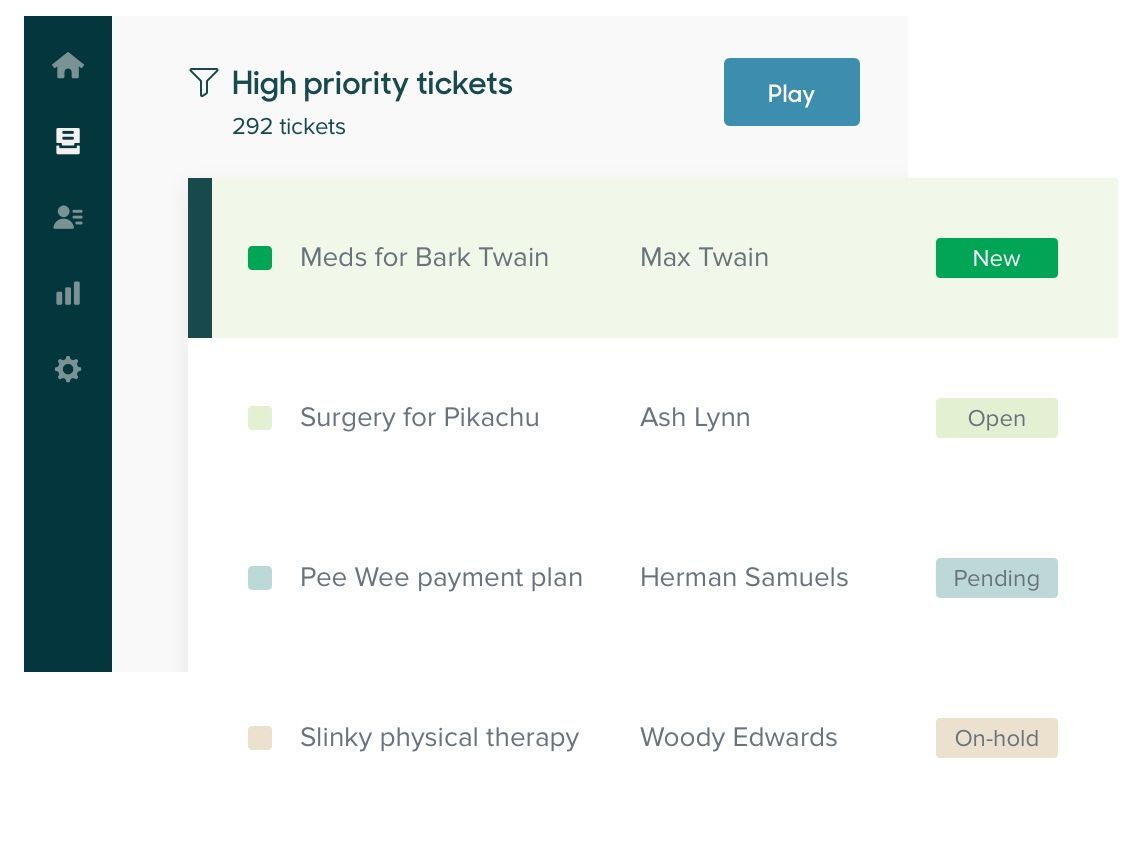 Zendesk has all of the features you'd expect from a mature and robust ticketing system, including incident management, metrics, skill-based routing, automated responses, and macros, which let the agent fill in prepared answers for common problems.
There are tons of integrations and first-party add-ons available, plus a robust marketplace for third-party add-ons. Users can open a case through Zendesk's web forms, chat, or email and get status the same way.
A basic plan for Zendesk costs $19 per month per user and provides everything you need, including integration with a wide variety of related solutions. More advanced features, including customer satisfaction surveys, are available at $49 per user per month while all features are unlocked at $99 per user per month.
If you're looking for a well-established help desk that'll scale with your business, Zendesk is a good choice. It also integrates with Stonly.
Related Post: 8 Best Zendesk Alternatives for Excellent Customer Service
Freshdesk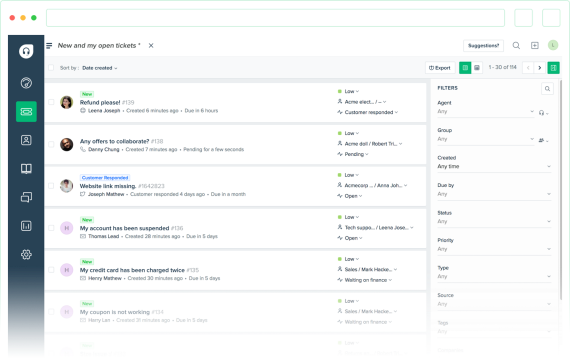 As its name implies, Freshdesk has fresh ideas about running a help desk. It's well integrated with more modern support channels such as social media and mobile messaging applications such as WhatsApp. It also integrates well with other software tools on this list, like Stonly, so you can build a great CX stack that fits your needs.
It has built-in collaboration tools so agents can share information and a bespoke field agent add-on, optimized for technicians in the field.
There's a feature-limited edition that's free for unlimited agents, but for access to integrations and custom branding, you'll need the $15 per agent per month plan. The $49 plan is comparable to Zendesk at the same price, with routing, automation, and SLAs.
Freshdesk is comparable to Zendesk in features, but being newer to market doesn't have as much support from other applications and add-ons yet. However, being more modern, it's growing faster and may be a better fit for how you work.
Front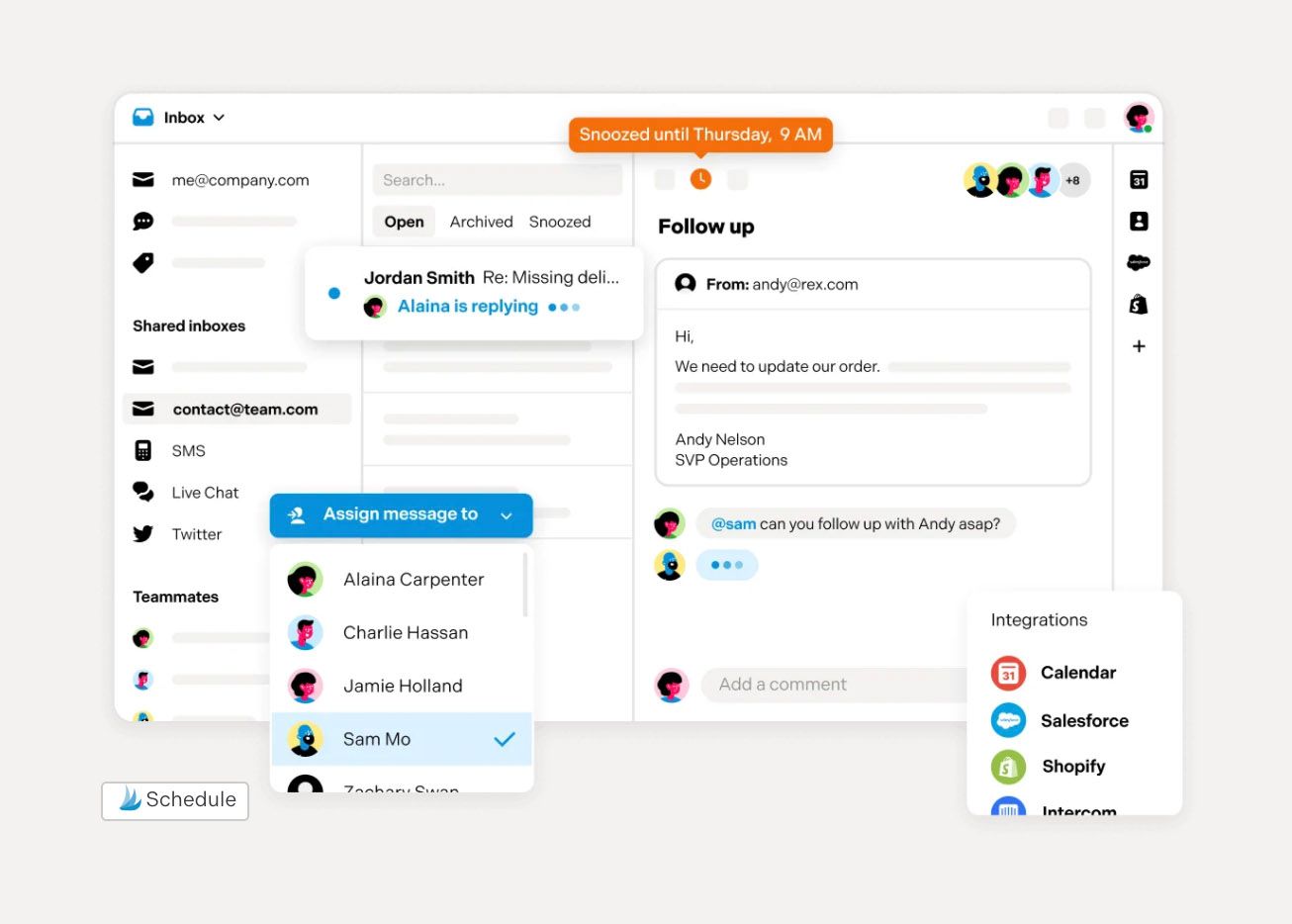 Front is billed as a hub for customer communication that allows companies to offer tailor-made service at scale. It aims to combine the simplicity of the email inbox with the automation and insights of a CRM.
It helps teams collaborate, sending out the best replies faster while staying organized across channels. They have more than 6,500 customers who use their help desk to scale customer communication without trading quality for efficiency and allow these customers to integrate with a range of other tools, including Stonly.
Teams with under 10 users can start using Front for $19 per month on the basic Starter package. Those looking to build custom rules, take advantage of integrations, automate workflows, and utilize analytics capabilities, will have to ask about a Prime license. There's also an Enterprise plan for those who want features like single sign-on and centralized controls to streamline admin.
Product tours and user onboarding alternatives to Intercom
Product tours help guide new users through the onboarding and adoption process, making it easier for them to see value from your product. Great user onboarding drives activation and decreases churn.
With the $199 add-on, Intercom lets you create lightbox-style guided tours where you can highlight specific areas on your application with explanatory content presented alongside. There are a few drawbacks. First, Intercom's interface is not built for creating product tours, so the setup process can be a bit clunky and difficult.
Second, the tours you build with Intercom are all completely linear, meaning everyone gets the same experience. Customers often skip these types of tours or click through them as quickly as possible.
For an alternative that's built to create product tours that engage users and help them become and stay successful, consider Stonly:
Stonly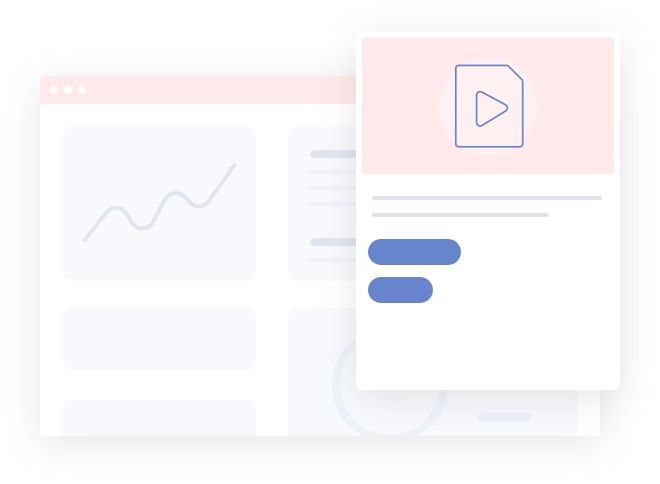 Stonly allows you to create attractive, interactive tours with no coding. You can launch these tours anywhere in your product or on your website, and use them to show new users around or guide existing customers to become even more successful.
Unlike all other product tour tools, Stonly is completely interactive. You can build tours that have different paths, and let your users choose the path that's right for them. This makes product tours much more relevant and engaging, and increases completion and customer success.
Stonly lets you leverage your user data to show users the most relevant tour at the perfect time. You can automatically launch tours on specific pages in your app, or trigger them with no-code hotspots and tooltips.
You can pass your user data into Stonly directly or using a Segment integration. Stonly also integrates with Zapier, so you can pass your tour data along to all of your other systems.
If you chose Stonly for its knowledge base (above), product tours are included in the recommended package, which starts at $100 a month.
Stonly lets you build powerful product tours easily, and costs less than Intercom would charge for the feature as an add-on.
Need an Intercom alternative for product tours? Stonly helps you easily build interactive, in-app product tours to help onboarding customers better, all without code. Request a demo.
CRM alternatives to Intercom
If you have a complex funnel or longer sales cycle, you need a purpose-built CRM beyond what's offered by Intercom.
In addition to having a useful workflow within the application itself to manage contacts, prospects, leads, and customer information, you'll want to be able to connect it to other tools to get data in and out.
A CRM is the heart of your marketing and sales workflows, allowing you to maintain a consistent and integrated view of your current and potential customers.
Two of the best and most popular are Salesforce and HubSpot:
Salesforce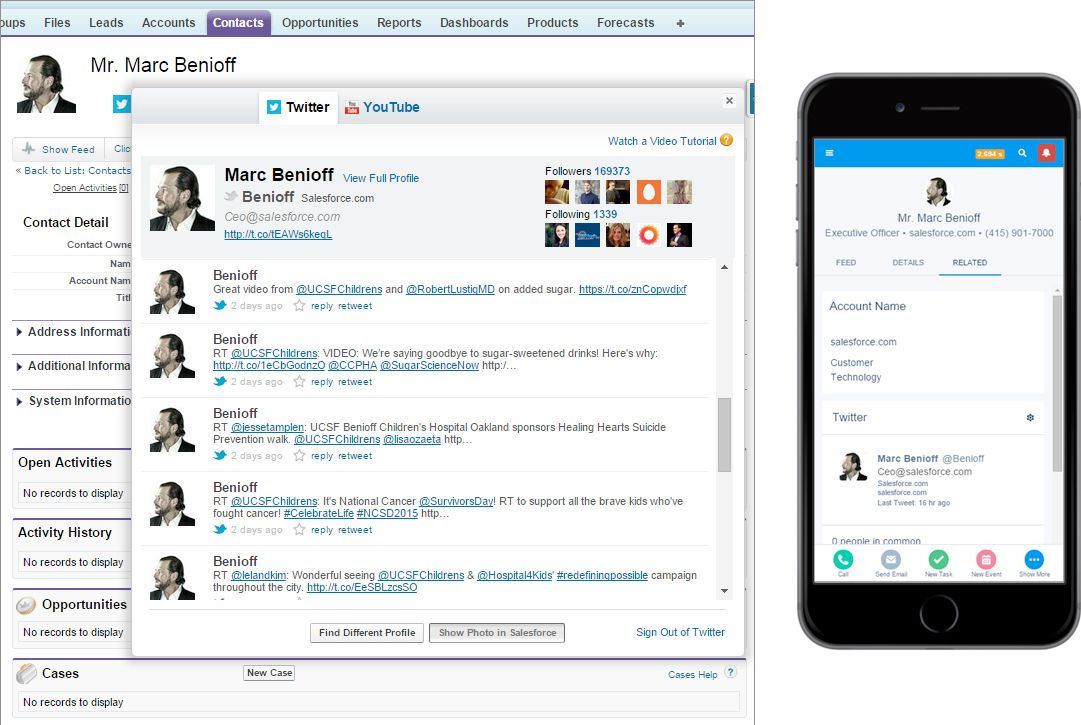 Salesforce is probably the best-known SaaS CRM solution. It has a huge third-party marketplace and can be customized to fit any use case. It's extremely flexible and grows with your business.
The Salesforce Essentials package starts at $25 per month per user. If you want to use their full sales workflow or their service desk, this increases to $75 per month per user.
Salesforce is commonly used by very large enterprises for its high level of customizability. But for many companies, it may suffer from similar drawbacks to Intercom: it includes a lot of features and can get quite expensive as you scale. It's also complicated to set up and maintain and usually requires a Salesforce admin to keep it running smoothly.
However, this is offset by the fact that Salesforce is best-in-class in its product category and is a far more powerful CRM than anything Intercom could integrate into its messenger app.
HubSpot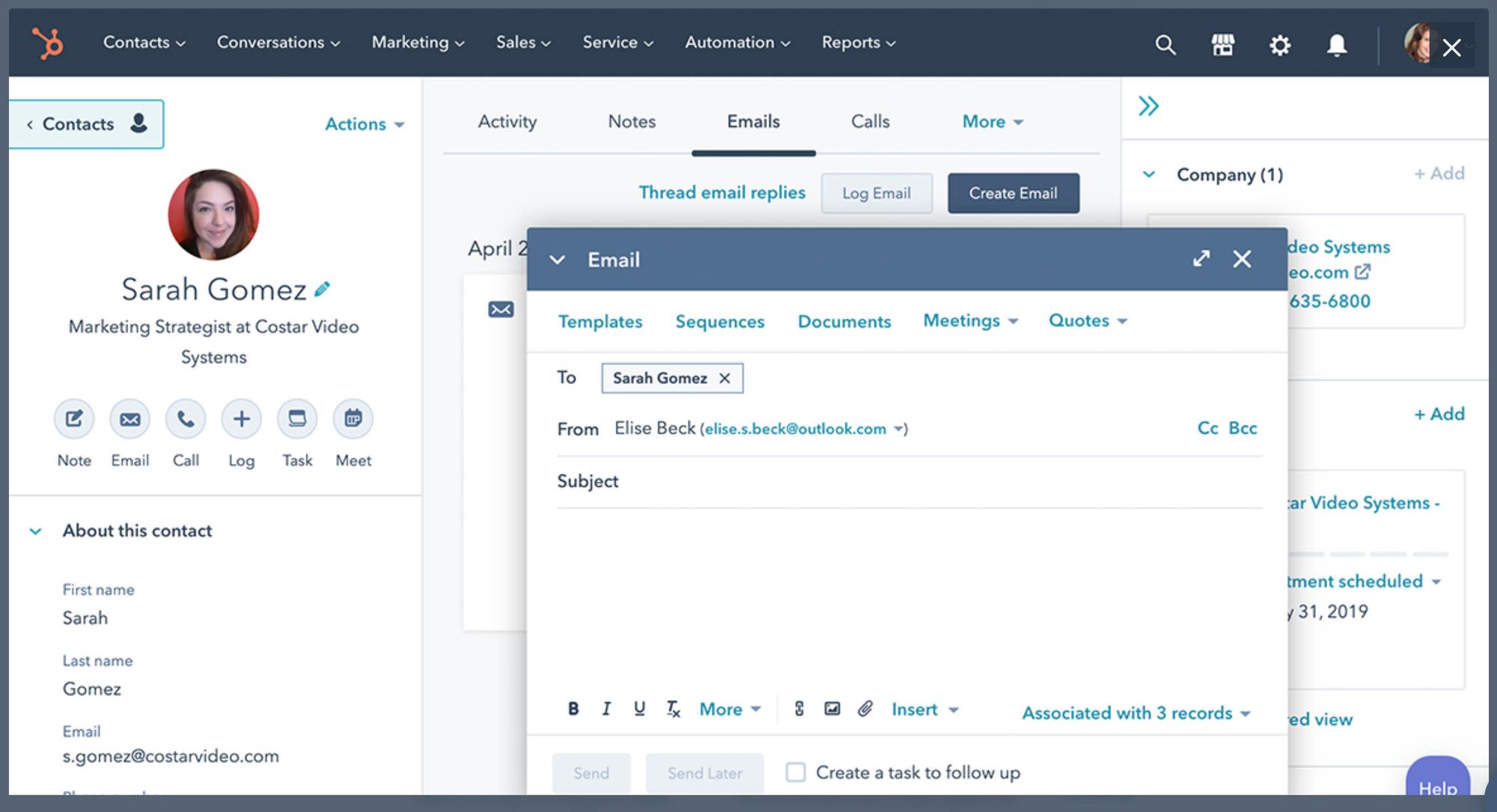 HubSpot is a cheaper alternative to Salesforce and is significantly easier to get started with. While it may not be quite as powerful as Salesforce, many companies find HubSpot has more than enough functionality to effectively manage a pipeline.  
HubSpot includes its basic features for $45 per month for two users ($23 per additional user) in the Starter package. This includes simple automation, goals, and task queues. The Professional package starts at five users for $450 ($90 per user from there) and gives a lot more control over deal stages, analytics, reporting, sequences, and also includes video messaging.
Enterprise-level gets you 10 users for $1,200 per month (with extra users costing $120 each). This builds in enablement tools, like sales playbooks, and grants extended control over permissions, roles, and hierarchical teams. It also includes predictive lead scoring capabilities.
HubSpot offers free seats for team members who need visibility into the business, such as reporting, but can do without the day-to-day functionality of sales tools. This is potentially a big cost saving for large companies where a lot of stakeholders may want to quickly take a look.
Email marketing campaign alternatives to Intercom
Building powerful email campaigns that deliver results is hard. A dedicated email marketing platform makes it a bit easier.
There are a lot of interesting tools in this space. We could've included the likes of Iterable and Braze, both of which are high-quality. Instead, we've opted to present two strong options that come at a lower price point—making them ideal for building your Intercom-beating tech stack.
Those tools are Customer.io and ActiveCampaign:
Customer.io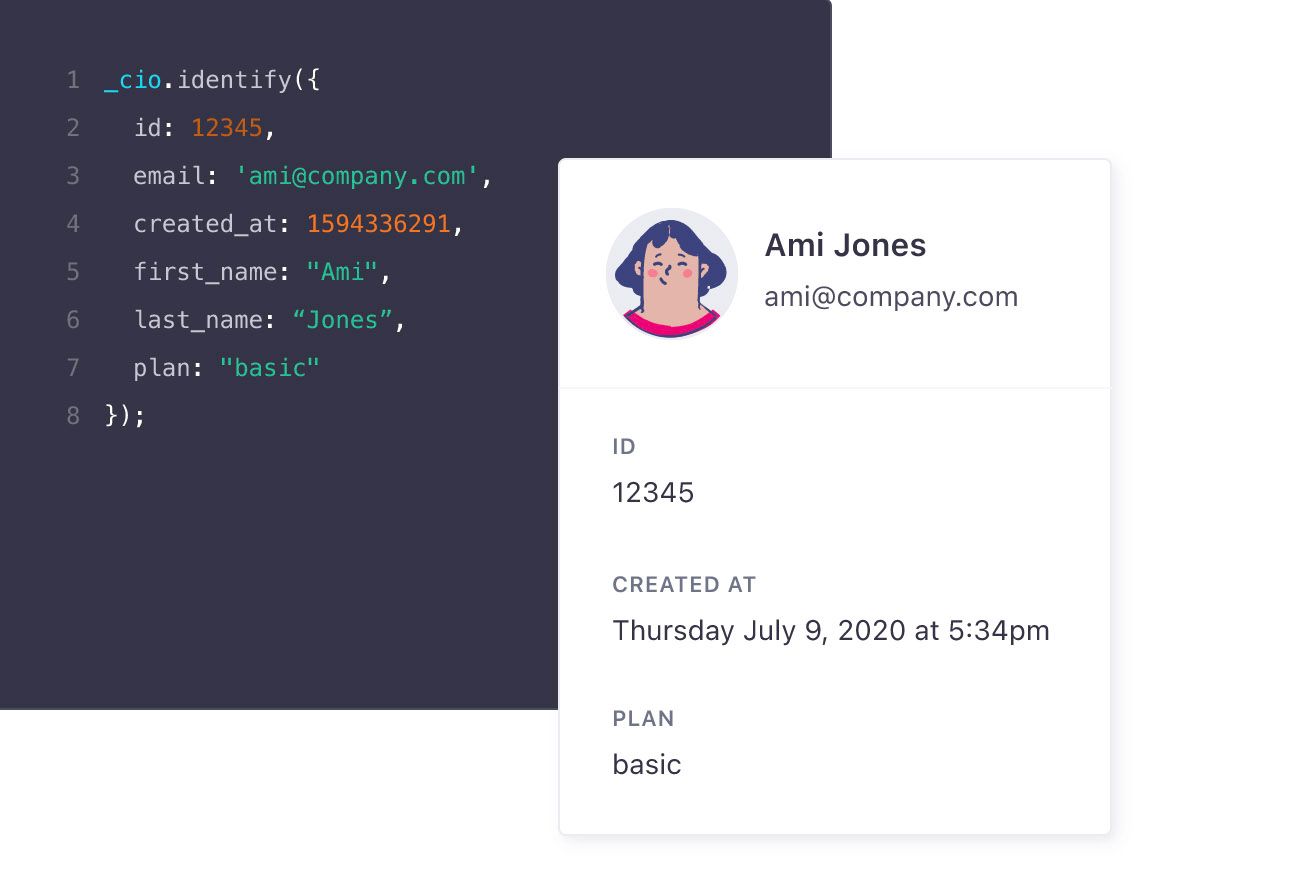 Customer.io aims to provide a blank canvas for you to design and implement your business's unique messaging strategy. The main selling point for Customer.io is its flexibility. You can build out any type of campaign you can imagine—from simple newsletters to triggered lifecycle emails to drip-style nurture campaigns.
Third-party integrations are also a key component, with Segment, mParticle, Hull, and RudderStack integrated with just a few clicks. Customer.io also supports data coming in from Zapier and regularly adds new third-party integrations. It also boasts a fast and flexible segmentation engine and a powerful, easy to use API.
$150 per month lets you send unlimited emails and track unlimited events for up to 12,000 profiles. The $995 per month version gets your team access to a 90-day onboarding program, gives you a dedicated customer success manager, premium-level access to technical support, managed deliverability, and HIPAA compliance.
ActiveCampaign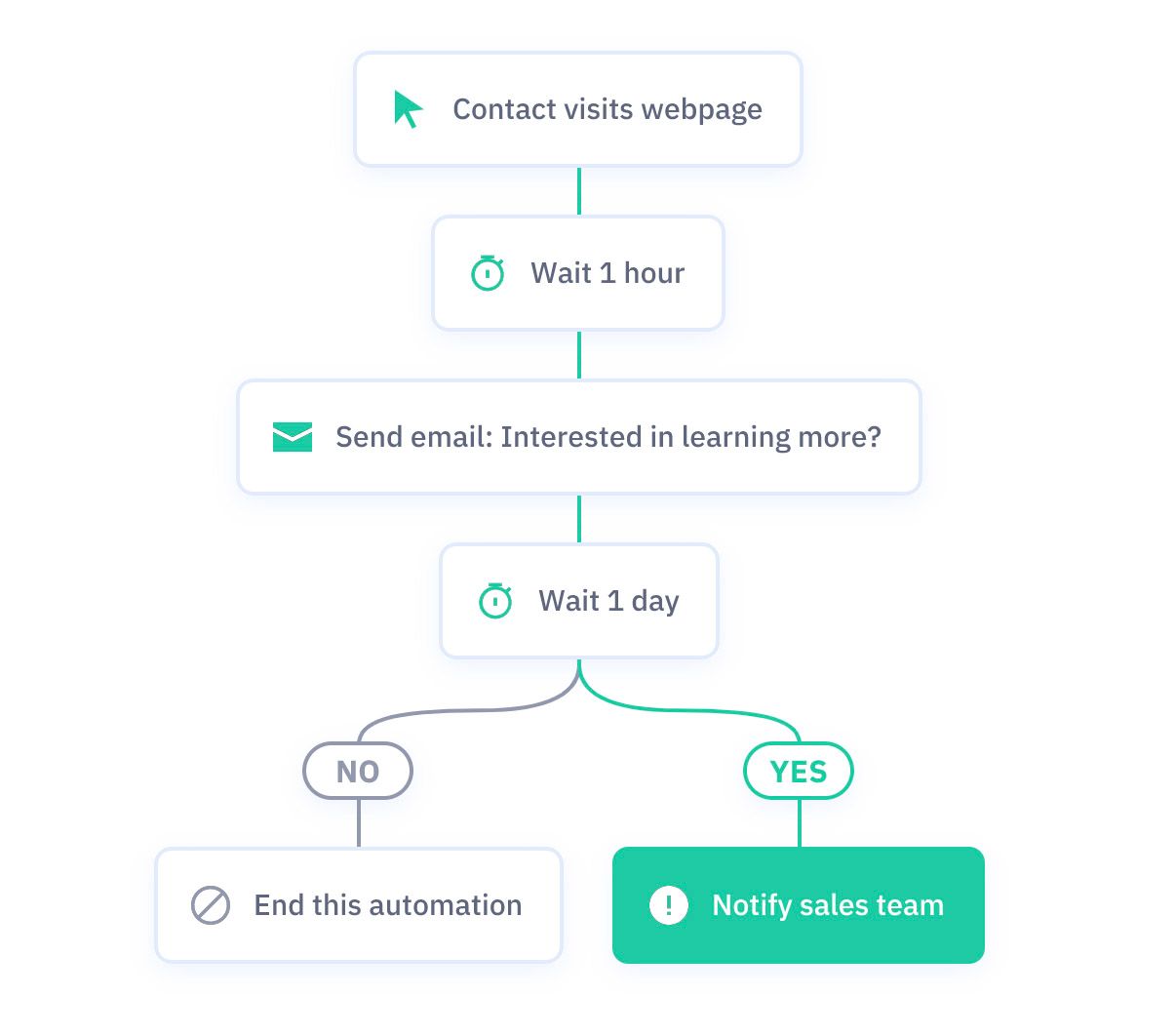 Trusted by 150,000 customers in 170 countries, ActiveCampaign is a leader in every category when it comes to automated email marketing. The software allows automations to be completed in minutes with a user-friendly, drag-and-drop interface.
With ActiveCampaign, you can automate email follow-up by sending an email to people who perform a certain activity (for instance, spent an hour on your site). You can find your most engaged contacts by scoring their interactions with you notifying the sales team when they qualify to be contacted. It also allows you to pull information from other systems (for instance, integrating with your e-commerce platform to send an abandoned cart reminder).
ActiveCampaign is billed yearly, and pricing is based on how many contacts you have. The features offered vary depending on whether you're looking for B2B, B2C, or e-commerce. The full pricing and features are too extensive to go into in detail here. But to give an idea, $108 would get you 500 contacts, up to three users, and grants access to a lot of functionality, including marketing automation and a drag-and-drop email builder.
For those who are curious but not yet ready to take the plunge, they also offer a 14-day free trial.
Final word: how to choose the right Intercom alternative?
As your business grows and evolves, you may outgrow Intercom's all-in-one suite of tools. Or it may just become too expensive for what it is. Either way, there are options out there that are built to really excel at the things you're looking to accomplish.
For less than the cost of Intercom, with its confusing and unpredictable pricing model, you can easily put together a stack of tools that'll get your business to the next level!
Need an Intercom alternative for product tours or knowledge bases?We'd love to show you around Stonly to see if we'd be a good fit! Request a demo.