How do you differentiate your products or services in an era of rapid innovation and stiff competition? A Walker study recently found that customer experience is set to outpace product features and pricing as the deciding factor for customers choosing a solution. If you aren't focusing on delivering world-class customer service alongside your product or service, you will get left behind.
While Zendesk does a lot, multiple Zendesk alternatives excel in delivering fantastic customer service. We'll walk you through 8 competitors to Zendesk that emphasize customer experience and help you evaluate the circumstances to consider in determining which is the best fit.  
Want a Zendesk alternative that you'll love? Stonly helps you build in-context knowledge bases that your customers will actually use. Request a demo.
Zendesk: Pricing, features, and limitations
Zendesk is a powerful software-as-a-service (SaaS) platform designed to deliver comprehensive and effective sales and customer support. It's regarded as one of the leading help desk tools with a robust ticketing system at its core and a suite of other support tools such as chatbots, knowledge base tools, and community forums. Zendesk also provides a CRM tool to support sales and client success teams.
Zendesk features
Zendesk has a broad feature set to support a wide range of businesses, from SMBs to Fortune 500 enterprises.
This is the core of Zendesk's customer support product, delivering a robust omnichannel solution for quick ticket creation, aggregation, and resolution.
Messaging, live chat, and answer bots
Zendesk's messaging feature allows a combination of live support and chatbots that focus on conversational problem resolution within the chat window.
Help center and knowledge base software
Their help center and knowledge base solutions provide a way to author, curate, and customize support guides and articles for users that need more in-depth help.
For products and services with an active and passionate user base, Zendesk includes tools for community collaboration and peer support through forums that allow user creation and contribution.
Advanced reporting and analytics tools
Zendesk includes a wide variety of out-of-the-box reports and analytics, while also providing customization tools to allow for specific and advanced behavior and analytics insights.
Zendesk pricing
Because Zendesk supports companies of all sizes, it has multiple pricing tiers to allow companies to only pay for the feature sets they need. Each pricing tier is priced per agent per month, billed annually. Instead of paying directly for individual feature add-ons, you pay an increased amount per agent to unlock features at various tiers.
Foundational Support — starting from $19/agent. Access to Zendesk's core ticket system with prebuilt reporting tools.
Support Suite — starting from $49/agent. Access to Zendesk's suite of support products, with limitations on usage and customization.
Enterprise Suite — starting from $150/agent. Customization in workflows and reporting, advanced security, and dedicated support from the Zendesk Team.
Zendesk limitations
Zendesk as a company has grown substantially since its creation in 2007, crossing the $1 billion revenue milestone in 2021. Naturally, it has expanded its feature set beyond its original ticketing platform to support sales, client success, and support teams for their various needs. While it provides an impressive breadth of services, its add-on features are its weak points where many of its competitors have much better alternatives to provide stronger customer support.
For example, on Zendesk's own website, its knowledge base feature is listed 11th, even though 90% of customers say they'll use a knowledge base first when it's available. There are superior knowledge base solutions that make it easier for customers to self-solve, such as Stonly. Additionally, its messaging and answer bot technology is good but doesn't rival the customized conversational support workflow automation provided by companies like Intercom.
8 best Zendesk alternatives for top-notch customer service
Because Zendesk has such a wide range of solutions, there are dozens of Zendesk alternatives to consider. We'll showcase the eight alternatives that provide an incredibly solid customer experience in the areas where Zendesk's tools are weak.
Stonly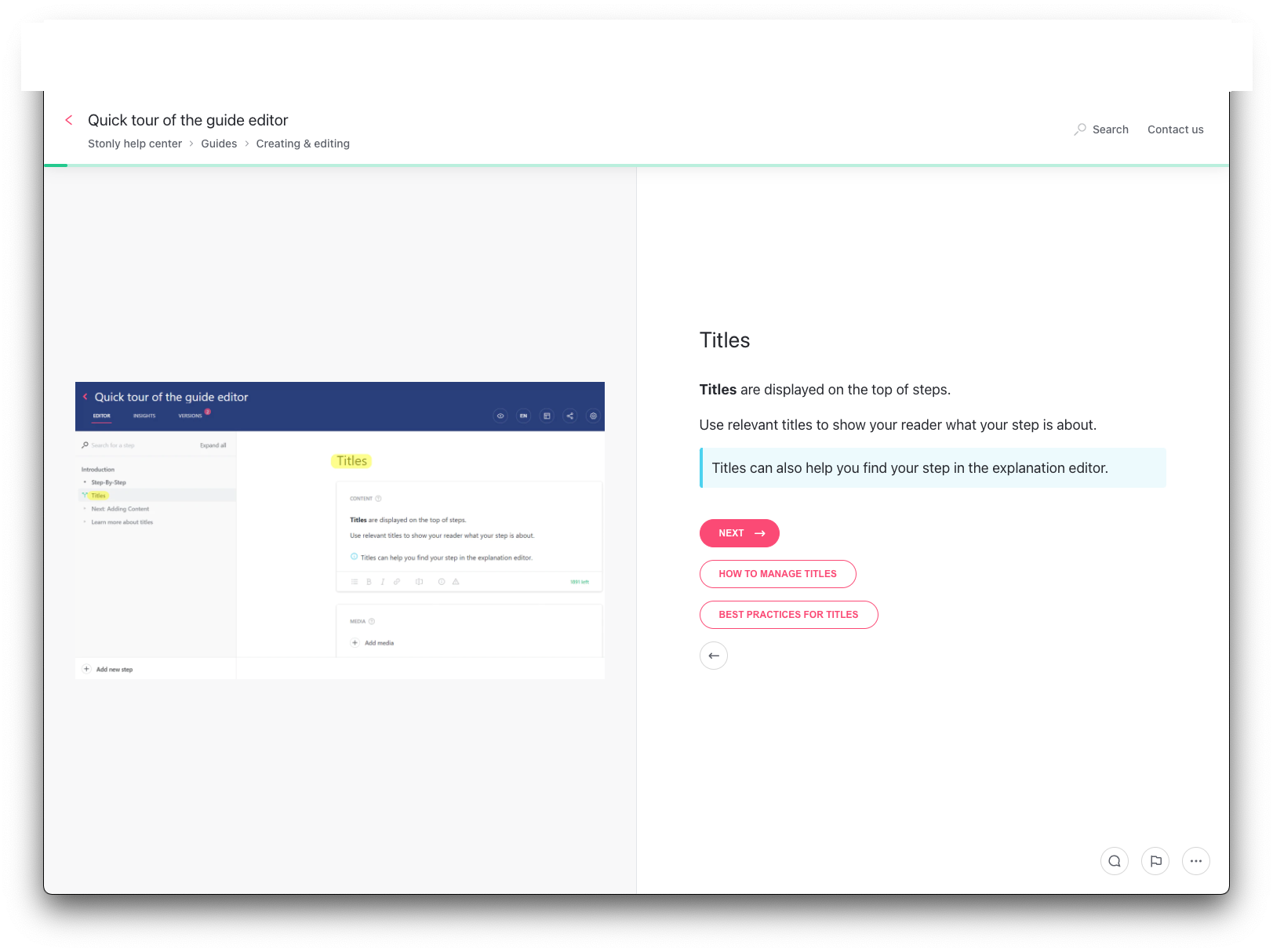 Companies use Stonly to build powerful, interactive knowledge bases and help content that dramatically improve self-serve issue resolution. Stonly takes the self-service experience to the next level by providing rich, step-by-step guides to walk customers through issue resolution one step at a time.
Most knowledge bases are static. They force customers to wade through a sea of text to find the information they need. Stonly uses interactivity to present the relevant information one step at a time in a sequence optimized for self-service resolution.

Additionally, Stonly provides a robust suite of reports and analytics that allow for in-depth tracking and monitoring. The data insights that come from these reports are an invaluable way to improve the customer support experience and further reduce time to issue resolution.
You can use Stonly to build an entire interactive knowledge base, or to provide self-serve help for key high-volume issues.
Consider Stonly as an alternative if:
Self-service support resolution is critical to your success
You want to improve your customer support experience through step-by-step, interactive guides
Reducing time to resolution and improving CSAT scores are among your key objectives
You need a no-code way to deploy your knowledge base solution everywhere customers and support agents need it

Want a Zendesk alternative that you'll love? Stonly helps you build in-context knowledge bases that your customers will actually use. Request a demo.
Help Scout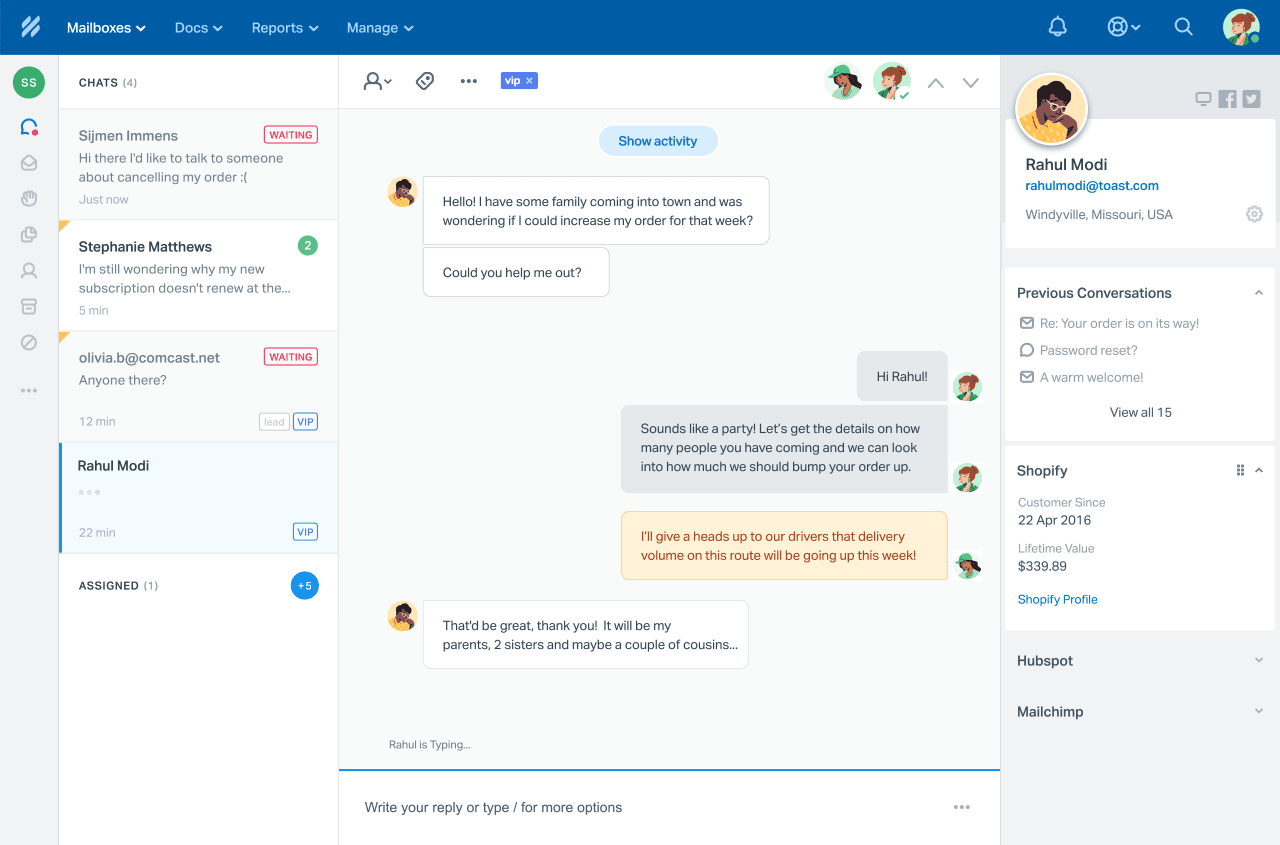 Help Scout is a help desk software that is geared toward smaller businesses, as opposed to large enterprises. While it doesn't have the range of features that Zendesk provides, it focuses its help desk and ticketing system on providing excellent customer support. Its focus and simplicity allow companies to get up and running in minutes, and it provides coaching and support for companies even at the lowest tier.
Consider Help Scout as an alternative if:
You only need a subset of Zendesk functionality focused on ticketing and support resolution
You need a solution that you can get up and running in minutes, with available support to get you going
You need simpler pricing, and only want to pay for what you need
Groove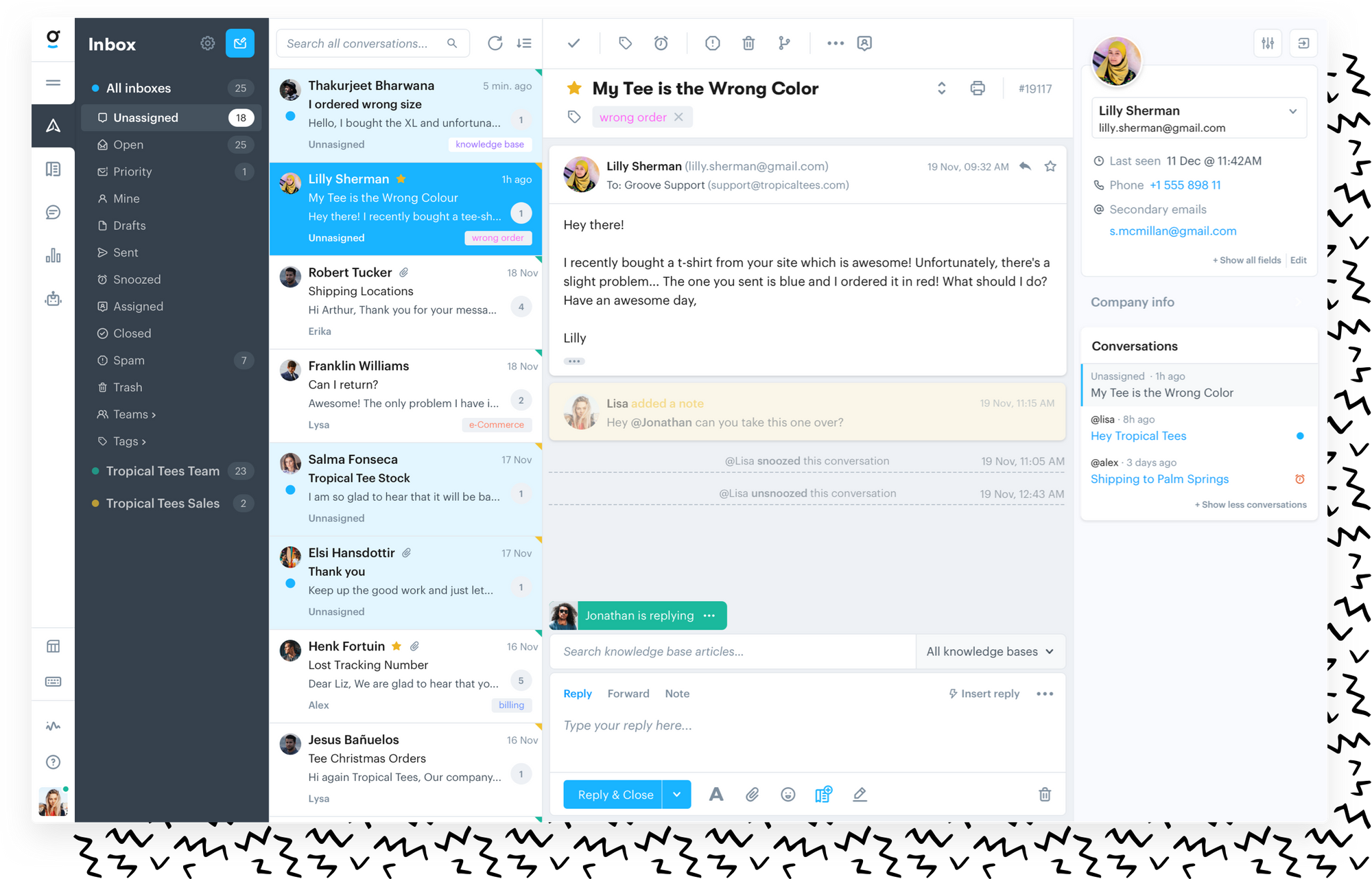 Groove is another help desk software that targets small businesses who need a solution that requires minimal setup and delivers fantastic customer support. Groove's unique value proposition is that agents and customers alike are already accustomed to using email inboxes for communication. It has designed its help desk system to mimic the usability of an email client that is familiar to users and support agents.
Consider this alternative if:
You need an easy-to-use out-of-the-box solution (especially if you have a less experienced support team)
You value simplicity over breadth of functionality for you and your customers
You need a more affordable solution with fewer bells and whistles
Front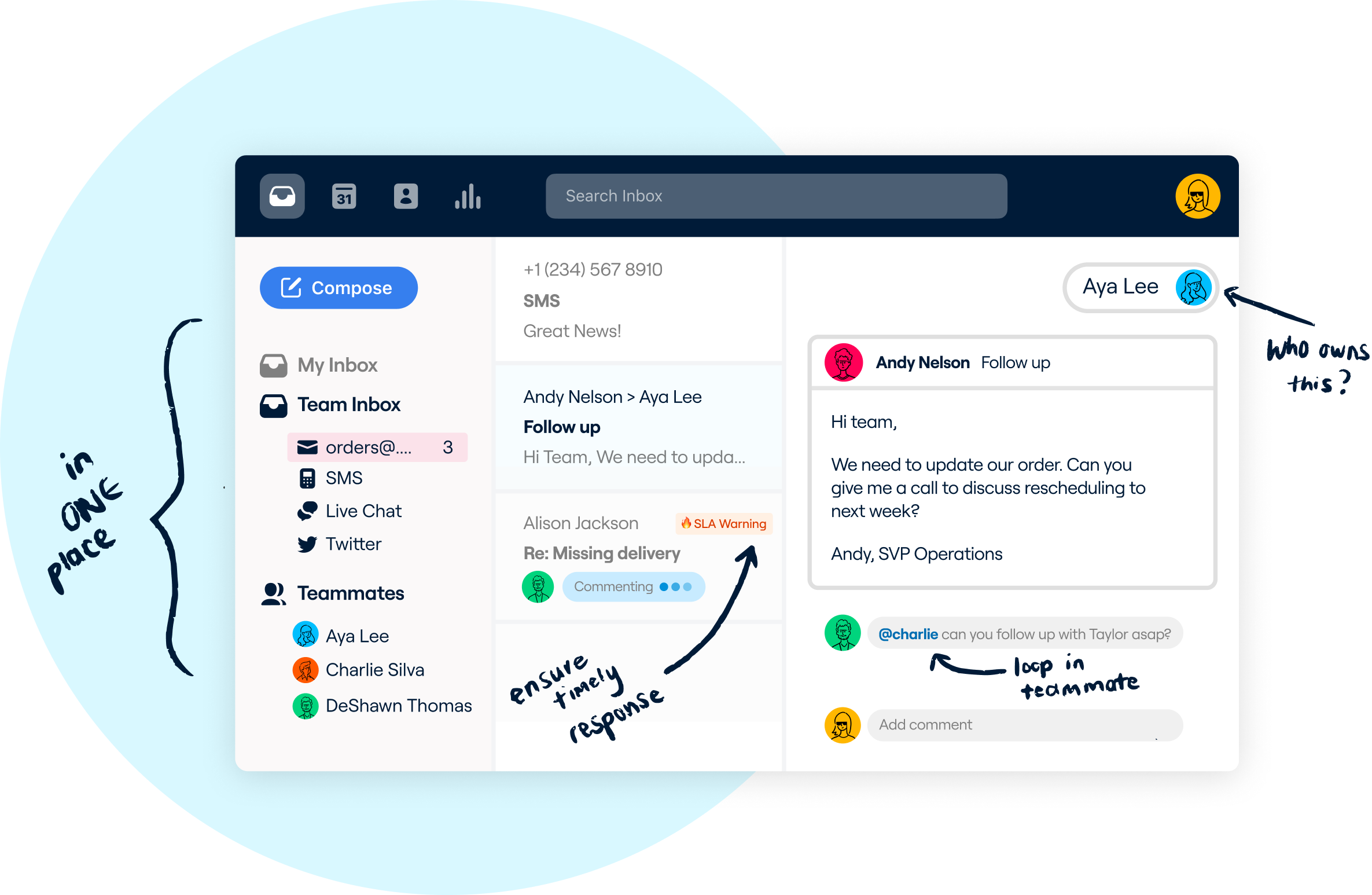 Front is a help desk tool that specializes in taking the clunkiness out of typical ticketing systems and going all-in on an email-like inbox interface for customer communication. By removing unnecessary steps around ticket creation and management, Front allows support teams to immediately respond to customers' support issues as if they were responding to an email or text message. And faster response times lead to increased customer satisfaction.
Consider Front as an alternative if:
Your primary goal is responding to customers as quickly as possible
You want your support team to work more collaboratively than individually to respond to customers rapidly
Your brand is more warm and personable, facilitating chat and message-like customer interactions
Salesforce Service Cloud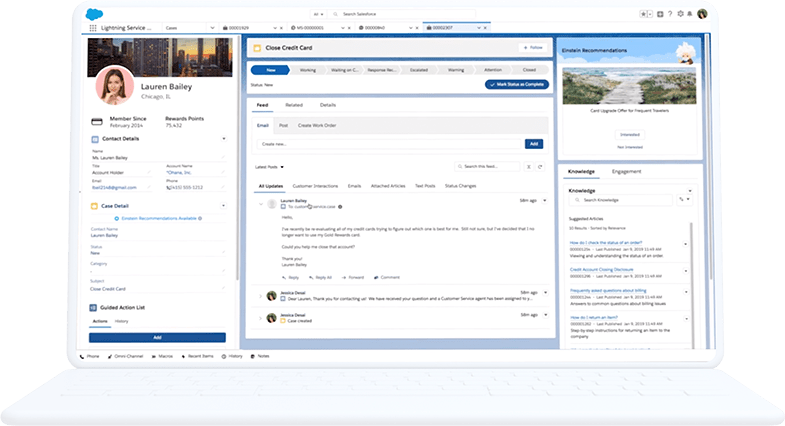 Salesforce is the one alternative on this list that actually has a wider and more robust feature set than Zendesk. The reason we included Salesforce Service Cloud is to show how larger companies with more resources can build a more sophisticated support solution that works together with all of the other services in the Salesforce solution suite. Its specific advantage is leveraging customer data across all CRM solutions to build automated support workflows and interactions that feel very customized to the individual user.
Consider Salesforce Service Cloud as an alternative if:
You are already a power user of Salesforce's CRM solutions
Your primary goal is to build and optimize automated, AI workflows using CRM data
Pricing isn't a concern but efficiency and automation is
Kustomer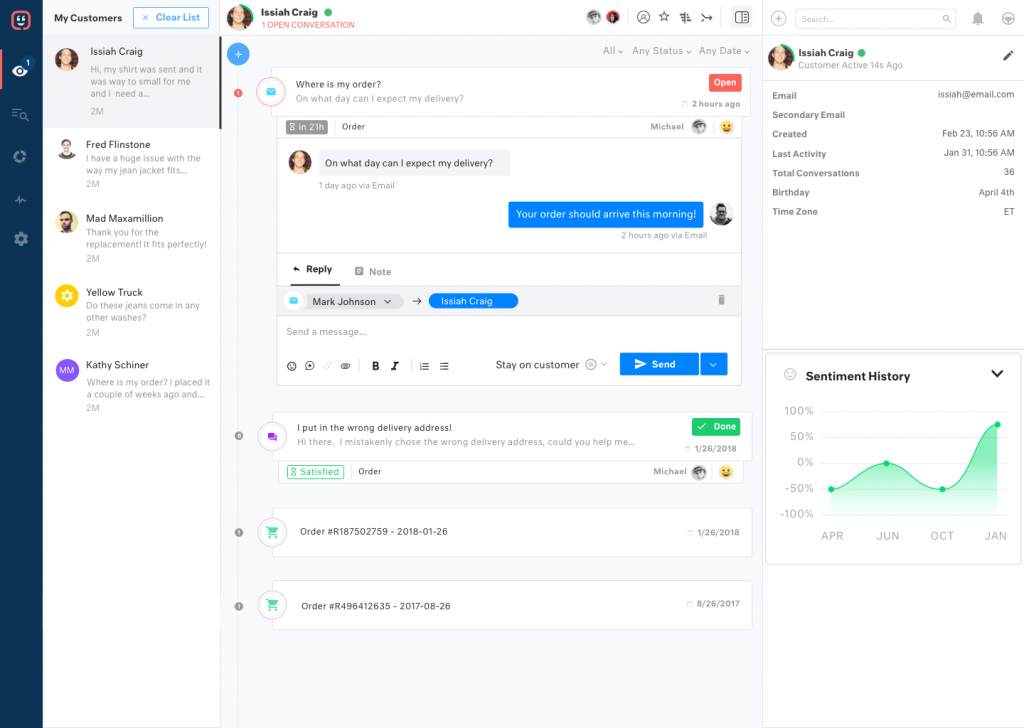 Kustomer's unique approach to customer service is combining the CRM and help desk to provide a single view into customer communication and experience management. It focuses on omnichannel customer communication, leveraging customer data to deliver customized workflow automation that feels more tailored to individual customers.
Consider this alternative if:
You're looking to combine your CRM, customer engagement, and help desk with a single tool focused on customer support
Your primary goal is to build and optimize automated, AI workflows using CRM data
The enterprise-level Salesforce suite is a bit too expensive for you
HappyFox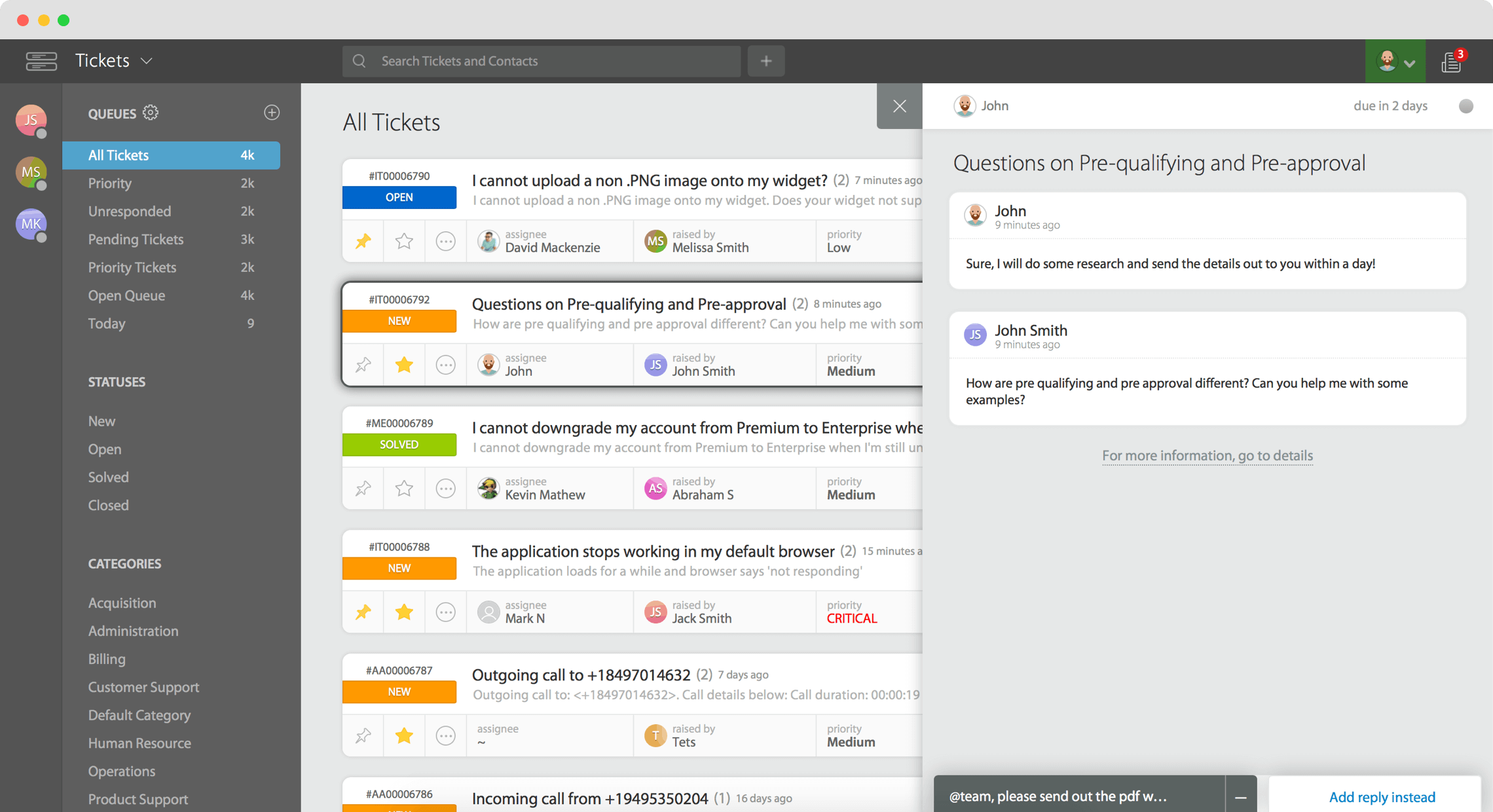 HappyFox is a help desk ticketing system that focuses on building AI automation and workflows but doesn't require the adoption of a full CRM solution like Salesforce or Kustomer does. HappyFox combines tickets into a single dashboard that facilitates collaboration to respond to customers and resolve issues quickly. Its workflow automation allows for automated resolution for common issues that feel individual for each customer.
Consider this alternative if:
You have a strong focus on omnichannel customer support
You're willing to put in the time and effort to create customized workflows and processes
You want AI automation and other features at a lower, more flexible, or fixed price for unlimited agents
Intercom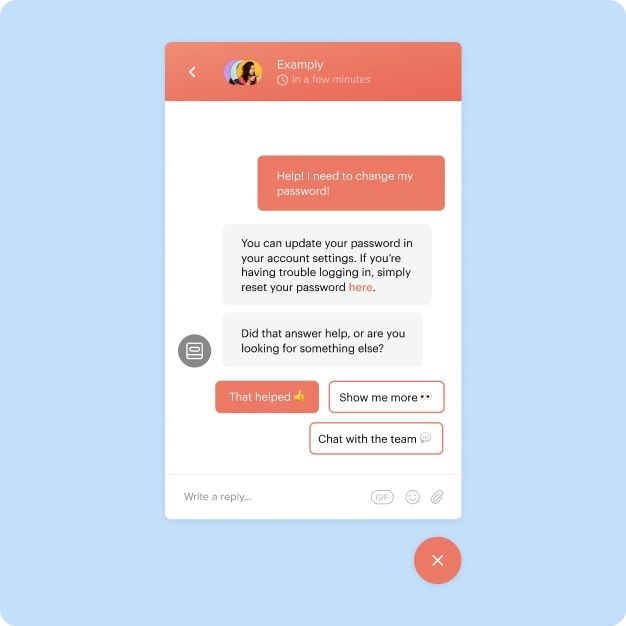 Intercom is a customer support platform that goes all-in on providing conversational support resolution for customers. Intercom abandoned the traditional ticketing system to provide messenger-like support in the form of a conversation that is more familiar and comfortable for users. It allows for a slick combination of live support and chatbot workflows to provide both personalized and efficient customer support.
Consider this alternative if:
You're already using Intercom for sales or marketing
Your company prefers a chatbot interface and would like to run support through one
You have a lot of data and understanding of how your customers interact with your support and service tools
Takeaway: How to choose a Zendesk alternative?
There are many different options when evaluating which Zendesk alternatives to consider. If you're looking for a less expensive help desk solution, consider Help Scout or Groove. If you're looking for a more powerful tool that integrates with existing customer data, consider Salesforce Service Cloud or Kustomer. If you're looking to level up your customer support through self-service and interactivity, you need Stonly.
Frequently asked questions about Zendesk alternatives
Is there a free alternative to Zendesk?
There are multiple free alternatives to Zendesk, though they all provide very limited feature sets and have a cap on users.
Drag has a forever-free plan that utilizes a shared inbox inside of Gmail to provide customer support. While it isn't a full-on help desk, it is a great tool for small companies that need a unified way to communicate with customers within the G-suite tools they are already using.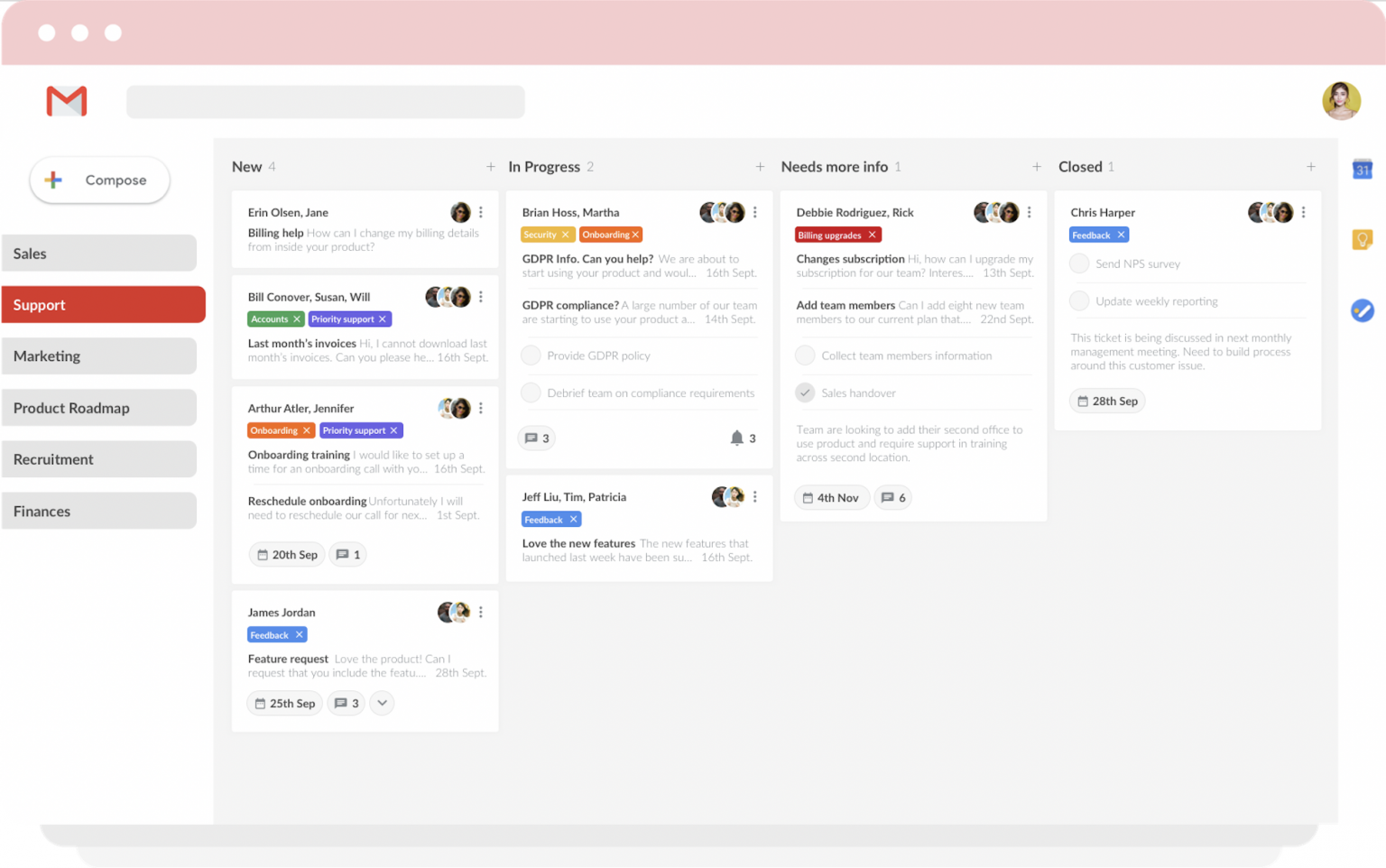 Zoho Desk also provides a free plan for basic help desk and help center features, but only includes up to three users. Zoho Desk is a great option for small companies to get started, as it also includes much of the workflow automation and customer experience features of higher-priced competitors for a lower price for growing teams.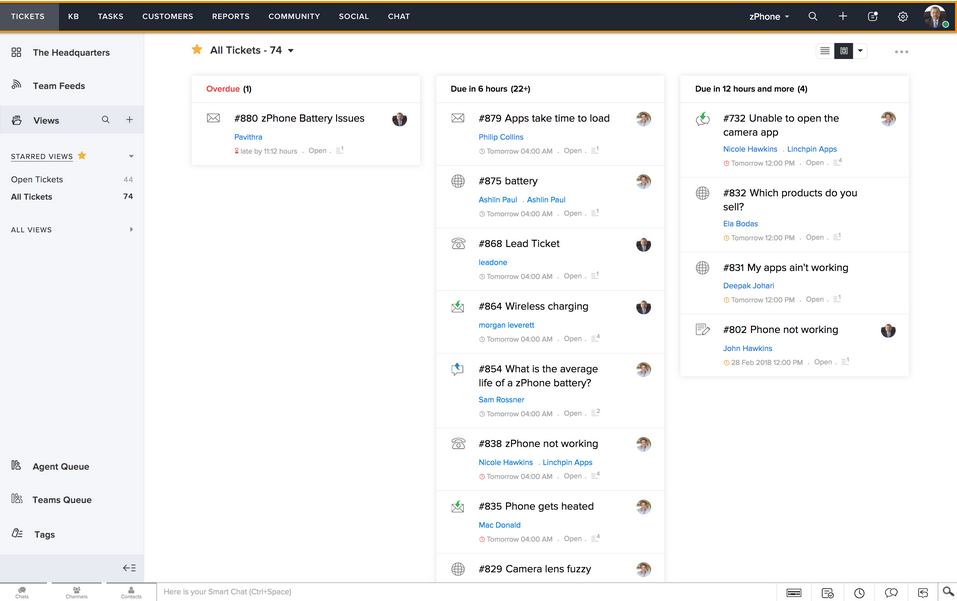 Who are Zendesk's competitors?
Because Zendesk has such a wide range of solutions, it has dozens of competitors. A few compete with Zendesk in terms of the range of product features and solutions, and others compete with only a subset of Zendesk's solutions.
Some of the competitors that provide the full range of solutions are:
Freshdesk
Salesforce Service Cloud
Hubspot Service Hub
Other competitors for Zendesk focus on a smaller set of offerings but offer a stronger customer experience for these offerings. For example, Stonly focuses on providing a step-by-step knowledge base solution that guides customers through issue resolution using self-serve, interactive guides.
Is Freshdesk better than Zendesk?
Both Freshdesk and Zendesk have advantages and disadvantages. Zendesk has a longer history and a slightly wider array of features and solutions. Zendesk also leads in building automation and integrations to support Enterprise use cases.
Freshdesk has many of the features that Zendesk has, but wins on its clarity of pricing, support for small and growing businesses, and in providing more immediate client support.
Is Zendesk difficult to use?
Almost every review of Zendesk vs its competitors mentions the difficulty and complexity of using Zendesk out of the box. Because Zendesk is such a robust and feature-rich platform, it has a steep learning curve for new users to leverage its full functionality. Anyone considering using Zendesk should be prepared to spend a good amount of time and effort getting Zendesk up and running.
What is the difference between Salesforce and Zendesk?
While there is a large overlap between Salesforce and Zendesk, the main difference is the core offerings. Salesforce began as a CRM to help sales and client success teams manage customer relationships as they move along the sales and growth journey. Zendesk began as a help desk ticketing system to provide support teams with a better way to aggregate and respond to customer issues.
Want a Zendesk alternative that you'll love? Stonly helps you build in-context knowledge bases that your customers will actually use. Request a demo.