Stephen Covey, who literally wrote the book on organizational effectiveness, said, "Leadership is the highest of the arts, simply because it enables all the other arts and professions to work."
A leader's highest priority is to provide people with quick access to the vital information they need to do their best work. A carefully organized internal knowledge base is an effective leader's best friend, helping people spend less time searching for information and more time providing their unique value to the company. This guide will provide the what, why, and how of implementing an internal knowledge base to help your company further unlock its true potential.
Want a knowledge base for your company? Stonly helps you build simple yet interactive internal knowledge bases without coding. Request a demo today.
What is an internal knowledge base?
An internal knowledge base is a centralized repository of articles, videos, guides, and other content to help your team members access vital information about your company. Being organized toward a common goal or purpose is the defining characteristic of any organization. The information housed in an internal knowledge base is designed to share knowledge essential to help people effectively do their jobs.
The purpose of any knowledge base is to help people find important information quickly. The key difference between an internal knowledge base and an external knowledge base is the target audience. An external knowledge base is for customers and users. The information stored in this type of knowledge base helps customers resolve issues and answer questions as they engage with the company and its products and services.
Because an internal knowledge base is for employees, it contains information that helps unleash their potential to effectively perform their job functions.
What sections should an internal knowledge base include?
While the purpose, processes, and procedures for each company are unique, every internal knowledge base should contain the following sections:
Company information
Your internal knowledge base should include the core information that defines your company's unique purpose in the world. The more employees understand and share the vision of your company, the more they'll devote their energy to fulfilling it.
Core company information includes:
Company mission and vision statements
Culture and values documents
Strategy documents and objectives and key results (OKRs)
Org charts, leadership hierarchy, and an employee directory
Management policies and procedures
Annual reports and metrics
Work processes
Your knowledge base should also include clear and direct information that helps employees know and adopt the processes and procedures your company relies on to succeed.
Examples of work processes include:
Standard operating procedures
Process checklists
Descriptions of essential job functions
Prioritization and other decision-making frameworks
Contracts, policies, and legal documents
Your internal knowledge base should give employees convenient access to legal employment information and policies.
Examples of important legal documents and policies include:
Employment contracts, release forms, and non-disclosure agreements
Time off policies, including sick time, vacation, and parental leave
Employee benefits information and guides
Professionalism policies and expectations
HR policies such as equipment use, remote work, and peer recognition
Training resources
Employees at your company should know where to go to get additional training to support their job functions and company culture.
Examples of training resources include:
New employee onboarding
Company leadership training
Culture and diversity education
Workplace health and safety
Frequently asked questions
Answering frequently asked questions with interactive guides helps employees feel like management understands their concerns and cares about their needs.
Examples of frequently asked questions include:
When and how do I get paid?
What are our company's primary products and services?
How do I answer people who ask what our company does?
What's the best way to resolve an issue with a coworker?
Why does your company need an internal knowledge base?
If you aren't convinced yet about the value of an internal knowledge base for your company, here are five benefits your company will experience after implementing one.
Benefit 1: Enhance internal communication and collaboration
One of the most difficult tasks for a company, especially a large one, is to keep people working in the same direction toward a common goal. An internal knowledge base allows you to communicate the direction to help your team collaborate more effectively toward your objectives.
Benefit 2: Enable people to do their best work
Your people are your most valuable asset. Enabling your people to get all the information they need quickly will free their time and energy to put toward achieving success for the company—and they'll be happier doing it.
Benefit 3: Ensure fantastic customer service
Employees that can find what they need to do their job will naturally provide better experiences for your customers. Additionally, interactive guides that showcase effective processes for talking with and supporting customers will increase consistency among your customer-facing employees.
Benefit 4: Enhance the onboarding process for new hires
According to a Gallup poll, employee turnover costs U.S. companies $1 trillion each year. The faster you can help a new employee get up to speed in their new role, the quicker they can provide net positive value to the company and the happier they will be.
Benefit 5: Prevent loss of community knowledge
Company knowledge is only beneficial if it's shared with those who need it when they need it. One of the biggest risks to any company is losing someone vital to the company's operations. This risk is significantly reduced when you have an effective method for getting company information out of employees' heads and into a central repository.
Related Post: 7 Essential Benefits of a Knowledge Base for Support Teams
How to create an internal knowledge base?
Creating and organizing your company's information into an internal knowledge base may seem daunting, but it doesn't have to be. We've simplified the process to a few simple steps to help you get started. For a more detailed guide, check out this article.
Step 1: Choose a knowledge base software
When creating an internal knowledge base, many companies just use tools they already have access to. This may seem convenient, but you will save yourself a lot of time and headaches by choosing a tool designed for this purpose.
Look for a tool that prioritizes simplicity in its user experience, including content creation, organization, navigation, and consumption. Its content creation features should be intuitive and simple, guiding you each step of the way. It should allow for your most valuable content to be as accessible as possible. And it should include advanced search and integration features that allow you to place your content exactly where your employees will be looking for it.
Choose a tool like Stonly, that helps you create engaging content through interactive guides rather than static articles, without any design or coding expertise. Stonly is designed to be easy to use, both for the content creator and curator, and allows you to put engaging, interactive guides right where employees need them.
Step 2: Create an outline to organize your knowledge base
Knowing exactly what content to put into your internal knowledge base takes a little bit of planning. One helpful exercise is to imagine that your company was acquired and you were handing it off to a brand new team. What would they need to know about your company, its mission, its processes and procedures, its go-to-market strategy, its products and services, and its internal policies to not lose any momentum?
When you have created an initial outline, get feedback from multiple employees. Sometimes, leaders can forget what it's like to be an employee in the company. Asking for their help in reviewing your outline will ensure that you are including information that will help all employees do their job better.
Step 3: Determine which sections to prioritize
Capturing all of the information vital to the operation of your company can feel like a big task. Prioritize the sections in your outline by their impact in enabling your employees to do their best work. Fight the urge to create a perfect knowledge base that includes all of the information in your first attempt.
Ask your employees which internal tools they use to do their work. Pay attention to which tools your managers use in new employee onboarding to which the employees refer back. Encourage managers and leadership to make a list of questions employees ask. Use this information to help prioritize which sections will have the highest impact.
Step 4: Start writing the articles
In writing your first article, the temptation will be to create static, text-heavy documents to present the information. Creating interactive step-by-step guides will provide your employees with a better experience when answering their questions.

Strive to present information one step at a time, eliminating unnecessary fluff or distractions. The goal of each article and guide should be to communicate the relevant information quickly. Use simple text, charts, tables, lists, and visuals to make the information more accessible so employees can get what they need and get back to their work.
Step 5: Get employee feedback early and iterate
Don't wait until all the articles and guides are finished before making them available to your team. Treat the knowledge base as a living repository, and let employees engage with it early.
This will help you get early feedback about how you are structuring and creating the content. Implementing the feedback early will help improve each subsequent article. Your employees will begin to see the value of having the company information easily accessible in one place, and they will naturally take steps to support you.
Step 6: Publish it so your team can find it
The primary function of the knowledge base is to provide information to employees that is easy and convenient to access. Publish the knowledge base and evangelize it throughout all of your company communications.
Encourage management to embed links to specific articles in the workspaces and tools their teams use daily. For example, articles and guides describing IT security information can be pinned in the IT channels in the company communication platform (i.e. Slack or Teams).
Step 7: Establish a system to update the content
Your internal knowledge base should not be a static repository. As your company grows, policies, procedures, and expectations will naturally change. Establish a process to update the content frequently.
Consider creating a specific communication channel with the sole purpose of updating content in the knowledge base. You can even create a step-by-step guide that shows employees how to submit an update or change request as a guide in the knowledge base itself.
Software for creating an internal knowledge base
Here are two common software tools for creating an internal knowledge base. See this article for a more in-depth comparison of other software providers.
Stonly
Stonly is a powerful knowledge base software that helps companies create engaging content through interactive guides rather than static articles. Turning your company's processes and information into employee-friendly interactive guides is made easy through a robust, user-friendly content editor.
Without any design or coding expertise, you can put your knowledge base virtually anywhere your employees may need it—on your website, inside your internal communications tools, in your task management tools, or on your intranet. Plus, comprehensive usage analytics provide key insights to help you know the specific areas your employees are, and aren't, engaging with.
Stonly is designed for ease of use, both for the content creator and curator, and for the end-user by putting engaging, interactive guides right where employees need them.
Key features:
Adaptive and personalized training modules
Interactive guides for effective learning
Rights management and version control
No-code solutions for content creation and linking
Powerful search functionality
In-depth reports and analytics platform
Stonly is best for companies that want to:
Simplify knowledge management and provide detailed answers to employee queries
Provide interactive training guides and facilitate continuous learning
Enhance communication between departments
Help employees adopt new tools and technologies faster
Onboard new employees effectively and at scale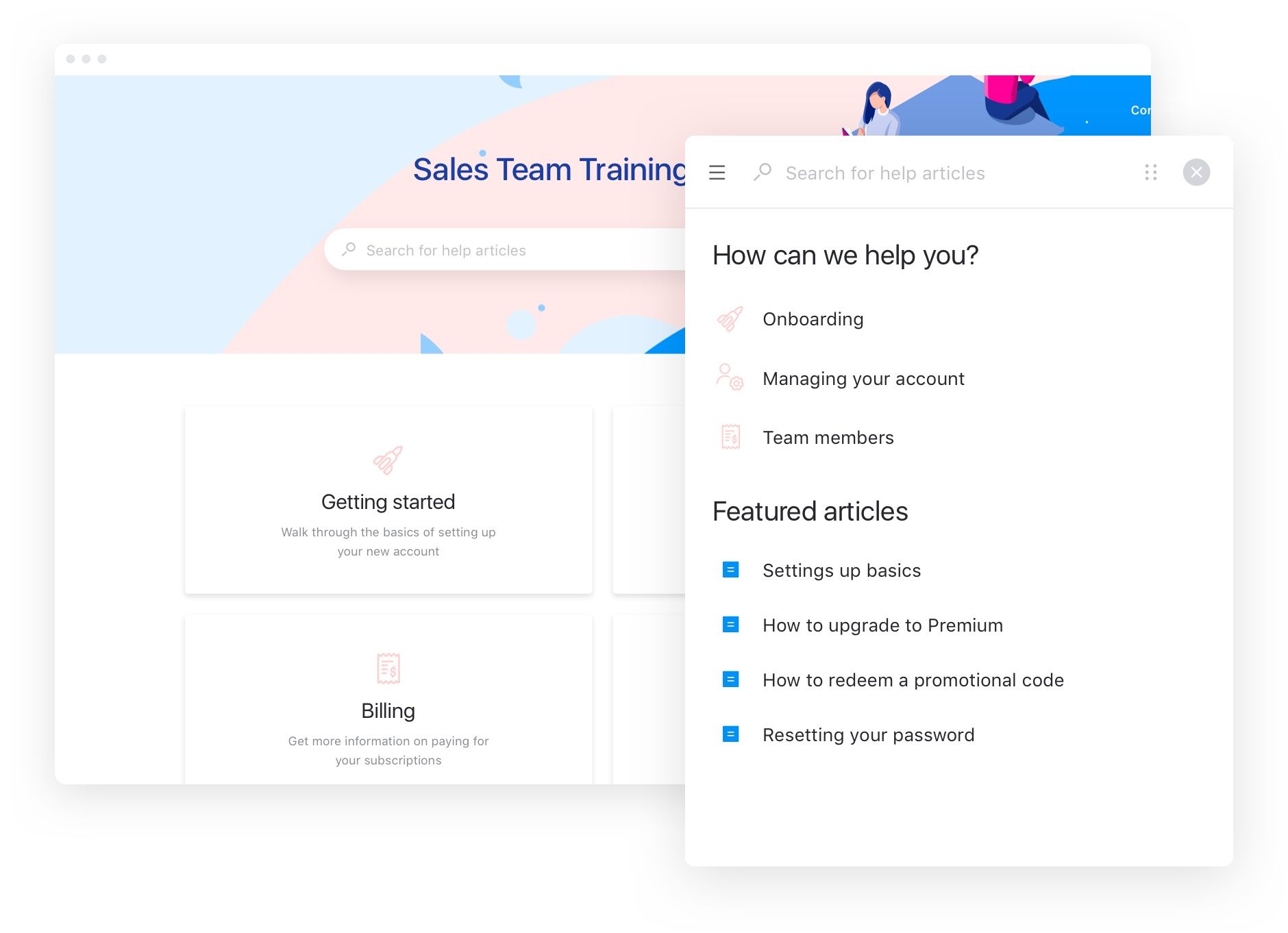 Notion
Notion is a knowledge management platform that can also be used as an internal knowledge base. While it is primarily used for creating static articles and pages, it features a wide array of customizability. The content creation tools take a bit of time to get used to, but provide users multiple options in organizing and displaying content.
Key features:
Dynamic note-taking
Drag-and-drop board interface
Standardized templates
Advanced customizability
Integration with external tools
Notion is best for companies that want to:
Prioritize internal collaboration between teams
Build a multipurpose workspace for product visualization, project tracking, and online knowledge management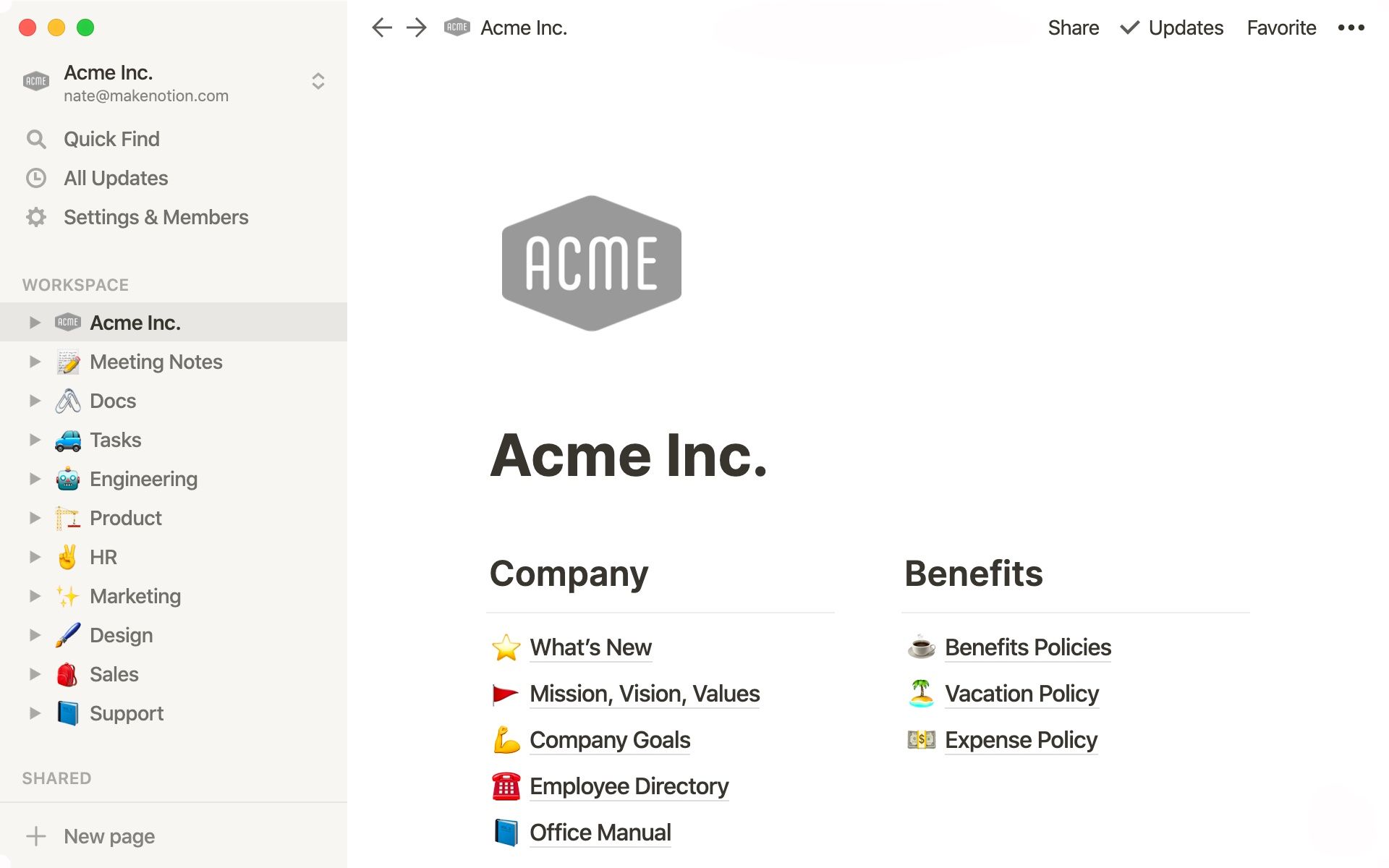 Best practices for building an internal knowledge base
We've helped many companies create effective internal knowledge bases, and have learned a few tricks along the way:
Use multimedia content to make the guides more engaging
Prioritize common employee problems
Link content in other work systems (such as Slack or Jira) to ease navigation
Leverage reports and analytics to continually improve the knowledge base
Place the knowledge base in all the places where employees will look for it
Takeaways: The value of an internal knowledge base
At the end of the day, a company is just a group of people working together toward a common goal. Companies with more people have an even greater challenge keeping people moving together in sync. An internal knowledge base creates an efficient way for people to have the knowledge they need to work better together.
Using software like Stonly to create an engaging, interactive experience with step-by-step guides allows employees to internalize the information they need to do their best work. Keeping people focused on their work, and not bogged down in perpetual searches for information will have a huge impact on the success of your company.
Frequently asked questions about an internal knowledge base
What is the difference between an internal and external knowledge base?
The primary difference is the target user. An internal knowledge base targets employees to give them the information they need to do their job. An external knowledge base targets customers with the purpose of providing support and answering questions about the company's products and services.
How should I structure an internal knowledge base?
There are many ways to structure an internal knowledge base. The following principles will guide you in creating the structure that works best for your company:
Focus on content that enables your employees to do their best work
Invite employees to help guide your structure so it benefits them
Collect the most frequent questions from employees and prioritize them
What does an internal knowledge base look like?
An internal knowledge base should look inviting, simple, and helpful from an employee's point of view. The articles should look more like interactive, step-by-step guides rather than static, text-heavy word documents. Links to the knowledge base should be distributed throughout all the systems that employees use daily.
Where can a company create an internal knowledge base?
A company can create a knowledge base in a lot of different places. Many companies default to using convenient tools, such as Google Docs, instead of finding software specifically built to enhance the knowledge base experience. Software products such as Stonly are excellent choices for companies that want to prioritize interactivity and a strong user experience for their employees.
Want a knowledge base for your company? Stonly helps you build simple yet interactive, internal knowledge bases without coding. Request a demo today.