If you had to pick a support channel for your VIP customers, which one would come to mind first? In today's modern world, your most premium channel should be self-serve support.
In years past, companies often viewed self-serve support primarily as a way to save money and support customers more efficiently. The default thinking was that only premium customers—your highest spenders—required a higher-touch customer experience.
In some cases, there are good reasons to give VIP customers a high-touch experience (assuming they want one). And great self-serve support will save you time and money.
But when it comes to your core customer support experience, there's a key reason why you should invest in effective self-serve support above all else: it's what your customers want.
Over 8 in 10 customers try to solve issues themselves before reaching out for help from your support team, according to Harvard Business Review.
What's driving customer demand for self-serve support?

Globalization
Technology has made the world feel smaller than ever. Whether you're in e-commerce, banking, or any other industry, it's now easy to have customers located across the globe.
💡 This reality means more support teams must think about efficient and effective ways to deliver quality support 24/7/365.
Instant gratification
First, it was the microwaves. Now it's Amazon, Netflix, and TikTok. The evolution of technology has hurt our attention spans and sharpened our appetites for immediate gratification.
💡 Customers now expect to get help instantly, whenever they need it and wherever they are. If you fail to meet that expectation, you're introducing friction into the customer's experience.
Personalization
56% of customers now expect personalized offers, and 85% expect consistent experiences with a brand, according to Salesforce's research.
Delivering a consistent, personalized experience across dozens or hundreds of support agents takes time and effort. It's far easier to provide this experience with interactive self-serve support tools.
💡 Your customers don't want to feel like a number or a dollar sign. They expect you to know their name, history, and preferences at every step in their journey with you. With thoughtful self-serve support, you can lead them down a personalized path that works every time.
Changing preferences
Twenty years ago, a white-glove support experience meant a direct phone line to someone who could help. Self-serve support was just a way to prevent unwanted phone calls.
Today, the way software enables us to accomplish tasks easily means a great self-serve support experience is now a core part of the product experience. Talking to an agent means something went wrong.
💡 Consumer expectations are constantly evolving. Instead of viewing human support as the default answer for how to help customers, companies should view self-serve support as the first stop for everything.
A looming recession
Financial pressures on business leaders are growing. Customer support is often the first to feel the pinch of shrinking budgets because many executives view support as a cost center. That's backward because keeping customers matters now more than ever, but it still happens all the time.  
💡 That means you may need to find ways to keep customers happy while dealing with a shrinking budget and fewer resources.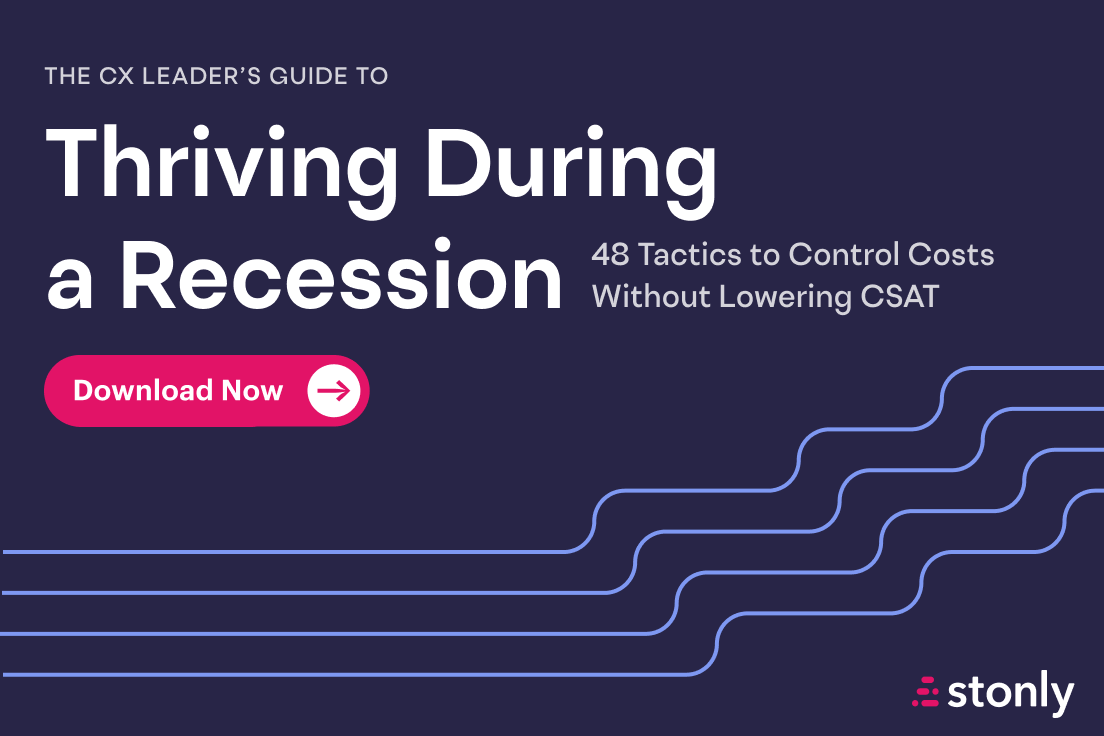 How can companies give customers what they want?
Companies started responding to the aforementioned forces ten years ago by creating FAQs and knowledge bases. More recently, chatbots and customer support automation have been front and center on everyone's mind.
These can all be helpful, but they miss the primary point: customers want personalized experiences that guide them to exactly what they're looking for.
Avoid being too company-focused
Self-serve support isn't primarily about deflecting tickets to make life easier on your support team or to save money. That's a company-focused view of self-service rather than a customer-focused view. Companies with this mindset approach self-serve support with questions like these:
How can we decrease ticket volume?
How can we support more customers with fewer support agents?
How can we make our support team more efficient?
To be fair, all of these questions are valid. Strategic support and CX leaders are still thinking about these things (and always will be). But these questions are no longer enough.
Instead, be more customer-centric
Modern technology and tools have made a better way possible, but adopting this better approach to self-serve support requires a different mindset.
Instead of starting with how self-serve support can benefit your company, you need to start by thinking through how self-serve support helps your customers. Ask questions like:
What do our customers want?
How can we give our customers what they need to be successful with the lowest possible friction?
Where can we make things faster and easier for our customers?
Self-serve support is great for your business
Self-service should be your top-tier support because it's how you:
Create more fulfilling careers for your support team
Reduce costs and scale efficiently without having to fire everyone
Make room to be strategic
Let's unpack that a bit more.
Create more fulfilling careers for your support team
Humans aren't robots. Robots can complete the same tasks over and over. Forever. They won't get bored, disengage, or lose motivation. They won't make mistakes or check out on you.
If you're treating your human support agents like robots, you'll eventually deal with burnout and employee turnover (this is probably why call centers have incredibly high turnover rates).
These things become challenges of the past once you figure out effective self-serve support.
With customers self-serving on your most repetitive inquiries, support agents can focus on more challenging support tickets. These scenarios might be more difficult, but that's part of what makes them more meaningful. On top of that, investing in self-serve support creates meaningful career paths for support team members, including content creation, CX automation, and more.
When your team feels they're meaningfully contributing to your customers' and company's success, they're more likely to stay engaged and stick around.
Reduce costs and scale efficiently without having to fire everyone
Efficiency and cost reduction will always be part of the self-service equation.
A great self-serve support guide can help unlimited customers solve their problems simultaneously. Even the best customer service agent in the world can't compete with that (good thing they don't have to!).
Inflation is at record highs, and a recession is looming. With so many recent layoffs in tech, your support agents are probably already afraid for their jobs.
While it might seem like self-serve support competes with your human agents, that's not the case. Assuming you're staffed appropriately right now, implementing effective self-serve support prevents you from over-hiring. It decreases the likelihood that you'll need to let people go due to budget constraints.
Related Article: Scaling Customer Support With a Guided Self-Serve Experience
Create room to be strategic
Every support manager has been underwater with tickets at some point.
A bug in your product. Being short-staffed. Seasonal volume in e-commerce. Whatever the case, sometimes every support team deals with a mountain of backlogged tickets.
A large and growing backlog creates a ton of stress and leads to sacrificing what's strategic for what's urgent.
Fortunately, every support leader can move mountains with a modern self-serve support platform like Stonly.

When you build out self-serve support flows that reliably solve your most common customer issues, you're getting off the hamster wheel of trying to stay on top of ticket volume.
For your support agents, that means more meaningful work and a less frantic pace.
For you as a support leader, it means more space to step back and think strategically about the customer experience you're trying to create.
How to make self-service your top-tier support
When you're launching self-serve support options, a knowledge base or help center is frequently the first thing that comes to mind. Knowledge bases are indispensable tools.
But there's a common mistake that many support teams make with their knowledge base articles: going a mile wide and an inch deep.
It's easy to fall into that trap. Your support team gets questions on dozens of issues, so you should try to have knowledge base articles that answer everything. Right?
Here's the problem with that approach: You create articles for everything, but you often won't see much of an impact on the metrics that matter.
A more impactful approach to self-serve support (which will turn your self-serve support into a top-tier channel) is to dive deep into helping customers solve the most important issues with interactive guides.
You'll see a much bigger ROI on building interactive guides that take customers step-by-step through solving their issues, like Dashlane did with Stonly. Your support team will significantly reduce ticket volume, and your customers will reap all the benefits of effective self-serve support.
3 steps to make it happen
Self-serve support isn't limited to basic and simple inquiries—remember, it's your top-tier support, so you must get it right.
Here are three key steps to move your self-serve support from an old-school approach to a true top-tier approach:
1. Identify key issues and focus on them disproportionately
Most likely, you're already aware of your key support issues.
If you don't know already, your support ticketing software should show you which essential customer issues drive the most ticket volume—those are the ones causing the most pain. Start by exploring this data to understand where there are opportunities to improve or eliminate these painful issues via self-serve support.
Tip: Prioritize complex key issues. Those will be instrumental in turning your self-serve support into your top-tier support channel.
If you have a knowledge base or chatbot, look at your existing content. Where are questions going unanswered? Where are customers abandoning your knowledge base articles? Which articles are they reading and still contacting your support team?
As you do this, take notes on specific ways to improve these resources.
2. Create powerful guides for your key issues
Rely on your senior agents and product experts by getting them involved in building out step-by-step guides that lead customers down the right path.
They'll be able to help you build powerful guides that:
Deeply understand the customer's issue and needs
Provide all the details that customers require
Adapt to each customer's situation
Are engaging and easy to follow to a solution
3. Provide guidance exactly when & where it's needed
None of the above steps matter if your customers can't find your self-service resources.
Don't only bury your best help content in a knowledge base. In your knowledge base, ensure the content for key issues always appears in searches, is available on the landing page, and is easy to navigate.
But you'll also want to extend help beyond your knowledge base. Specifically, on your website, in your app, and in your contact form. Make support available proactively to give them the best odds of self-serving without friction.
Stonly is self-serve support that delivers results
It's undeniable that customer expectations are changing. Your approach to supporting your customers needs to evolve as well.
The best way to scale your support team and keep your customers satisfied today—and for years to come—is to build out a self-serve support machine that gives customers the right help at the right time.
Making it easy for customers to self-serve is the most customer-centric thing you can do. They won't accept anything less.
Ready to join 1,000+ companies who have already transformed their self-serve support? Schedule a Stonly demo today.