The prospect of selling to and onboarding an enterprise company can be terrifying. Even if you've already onboarded countless SMBs, enterprise SaaS onboarding is a new beast.
You go from working with a team of dozens across a handful of departments to navigating the complex ecosystem of an enterprise—think thousands of employees and more stakeholders than you can even keep track of.
Plus, with a flawed onboarding process, you risk losing clients you worked so hard to land. According to Esteban Kolsky, Chief Evangelist of CX at SAP, 67% of customer churn can be prevented if the issue is solved in the first interaction with the customer. This makes perfecting your onboarding process especially crucial when working with big-ticket clients.
On the flip side, 86% of people say they would be more loyal to a business that invests in quality onboarding content. So while onboarding enterprises comes with a whole new set of challenges, building a successful process can reap significant rewards. That's where we come in.
Stonly has onboarded over 20K companies, ranging from small businesses to large enterprises. We've rounded up the knowledge gained in our years of experience to put together ten guidelines for enterprise SaaS onboarding.
Are you looking for easy-to-use SaaS onboarding software for your company?
Stonly helps adapt the adoption experience for your SaaS product customers.
START FREE TRIAL
The Main Challenges of Enterprise SaaS Onboarding
From HR software to payroll management and customer support, enterprise SaaS simplifies the daily tasks necessary to running a large business. You designed your software to make the lives of those who run and work at large companies easier.
But onboarding these types of software can be highly complex for several reasons, given the sheer number of stakeholders and users involved in the process. Plus, enterprise SaaS tends to be significantly more complicated than many B2C software solutions, making onboarding more challenging.
Challenge # 1 - Complexity in Selling to Different Audience Personas
Selling to and onboarding enterprise SaaS is unique in that you're typically selling to someone who is not the user. While this isn't always the case, the decision-maker who's contemplating purchasing your product may never even have to use it.
You should focus your efforts on selling effectively at every level because your buyer and user may be in different departments (and may not even know each other).
This means that you need to be able to connect with VPs and decision-makers and the employees who'll be using your product. You may need to use customized approaches on every level to get the whole team on board with your product.
Challenge # 2 - Adoption of Software Is Longer
As we mentioned, more stakeholders and users are involved in enterprises than SMBs, so you should be prepared for the adoption process to take longer. An onboarding process that may take a month with a small business could take over a year with an enterprise.
Be sure to allocate the proper time and resources to ensure that you aren't rushing the onboarding process with an enterprise client. Be prepared to spend time with various stakeholders and departments.
Challenge # 3 - Unique Tech Stacks for Enterprises
Enterprises may have complex or customized tech stacks, so be prepared to adapt or adjust your software to an enterprise's existing tech setup.
Enterprise clients may require that your product integrate or embed into their tech stack.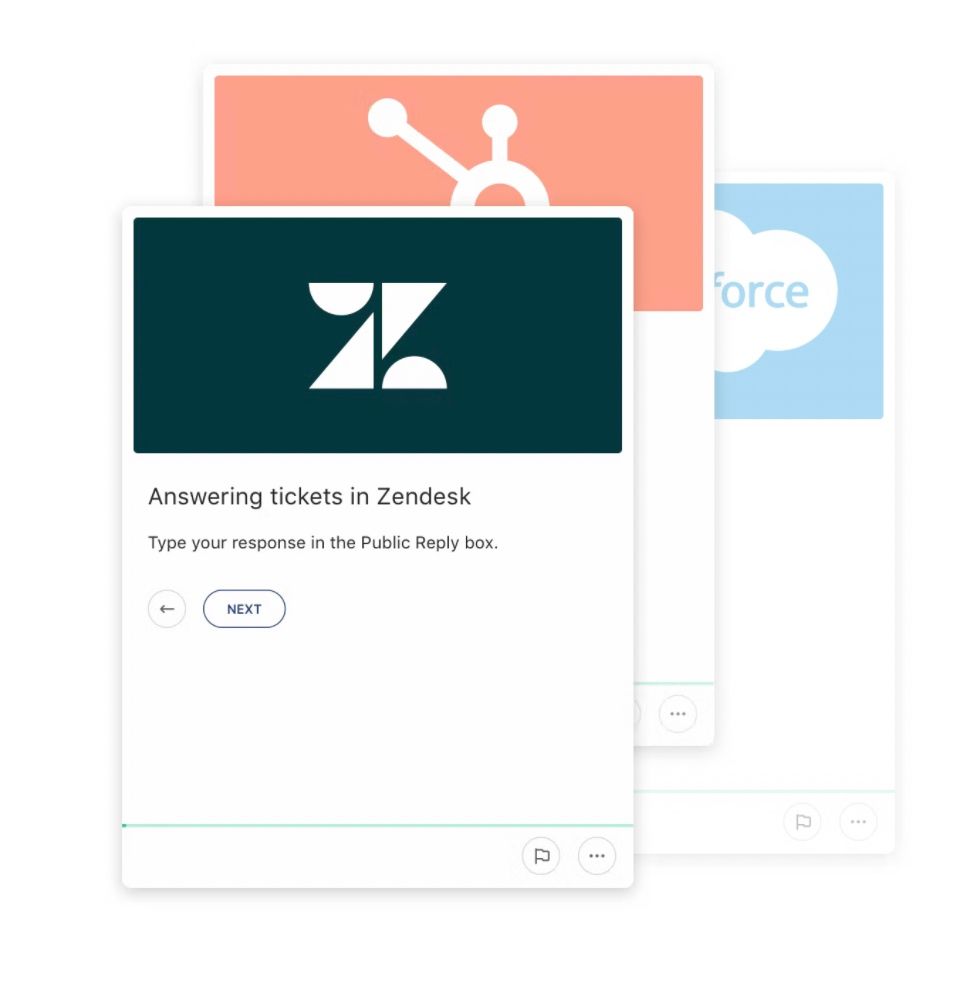 Challenge # 4 - Need for a Customized Onboarding Experience
Each corporation is its own little universe, made up of a complex ecosystem and with unique needs. So while following standard SaaS onboarding best practices may be appropriate when working with an SMB, your process will need to be much more customized when working with an enterprise.
Give your enterprise customer a white-glove experience so they feel like you're meeting their unique, complex needs. You can do this by offering thoughtful solutions, engaging with decision-makers and users on every level, and giving them the time they need to settle in with your product.
How to Make Enterprise SaaS Onboarding a Success?
Onboarding falls right in the conversion stage of the customer lifecycle, directly preceding retention and loyalty. So if customer retention is a priority to you, then onboarding should be as well.
Follow this SaaS onboarding checklist to avoid churn and ensure that your enterprise customers have a seamless experience.
Step # 1 - Adapt the Onboarding to the User
You should speak differently to someone you're trying to sell/have sold your product to vs. someone who will be using your software.
Depending on the complexity of your product, be sure to simplify your language. On the other hand, don't talk down to someone who already understands how your software works.
For example, you will want to use more emotional and convincing language when speaking with stakeholders who will never use the product but decide whether to come on board with your solution. Focus on how your product can improve their productivity, the lives of their employees, and their business.
Use a more logic-based approach with employees who will be using the solution, highlighting its practical applications and walking them through how to best use it.
Step # 2 - Consider Different Learning Styles
Learning styles vary between departments and individuals. Remember that a software programmer will have a different learning style than a graphic designer or accountant, so be sure to have an onboarding process adapted to various learning styles.
This could mean utilizing visual and audio elements in your onboarding guide and offering personalized support when necessary. In this regard, Stonly is an excellent tool, as it gives you the ability to personalize onboarding guides and checklists depending on which team member will be using them.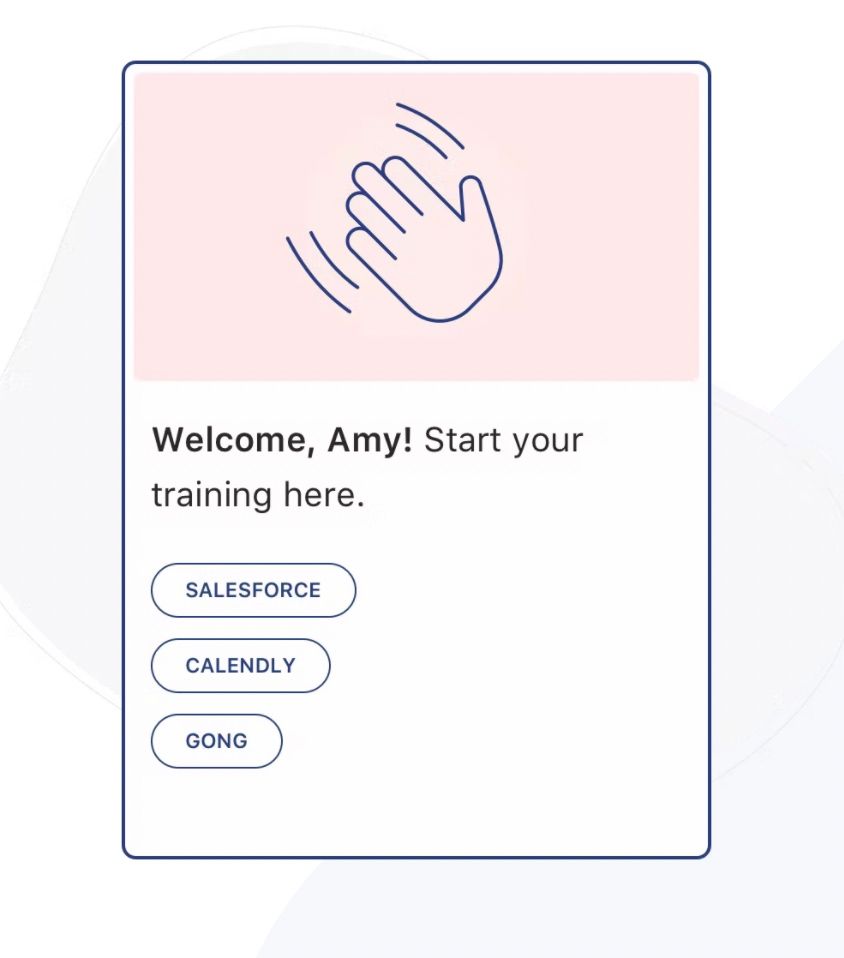 Step # 3 - Focus More on the Customer and Less on Your Product
Corporate decision-makers are constantly being pitched products and software. They are more interested in how your solution can facilitate their company's workflow rather than the nitty-gritty of what it does.
When onboarding an enterprise client, take the emphasis off your software and shift it to the customer experience.
Focus on your customer and ask them what they want out of your software, and throughout the onboarding process, stay true to this promise.
Step # 4 - Make the Sales Process and In-App experience Aligned
One of the worst-case scenarios for enterprise SaaS onboarding is your customer pulling out during the onboarding process because they feel you misled them when being sold the software. Avoid this by being transparent and honest about your solution from the get-go.
And if you promise your customer an additional feature during the sales process, be sure to implement it before onboarding. Make sure that your sales team is on the same page as you in this aspect.
Stonly can help you meet your customer's expectations from day one by providing white-glove service with in-app solutions to make their journey a breeze.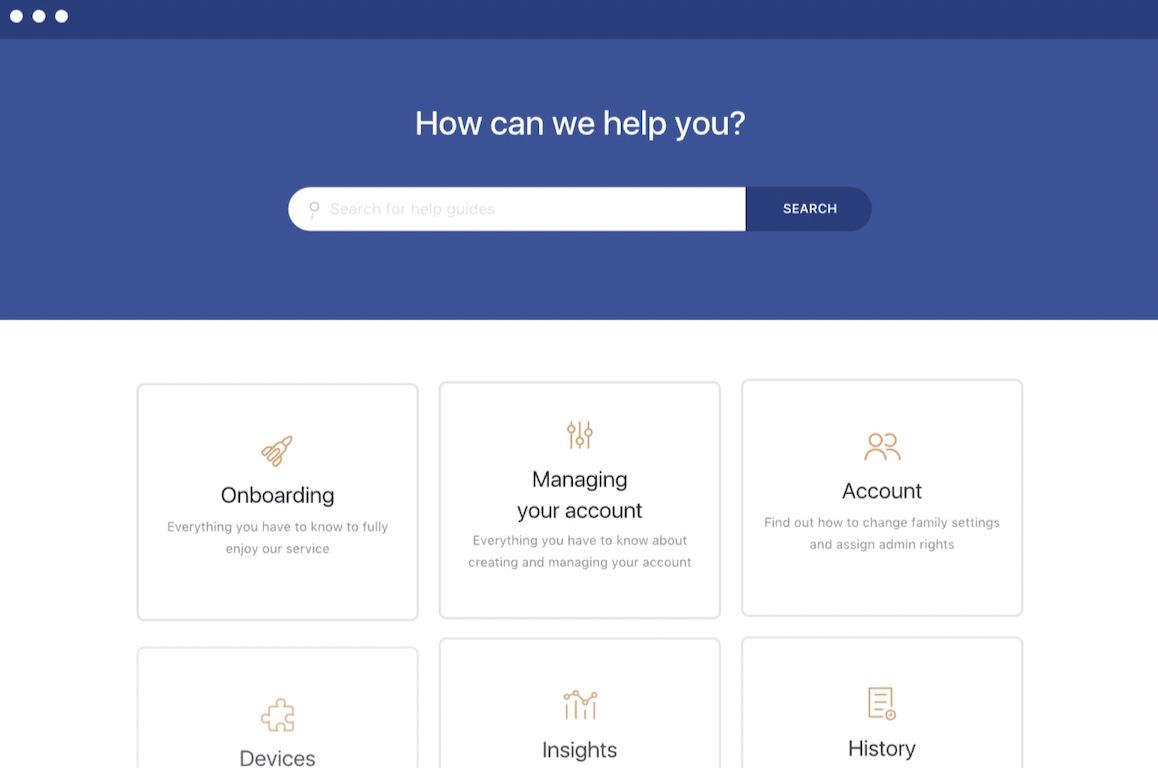 Step # 5 - Be Prepared to Customize
Enterprises have complex needs, meaning they also need a bespoke solution. You may have to bolt on new features that you wouldn't typically offer with your existing product.
Stonly allows you to create a fully customizable onboarding process, so whatever extra features you end up offering to your enterprise customer, you can seamlessly integrate them into the onboarding. Plus, you can add new features down the line and provide updated training manuals as your software evolves with your customer's needs.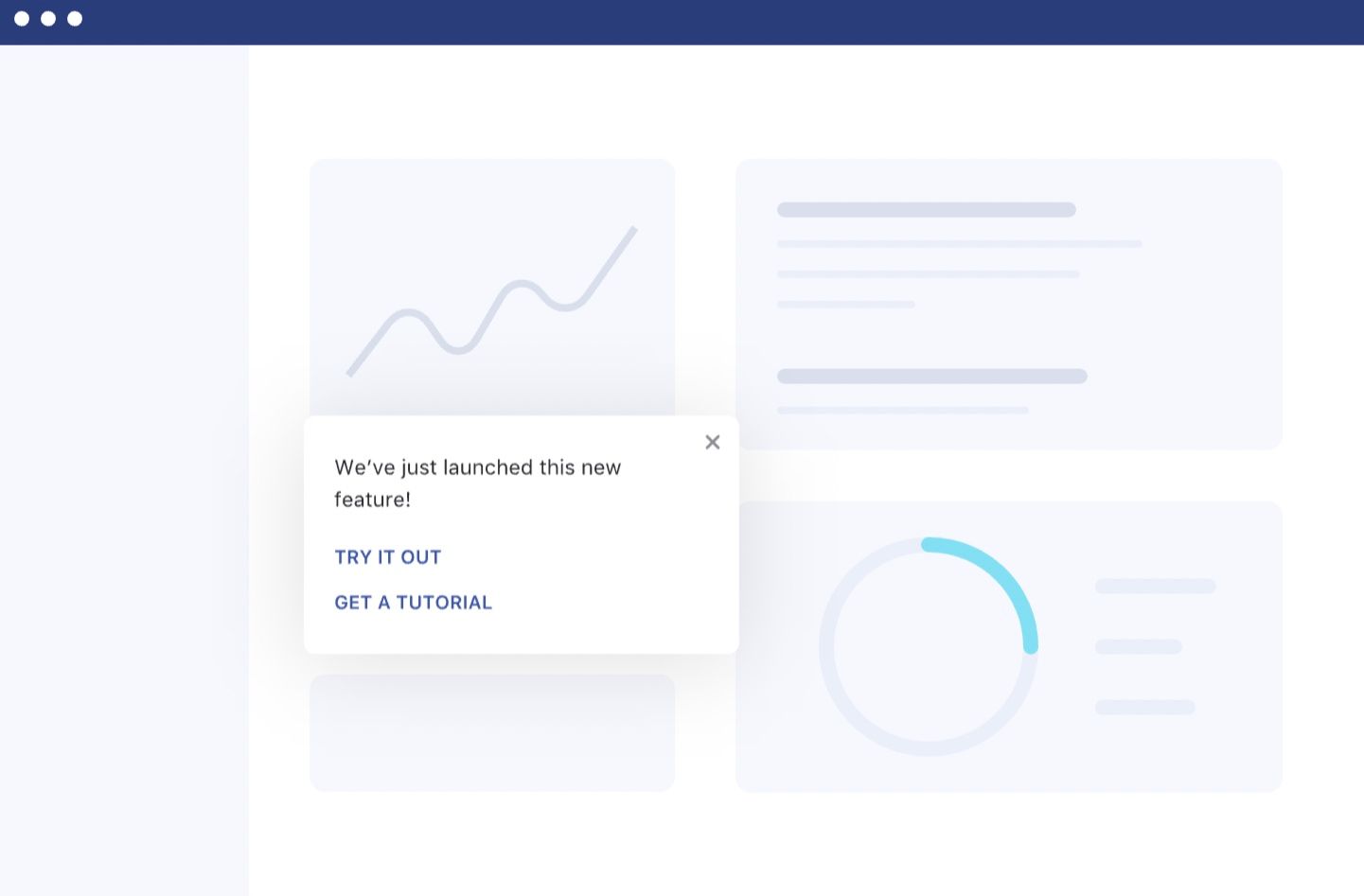 Step # 6 - Offer a Scalable Product
Scalability is key to convincing those large enterprise customers that your product will work for them in the long run.
You don't have to integrate all of the extra features that you're promising from the get-go, but make sure that these integrations are feasible in the future and be proactive in making it clear to your customer that your product can grow with its company.
Step # 7 - Keep All Stakeholders Involved in the Process
As mentioned above, you'll deal with many stakeholders and decision-makers throughout an enterprise onboarding process. With this in mind, you should be careful to keep all stakeholders involved from start to finish.
Get everyone on the same page. Make sure that everyone understands your solution and is on board, especially because stakeholders can change throughout the onboarding process (this is more common than you think).
Moral of the story: don't put all your eggs in one basket.
Step # 8 - Have a Main Point of Contact
Remember what we just said about keeping all stakeholders involved in the onboarding process? The reality is that it's not practical to be in constant communication with all stakeholders.
That's why you should focus your energy on one or two main points of contact at each level to streamline communication and address questions and issues efficiently.
A practical application would be to have a main point of contact or two at the executive/decision-maker level and in each relevant department. This keeps you in touch with all levels of the organization while maintaining your sanity.
Step # 9 - Be Flexible and Expect the Unexpected
When working with an organization as large and complex as an enterprise, things can change at the drop of a hat. As we mentioned, stakeholders can drop out unexpectedly, or the company can undergo an unforeseen organizational shift.
That's why having flexibility in your onboarding process and being prepared to make changes is crucial for enterprise SaaS onboarding. The approach you first had in mind may change as you go through the customer onboarding process and begin working with different departments and new users.
Step # 10 - Remember that Enterprise Onboarding Has No Concrete End-Date
Finally, each customer journey is unique, and user onboarding times vary. But especially with enterprise SaaS onboarding, the onboarding process can last longer than initially expected as new needs and unexpected issues arise.
Be sure to prepare yourself so that you have the time and resources to give your enterprise customer the attention they deserve, which will ultimately increase the likelihood of customer retention.
How to Track the Success of Enterprise SaaS Onboarding?
One of the most important components to a successful B2B SaaS onboarding and reaching your desired outcome (customer retention) is tracking the success of your processes.
This will help you perfect your onboarding strategy when working with other enterprises in the future. And it will also help you identify and address issues throughout the product adoption process.
Related post: Product Adoption Curve: Improving SaaS Adoption at Each Stage
Set Measurable Goals
Setting measurable goals is key to quantifying success. Tracking metrics has to be a priority in your SaaS user adoption strategy, and before you even launch the onboarding process, you should establish what type of goals you want to reach.
Some examples of reasonable KPIs to track in an enterprise SaaS onboarding process include:
Number of active users
User engagement/behavior
Average time needed to complete onboarding
Feature adoption rates
Number of support tickets
TTFV (Time to First Value)
Your best strategy is to really focus on one or two of these metrics and track them closely to ensure their success. Your KPIs vary depending on the ecosystem of the enterprise you're working with and the complexity of the service that you offer.
Prioritize User Feedback
It should go without saying that feedback is one of your most valuable resources when tracking the success of your onboarding process with an enterprise. When onboarding SMBs or startups, your stakeholders and decision-makers are often your users, so you may not need to explicitly seek out feedback because you are in close contact with them.
However, it is harder to get a feel of the average user experience with an enterprise because of the sheer number of users that you may not get a chance to interact with personally. That's where feedback comes in.
Send out NPS surveys and questionnaires about the functionality and usability of your software so that you can make adjustments to your onboarding process in real-time and facilitate user engagement.
While surveys can't take the place of a customer success manager or customer success team, they can help identify common issues to eliminate them before they negatively impact your users.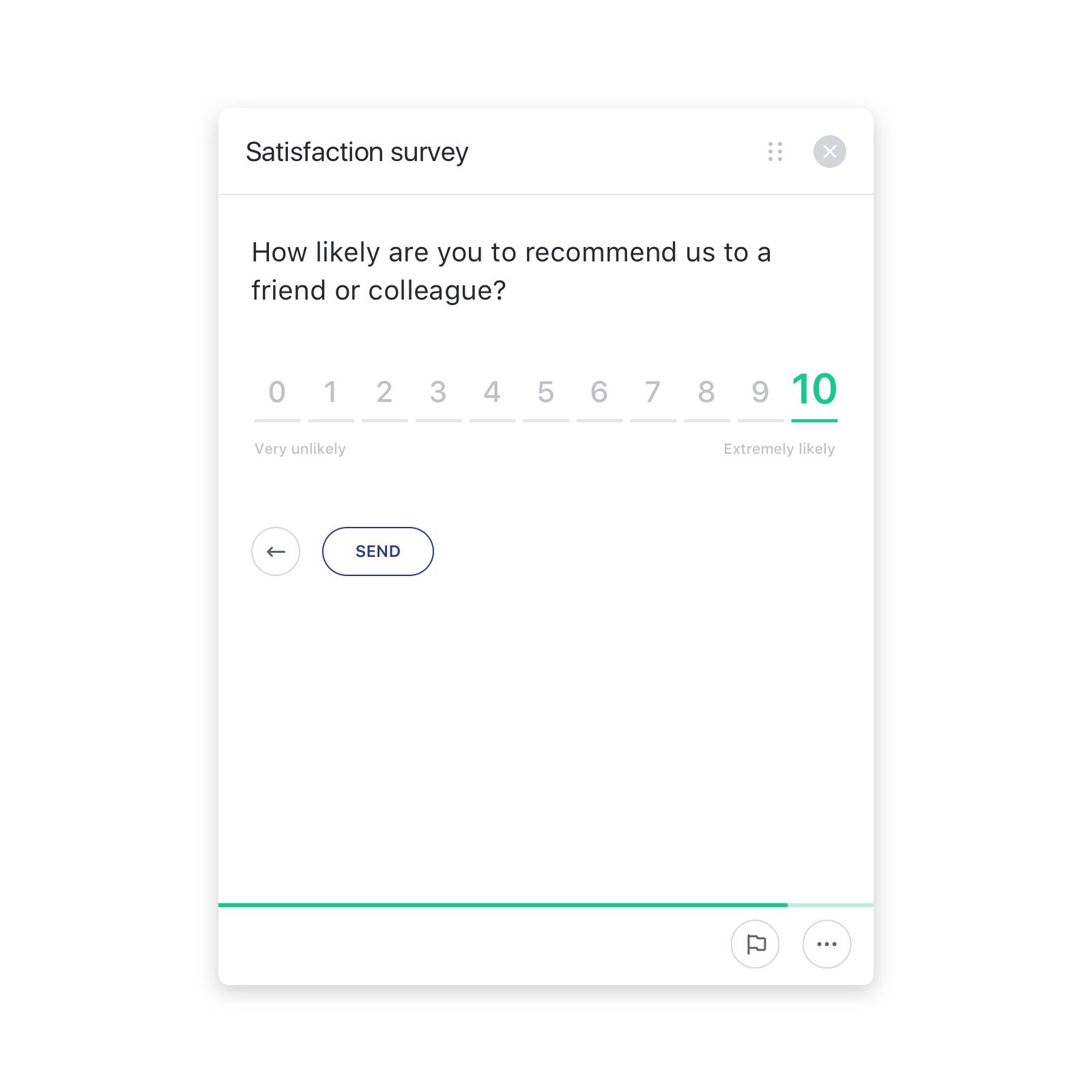 Best Enterprise Onboarding Software
If you hope to provide the best solutions possible for your enterprise customers, a few SaaS solutions can enhance the customer onboarding experience. We recommend Stonly for your enterprise SaaS onboarding process thanks to its customizable tools,  extensive knowledge base options,  and self-service capabilities.
Stonly
As we mentioned, Stonly is the best SaaS onboarding software solution. Some SaaS onboarding examples from Stonly include a customizable internal knowledge base, advanced adoption tools, onboarding checklists, and NPS survey capability.
With the Stonly extension, you can launch guides directly in third-party tools to provide step-by-step training for employees in any department. Plus, Stonly allows you to customize the onboarding process on a department or even employee level, which, as you know, is essential when onboarding an enterprise customer.  
It's an excellent option for enterprises and organizations who require a personalized, high-touch onboarding experience.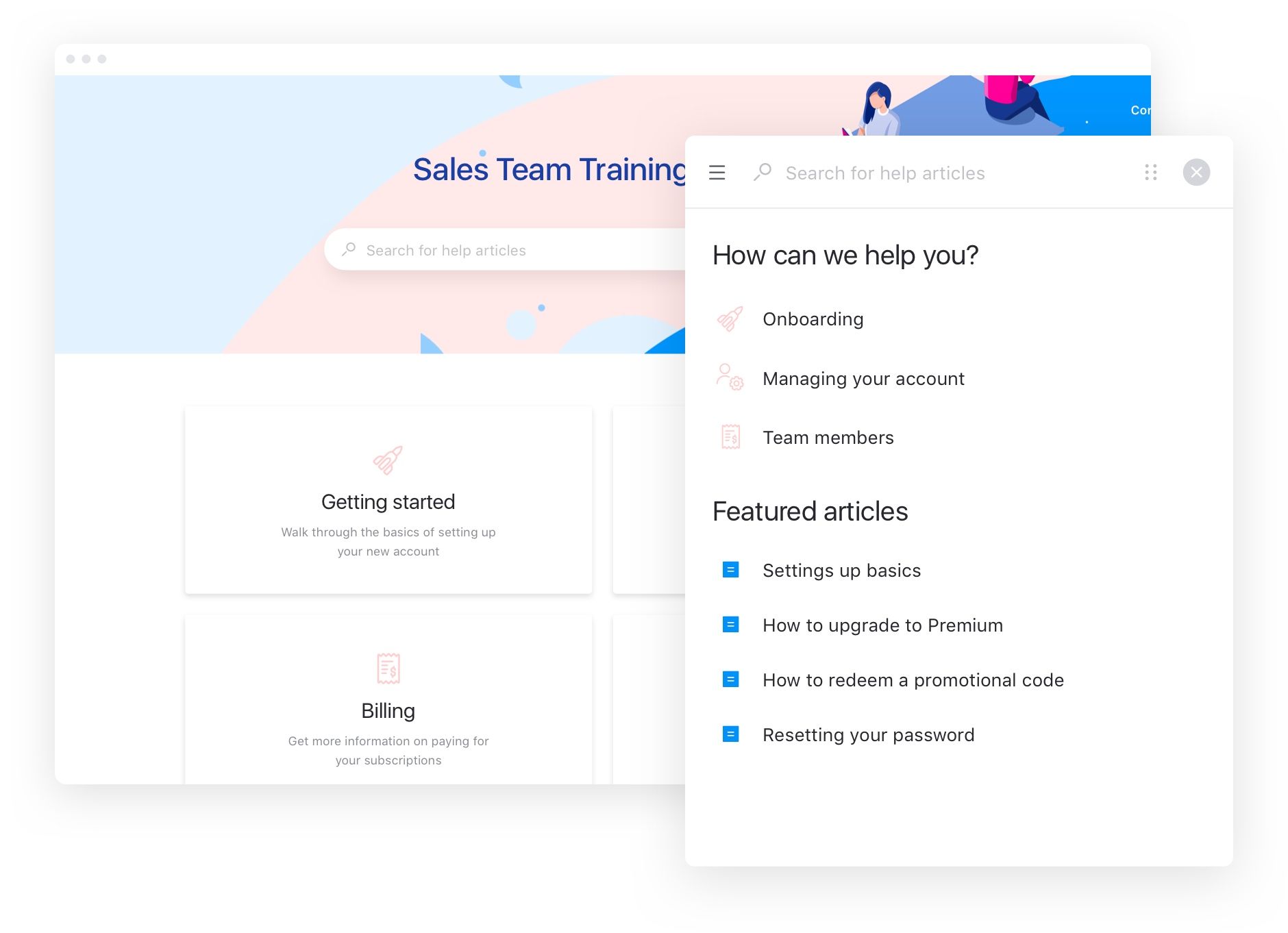 Are you looking for SaaS onboarding software that adapts to your different user needs?
Stonly allows you to make customized adoption experiences for your SaaS product customers.
START FREE TRIAL
Ensure the Success of Your Enterprise SaaS Onboarding
The hard part is over: you scored that coveted enterprise customer. Now it's time to fully convince them with a seamless onboarding process and a high-touch, personalized experience.
With the correct information and innovative user onboarding tools, a successful enterprise SaaS onboarding strategy can increase product adoption, reduce churn, and ultimately grow your SaaS business.
Are you looking to tailor your SaaS onboarding software to each enterprise customer's needs?
Stonly customizes the adoption experience for your SaaS product customers.
START FREE TRIAL