When it comes to help desk software, Help Scout is a market leader and, for many, an obvious choice for those looking to better manage support tickets. But it's not a one size fits all proposition: Help Scout has its limitations and won't be the best fit for all use cases. Luckily, there are other tools on the market you can consider to ensure you get the best solution for your particular needs.
Whether you're already using Help Scout, or simply assessing your options, this article will help you understand what software tools exist to help better manage your online help desk. But we'll also look at tools that will reduce reliance on your overburdened support team by empowering customers to solve issues wherever possible.
We took eight of the very best and looked at:
How the platform improves on Help Scout's limitations
How the platform can help you scale support and provide even better service
How modern and innovative their features and functionality are
How affordable their pricing plans are in direct comparison to Help Scout's
By the end, you'll have all the information you need to select a customer support platform that works for your company and ensures your customers get top-notch support, while reducing the overall volume of tickets.
Want a Help Scout alternative that truly reduces ticket volume? Stonly helps you build a world-class knowledge base that your customers will actually use. Request a demo.
Help Scout: Pricing, features, and limitations
What is Help Scout?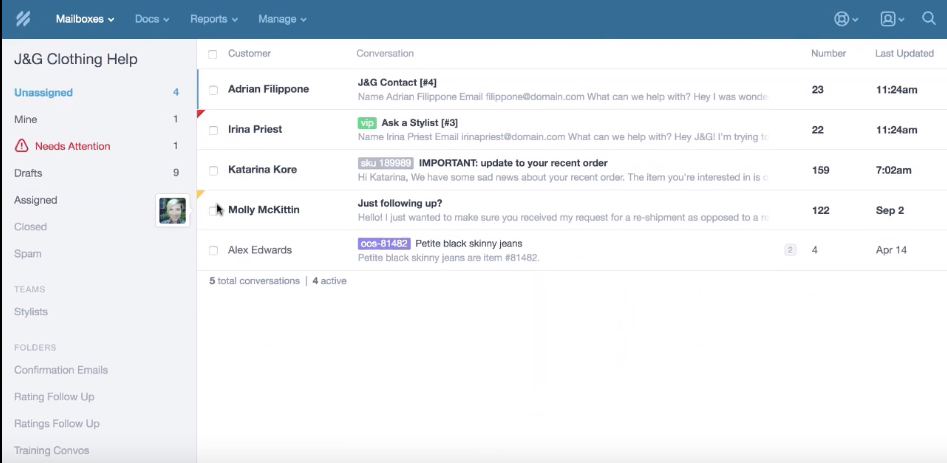 Help Scout is an online help desk and customer support software that provides businesses and customer service teams with a way to handle support tickets and manage customer relationships. It's known for its simple layout, ease of use, and ticket handling.
Help Scout features
Help Scout has five key features:
1. Shared inbox
Users can create a shared inbox for all customer support requests. That way, when a new ticket is opened, team members can work together to find a solution.
2. Live chat
The platform offers live chat support to assist customers looking to talk to a person on your support team instantly.
3. Customer management
This feature collects all customer information in one place. This makes it easy for companies using Help Scout to provide personalized support.
4. Online knowledge management
This feature lets businesses create knowledge bases and help center articles. Common knowledge base benefits include a reduction in ticket volumes and improved user satisfaction.
5. External integrations
Help Scout integrates with 80+ web applications, including Slack, HubSpot, Mailchimp, FreshBooks, and Salesforce.
Help Scout pricing
There are two fixed pricing plans: Standard and Plus. The Standard plan charges $20 per customer agent every month. For the Plus plan, businesses pay $35 per agent monthly. If you outgrow the strict limitations on Doc sites and mailboxes that come with the fixed plans, there's also a custom plan which requires you to negotiate with their sales team.
Limitations of Help Scout
We've sourced reviews from verified Help Scout users to showcase the potential limitations of their help desk solution.
We encountered the following recurring limitations:
The software doesn't provide time tracking. Businesses cannot assess the productivity of support agents at a glance or check which customer requests are time-consuming.
Help Scout doesn't provide service-level agreement (SLA) integration. So, companies can't create customer service contracts, track SLA performance, or measure customer satisfaction. There is also no way to prioritize tickets.
The Workflow functionality on Help Scout was designed to automate support tasks and speed up ticket resolution. However, users have complained that the feature may be complicated to set up and manage.
Knowledge bases created using Help Scout are pretty basic. The guides are not interactive or tailored to the needs of individual users, making the knowledge base suboptimal for self-serve support.
Help Scout may struggle with old email clients like Hotmail, AOL, Yahoo. Messages from these platforms may be unclear, making it difficult for support staff to resolve tickets quickly.
It provides data and reports to help support teams track important customer service metrics. However, the reports can be simplistic and lack insight.
Best Help Scout alternatives
We evaluated over 30 customer service tools based on how they compare to Help Scout, how much potential they have to reduce the volume of support tickets, and how affordable they are.
In the end, only these eight powerful alternatives made the grade:
Stonly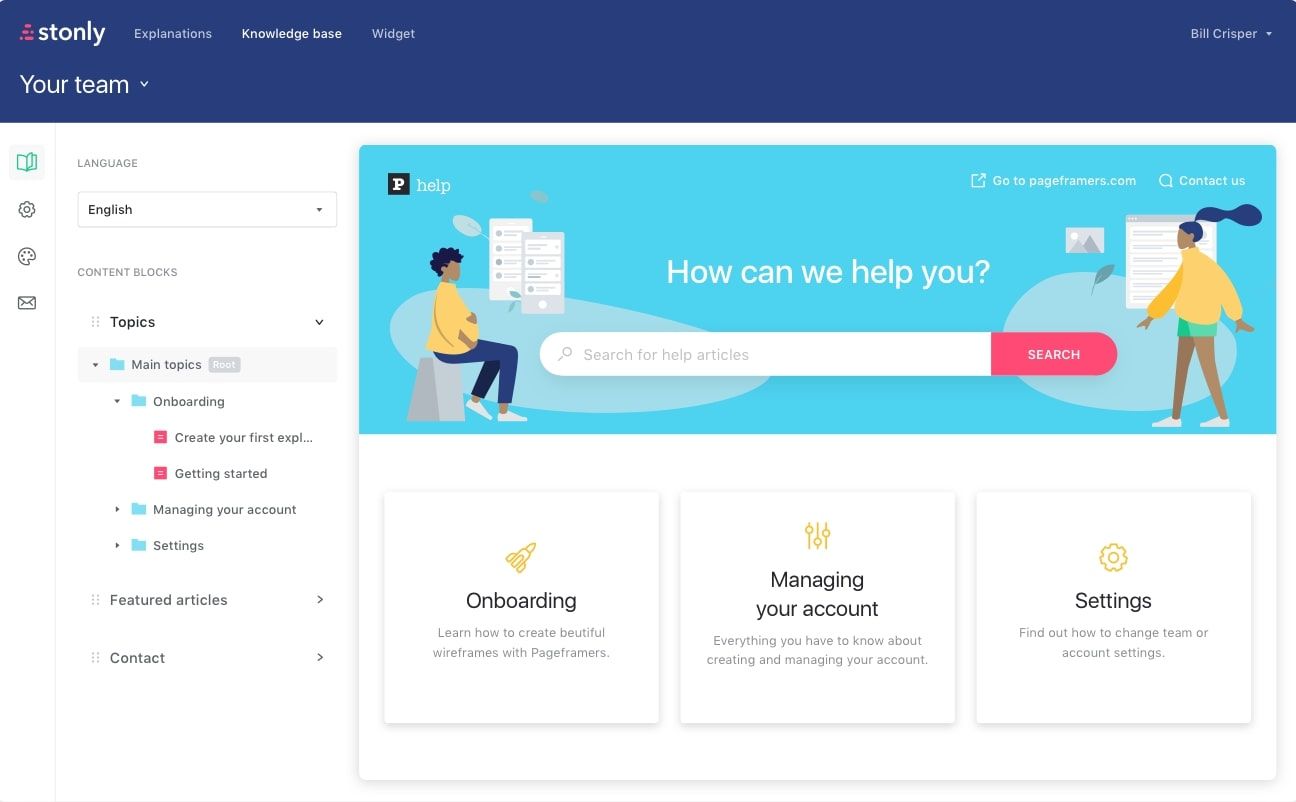 Stonly is a knowledge base platform that replaces static help center articles with interactive self-serve guides. These guides provide customers with the resources they need to resolve issues independently, reducing tickets and ensuring customer success.
Stonly is a no-code platform so you can build a modern, interactive knowledge base without any design or development work.
Statista reports that 88 percent of surveyed customers expect businesses to have a self-service support portal, and recent trends show that customers prefer to use knowledge bases instead of contacting a support agent for help.
With Stonly, you can build a knowledge base that will give more customers the great self-serve experience they want and need.
Stonly features
Interactive guide format that's proven to be better at driving self-serve resolutions
A self-serve support widget, so you can provide help in context
A full no-code knowledge base builder
Integrations with all major ticketing systems and help desk tools
Multi-language support
Powerful customer insights
No-code tooltips and hotspots for proactive support
Product tours
Who's it for?
Any company looking to provide top-notch self-serve support. Companies with a high volume of support tickets, and companies with self-serve offerings, love Stonly.
How it's different from Help Scout
While both Stonly and Help Scout are customer service tools, their use cases vary significantly. Help Scout is designed to be used by support agents who manually handle tickets and manage customer requests. Like many help desks, their knowledge base offering is limited and less of a priority.
Stonly, on the other hand, provides tools that help customers solve issues quickly and without contacting your support team. You'll still need a ticketing system to manage your support agents, but Stonly is a great option for your knowledge base.
Pricing
Find below an overview of Stonly's pricing plans. Stonly is priced based on guide views since it's a self-serve platform.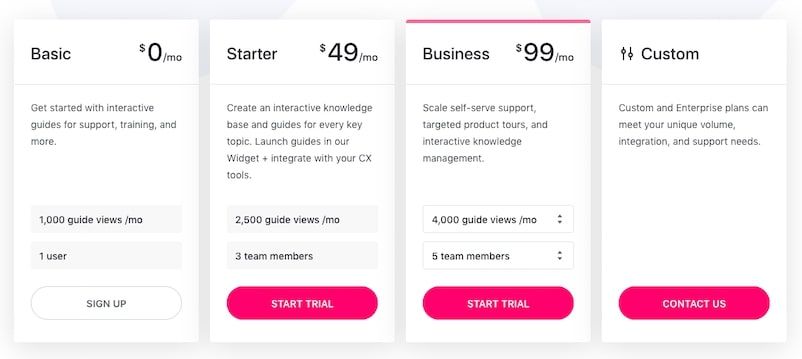 Want a HelpScout alternative that your customers will love? Stonly helps you build an interactive knowledge base that your customers will actually use. Request a demo.
Freshdesk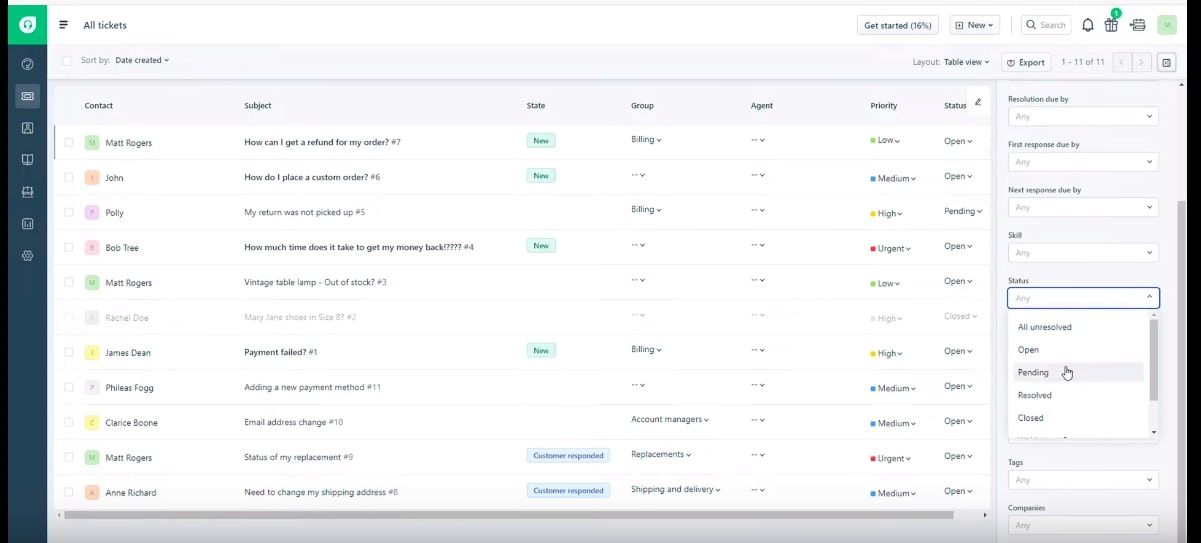 Freshdesk is a ticketing and customer management tool like Help Scout. It helps businesses stay on top of support requests and hold meaningful conversations with customers. Freshdesk provides a unified inbox that collects customer requests from various sources, including website chat, in-app chat, Facebook Messenger, WhatsApp, and iMessage, facilitating multi-channel support that keeps customers satisfied.
It also offers chatbots that help support staff resolve customer requests without opening a ticket. And if an issue is too complex for hands-off resolution, there is a means to escalate it automatically.
Freshdesk features
Team inbox
SLA management
Ticket prioritization and time tracking
Intelligent ticket assignment and parent-child ticketing
Social media integration
AI chatbot
Who's it for?
Companies that want more control over their ticket handling in a bid to increase the productivity of support teams.
How it's different from Help Scout
Freshdesk provides features that address some of Help Scout's limitations, such as SLA management. This enables users to rank tickets based on priority, and complex tickets can be split into smaller child tickets. This may help support agents resolve tickets faster. One of the key differentiators is that, unlike Help Scout, Freshdesk offers a free plan so you can start right away.
Pricing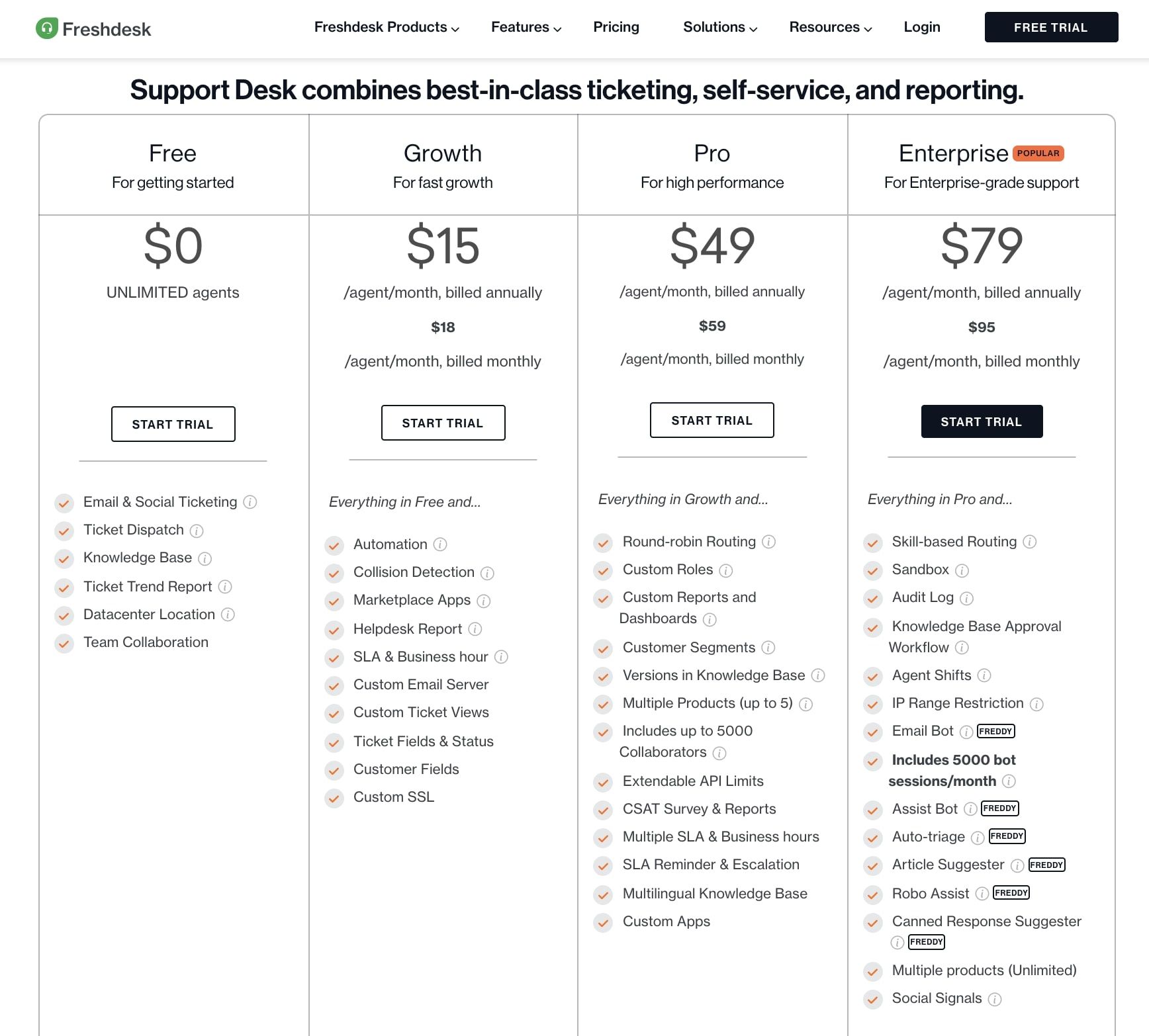 Freshdesk offers a free version which includes the ability to easily convert customer emails and social media queries into tickets which can be resolved via the platform. It also allows you to send tickets to the right teams for resolution and build a knowledge base.
However, the free plan doesn't include any automation or advanced reporting tools and adding those features sees the introduction of a per agent cost. This model can see the cost of Freshdesk escalate quickly. For instance, if you want to use any of the bots, you'll be looking at nearly $100 per agent if you choose to pay monthly.
Intercom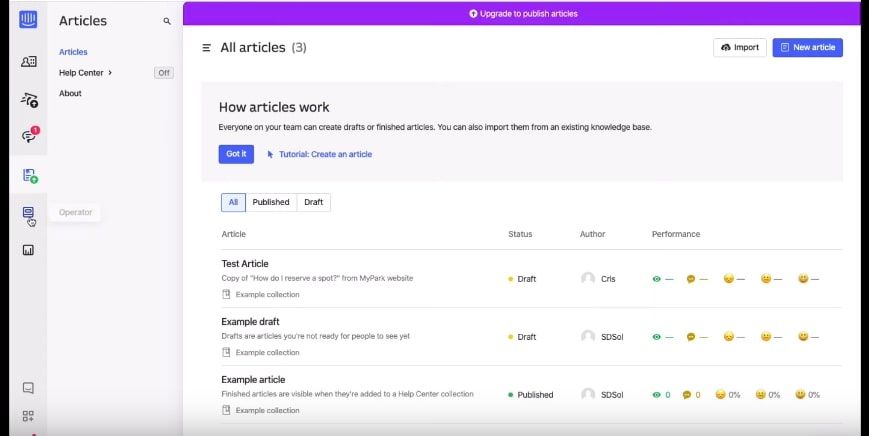 Intercom is a customer communication platform that simplifies interactions between businesses and their customers, providing features that enable conversational support and self-service. Companies can access the tools they need to give customers a personalized support experience without losing efficiency or spending too much time.
Intercom also offers solutions like Product Tours, Mobile Carousels, and Online Knowledge Management to help businesses address customer issues proactively, increasing user satisfaction and reducing the workload on support agents.
Intercom features
Business messenger
Ticketing workflows and SLA integration
Online knowledge management
Product tours
Support bots + 300 external integrations
Who's it for?
Intercom is for companies that want all their customer communications in a single system. It has a lot of add-ons that can be combined to include knowledge base, live chat, CRM, email marketing, and more within a single product.
How it's different from Help Scout
Help Scout would not typically be mentioned when Intercom alternatives are being considered, but there are some similarities. Intercom also provides a help desk service, but it offers much more than that.
Intercom uses custom bots to prioritize tickets and assign them to suitable support agents. The software also has a Resolution Bot to help customers resolve issues independently and a knowledge base software that places help center articles in context.
Pricing
Intercom doesn't provide pricing details upfront, and potential customers have to contact the company to get a price estimate.
Zendesk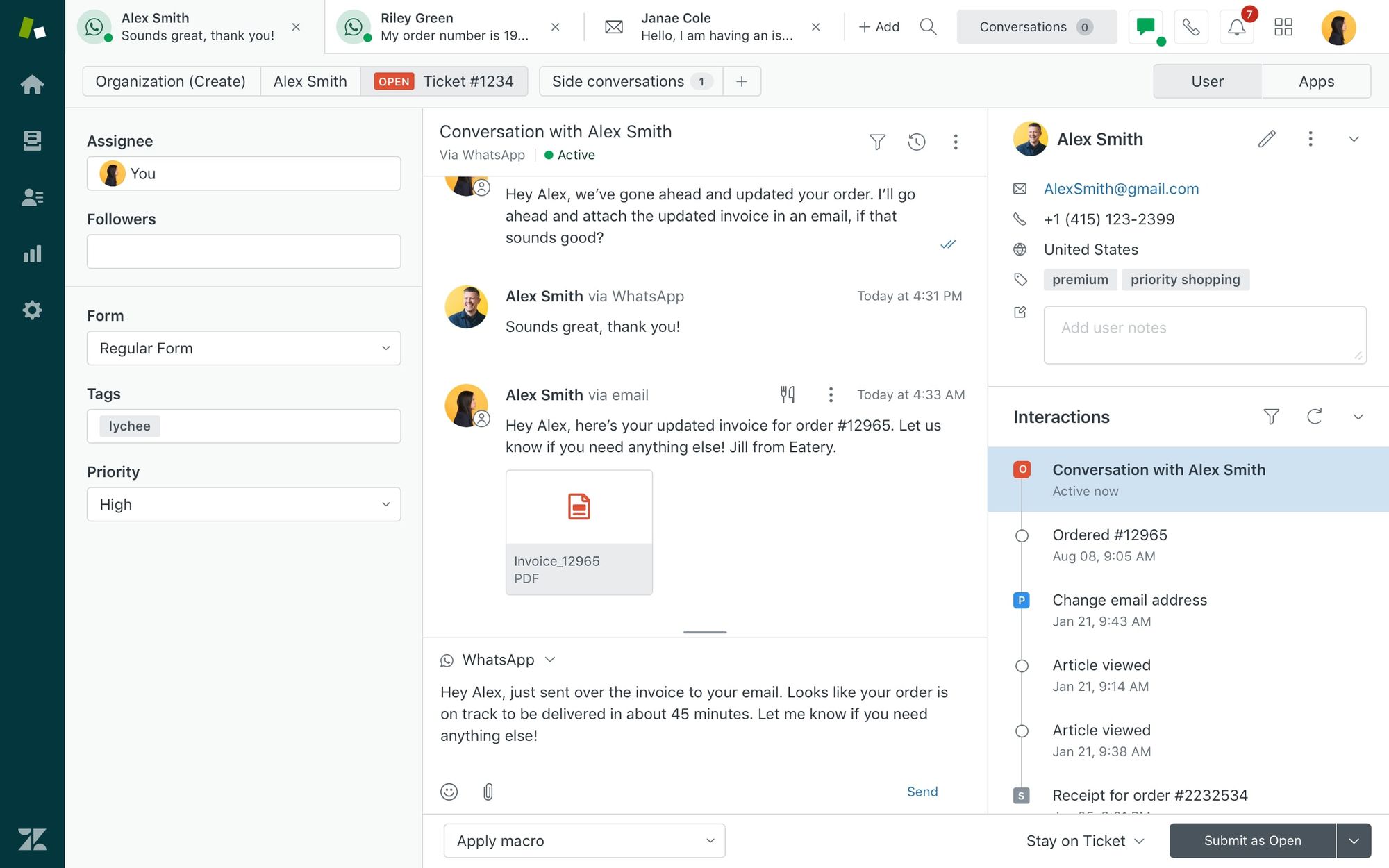 Zendesk is one of the most prominent Help Scout competitors. It provides customer service solutions that help companies create superior customer experiences. Zendesk's features empower support teams to meet customers (and provide assistance) via multiple channels, with email, social, live chat, and messaging integration.
Additionally, businesses can build community forums and help centers on the platform, providing resources that customers can leverage to resolve issues independent of a support agent.
Zendesk features
Centralized workspace
Integrated ticketing
Multi-channel support and live chat
Online knowledge management
SLA management
AI-powered bots
Who's it for?
Zendesk is for companies that want an established help desk management platform that's customizable and allows for consistent communication across multiple channels. It's also scalable and works well for companies of all sizes.
How it's different from Help Scout
Zendesk has a more advanced ticketing platform than Help Scout, vastly improving on the latter's limitations. Users get in-depth reporting and insights on support trends and how they can provide better customer experiences.
Pricing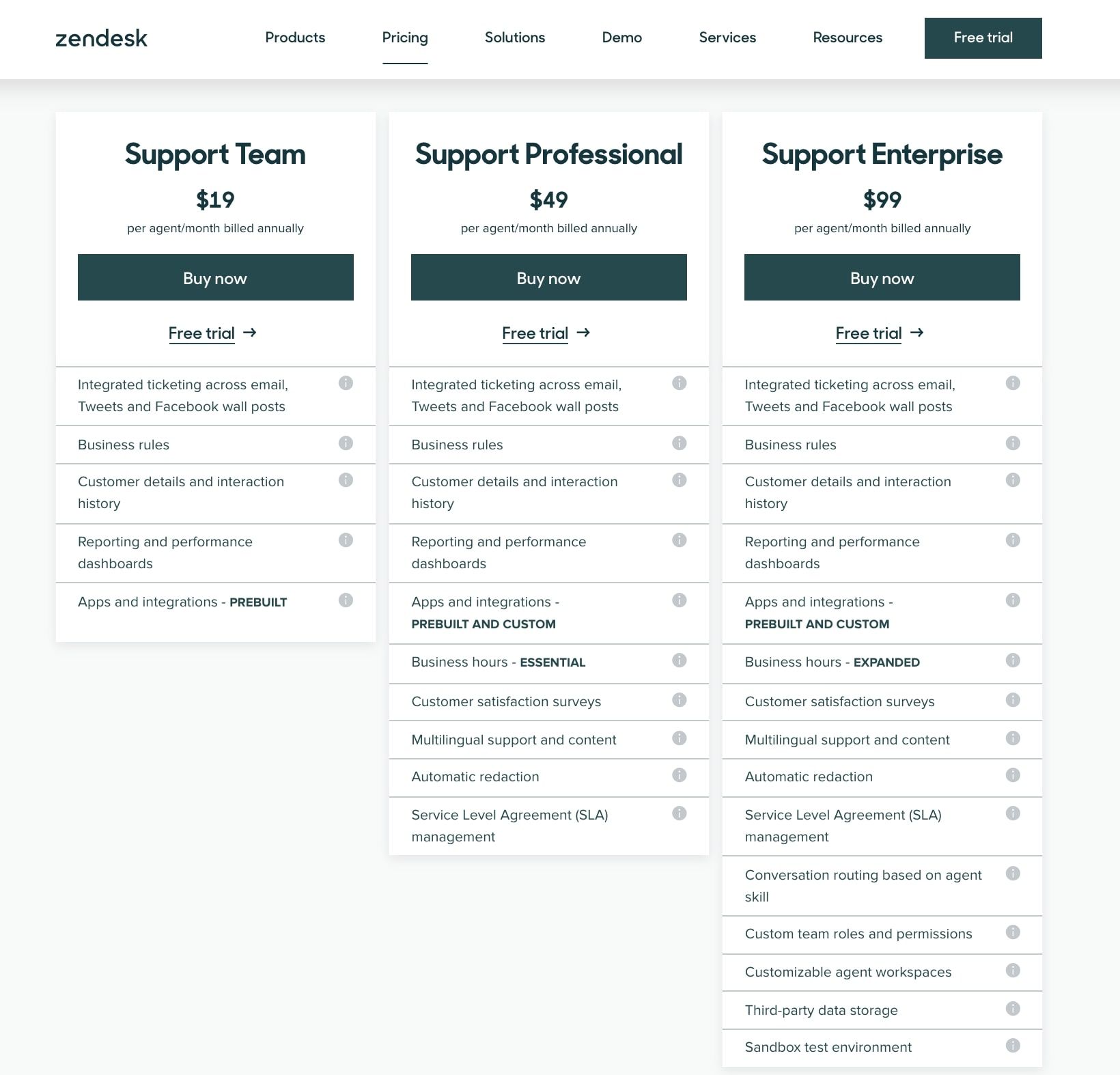 On the surface, Zendesk pricing is comparable to Freshdesk and is likewise billed per agent, but without the option of a discount for paying annually rather than monthly. And there's no free option (though they do offer a trial). Most of the essential, basic features are included in the entry-level plan.
The higher-tier plans include features like SLA management, a sandbox testing environment, and the ability to set and manage business hours automatically.
Related Post: 8 Best Zendesk Alternatives for Excellent Customer Service
Front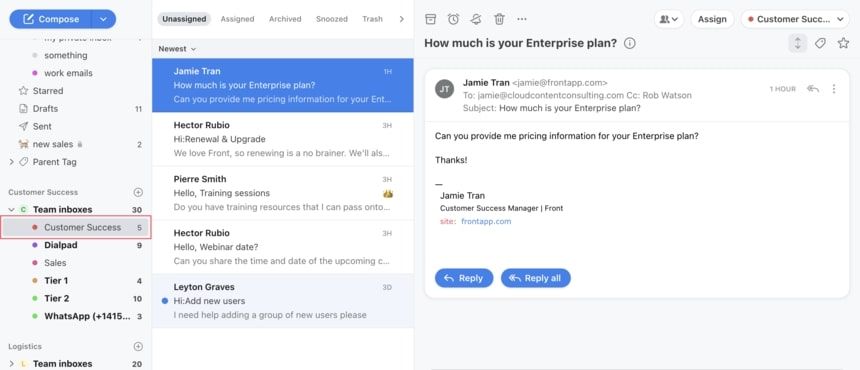 Front is a help desk software that aims to facilitate a more personalized customer experience without the use of support tickets, with an emphasis on collaboration over email. In addition to its help desk features, Front also provides analytics that help businesses measure the performance of support teams.
For example, users can evaluate the average time to resolution, how many messages it takes to resolve certain issues, and which issues customers struggle with often. These insights can be used to optimize customer service delivery.
Front features
Shared inbox
Multi-channel support
Automated workflows
SLA management
60+ integrations
Who's it for?
Teams that primarily rely on email to solve support issues will find Front useful, as their emphasis is on automated email workflows and collaboration across shared inboxes to deliver support faster.
How it's different from Help Scout
Front places emphasis on collaboration between support team members and making customer interactions as personalized as possible. Whereas Help Scout uses the traditional approach of assigning ticket numbers, Front manages support tickets using customer names and maintains a single view of every customer for continuity of care and improved customer experience.
Pricing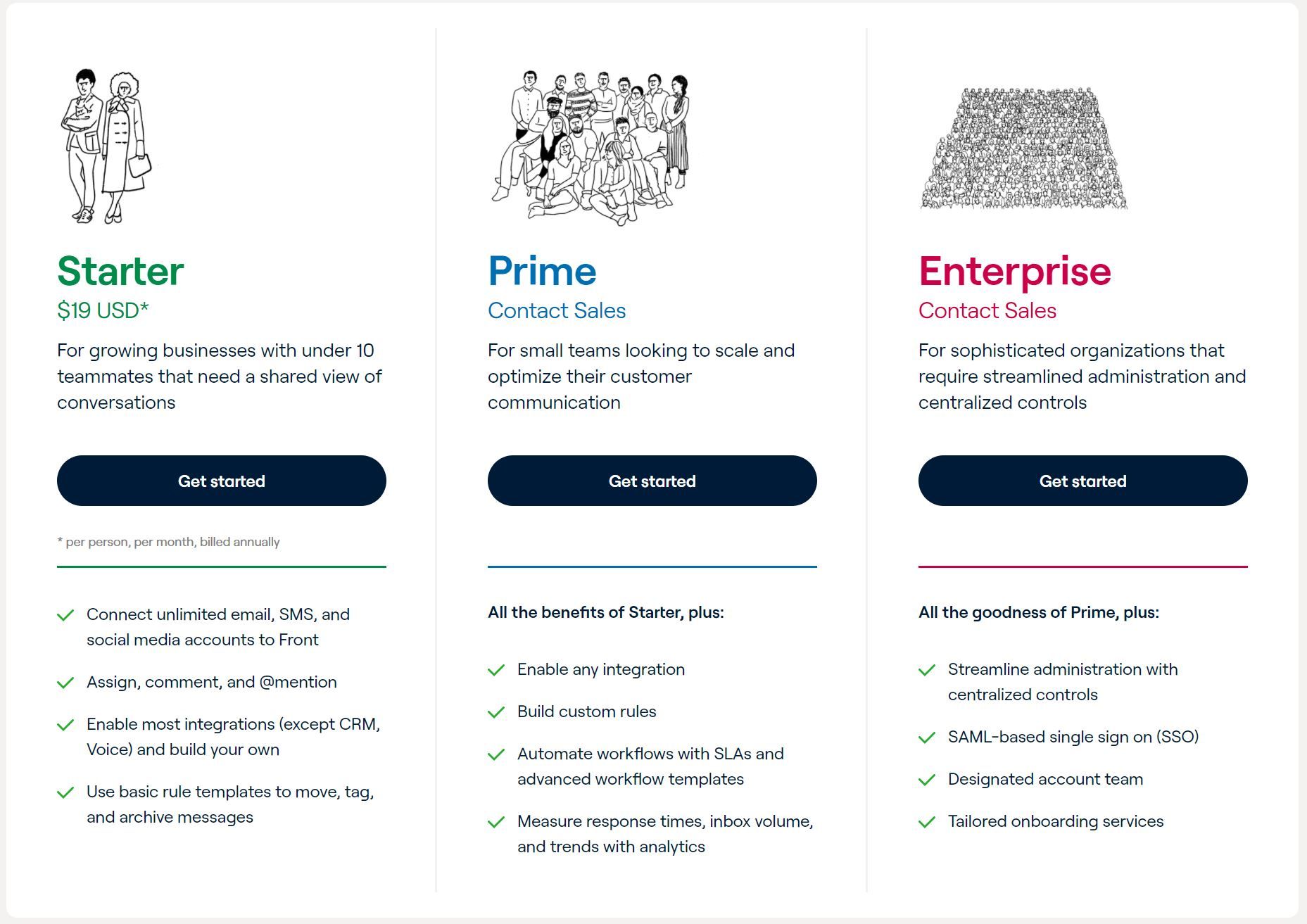 Front charges $19 per agent for its basic Starter plan, which includes connection to unlimited email, SMS, and social media accounts, as well as basic rules templates and most integrations. You'll need to contact the team for a price estimate if you want the intermediate or premium plan for access to advanced features, like creating custom rules and improved reporting functionality.
HubSpot Service Hub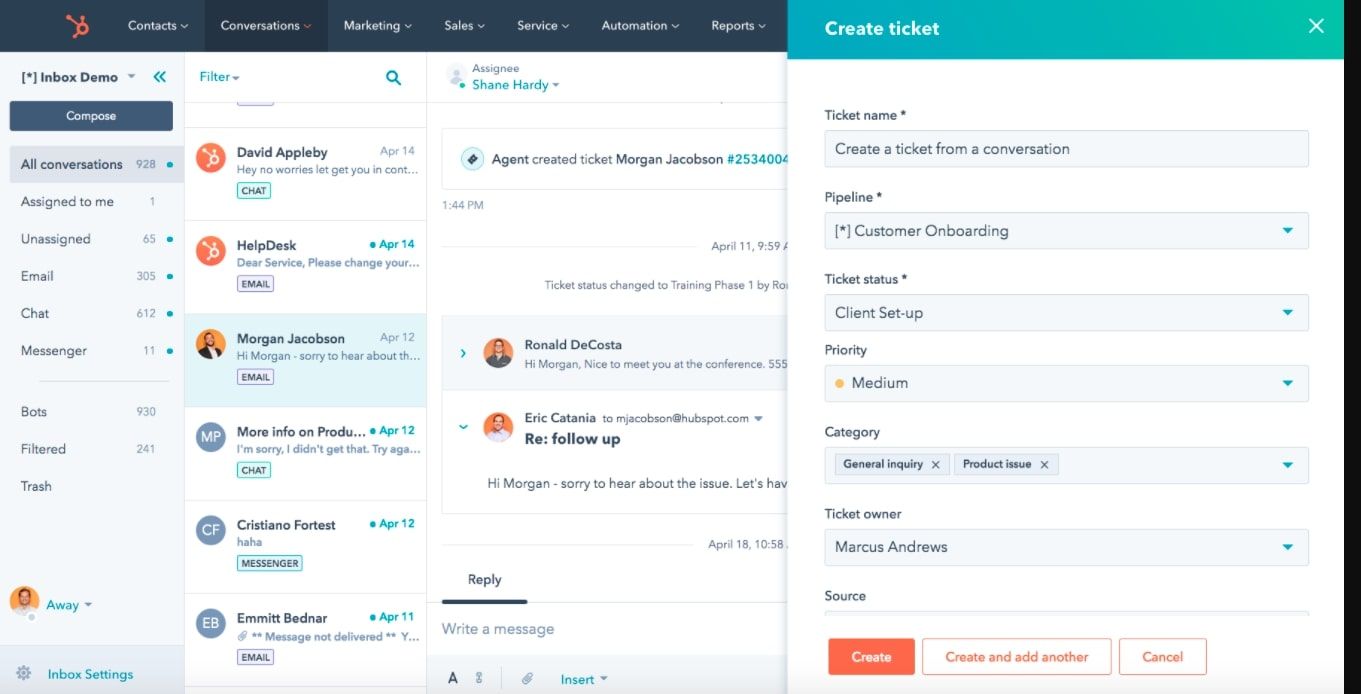 HubSpot Service Hub is a customer service tool and a part of the overall HubSpot CRM platform. Through its integrated ticketing and help desk solutions, HubSpot helps businesses onboard new users and provide support at scale.
Support teams can collect all customer requests on one dashboard, giving every agent access to ticket status, common customer complaints, and average time to resolution. HubSpot also provides tools to automate customer management and create knowledge bases that promote customer self-service.
HubSpot Service Hub features
Team email
Live chat
Online knowledge management
Customer service automation
Conversational bots
Who's it for?
Businesses that want to create seamless onboarding systems and provide flexible customer support. It's likely ideal for companies that already use the HubSpot CRM.
How it's different from Help Scout
As a help desk software, HubSpot Service Hub is a viable Help Scout alternative. The major difference here is that, as with Intercom, HubSpot integrates its help desk into a wider array of products, including their CRM. Taken as part of the wider HubSpot suite, this means what the support team is doing can be reflected within the same systems being used by sales and marketing for a holistic view of your customers.
Pricing

HubSpot Service Hub site includes a calculator which lets you work out your costs based on the number of paid users you'll need and the features you'll be using across three tiers. Most basic features are covered in the Starter plan, though it's worth noting you'll need to go Professional to take advantage of automation and to build a knowledge base. Enterprise caters to much more advanced needs around areas like customization of processes and setting hierarchical teams.
Salesforce Service Cloud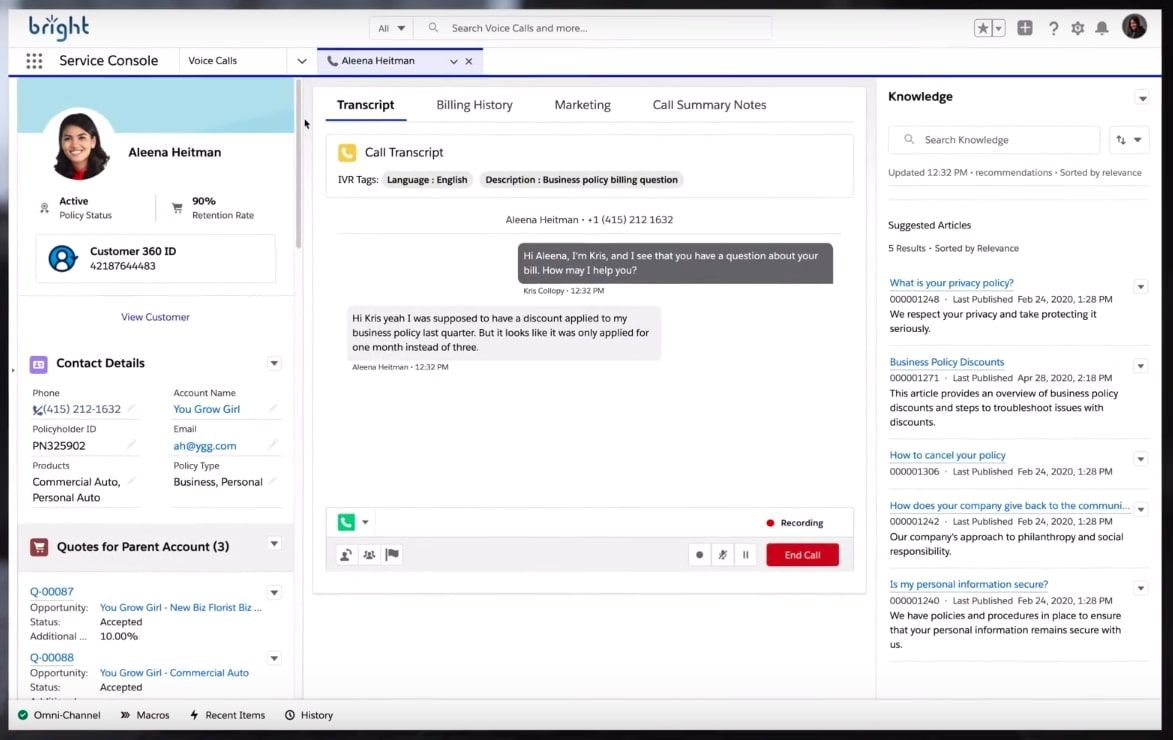 Service Cloud is a support ticketing system designed by the market leader in CRM software: Salesforce. With Service Cloud, you can automate processes, streamline workflows, and transform the agent experience with easy access to key articles and expert advice.
Businesses can create an agent workspace, SLAs, automate support processes, build and manage knowledge bases, and access customized analytics. The analytics may be used to improve help desk management and customer service delivery.
Salesforce Service Cloud features
Agent workspace
Online knowledge management
Automated workflows
SLA management
Pre-built analytic dashboards
Chatbots
Who's it for?
Service Cloud is a great option for fast-growing companies looking to scale.
How it's different from Help Scout
The key difference between Service Cloud and Help Scout is scalability. Service Cloud is extremely customizable and powerful but requires a lot more work up front and to maintain. But if you're a growing business, it's something you grow into.
Pricing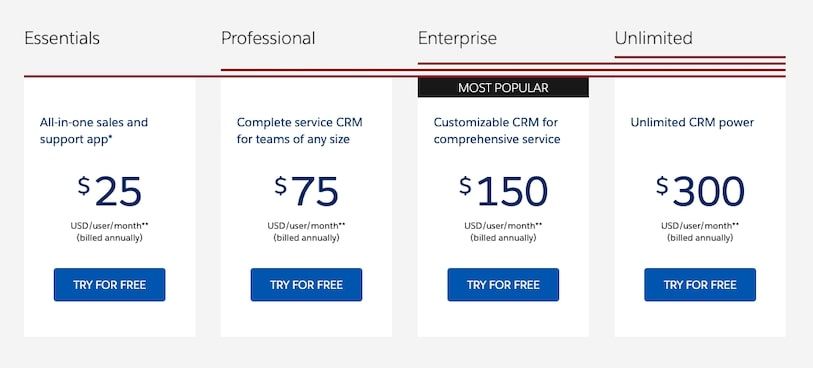 This is another offering that charges per user, per month. Service Cloud goes from a robust low-cost offering with Essentials up to Enterprise and Unlimited models, which include things like the web services API, which enables connection to external systems, and access to 24/7 support and configuration services, with dedicated help from the team at Salesforce.
Kayako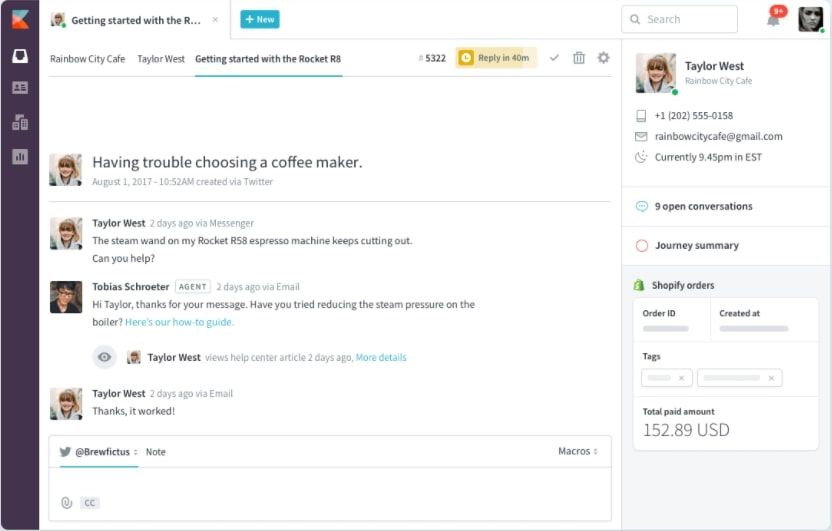 Kayako is a help desk software similar to Help Scout. It empowers support teams to handle tickets, manage conversations, and provide personalized customer service. The software offers features like multi-channel support, live chat, and workflow automation. It also has tools that facilitate collaboration among support agents, and across teams in a company.
Integrations with platforms like Shopify, PayPal, Stripe, and Salesforce extend Kayako's functionality, and users can leverage hundreds of web applications via Zapier.
Kayako features
Shared inbox
Live chat
Service desk SLAs
Self-service portal
Integration with 550+ tools
Who's it for?
Boasting nearly 600 integrations (vs Help Scout's 80+), Kayako is a good choice for companies who need their help desk software to seamlessly fit into a vast existing tech stack.
How it's different from Help Scout
Both platforms share some features, but Kayako doesn't have some of the same limitations that people mention when talking about Help Scout. Users get in-app SLAs, time tracking, actionable insights, and over 500 integrations. Kayako also provides a self-service portal that may reduce ticket volumes, and help center articles can be tailored to the user's needs.
Pricing

Kayako's per agent, per month pricing gives you the choice between three options: Growth, Scale, and a traditional on-premise option called Classic On-Prem, which you can install behind your firewall. The ability to create a knowledge base is part of the more expensive Scale option, as is the customization of things like roles and workflows.
Takeaways: Choosing a Help Scout alternative
If you're looking for a Help Scout alternative, you have a lot of great options. The right one really depends on your business and why you're looking for an alternative—since each platform has its strengths and weaknesses.
Regardless of which platform you choose, you'll want to consider leveling up your knowledge base. Ticketing is important, but most customers prefer to self-serve when given the opportunity to do so. Self-serving is not only a major cost-saver for your business, while improving customer experience, but it also allows your support team to focus on problems that demand human intervention.
Modern knowledge base software, like Stonly, increases the likelihood of effective self-serve support by enabling you to create a knowledge base that features interactive, step-by-step guides—and place them where your customers need them.
Want a HelpScout alternative that promotes self-serve support? Stonly helps you build in-context knowledge bases that your customers will actually use. Request a demo.