If you're looking to create an FAQ (frequently asked questions) page for your business, you need software that's suited for your needs. While the most important consideration for any FAQ software is to provide features that facilitate self-serve support at scale, it goes beyond that. And with the variety of options available, it may be difficult to cut through the noise and find a tool that best meets your needs.
To truly help your customers resolve problems independent of a support agent, you must provide the information they need, where they need it, and in a way that makes it easy to follow. Creating this type of knowledge base requires an FAQ tool that does more than just the basics.
To help make your decision easier, we've put together a guide to the best FAQ software in the market. For each software that made our final list, we'll examine the following:
Its core use case
The key features it provides
The type of company it's perfect for
The overarching aim is to help you find FAQ software that's ideal for your unique situation and provides features that help your customers self-serve consistently to help your company accomplish its goals.
Looking for FAQ software for your company? Stonly lets you answer frequent customer questions with interactive guides that help customers self-serve. Request a demo.
What is FAQ software?
FAQ software is a tool used to publish answers to frequently asked questions (FAQs) in a bid to help customers solve common issues. Businesses need it to create and organize guides that address pain points their users consistently struggle with. It's one of the most effective ways to provide the information customers need to self-serve.
The best FAQ tools make it possible to arrange questions and answers into sections, search through a library of articles, create interactive guides that lead users to a solution with simple steps, and place FAQ content where relevant on your site.
Related Post: 10 Best FAQ Page Examples to Spark Creativity
Features to look for when choosing FAQ software?
If you're looking for good FAQ software, there are some key features you'll want:  
1. Interactivity
FAQ pages are moving away from the static question and answer format. That style of presentation has proven ineffective at helping customers find resolutions on their own. These days, you need FAQ software that lets you provide answers in a format users can interact with and digest seamlessly.
You need step-by-step guides with clear and engaging graphics that lead the customer to a solution quickly and efficiently.
With interactive guides, your FAQ page goes beyond providing text-based answers to questions. Rather, you paint a complete picture for the user and make self-service easier than contacting support.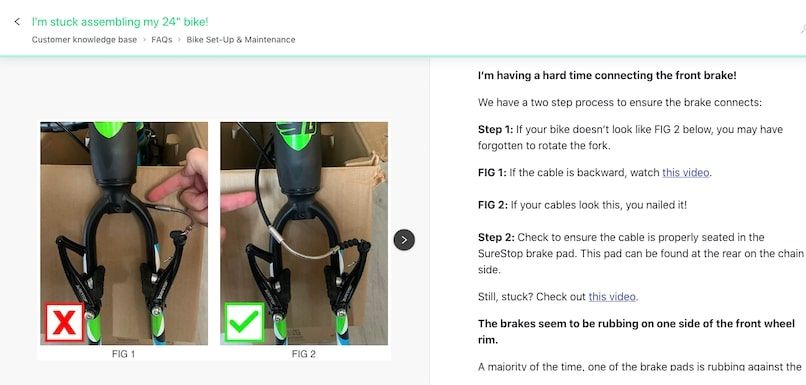 2. Integrated search bar
A search bar eases navigation on an FAQ page, helping customers find relevant questions and their answers. As a result, a knowledge base software tool that lets you incorporate search functionality into your FAQ is essential.
An auto-complete feature can use keywords to suggest potentially relevant support articles quickly and without hassle.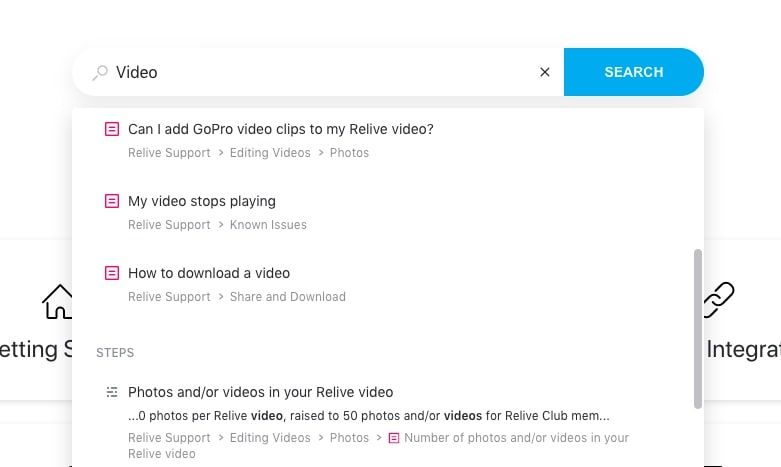 3. Customizable widget
Widgets make it possible to place content where users are most likely to run into problems and need help. Placing help in context is important because customers can quickly resolve issues without navigating away from your page.
If you can program your widget to show FAQ content that's relevant to the situation instead of something broad and generic, even better. This increases the probability of success and it makes the customer feel like they've just received personalized support.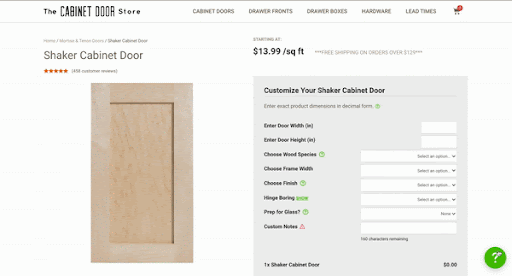 4. Reporting and analytics
After you publish your FAQ page, you need to collect data that shows how effective the guides are and which parts of your product customers are still struggling with. This insight is essential for improving your FAQs.
Stonly, for example, offers analytics that highlight where customers get stuck and which steps of a guide they drop off from. As a result, changes can be made to reduce churn and ensure an optimal experience for all users.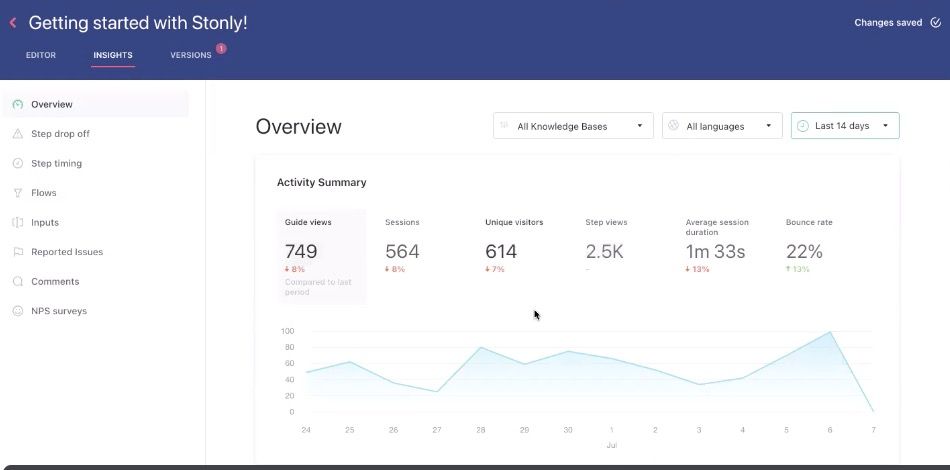 5. No-code functionality
To build an FAQ page that incorporates interactivity, widgets, and advanced reporting from scratch, you'd need dedicated software development resources. Thankfully, some knowledge base tools, like Stonly, let you build full-featured FAQ pages using a drag-and-drop editor without writing a line of code.
With Stonly, you also get to create beautiful FAQs customized to match your company's branding, without advanced design skills or any external tools.
6. Multilingual support
If you have a diverse customer base, with users that speak different languages, you need FAQ software that empowers you to provide multilingual support. Your customers won't be able to use your articles if they can't read the content or follow the instructions in the guides.
7. Compatibility with different devices
Over the past six years, more than half of global web traffic has been mobile. The implication is clear and unsurprising: today's customers use their phones to do everything, including to look up help content.
This is why FAQ software that provides multi-device compatibility is important. You want your customers to enjoy a wonderful support experience across all platforms, be it phone, tablet, or desktop.
10 best FAQ software tools for incredible customer support
Here is a breakdown of the 10 best FAQ software tools for businesses that want to provide incredible self-serve support. We assessed them based on average user rating, the features they provide, and which use cases they are most suited for.
Stonly
Rating: 5.0 (Capterra), 4.8 (G2)
Stonly is ideal for companies that want:
To help customers find answers to frequently asked questions
A modern FAQ that scales with their business
To minimize customer dependence on support agents
To deflect tickets and promote self-service
To provide 24/7 support without a global team
Stonly is a completely interactive knowledge base software that empowers businesses to publish self-serve resources like FAQ pages. It's used to create help guides that offer customers the information they need, where they need it, and in a format that keeps them engaged until they reach a satisfactory resolution.
By introducing interactivity into FAQ pages, Stonly ensures that customers get answers to the issues they're grappling with, and the answer is detailed enough to remove the need to contact support. This, in turn, increases customer satisfaction, boosts the productivity of support teams, reduces costs significantly, and drives business success.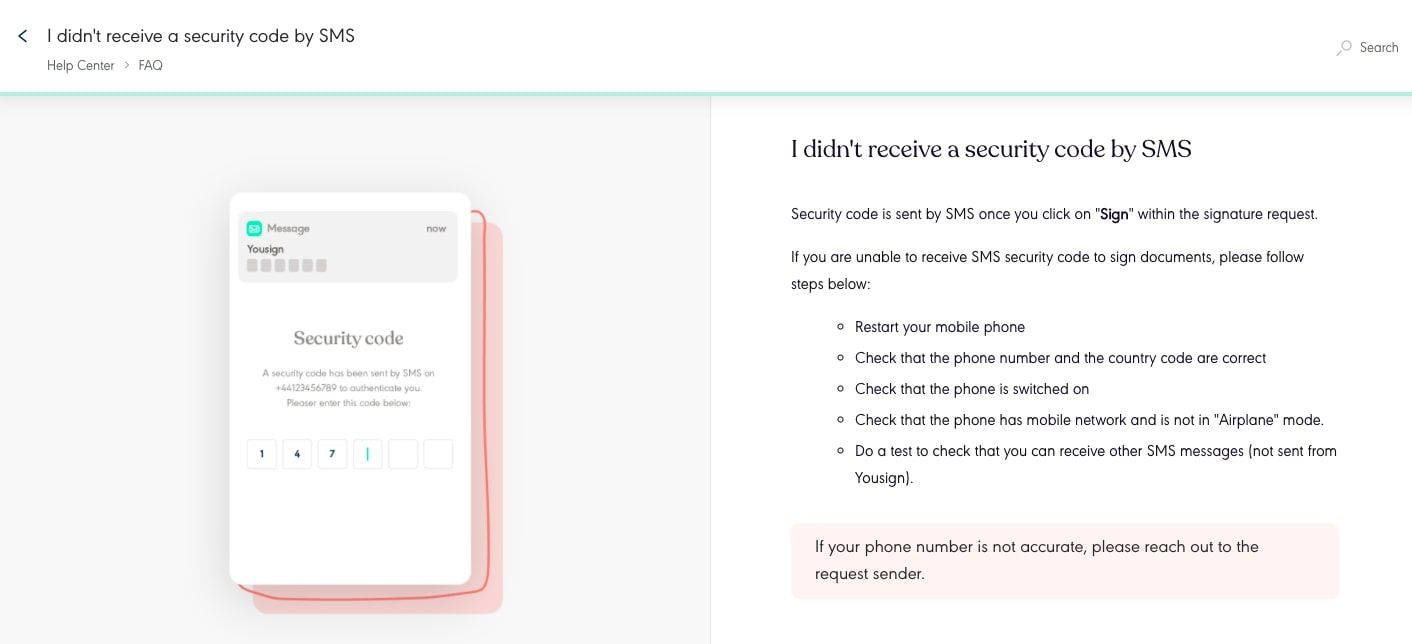 Stonly provides no-code functionality, so users without programming skills can build FAQ pages, with an intuitive drag-and-drop editor. There's a widget that lets you place FAQs on internal pages and web apps, and users can quickly find articles via a powerful search bar.
After you publish the FAQ page, you can track its performance from the Insights tab on the Stonly dashboard, and pinpoint which guides are effective and which ones your customers are struggling with. You can also update your content and create new pages from the dashboard. Guides built with Stonly can be accessed via mobile, tablet, and desktop devices, with no drop-off in quality.
Key features:
Interactive guides with multimedia content
No-code functionality
Customizable widget
Powerful search
Advanced reporting and analytics
Custom design and CSS
Version control
What makes it unique?
Instead of a static FAQ where text-based articles are used to provide an answer, Stonly lets companies create interactive step-by-step guides that incorporate images and video, keep the customer engaged, and lead them swiftly to a solution.
Looking for a full-featured FAQ software for your company?
Stonly lets you answer frequent customer questions with engaging step-by-step guides. Request a demo.
Document360
Rating: 4.7 (Capterra), 4.7 (G2)
Document360 is ideal for companies that want to:
Scale customer support
Teach customers how to use their products
Create private and IP-restricted FAQs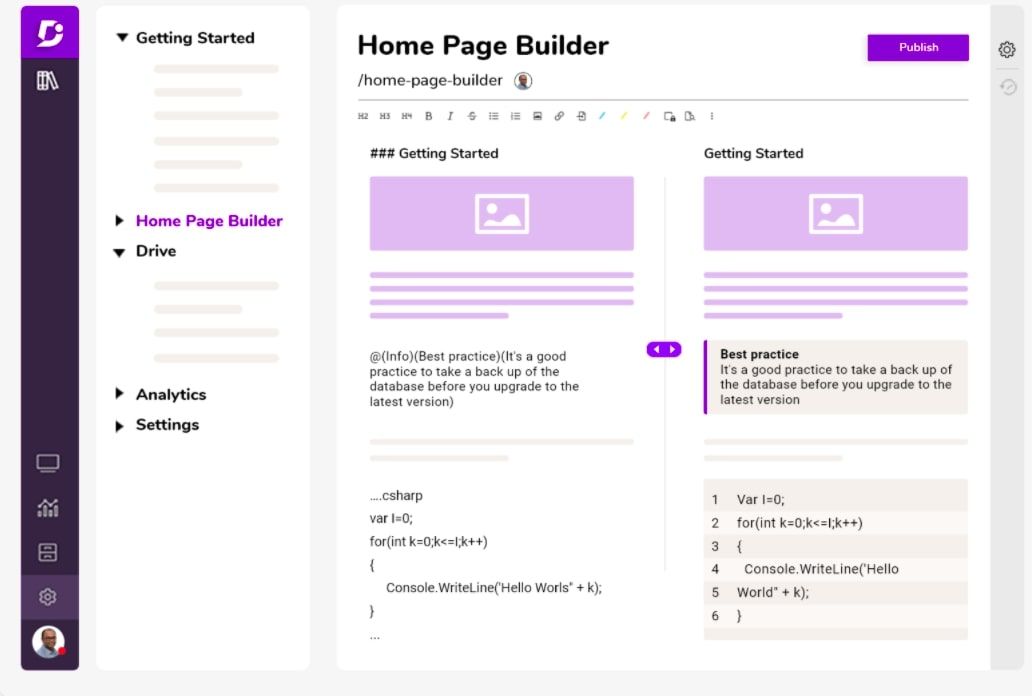 Document360 can be used to create simplified FAQ portals for customers, helping them find answers to problems they may be struggling with while using a product. With a clean interface and hassle-free dashboard, it helps businesses provide self-support and reduce the workload on customer service teams. The software also provides some of the must-have features of an FAQ tool.
There's a markdown editor that's ideal for text and code-heavy documents, a search engine that helps users find articles quickly, and version control to move between different versions and restore old copies of an article. Document360 also lets users add links, images, and videos to FAQ articles.
Document360 offers advanced privacy features to restrict who can access an FAQ page. You may decide to only let signed-in subscribers view your guides, or ensure users with certain IP addresses can't open the FAQ portal. Furthermore, you can track where user traffic is coming from, what search terms your customers are using, and how they interact with your guides.
Key features:
Drag-and-drop editor
User feedback and analytics
Versioning and recovery
Localization with AI translation
Branding and customization

Freshdesk
Rating: 4.5 (Capterra), 4.4 (G2)
Freshdesk is ideal for companies that want:
To provide fast answers to simple customer questions
Increase the productivity of support agents
Provide self-service in multiple languages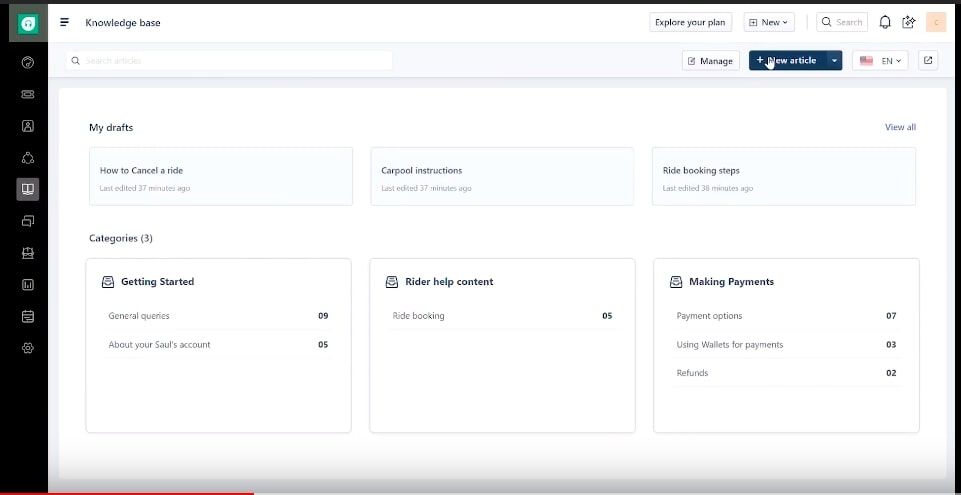 Freshdesk is a customer support software that provides a help desk solution, omnichannel suite, and an online management portal that can be used to create FAQ pages. It's a good tool for companies that want to provide customers with answers to frequently asked questions and may help agents reduce the time it takes to resolve customer issues.
Features available on Freshdesk's FAQ software include integrated forums, multilingual support, and an embeddable widget to place articles on all product channels. Users get reports that highlight content performance and analytics that show how customers use FAQ articles.
Freshdesk also provides AI bots that assist FAQ users, showing them answers that may be relevant to the issues they're struggling with.
Key features:
AI chatbot
Integrated forums
Widget functionality
Content versioning
Multilingual FAQs

Helpjuice
Rating: 4.7 (Capterra), 4.4 (G2)
Helpjuice is ideal for companies that want to:
Scale customer support via self-service
Facilitate team collaboration
Build powerful FAQ pages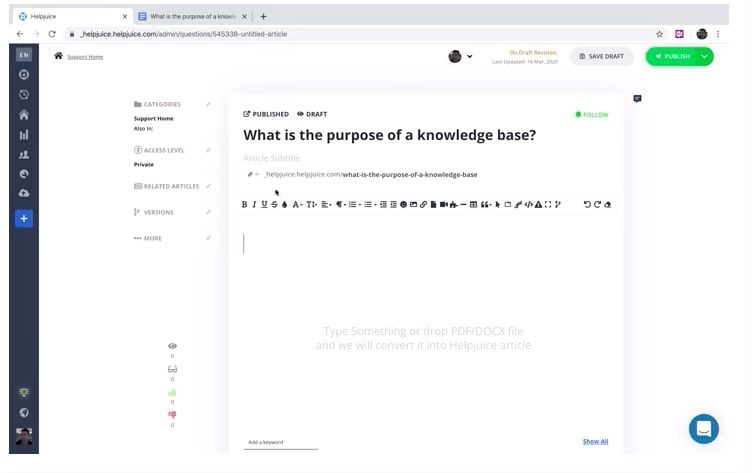 Helpjuice is a knowledge base software tool that can be used to create FAQ pages. Users get a library of themes to start building, along with an editor that supports video and image uploads in addition to text formatting. Articles created using the tool can be arranged into different folders and based on categories.
There's search functionality, reports, and analytics, and Helpjuice integrates with many external tools including Salesforce and Slack. Businesses can create privacy settings to select which customers or user groups can view FAQ articles. Helpjuice also provides a widget and users can access help in multiple languages.
Key features:
In-app widget
Integrated search bar
Branding and customization
Intelligent analytics
Version control
Multilingual support

HelpSite
Rating: 4.6 (Capterra), 5.0 (G2)
HelpSite is ideal for companies that want to:
Create mobile-friendly FAQ pages
Make their support team more efficient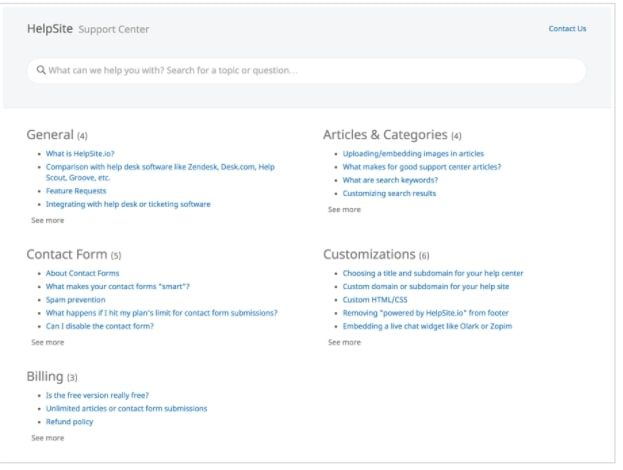 HelpSite is an FAQ tool that facilitates the design of mobile-friendly self-service portals. It incorporates an easy-to-use interface, quick search to help customers find relevant content, and design features to match the FAQ design to a company's branding. Articles can be divided into categories, with a simple layout that doesn't overwhelm the customers.
Businesses can also leverage a custom domain to host the FAQ page, and HelpSite offers several layout and style options to tweak the page's overall appearance. Articles and guides can be provided in multiple languages, and there are privacy controls to restrict who can use the FAQ.
HelpSite also provides a contact form integration that auto-suggests articles to users as they fill a form to contact support agents. Depending on what the customer types, they get suggestions that help them find guides that solve the issue, eliminating the need to contact support.
Key features:
Easy-to-use admin interface
Search functionality
Custom HTML/CSS
Multi-device compatibility
Privacy controls

Zoho Desk
Rating: 4.5 (Capterra), 4.4 (G2)
Zoho Desk is ideal for companies that want to:
Improve agent productivity
Promote self-service
Increase customer happiness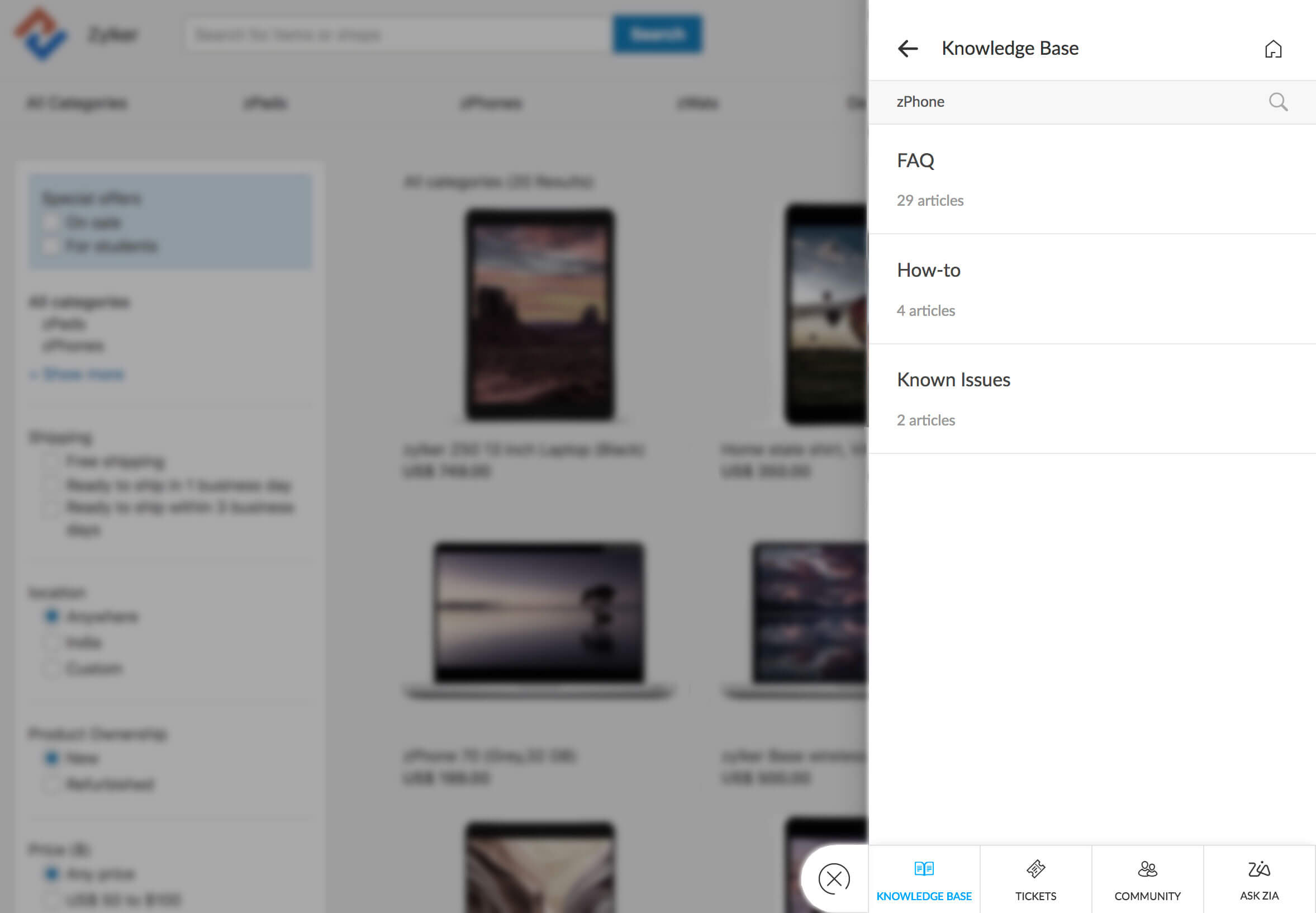 Zoho Desk is a customer service platform that includes a help desk, a ticketing tool, and knowledge management software. The knowledge system can be used to build FAQ pages and similar self-serve resources. It's a good option for businesses that want to collect, organize, and publish common issues their users face and how they can solve them.
Features provided by the Zoho Desk knowledge management system include a widget that lets users embed FAQs into websites and mobile apps, a customizable portal to incorporate company branding into the page, and integration with the platform's help desk.
Zoho desk also makes it possible to integrate communities and forums inside a self-service portal. If done right, it may get customers to share ideas via a common platform.
Key features:
Portal customization
Domain mapping
Multi-device functionality
Forums and communities
Built-in reports

ProProfs
Rating: 4.5 (Capterra), 4.3 (G2)
ProProfs is ideal for companies that want to:
Provide instant and round-the-clock self-help
Reduce support tickets
Control FAQ visibility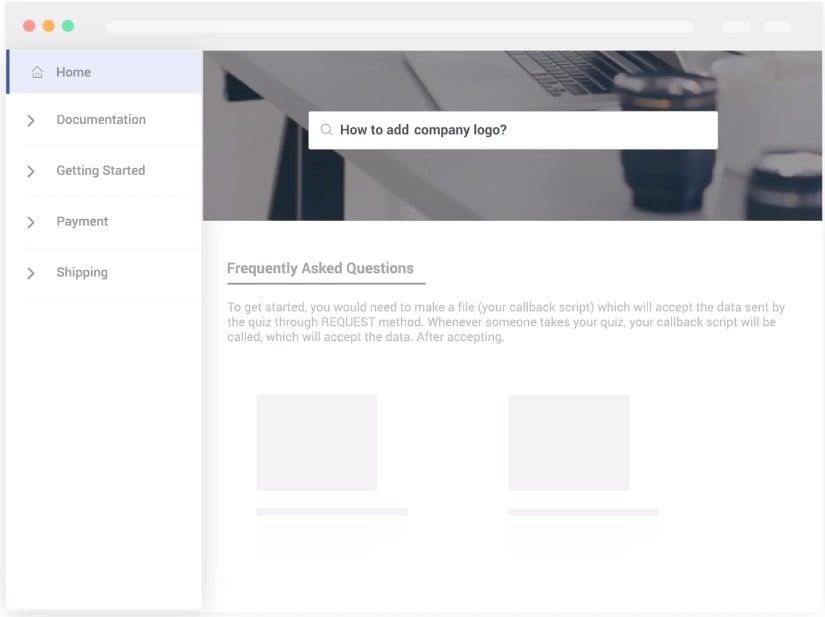 ProProfs has a suite of customer support tools including a quiz maker, survey maker, and an employee training solution. It also provides a help desk, help center, and live chat platform, along with knowledge base software for businesses that want to build an FAQ page.
There's no-code functionality for people who don't have programming experience, design and customization tools, a search bar, analytics and reports, and multi-device compatibility. The tool also offers privacy and security controls for users that want to secure their FAQ pages with a password.
ProProfs integrates with Google Analytics to provide reports on which FAQ pages are not working and collect information on what search terms and devices customers use to access the guides.
Key features:
No-code functionality
Custom designs
Searchable FAQs
Privacy controls
Analytics and reports

Zendesk
Rating: 4.4 (Capterra), 4.3 (G2)
Zendesk is ideal for companies that want to:
Build a self-service portal
Enhance customer experience
Improve the efficiency of support agents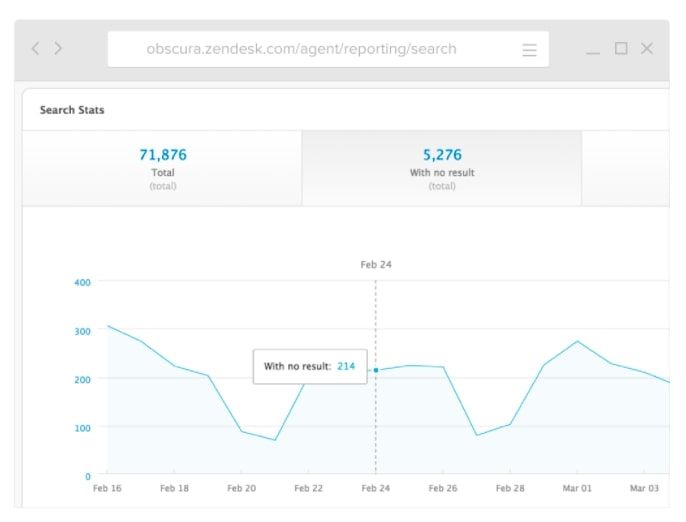 Zendesk is known for its help desk and customer service solutions, but the platform also has knowledge management software for FAQ pages. It provides a collection of templates for users to choose from, customization settings to personalize them, and good formatting tools to ensure that articles are easy to read.
The software also offers multilingual support, full-text search to help customers find help quickly, and community forums to help old and new customers collaborate. Businesses can collect reviews, and analytics provide further insight into how well the FAQ page is performing.
Key features:
Branding and customization
Full-text search
AI-powered bots
Community forums
Analytics

Support Hero
Rating: 4.9 (Capterra), 4.7 (G2)
Support Hero is ideal for companies that want to:
Reduce support requests
Increase customer satisfaction
Boost website functionality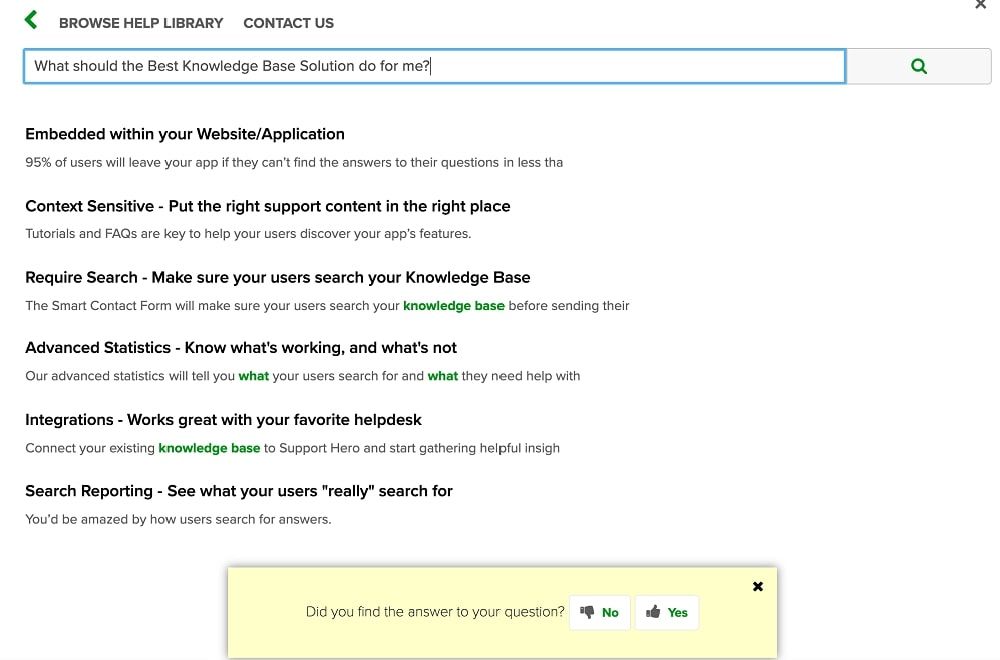 Support Hero is a knowledge base solution that can be used to create FAQ pages. It's a solid option for businesses that want to enhance their website, decrease customer support queries, and provide round-the-clock support. Support Hero provides several features that may come in handy for both the company building the FAQ and its end-users.
Features available on the platform include widget functionality to embed articles where they're needed, a search bar to help customers find relevant information, advanced statistics to measure performance, and a long list of external integrations.
As part of its reporting feature, Support Hero tells businesses how many times an article has been read, which keywords led the customer to the page, and most importantly, how many tickets each FAQ article has successfully deflected.
Key features:
Integrated widget
Searchable FAQs
Multilingual support
Advanced statistics
External integrations

Helprace
Rating: 4.7 (Capterra), 4.4 (G2)
Helprace is ideal for companies that want to:
Provide help 24/7
Crowdsource FAQ content
Get fewer support emails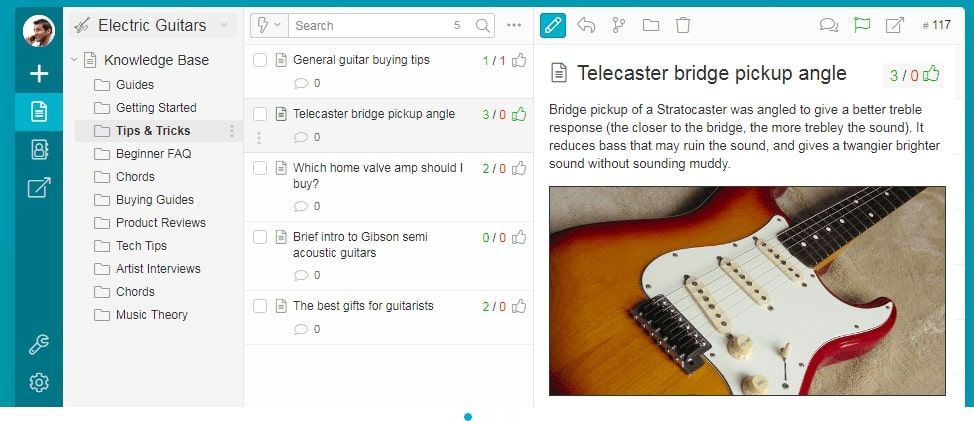 Helprace is another customer support platform that provides knowledge management in addition to help desk and ticketing solutions. The software can be used to create and manage FAQ pages, and it offers some features that facilitate self-service.
There's multilingual support, a sidebar to display similar content, search functionality, a usefulness rating panel, and a customizable editor that incorporates text and graphics. Helprace also provides an embeddable widget to place FAQ articles in context, and user groups can be used to restrict access to help content.
On Helprace, businesses can build relevant FAQs by involving customers in the process. Customers can create a list of questions they need to be answered, and other users can vote on which ones are more important.
Key features:
Intelligent search
Dynamic content creation
WordPress integration
Custom domain
Multi-device compatibility
Takeaways: Best FAQ software to enhance support
An FAQ page enhances your customer support by providing answers to the questions being asked about your products. And it's even more effective if you gather questions from previous users and provide guides that are informative enough to ensure new users don't have to call a support agent to get an answer.
Addressing the right questions is only the first step, though. You need powerful FAQ software that lets you present answers in an easy-to-follow format, guiding users through the necessary steps. You need to add images and video content to FAQ articles, and all resources (text, graphics, and multimedia) must complement one another to help your customers find a resolution.
While all the tools listed above can be used to create FAQ pages, Stonly offers something that no other software tool does: advanced interactivity. Stonly provides all the features of a modern knowledge base to make it the ideal choice to create engaging articles that increase the chances of self-service. This is essential if you want to create an FAQ page that customers will use to solve problems, and not just as a preliminary resource before contacting support.
Looking for FAQ software for your company? Stonly lets you answer frequent customer questions in a format that promotes self-service. Request a demo.
Frequently asked questions about FAQ software
What is FAQ software?
FAQ software is a tool that makes it easy to collate user pain points, create guides that resolve them, and place both the problems and their solutions in a resource that customers can use to self-serve.
How do I create an FAQ database?
There are seven important steps to take if you want to create an FAQ database:
Select an ideal FAQ software
Develop an outline of the FAQ database
Create a list of frequently asked questions
Collect answers to the questions
Start writing guides for your FAQ database
Place the FAQ database where users will find it
Create a plan to update the content over time
What is FAQ customer service?
FAQ (frequently asked questions) customer service is a system where users are provided with articles that answer questions (or resolve issues) they are likely to run into while using a product. It gives the customer information they need to solve problems independent of a customer service agent.
How do you present an FAQ?
An FAQ can be presented in a number of ways. The questions (and the guides that answer them) can be presented:
Based on how frequently users ask each question
In related categories
In alphabetical order
Why is an FAQ page important?
An FAQ page is important because it puts common customer questions (and their answers) in one place. So if other users run into the same problems (or have similar questions), they can find the answers they need without contacting a support agent.