We have a riddle for you. What can solve customer problems without uttering a word and can troubleshoot customer issues without ever being heard? You got it, a help center!
Most customers don't want to have to call, email, or chat with your support team to resolve issues. They'd rather find the information they need to solve their own problems and continue on their way. And you want them to be able to self-solve issues–so you don't have to incur the expense of hiring an army of support agents.
In this guide, we'll walk you through how to build a help center step-by-step so your customers can help themselves. We'll begin by defining what a help center is (and what it isn't) and what separates a great help center from a mediocre one. We'll then outline the detailed step-by-step process of building an amazing help center. We'll close by reinforcing the benefits that come from giving your customers access to the self-service help they need through a well-designed help center.
Want a help center that works for your audience?
Stonly helps you build intuitive, easy-to-use help centers with no code.
Start a FREE Trial
What is a help center?
A help center is an online resource where customers can find answers to their questions and troubleshooting guides to resolve issues they encounter when using your product or service. It's one of several different options in supporting customers that differs from the rest by focusing on providing self-service, asynchronous support. It** **is not the same thing as a help desk or ticketing system, which are tools to capture customer problems and complaints and serve them to support agents to reach out and solve customer problems.
With help centers, the information is typically packaged in bite-sized articles or guides that focus on answering a specific question or troubleshooting a particular issue. Your help center is the place that customers know they can go to find answers without having to escalate the issue and reach out to support.
What makes a good help center?
A good help center can be measured by how well it helps customers resolve their issues on their own so that they don't have to reach out to the support team. This means a quicker time to issue resolution while keeping your support team small. The outcome of a good help center that solves problems quickly is enabling customers to get back to experiencing value in the product and become more deeply engaged.
A solid help center typically includes the following elements:
FAQs that feature articles and guides that represent the most common issues customers encounter
Straight-forward search and navigation features to find the relevant information quickly
Informative and interactive guides that help customers solve their issues step-by-step
Abundant access points so customers can get the information they need at any point they need it
A strong analytics and feedback feature to show you how customers are engaging with the help center content
Stonly is a very popular tool that makes it easy to incorporate these elements into your help center. Check out this list of 15 help center examples (many of which use Stonly) to inspire you as you create your help center.
How to build a help center?
Building a help center takes time, focus, and effort. The fact that you are reading this article likely means you already understand how critical it is to have a well-functioning help center to better support your customers. Our goal is to guide you, step-by-step, in building a self-service help center that customers love.
Don't feel pressured to get through all these steps right away. We've written this guide so you can bookmark it and come back to it throughout the process.
Step 1: Pick a help center software
The first step in building your help center is deciding which software partner to use during the process. There are many different options to choose from. When considering which tool to use, there are several key features and strengths to look out for.
First, if you want a help center that's as effective as possible, , use a tool that offers step-by-step interactivity in the support guides.
Most help center tools are glorified text editors that result in long, static guides full of words. When a customer is having a problem, chances are they don't want to spend time reading a long article. Interactive guides provide a significantly better user experience, helping customer walk through the solution they need one step at a time without being overwhelmed. Stonly is the obvious choice when building interactivity into your help center.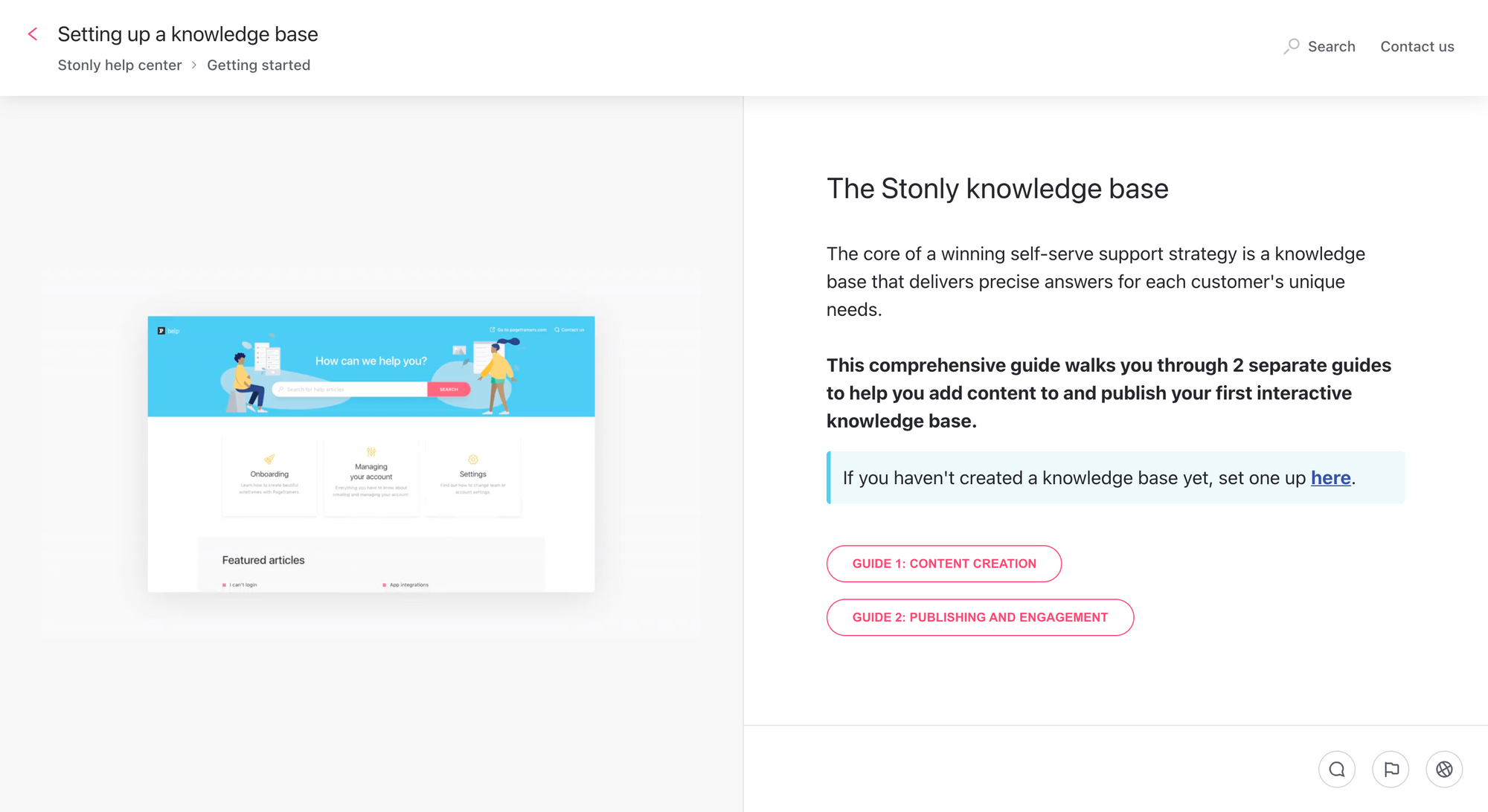 The tool should also have a robust content editor that makes it easy and simple to author, edit, organize, and publish your support guides. Building a help center will require an initial investment of time and resources, so choosing a tool that is as straightforward as possible will save you a lot of time and headache.
Also, look for a tool that allows you to place the help center content everywhere customers need it. Instead of just having the help center exist as a page on your website, many tools allow you to place the content throughout your product and website with a no-code widget. This helps customers find the help they need without having to navigate away from your product.

Stonly is a fantastic choice for building a help center that customers love, but if you'd like to evaluate other options as well, check out this guide comparing the pros and cons of multiple knowledge base tools.
Step 2: Start with the top 3-5 issues / FAQs
The next step is identifying the most common issues and questions that confront your customers when engaging with your product or service. You may be familiar with the Pareto Principle, commonly referred to as the 80/20 rule. It states that 80% of results come from 20% of the action. In this context, you may be able to resolve 80% of your customers' issues by identifying and resolving the few, most common issues.
Use as much data and internal insights that you can get your hands on to determine what these high-impact topics are for your company. Talk to your support team, and consult your support tickets to analyze which issues surface most often. Reach out to other customer-facing roles within your company, such as sales, product, and user experience to learn which issues they hear most often when talking to customers. Create a list of the top issues from these sources as the first guides that you will create and publish in your help center.
Once you have this list, start writing your first guides. Keep the guides direct and focused on resolving the issue. It's tempting to want to write paragraphs of text to give the customers the most context that you can. Instead, try and put yourself in your customers' shoes. Customers who are experiencing issues are often overwhelmed and want simple, step-by-step directions. Make your guides an interactive experience, by presenting each step one at a time and giving the customers the ability to progress to the next step at their own pace.
Step 3: Organize your help center categories
Next, organize your remaining help center content into top-level categories that will resonate with your customer base. Determine the different high-level experiences that customers will go through as they engage with your product and service that can act as these categories. For example, if you have an eCommerce application that services both buyers and sellers, you can initially segment your categories by these personas.
Often, customers may not know exactly why they are experiencing a problem. The more you group the guides by categories, the easier it is for customers to navigate the help center from the top down to hone in on their actual issue.
Step 4: Publish your help center so it's easy to find
When you publish your knowledge base, it should be located in an obvious place on your website or within your application. Keep the URL as simple, straightforward, and descriptive as possible (ex. many good help centers use [company.com]/help or [company.com]/help-center as the convention).
The homepage of your help center should give the customers easy access to either search for their specific issue, or navigate the relevant categories to drill down to the guide that they need.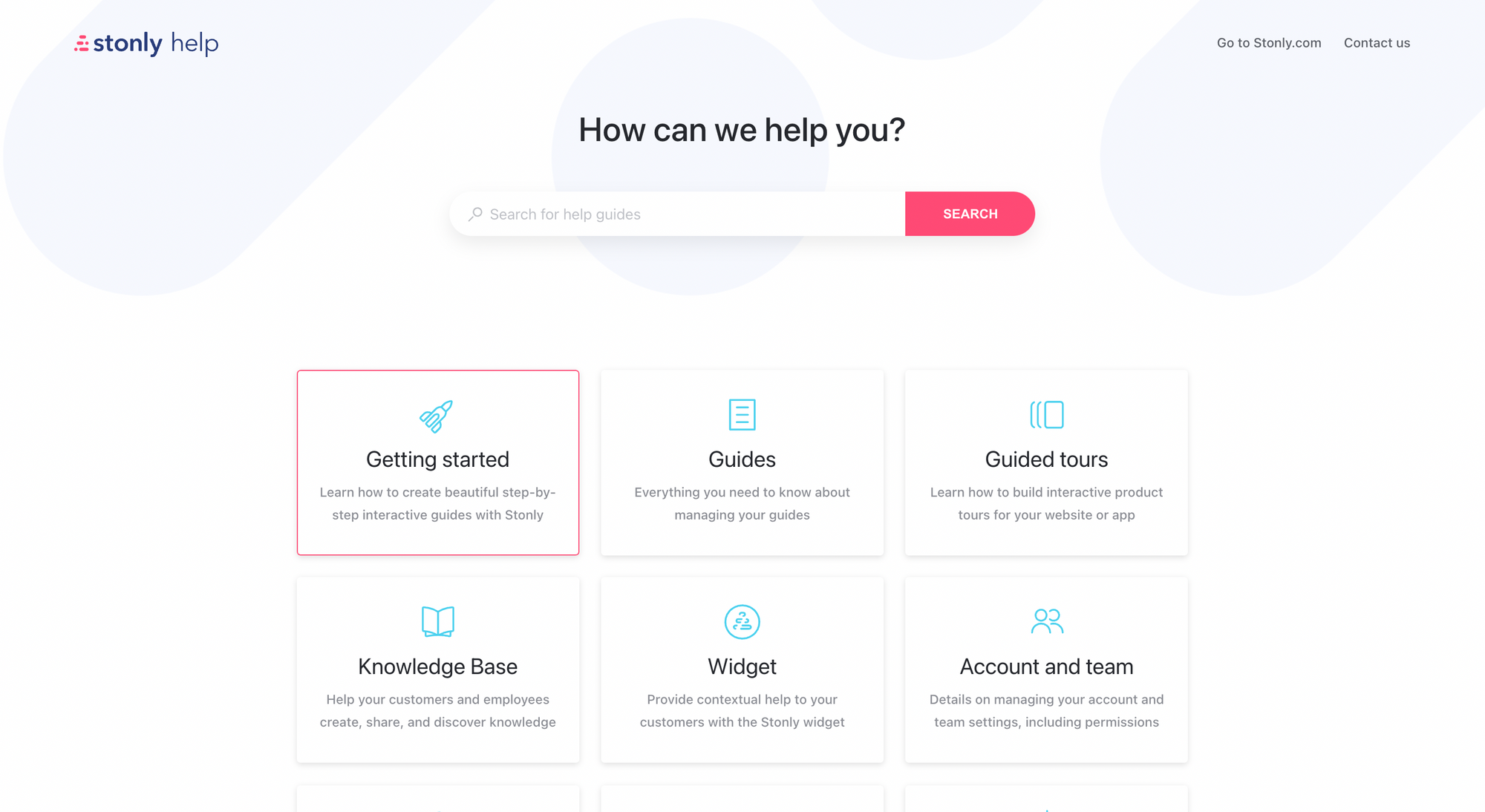 Another essential way to ensure customers have access to your help center content is through an embedded widget that customers can access throughout your website or application. Using tools like Stonly's no-code widget gives you the flexibility to add the widget in your app so that customers can get the information they need within the widget without needing to exit the app.
Step 5: Measure and track performance
As is true with most new initiatives, the first iteration won't be perfect. And that's perfectly okay. When you launch the first version of your help center, track how each of the guides performs. Monitor which guides get the most views, and which guides users indicate are helpful or not helpful in resolving their issues.
Not only will these insights help you prioritize which guides need improving, but they will also help your whole company identify friction spots within your product or service. Sharing these insights with your team can help resolve issues before they even happen by improving these friction spots in the app.
Step 6: Iterate and update as often as you update your product
As you gather data about the performance of each guide, make incremental improvements to the content. Go through the guides from the perspective of a customer reaching out for help. This will help you empathize with your customers and update your guide content to be more helpful and direct.
Also, in many cases, the content in the guides is directly linked to the user interface within your product. Add a step in your product release process to review the associated help center guides and keep them up-to-date in case the interface changes. Keeping the help center up-to-date is essential to maintain the self-serve benefits that come from your help center.
Benefits of a help center?
There are multiple benefits for building a great self-service help center that excels at answering customer questions. We'll summarize the benefits below, but you can find a more in-depth explanation of the benefits in this guide.
Benefit 1: Cut live support costs with self-service
One of the most tangible benefits you'll experience after launching your help center is the ability to support more customers with smaller support staff. This will reduce your overall support costs and allow you to scale more efficiently.
Benefit 2: Improved user experience makes customers happy
Customers don't want to have to reach out to your support agents to find the help they need. According to a report from Pegasystems, 56% of customers go to a company's website before calling customer support, and 82% say they prefer to use self-service options. Building a self-service help center gives customers the support tools they are asking for.
Benefit 3: Improve your time to resolution
Time to resolution is a common customer support metric that measures the average time between a customer first encountering an issue and the issue being resolved. A help center improves this significantly by customers finding answers on their own. And in the event that they need to reach out to support, support agents can help customers quicker by walking them through the help center articles together.
Benefit 4: Build brand trust, reputation, and loyalty
One of the best ways to improve your brand is by encouraging customers to become advocates. As customers have positive experiences with your product, including quickly finding resolutions when they encounter any issues, they move along in the journey toward success and will naturally speak highly of your company, building its reputation and brand.
Pros and Cons of a Help Center versus other support channels
There are multiple strategies for supporting customers when they have questions or experience issues. For reference, we've included a comparison below that summarizes the pros and cons of a help center as compared to other common customer support strategies.
| | | |
| --- | --- | --- |
| Support Channel | Pros | Cons |
| Help Center | Self-serve support provides a better experience and is very scalable | Some initial investment and maintenance |
| Phone | Personalized support experience through direct conversations | Expensive, time-consuming, not scalable, long hold times, and requires a 24/7 support team |
| Text, email, & chat | Personalized experience through direct conversations, moderately scalable with multiple simultaneous conversations | Expensive, time-consuming, and requires 24/7 support team |
| Community Forums | Customer helping each other builds customer advocacy | Difficult to control and moderate answers, requires significant monitoring |
Time to get started
Now that you are armed with the step-by-step instructions for how to build a help center that helps customers help themselves, it's time to get started in building your own. You can refer back to this guide as much as you need throughout the process.
As you embark on your help-center-building journey, remember that you aren't alone. Partnering with Stonly gives you access to simple, out-of-the-box tools to provide an interactive self-serve support experience that customers love.
Want a help center that works for your audience?
Stonly helps you build intuitive, easy-to-use help centers with no code.
Start a FREE Trial