Josh LaMarche, Director of Customer Support at Gong, knows a thing or two about getting off on the right foot in a new CX leadership role.
After 20+ years in customer support, across multiple companies and industries, he's learned how to navigate new cultures, challenges, teams, C-suites, tech stacks, and more.
In fact, he recently put his getting-started playbook to the test when he started at Gong in November 2020 (right in the middle of a pandemic).
So we sat down with Josh to get his expert advice on the first three things every customer support leader should do first when they start a new job.
Let's get to it!
To learn more from Josh, watch or listen to his episode on Beyond the Queue - our new podcast for CX leaders. He shares career advice, tips for celebrating employees, and how he creates "raving fans" at Gong.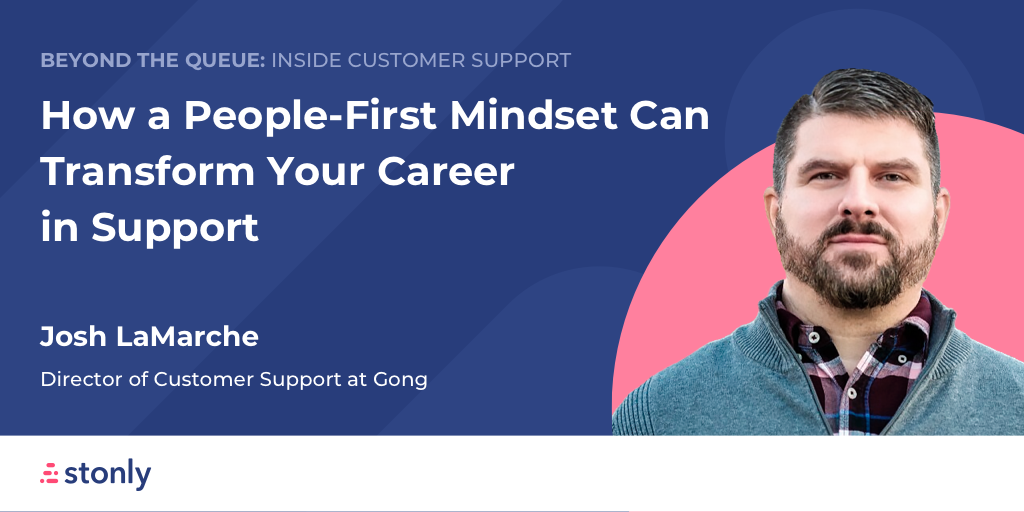 Step 1: Listen
I know this sounds cliche, but the most important thing any customer support leader should do first at a new company is listen.
Listen to your new employees, peer leaders, and C-suite executives. Talk with other people in the company who have worked with the support team. Ask them what is going well and what could be improved. Where are the pain points?
Your first few weeks should be all about learning. Don't make assumptions as you get the lay of the land.
"You're always walking into a set of challenges, some of which you know, some of which you don't know. It starts with, first and foremost, listening. I don't say that tritely," Josh said.
"If I come into a role and say, 'Hey, I've got these great ideas, and I've got this backpack of success that I'm going to drop in your lap and we're going to wash, rinse, and repeat and do the same thing...' That motivates no one, first of all. Because what worked for one team, isn't going to work for another. Nor does it motivate to come in and say, 'My idea is the best way, and here's what we're going to do.' You have to come in, listen, and earn the ability to speak."
It's also important to get to know your new team. Ask your employees what they need (and want) in a manager. Talk to them one-on-one, in group settings, and/or gather answers via an employee engagement survey.
Josh said he runs employee engagement surveys twice a year with his team, using tools like Lattice or CultureAmp. He generally uses questions like the ones on this list.
"Make sure you benchmark against your prior scores, overall company scores, and industry scores to identify areas of improvement," he said.
Listen with your whole self
Beyond that, don't be afraid to bring your whole self to work. Being authentic will help you build credibility, trust, and rapport as you get to know your new team.
"When I was younger, I tried to compartmentalize my life. I had my work self, my home self, and my family self. I learned that was a recipe for disaster. Suddenly, I'm being fake. Suddenly, what I say and how I live are diverging, which is a very dangerous place to be," Josh said.
"So, I had to tear down those walls and just be like, 'Look, this is who I am,' and realize that my personal life heavily influences my professional life. And ultimately, nobody wants your professional self anyway. What builds credibility is authenticity. When I work with my team, I'm getting to know them as people, not just producers."
Step 2: Set expectations and follow through
Whenever there's a change in leadership, the team wants to know what to expect. Of course, there are bigger questions, like 'What will the overall vision be?' (See step 3). But your agents also want to know what their new day-to-day life will look like.
That's why, once Josh has begun the listening process, he also starts establishing cadences, agendas, and expectations for weekly one-on-ones, weekly team syncs, monthly or quarterly awards, and so on. Knowing what to expect in each type of meeting, when to expect it, and the value it adds can ease a lot of stress for your team.
After setting those expectations, it's critical to follow through. Do what you say. When you stick to your schedule and expectations, and are consistent, you reduce the level of fear and chaos in your team so they can focus on the higher-value tasks.
"Be direct about 'Yes, there's a sense of fear and unknown here.' Let's deal with that head on. Let me help build the confidence so we can set that aside, so you can focus on what you were hired to do and what you love doing, instead of wondering what I'm going to say next, or what the next change is going to be, or what the next 'gotcha' is," Josh said.
Step 3: Establish a clear vision
Within one month of Josh starting at Gong, he was asked to present to the senior leadership team his vision for customer support over the next year.
It was a short timeline to understand enough about his team, the existing support processes, and the company to be able to project that far in advance. But he was glad Gong gave him the challenge.
"There's power in a clear vision. If there is no vision, we burn out quickly and we look for other things that are shiny or interesting," Josh said. "So that was really fun to pull some data points, talk to the team, look ahead, look at our revenue forecasting and our growth projections, and build out this broader vision that the team could buy into."
After getting feedback from a few other leaders at Gong, Josh whittled down his final presentation to five main topics (one slide for each):
Where are we going?
How do we get there?
What skills do we need?
Where do we begin?
How can we combine forces?
The last question was a nod to the cross-functional nature of Gong's senior leadership team (success, services, training, sales engineering, R&D, etc.) and how support could collaborate with them.
Start your next customer support leadership gig with a plan
Whether it's your first role as a support leader or your tenth, it's important to go in with a plan. What kind of support leader do you want to be? What will you expect from your team? And how will you communicate that to your employees, peers, and the C-suite?
Start by listening, setting expectations and following through, and establishing a clear vision.
For more advice on building a successful long-term career in customer support, watch or listen to Josh's episode on Beyond the Queue - Stonly's new podcast for CX leaders.