Your first 90 days in a new organization set the tone for your tenure. Over 50% of leaders fail within 18 months of taking on a new role.*
This makes your first few weeks a crucial time to listen, evaluate, and set the right foundation for success. We compiled advice from three support leaders on what you should do to make the most impact in your first 90 days.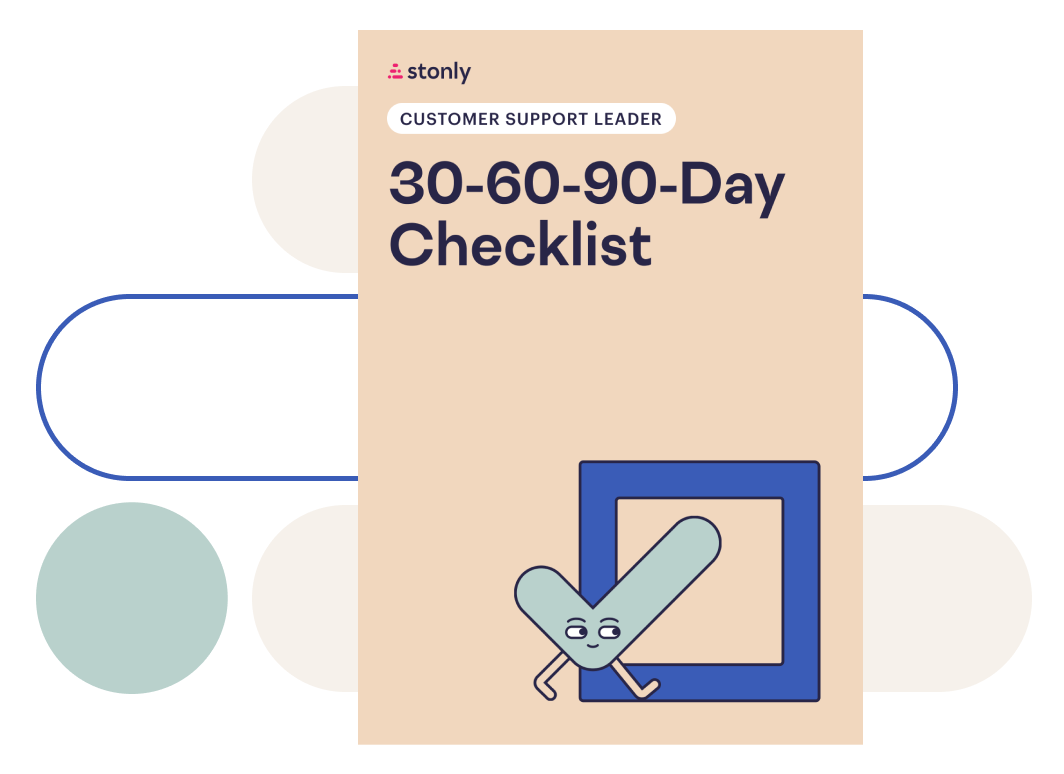 Get to know your team
Eric Broulette of Hotel Engine said:
"Coming in as a new leader, there was likely a level of skepticism from people on the team. Not because they don't trust the judgment of the people who hired me, but because they don't know me. So I wanted to get out in front of the team and just share my personal and professional story."    
First impressions matter! Make yours count! If your team doesn't understand who you are or your leadership style, they can feel demotivated and disconnected from their job. Go beyond just learning their name and role. Ask them about what they love doing, personally, and professionally, and how they want to see themselves grow.
Use this as an opportunity to share your story and help your team understand you better. When your team can connect with you, they are more likely to trust you.  
Here are some things you can ask your agents to help you gain credibility and trust:
What do they love about their role and the company?
What would they offload or change if they had the opportunity?
How do they prefer to receive information, feedback, and recognition?
How do they envision their growth in the company?
Do they have the support they need? If not, what can you do to help them?
Get in the trenches and action early wins
Working on real tickets is essential to identifying where you can improve current processes, your agents' work day, and the customer experience.
According to Josh LaMarche, the head of support at Gong:
"Your team wants to see you get in the trenches. You're always coming in to fix problems. So, identify them, roll your sleeves and build credibility through action. Then, establish what your priorities are going to be in the short term—once the fires are somewhat dampened, what are our priorities?"
If your product is complex or requires extensive training, consider shadowing your agents and observing customer interactions instead of speaking to customers.
In your evaluation of processes and the current state of the union, explore the following areas:
Key metrics that are currently below the industry average
The performance of your existing help center and how your customers feel about it
Your internal resources and how helpful they are in real-time
Current tools and their use cases
Future improvements to enhance customer experience
Resource gaps and team skillset
Once you've identified where the burning fires are, you can establish short-term priorities. These priorities will help your team understand their role and help them unlock early wins.
Early wins can help you boost your credibility fast. When you make easy and quick improvements, you build morale and indicate to everyone within your organization that you're an excellent addition to the team. One way of unlocking early wins is by enhancing your self-serve channels.
Many support leaders we've spoken to identified an "overwhelming ticket volume" as one of their biggest challenges. If that's the case for you, make it a priority to enhance your self-serve support channels. It's an easy, quick win with our three-step approach:
Identify and focus on your top 3-5 key issues. These are issues that drive the highest ticket volume. If they can be self-served, give your customers the option to do so effectively.
Build more engaging, interactive help content that adapts to your customer's needs and brings them to their right resolution every time. Interactive guidance allows you to offer your customers choices based on their particular scenarios and the ability to resolve issues at their own pace.
Make your help content available to customers when and where they need it. Your customers want the easiest path to resolution. They will contact support if the right information isn't available to them at the time of their need. Or worse, they never resolve the issue and eventually turn to a competitor. So put your content on your website, app, help center contact forms, and anywhere else your customers want to engage with you.
Book a one-on-one consultation with a member of our team today to see how you can improve your existing help center and enhance customer experience.
After you've tackled immediate areas of concern, you can use all your findings to build a strategy and vision to inform your team's priorities in the long term.
Manage and set expectations
According to Stacy Justino, customer support manager at Loom:
New leaders should understand that "expectations will change. My team didn't have benchmarks, so I had to set them. I had to reset expectations for some team members. And that was challenging. You have to expect that there might be some turnover."
If you're entering an organization where you're replacing a previous leader, your team may need you to set new expectations for them.
Clear expectations help your team perform better. It helps them understand their role and outlines what they need to do to ensure professional and personal growth. As a new leader, it is your job to ensure that you set achievable goals for your team and clearly communicate priorities.
Share how you plan to measure success and the resources available to agents should they need additional training or upskilling. You can also create avenues for your agents to share feedback on support processes. This ensures you can effectively get them support when necessary to achieve their goals.
Be adaptable and flexible

It is tempting to jump right in, use your old playbooks, and make significant improvements on Day 1.
Josh LaMarche shared:
"Within 30 days of hire, I was asked to present my vision for the next year for my function. Because I only had 30 days, I dipped into my old playbook and put a deck together. My boss saw the deck the day before I presented it and shared some critical feedback. That was a big teaching moment for me. I should have humbled myself enough to ask for input earlier and should not have dusted off my old playbook."
What worked for your other organization will not always work for your new one. So instead, take the time you need to understand your team, customers, and product before making any changes.
Your team will appreciate you putting in the legwork to build successful relationships and actioning any feedback they share. Instead of big-picture items, focus on what you can do to improve the lives of your team and customers right away. Give your agents the right tools, documentation, and knowledge to succeed. Then, ask for feedback on long-term plays and ensure you have the backing and support of your team before moving forward.
Want to make a big impact in your first 90 days? Schedule a consultation to learn how Stonly can help you improve self-serve support in as early as a few weeks.

*Source: Corporate Executive Board (CEB)