We all know that customers prefer to avoid having to contact support. In fact, 81% attempt to resolve issues on their own before contacting support.* When you offer extraordinary self-serve experiences that meet your customers when and where they need help, it enhances brand loyalty and helps you stand out from your competition.
As a result, innovative companies are investing in making their self-serve support more empowering, adaptive, and human this year. John Harte, Senior Director of Global Customer Support at Contentful, shares,
"People want information at the moment to sort the problem out when they're having it. As we're building knowledge internally, it's about how we surface what we know as fast as possible. We have a wealth of information for our customers in the form of articles, FAQs, user guides, and GitHub repositories. We have a community for customers to engage in. So the mechanism and the content are there, but we need to be better about surfacing the information more easily for the customer."
So, what makes a self-serve experience extraordinary? At Stonly, we've worked with 1,000+ companies to build self-serve support that customers love. Here are a few key things we've found successful support teams do and what they avoid.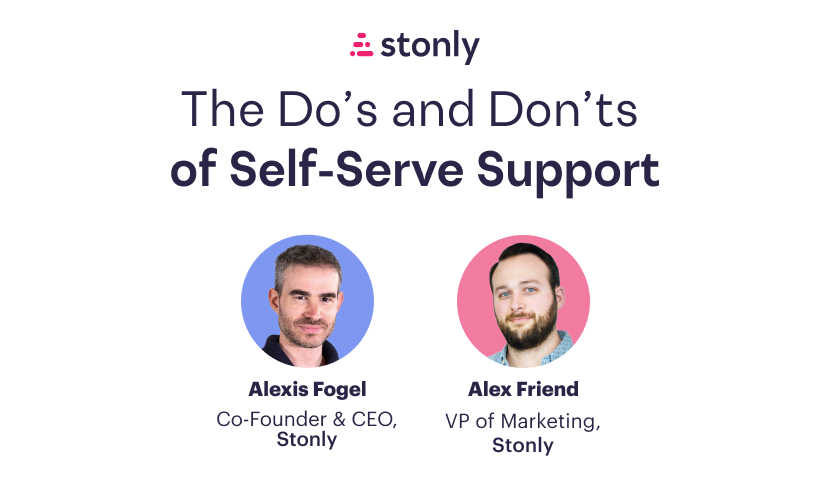 Don't: Think of self-service as just a way to cut costs
Self-serve support is a way to reduce support costs. However, if you approach your self-serve support as solely a means to reduce costs, you are likely focusing on the wrong areas. For example, if your sole focus is to deflect incoming tickets instead of building great help content, your customers may not find the answers they need to resolve their issues effectively.
Cost reduction and excellent customer experience aren't always correlated. Self-serve support that's built only to deflect incoming tickets can make your customers feel undervalued. If your customers want to contact support and are consistently forced to self-serve, they may never resolve their issue, become frustrated, and eventually use a competing product or service.
Do: Provide an excellent customer experience
Instead of focusing on cost reduction, your self-serve support should revolve around customer experience. Your customers want your help center and support channels to feel like a feature and a part of your product offering.
Your self-serve support should offer your customers the easiest and most engaging path to a resolution. So, Identify areas where your customers experience the most friction and then work with your team to address those.
Some questions to consider as you build self-service that revolves around your customers are:
What do your customers want?
What is currently impacting customer experience the most?
What level of service does each customer interaction require?
How can you be more proactive?
Don't: Offer the same guidance to all customers
Two customers may need a different approach to solve the same problem. For example, a customer may need to resolve an issue on a mobile phone while another could be experiencing the same problem on a desktop. So while the main problem is the same, the resolutions for each could look vastly different.
Most companies that offer the same guidance to their customers go in one of two directions. They either create long, overwhelming help articles that walk through every possible scenario. Or they build high-level help content that doesn't provide all relevant details. Unfortunately, neither enables customers to effectively self-solve.
If contacting support feels easier than searching for missing details or reading a manual, that's what your customers will do.
Do: Provide easy-to-follow, accessible, and personalized guidance
Traditional self-serve options lack personalization. They offer decent coverage but aren't accessible, quick, or engaging, leaving customers no choice but to call support.
Instead, we always recommend that support leaders take a more empowering, adaptive, and human approach to self-serve support. So how can you do that? Follow these three simple steps to build self-service your customers will love!
Identify and focus on your top 3-5 key issues. These are issues that drive the highest ticket volume and/or churn. Start by evaluating content for these issues. Are they effective? Are your customers able to self-serve using the information provided? If you answered no, it's time to switch your help articles to more engaging content.
Build step-by-step help guides that adapt to your customer's needs and bring them to their right resolution every time. These should deeply understand each customer's situation and offer choices that hide complexity, making it easier for users to learn at their own pace. They provide all relevant details in an engaging and easy-to-follow format.
Make your help content available to customers when and where they need it. Put your content on your website, app, help center, contact forms, and anywhere else your customers want to engage with you.
Want tips on improving your self-serve support in as early as a few weeks? Book a consultation with us today.
Don't: Think of agent and self-serve experience as separate
Your customers don't see your self-service and human support as two different aspects of your business. A disjointed experience and ineffective transfers from self-serve support are one of the biggest blockers to customer resolutions.
When your customers have already tried to resolve a problem on their own, the worst thing you can do is make them repeat themselves. Instead, you'll want to ensure that your self-serve support seamlessly flows into agent workflows and captures all relevant data and information so your customers don't have to repeat themselves.
Do: Make the handoff from self-serve to live support seamless
Your agents want to help your customers as easily and quickly as possible. However, they can't do that if they don't have access to the right information. So it is critical that when a customer is transferred from self-serve support, your agents have access to all relevant and contextual information they need to help.
A great self-service platform should pass your customers' unique self-serve paths, troubleshooting steps, and personal data into tickets to eliminate customer and agent frustrations. As a result, you route tickets appropriately and empower your agents to quickly assess what steps a customer has taken and offer a resolution. It also reduces the need for customers to repeat themselves, making every interaction with support a positive experience.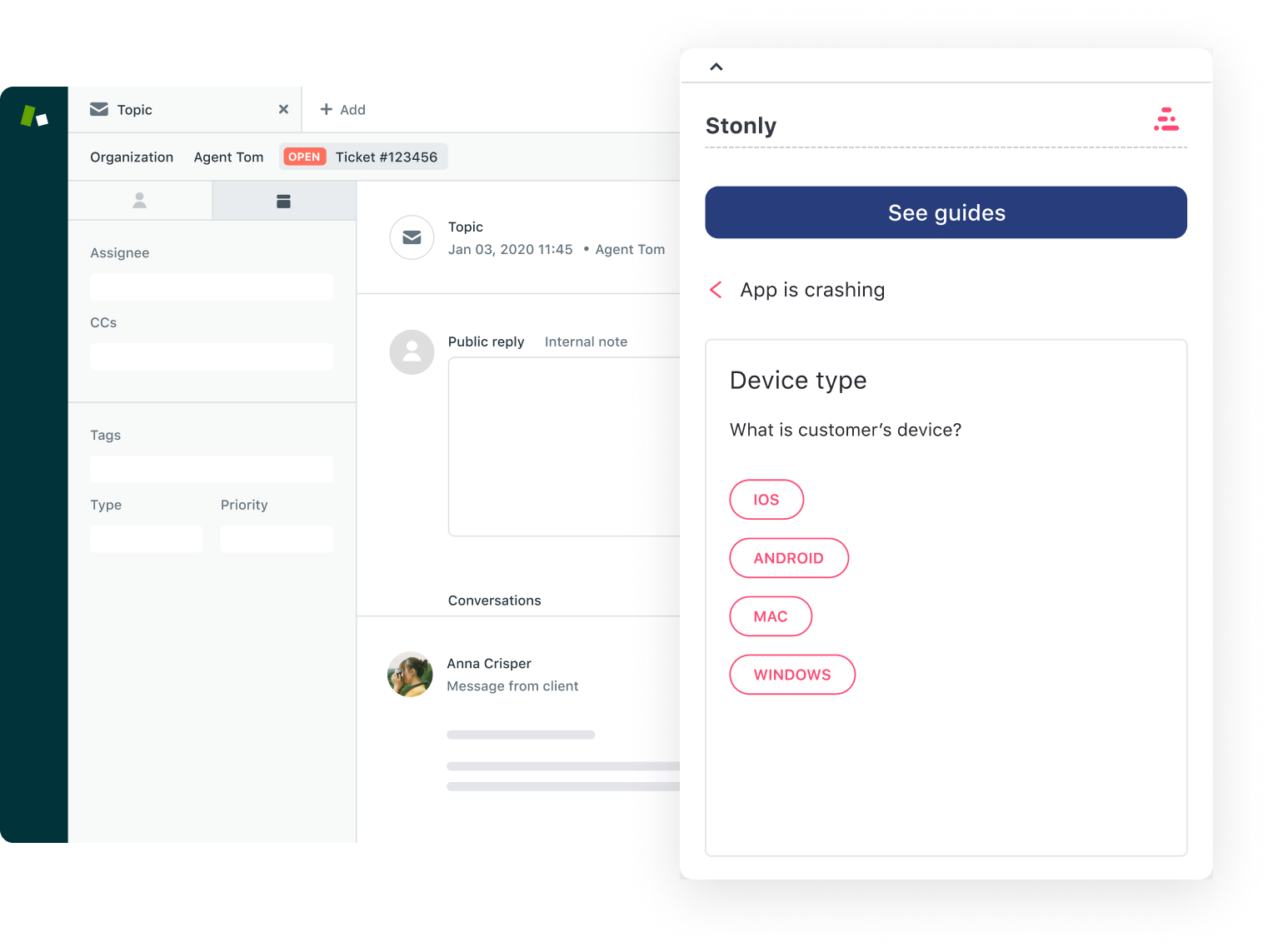 Guide more customers to success with Stonly
Your customers want to use your product successfully. Self-serve support offers you the ability to give them the right help exactly when and where they need it.
You will improve engagement, reduce customer frustrations, and ultimately decrease ticket volume by proactively supporting your customers with self-service.
Ensure you strike the right balance between what's self-servable and what requires human support. Then, create a seamless experience so your customers feel excited about your product and your agents feel pride in their work.
Need help auditing your self-serve support? Schedule a consultation to learn how you can make impactful improvements and successfully guide more customers to resolve issues on their own.

*Source: Harvard Business Review