In the ever-changing world of tech, the best organizations embrace new products, processes, and workflows to grow their business. But investing in the software to drive digital transformation is only the first step. Many companies struggle to get teams to adopt new tools in their day-to-day workflow—it can often seem to employees that just when they've learned to use one product, there's already been another introduced.
Employee pushback is one of the top two barriers to digital transformation.
This should be a significant concern for companies: the average office computer in the United States has $259 worth of unused software.
The solution to this never-ending game of catchup and wasted dollars? An excellent digital adoption strategy.
Digital adoption is the best way to quickly set your employees up for success with new company tools. An effective digital adoption strategy will ensure your organization gets as much value from new technology as possible.
Need to speed up digital adoption across multiple software platforms?
Stonly empowers every employee to thrive with an adaptive digital adoption platform.
Schedule a demo.
New to digital adoption? We're here to guide you! Already know a little about digital adoption? Skip down to the "9 strategies to drive digital adoption" section to learn something new.
Here's what we'll cover:
What is digital adoption?
Benefits of digital adoption
Challenges of digital adoption
Strategies to drive digital adoption
Examples of great digital adoption
What is digital adoption?
Digital adoption is the process of employees learning to use new tools and technology to their maximum potential, so your organization gets as much value as possible from software.
Digital adoption starts by helping to streamline employee onboarding of new tools and ensures that all employees are on the same page. To accomplish this, many organizations will utilize digital adoption platforms and other internal tools to organize information and guide employees through learning new technology.
Effective digital adoption goes well beyond the onboarding stage. It should remain available to your employees whenever needed to drive deeper feature adoption and answer any questions as they arise.
Challenges of digital adoption
While digital adoption is a great way to automate and streamline aspects of your organization, it isn't without challenges. Before selecting a tool or implementing an adoption strategy, acknowledge potential digital adoption challenges so you can set your team up for success.
Let's break down some of the most common ones:
1. Resistance to change
Many employees can be change-averse, especially if your organization has been using the same tools for a long time. Implementing new applications can be especially challenging for your less tech-savvy employees or employees who are less familiar with departmental/industry terminology.
For example, many employees may not understand the benefits language in their HR software as well as the employees on the HR team will. It may take longer for them to understand and successfully use them. Without a change management plan and plenty of support, they'll feel frustrated and left behind.
As the tech stack employees need grows bigger and bigger with time, adding yet another new feature or tool is likely to cause some resistance.
2. It requires personalization for each employee
How can users learn to navigate a new tool to accomplish their specific tasks? Each employee will likely have differences in how and why they use a new tool. Using the same strategy for each onboarding will decrease your software adoption rate and lead to a poor employee experience.
But it can be a challenge to understand from employees exactly what they need to learn—each individual will be at a different knowledge level, and a "one size fits all" model won't resonate.
To prevent this, it's important to use solutions that let you tailor the onboarding process to each role and employee, to avoid overloading them with irrelevant information and prevent them from growing frustrated and disengaging.
3. It can be time-consuming
If you don't select the right platform, launching a digital adoption program can take longer than training the old-fashioned way. Some tools are difficult to learn and can be more of an obstacle to learning than an aid, especially if they're too complex or hard to implement.
4. It can be difficult to measure
Once you've onboarded employees, how do you know they're using the software as intended and getting the most value?
Without digital adoption technologies that let you monitor the employee experience and see what's working and where employees need more guidance, you'll have no idea if your process was a success or not. Choose a tool that measures things like views, engagement rate, and more.
5. It can be difficult to maintain
Keeping internal knowledge bases, walkthroughs, and guides up to date can be difficult, especially as new software updates are released and new questions or use cases emerge. How can you ensure that your help content doesn't go out of date?
If you don't have a solid, easy-to-update solution in place, the staff hours required to maintain your help content will outweigh any tool's benefits and save no time.
6. It can be expensive
Let's not forget the pricing—digital adoption can be expensive and, without automation, can include week-long training sessions that employees barely remember, resources spent on courses that aren't always relevant to specific employees, and more. You don't want to be unable to access your digital adoption content because the subscription to the tool you chose became too expensive over time.
Need to overcome the challenges of digital adoption across multiple software platforms?
Stonly empowers every employee to thrive with an adaptive digital adoption platform.
Schedule a demo.
9 Strategies to drive digital adoption
While digital adoption has its challenges, they can be easy to overcome by choosing a great tool and following some best practices. Let's walk through a few strategies to set your team up for success and some factors to consider when choosing a digital adoption tool.
1. Put help guides at the point of need
Be strategic about where you place your digital adoption content. Place guides and tooltips where employees can easily access them—directly within the software, in the lower right or left corner, or as hotspots linked to particular tool features. If users don't know where to locate help content, they won't seek it out as much and will have to ask IT support or coworkers for help—or even worse, they won't ask for help at all, causing them to under-utilize the tool.
Stonly is a great way to do this with in-app guidance that adapts to each employee at the point of need, searchability, and tooltips/hotspots.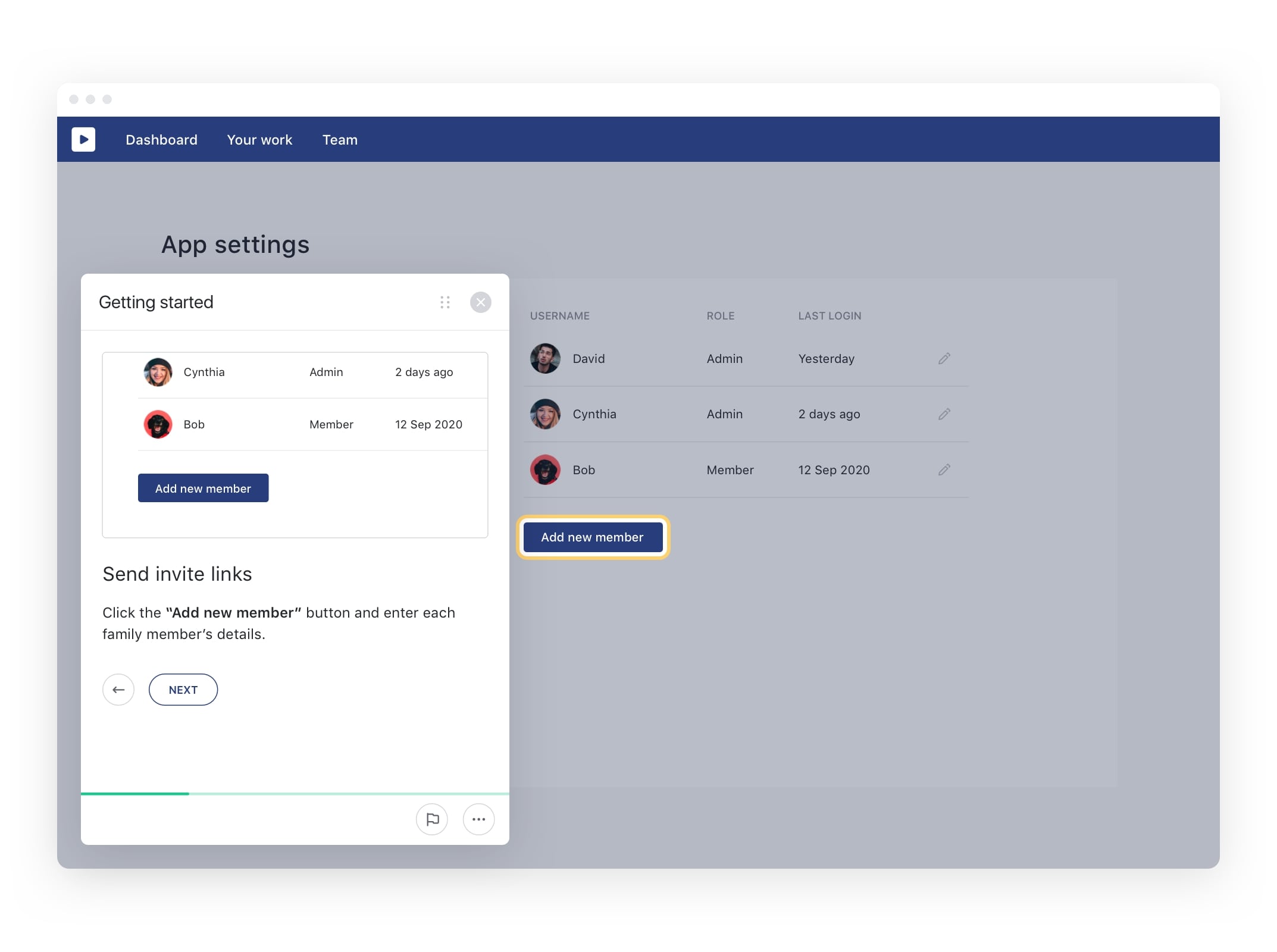 Need to speed up digital adoption across multiple software platforms?
Stonly empowers every employee to thrive with an adaptive digital adoption platform.
Schedule a demo.
2. Prioritize the most relevant information and customize the experience
Showing all the information about a software platform at once is overwhelming to teams and will likely slow their learning.
Most people in your company don't need to be power users, so just focus on the information they'll need to use a new tool successfully.
Providing the same walkthroughs and help content for each employee won't be helpful to them. Each individual has specific use cases for a software tool, and information relevant to one employee may be useless to another. To solve this problem, choose a digital adoption platform that tailors the experience to individual team members.
That way, they'll learn faster and be less likely to become frustrated and disengaged with your help content.

With Stonly, you can create powerful, personalized guidance to drive adoption, and adapt to your employees' needs, situations, roles, and learning styles. Give each person hyper-relevant guidance that's engaging, detailed, and incredibly simple to follow.
3. Make guides engaging and interactive
Your employees will switch off if they have to read through a giant wall of static text to find an answer or learn how to perform a task. Instead, create interactive, step-by-step guides with rich multimedia content that engage team members and help them retain information. They'll learn much faster and be happier while doing so.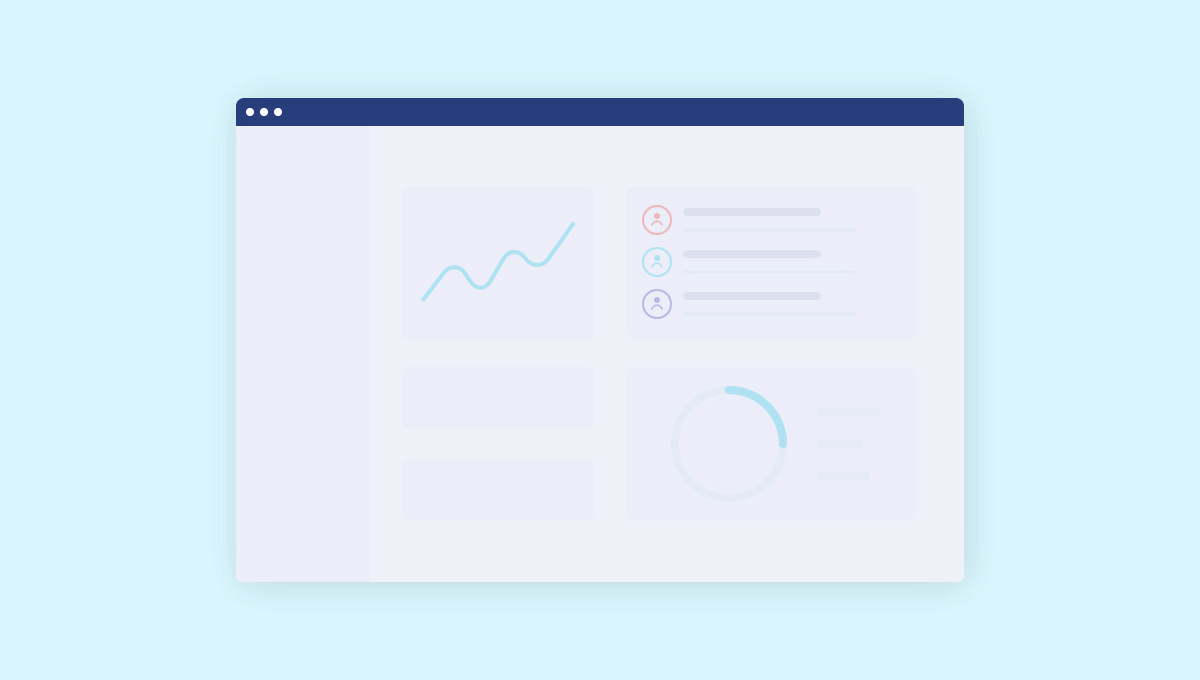 Stonly lets you easily create interactive, engaging walkthroughs with attractive visuals to show employees how to use tools and features.
4. Invest in smart onboarding features
Your onboarding framework shouldn't just consist of plain blocks of text or hour-long video walkthroughs of new tools. Instead, add features and elements that take your onboarding to the next level and set team members up for success.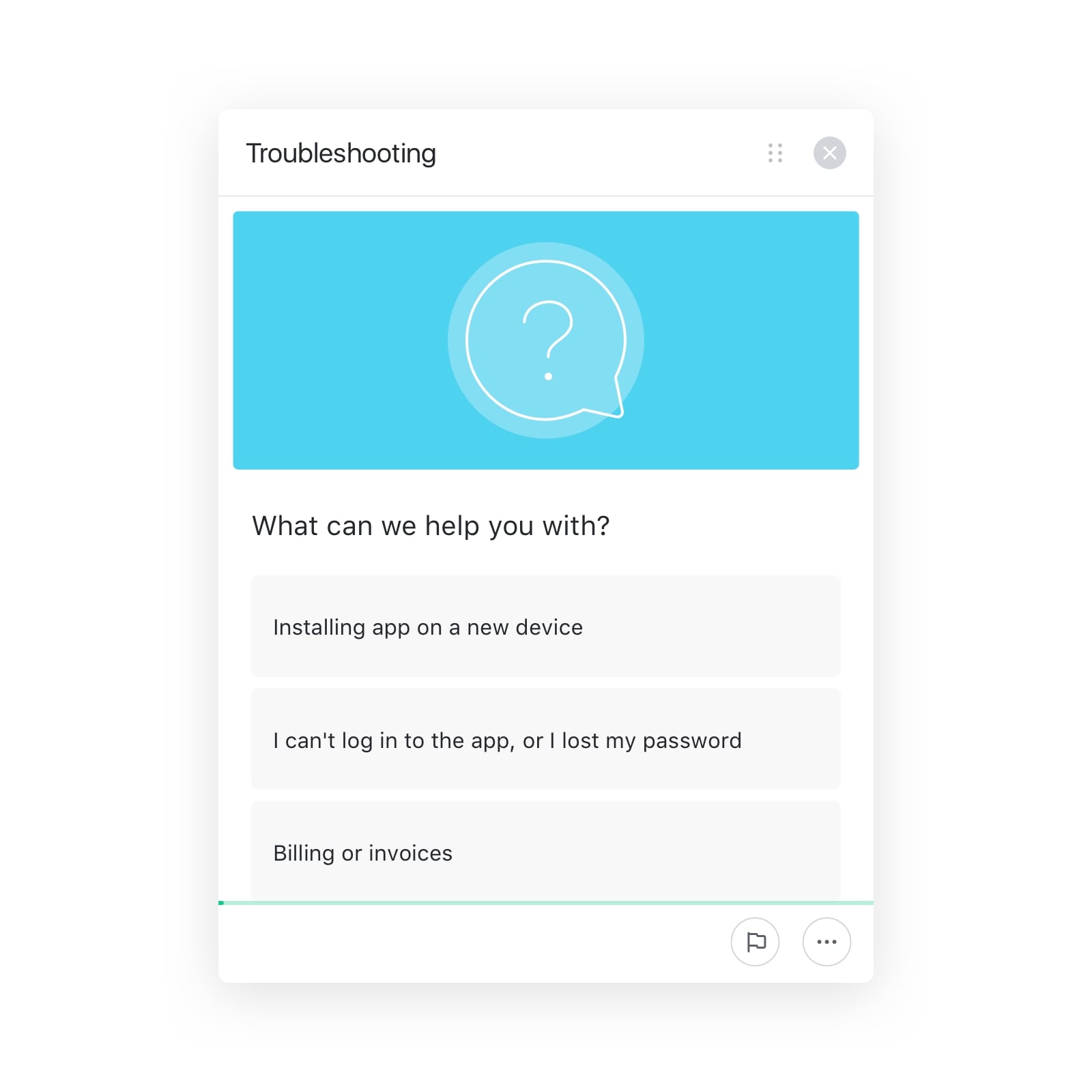 Stonly's onboarding checklists show employees what they need to do and exactly how to do it. They feature tons of interactive elements and provide you with data you can use to improve your onboarding process over time.
5. Plan for adoption across the full employee lifecycle
The learning process for new software doesn't end after the initial onboarding. It's important to choose a strategy and tools that will set teams up for long-term success, providing them with easily-accessible resources they can use to keep honing their skills.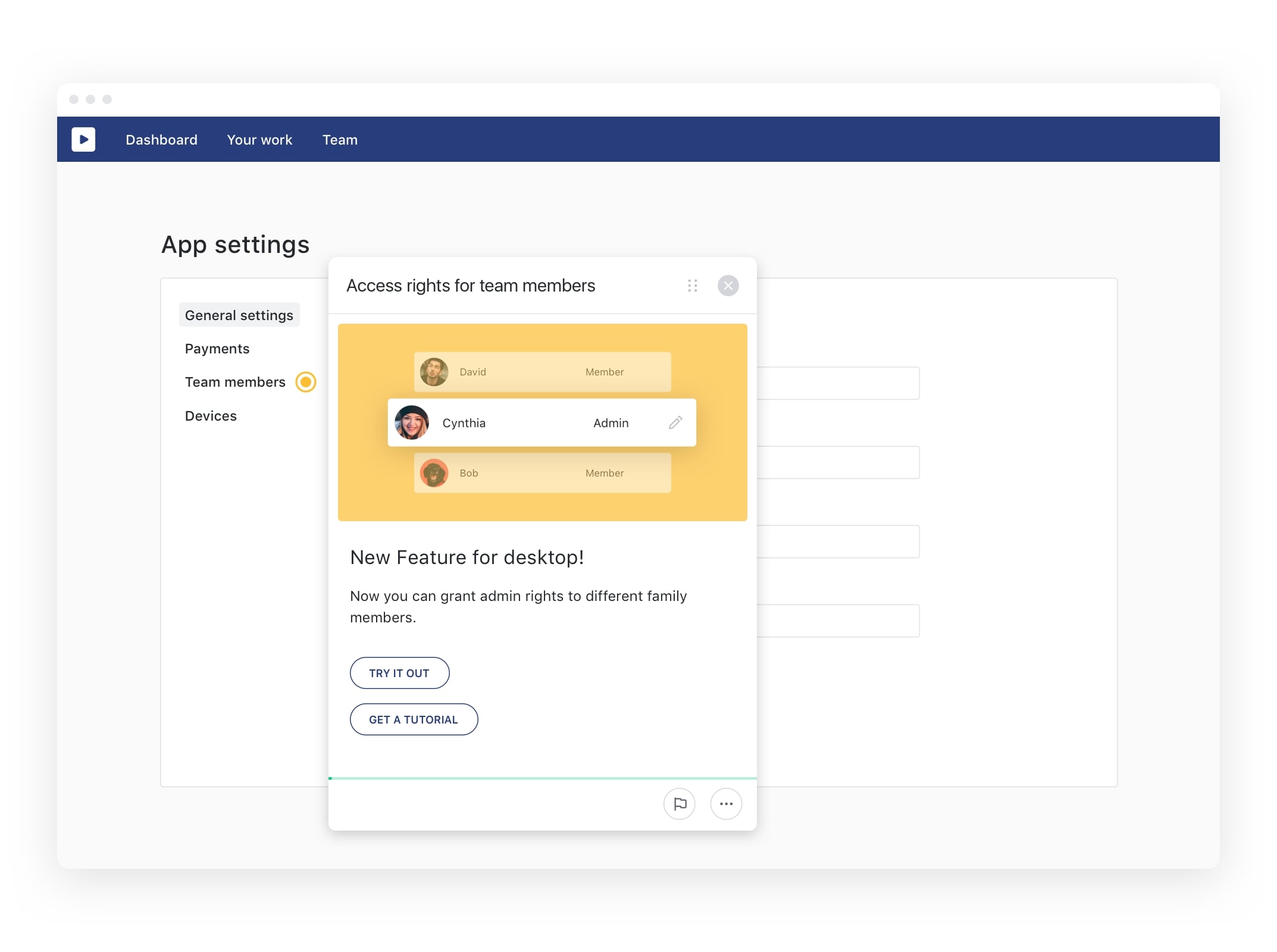 This could include a searchable, interactive library of advanced how-to content and walkthroughs to help with long-term knowledge retention. With Stonly, you can ensure that employees keep learning with a solid knowledge base, banners, and popups that show employees valuable tips as they continue to use the tool.
6. Use no or low-code tools for easy setup with a consistent look and feel
If your host your digital adoption resources in a third-party tool that's separate from your existing company platforms, they'll be more challenging to use than a low or no-code platform. Additionally, a no-code platform can help you stay on-brand and maintain a consistent look and feel.

Stonly's no-code integration makes it easy to weave in help content and walkthroughs within your existing platforms or tool. Your walkthroughs will look and feel seamless with easily customizable colors and branding elements.
7. Provide detailed help documents and self-serve support
With a successful digital adoption plan and great tools, you'll be able to anticipate and answer employee questions before they become help desk tickets. Provide customizable, searchable resources to increase the amount of self-serve support and decrease help desk tickets.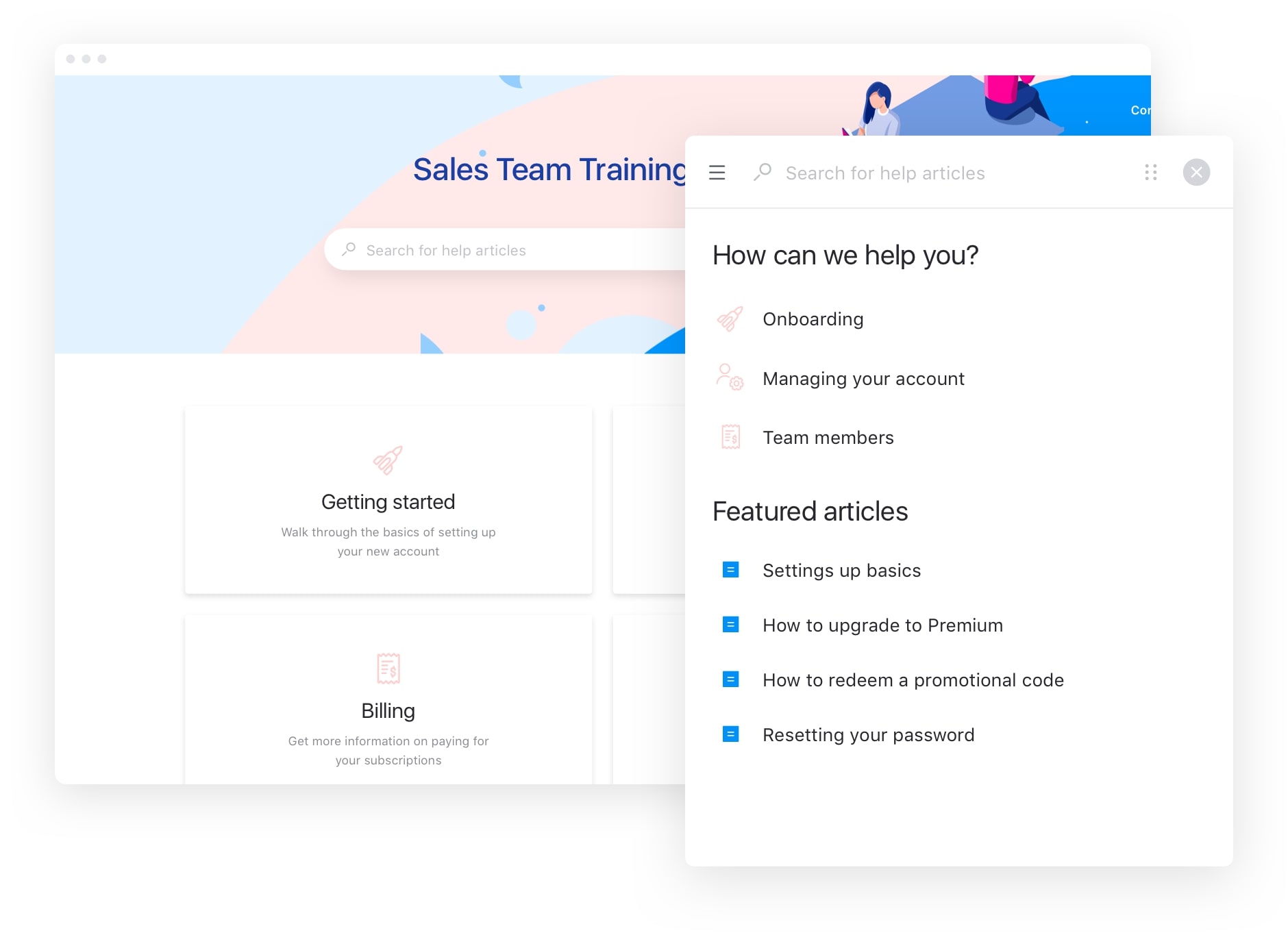 With Stonly, employees can answer their questions with a knowledge base they'll use. Create a repository of all learning, training, and FAQs that your team members can access anytime, anywhere. Empower your team with an interactive, highly-searchable format to find their answers, and increase their knowledge retention by giving them effective, in-context answers and tips.
8. Overcome resistance to change
Mitigate your employees' resistance to change by reassuring them they'll be supported through the digital adoption process and providing them with the resources they need to quickly and successfully use a new tool—or maximize the use of an existing tool.

If employees feel like you're just adding another tool without supporting them to learn how to use it with minimal effort, they'll get frustrated and may be resistant to future software and process changes.
With a great digital adoption strategy, team members can feel excited about new tech resources that will help them do their jobs better rather than overwhelmed about figuring out a new tool. Giving them proper support—and guiding them through exactly how the tool can help with their particular jobs to be done—is key to success.
9. Track user progress and feedback
It's important to track and measure how employees are using your new tool and adoption guides, so you can improve the process and set users up for success.

Stonly lets you measure utilization, understand how employees use your guidance, and track ROI. This helps you identify opportunities to improve your adoption support by seeing where people get stuck, drop off, or miss out on the help they need.
Plus, you can use Stonly to gather comments and feedback during training and onboarding, giving you visibility on user satisfaction and showing you how to improve things.
Need to measure the success of your digital adoption strategy?
Stonly empowers every employee to thrive with an adaptive digital adoption platform.
Schedule a demo.
Benefits of digital adoption
Though you'll need to put some time and resources into your digital adoption strategy, it won't take long to see a return on investment. Let's break down the three main benefits of digital adoption.
1. Spend less time training employees
A great digital adoption strategy lets you automate onboarding and feature adoption processes and helps employees learn at their own pace. That way, little to no live training is necessary. This is especially useful in remote work contexts when coworkers are in different time zones.  
Save both trainers and trainees time—and improve tool adoption rates.
2. Reduce help desk tickets and employee support costs
Place your guidance where employees can find it. If they don't know where to turn for help, they'll ask another team member. Instead, help them out by providing self-guided content.
A great digital adoption platform helps you set up an internal company knowledge base directly in your employees' software. It should contain personalized, step-by-step guides to enable each team member to self-serve when they have questions or issues.
With fewer help desk requests, your IT support team and other employees will be able to focus their time and resources elsewhere. That means lower IT support costs and more time for trainers, app owners, and IT service staff to work on key projects.
3. Improve employee productivity and satisfaction
With a strong digital adoption solution, your employees will be able to learn new software at their own pace and use walkthroughs and guides on an as-needed basis. This increases productivity and empowers your team to learn on their own.
You want teams to utilize the tools you're paying for to their full potential, which makes their jobs easier and increases overall satisfaction. When users feel confident and successful with the company's resources, they are more performant and feel more satisfied with their role.
Successful digital adoption of tools that improve business processes can directly impact employee retention. It helps set your team up for success at work, which will energize them.
Implementing a digital adoption strategy at your organization
A solid digital adoption strategy is one of the best ways to improve employee performance with new tools and achieve your business goals. Teams will be less change-averse and will quickly get to value using new tools if you provide them with the resources needed to thrive as new users.
Design a strong digital adoption strategy adapted to your organization's needs and existing tech stack, using a flexible, interactive tool like Stonly that will help your team succeed.
Need to speed up digital adoption across multiple software platforms?
Stonly empowers every employee to thrive with an adaptive digital adoption platform.
Schedule a demo.
Frequently asked questions about digital adoption
How can I boost my digital adoption?
You can increase digital adoption by using a great digital adoption platform (or DAP) like Stonly to host personalized help content, and add interactive walkthroughs and tooltips to engage employees, track data, and more.
What is new technology adoption?
Digital adoption is the process of employees learning to use new tools and technology to their maximum potential, so your organization gets as much value as possible from software.
Why is it important to adopt the latest trends in technology?
Adopting the latest technology trends is important because it will help drive your company's growth and give employees the tools they need to excel at their jobs.
How do you encourage digital adoption?
You can encourage digital adoption by having a great digital adoption strategy and adding interactive elements, analytics tracking, and more to your how-to content.