What is an FAQ page?
An FAQ page is where web visitors - customers and potential clients alike - can find answers to the most common questions about your products or services.
Unlike other website elements (landing pages, product pages, or even the about section), FAQ content does not play any commercial role on the website. At least not directly.
Instead, an FAQ page covers a whole range of topics that interest customers as well as prospects who want to evaluate your business and learn more about what you offer. The page can also help customers looking to solve issues with your products or services without having to reach out to your customer support team.
As a result, the page typically includes information like guides to using the company's products or services. It can provide an in-depth overview of the company's terms of service, tell customers more about its operations (opening times, prices, and payment methods), and more.
But the usefulness of FAQ content extends far beyond providing a self-serve customer service option.
The benefits of having a robust FAQ page
Aside from the above, an FAQ page will play several other roles on your site:
Eliminate sales objections. Your FAQ page is a hub of product and service information. And chances are, customers will use it to learn more about you before making a purchase.
Build trust and confidence in your business. A prospective customer can learn a lot about your company, values, and how you operate by seeing how you respond to customer questions on your FAQ page.
Free your support team to deal with more complex issues. Even a simple FAQ section will answer your customers' most common questions, which reduces your support team's workload and speeds up the processing of other inquiries.
Expand your site's content and positively affect your search engine visibility. In many cases, answers you provide to your FAQs can rank for relevant keywords, attracting high-value visitors to the site.
The difference between an FAQ page and a knowledge base
FAQ pages and knowledge bases might sound like the same thing, but they are notably different (and both beneficial) in several ways.
The best way to think about a knowledge base is as a resource pool of all the company's information. A knowledge base can contain information to address customers' issues and provide a complete set of resources to help them succeed with it.
Our knowledge base, for example, covers practically all aspects of our product and the company.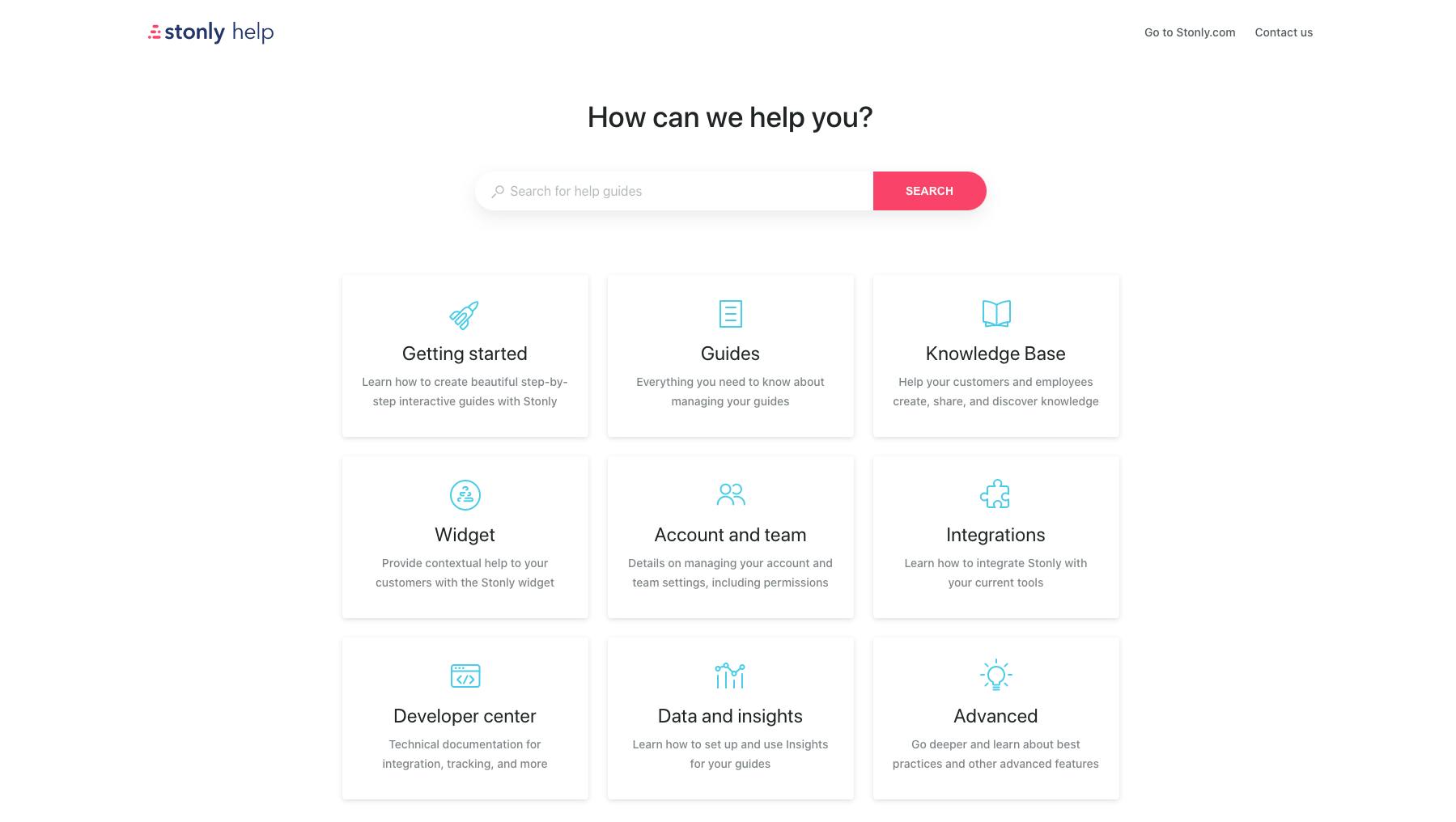 Our various knowledge base articles can show you how to use our product, depending on your use case. You can dive deep into any aspect of Stonly and use it as a reference if you get stuck while completing specific actions.
An FAQ section focuses on answering specific questions. Yes, it can help customers solve issues, too. However, the purpose of an FAQ is to directly address only the most commonly asked questions. While the far more structured knowledge base is built to empower customers to troubleshoot and solve entire issues on their own.
Where should you put your FAQs?
When you visit websites, you often see two approaches to creating FAQs. One involves adding a short FAQ section to existing content. And the second involves companies creating a dedicated FAQ page to host their frequently asked questions section.
Both approaches have their pros and cons.
1. Including FAQs as part of an existing page
This option is ideal in two scenarios:
You want to include only a small number of questions on your FAQ page, and that amount does not warrant creating a full-blown FAQ page.
You want to address product-relevant questions on a product or service page.
It is not uncommon to find the first scenario on many service-based business websites. These companies often do not have enough information to include on an FAQ to need a full, dedicated page.
However, integrating FAQs into existing content only works if you cover limited information and do not plan to expand the list of questions in the future.
2. Creating a dedicated FAQ page
This option provides the most comprehensive approach that allows you to expand and build the section out into the future.
In this scenario, you create a dedicated FAQ page - you can use a ready-made template for that - and place it somewhere in the site's architecture.
Some sites include their FAQ prominently in the main navigation. Others list the page among other resources in the footer. The most important thing to remember about placing your FAQ page is to make it easily accessible for visitors. If a person has to search for the page, they are far less likely to find it.
An FAQ template ready to use
Are you considering creating an FAQ page for your business but feel overwhelmed by all the work needed to get it done?
Try Stonly's ready-to-go FAQ page template and start answering customers' questions right away.
Create a beautiful and elegant FAQ page without having to code anything.
Keep your branding so customers will never know you've used a template.
Build the FAQ section as a standalone page or embed it on a webpage.
Answer even the most complex questions with stepped, pathed solutions.
Add a contact form so customers can reach out when they need more info.
Track engagement and understand which questions customers view the most.
How to create a robust FAQ page from scratch
Whether you decide to create an FAQ page from a template or code the section from scratch, there are a few best practices you should follow.
1. When structuring the FAQ section, focus on your customers' recurring support questions first.
There's a common mistake we see companies make with their FAQ pages. They focus on the information they would like to tell customers instead of anticipating and answering the questions customers actually have.
Luckily, there is an easy way to avoid that mistake:
When creating your initial list of questions, focus on the most common support inquiries first.
These will most likely be more generic questions. However, focusing on them first will allow you to tune in to the customers' common problems and make the page instantly relevant to many people.
What's more, answering those recurring issues first will relieve the support team and let them focus on helping customers with more specific inquiries.
2. Organize the FAQ page into categories
Doing so will help both customers and you.
With a reliable and logical structure, customers can zero in on the right information. Instead of browsing through dozens or hundreds of answers, they'll be able to quickly identify a relevant section and focus on it when searching for answers.
The same would apply to you. Proper organization of the FAQ page will help you when updating and building out the section. You'll be able to add articles to a specific area of the page instead of moving things around to fit something halfway down a long list of questions.
3. Write short and concise answers
Long-winded answers are another common mistake we see with FAQ pages. Often, companies prefer to target generic questions and cram their answers with all the additional information they can think of on the topic. Unfortunately, that results in a convoluted answer that customers have to sift through to get the advice they need.
Writing short and concise answers, on the other hand, allows you to focus on the essentials: providing support and information to a customer quickly.
That's how we approach FAQs here at Stonly. Our FAQ template features a step-by-step format, forcing you to keep the content tight and engaging so users will keep moving through the guide.
4. Develop a plan to build out and maintain the FAQ page
FAQ pages are organic. They evolve and expand over time to include a wide range of customer inquiries.
There are a number of reasons for that.
First, your company, its products, and services will grow. So will the customers' demand for more information.
The way your products work might change, too, with every product iteration, requiring you to add or update information on the FAQ.
Finally, you're also likely to notice trends in how people interact with your FAQs. You'll spot questions that attract the most attention, compare that with other potential issues customers raise through support, and decide to build out the section.
So, as part of your FAQ strategy, make a plan to review the data regularly. Then, add and edit existing information to match the most up-to-date advice you're giving customers via other channels.
An FAQ page is a critical element of any business website. It helps you answer customers' questions and reduce customer frustration. With a full FAQ page, you can also overcome potential clients' sales objections, build a stronger trust in your brand, and even free the support team to focus on more specific inquiries.
Take what you've learned here about creating a powerful FAQ page, and use our template to start building your FAQs today!